As an individual investor who is always on the lookout for dividend income investments, I've been giving a few companies a look recently. One of the companies that I recently looked into was Visa (V). One of the companies that inhabits a similar space in the financial sphere is American Express (AXP).
American Express is a payment processing/credit card company, but it is also more. The company offers high-yield savings accounts, so it is in many ways analogous to a bank. The company started doing business in 1850, well before the first credit cards, and it first appeared on the NYSE in 1977. Since the time that the company went public, there have been four separate splits, the last of which took place in 2000, according to the American Express investor relations page.
One area in which American Express differs from Visa is in regard to the number of merchants that accept payment with a Visa card. American Express charges more in swipe fees than its rivals, and it is not as commonly accepted outside of the United States (or in some domestic locations, as a recent trip to Santa Fe, NM, showed me).
As I noted in my recent article on Visa, it's increasingly rare to see people in line at the local Wal-Mart (NYSE:WMT) or grocery chain using cash or checks to make payments. Credit and debit cards are becoming the norm. American Express offers a range of products that can provide some beneficial rewards in terms of travel benefits and cash back. Therefore, there is a nice market for AXP.
American Express and Its Dividend
Like most US-based companies, American Express pays out its dividends on a quarterly basis. Its most recent dividend, paid out in November 2017, was $0.35 per share. This was a nice increase of more than 9 percent over its previous quarterly dividend.
Assuming that AXP continues at the current level (its next quarterly dividend payment will be $0.35 as well), the annual payout is now $1.40 per share. Given the closing price of $98.55 on December 8, 2017, the dividend yield was 1.42 percent. This is about twice the dividend yield of Visa at the present.
American Express does not quite have the dividend growth record that Visa does, in spite of the fact that it's been a publicly traded company for a much longer period of time.
The current streak of growing dividends reaches back to only 2012. Prior to this point, American Express kept its dividend payment at $0.72 for four straight years between 2008 and 2011. This period of time corresponded with the Great Recession and its aftermath. Even with this steady dividend, the company's payout ratio never exceeded 50 percent of net income. Since 2011, the dividend growth of AXP has looked like this:
| | | | |
| --- | --- | --- | --- |
| Calendar Year | Dividends Paid | % Increase In Payment Over Previous Year (Jan-Dec) | Actual Dividend Increase |
| 2011 | $0.72 | N/A | Previous Quarterly Payout vs. New Payout |
| 2012 | $0.78 | 8.33% | 11.11% |
| 2013 | $0.86 | 10.26% | 15% |
| 2014 | $0.98 | 13.95% | 13.04% |
| 2015 | $1.10 | 12.24% | 11.53% |
| 2016 | $1.19 | 8.18% | 10.34% |
| 2017 | $1.32 | 10.92% | 9.38% |
Source: American Express Investor Relations Page
This annual increase has been less than the annual increases that Visa has offered investors over the past five years. Visa has shown a growth rate between 15 and 50 percent over the same period.
Regardless, this dividend growth has greatly exceeded the rate of inflation, so investors in American Express have seen the purchasing power that their dividends have provided grow over time. Additionally, the current yield for AXP is more attractive than Visa's at this point.
When looking into dividend reinvestment over the last ten years, I input the closing price on December 10, 2007, into the calculator at Don't Quit Your Day Job (dqydj.com):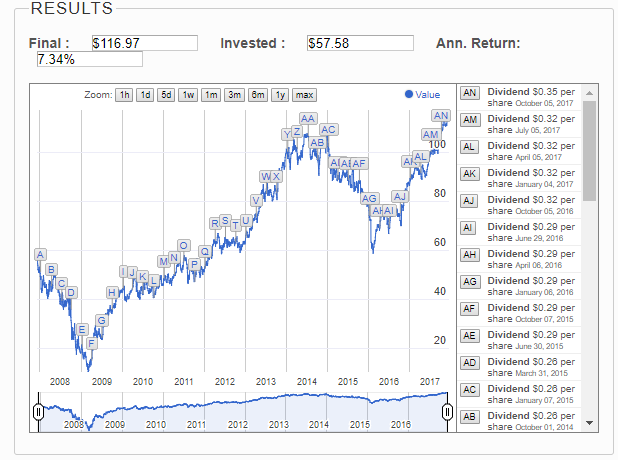 This hypothetical investor would now hold 1.187 shares of AXP stock for every share purchased 10 years ago. The current yield on cost would be 2.4 percent, which is much lower than the yield on cost that an investor in Visa at its IPO in 2008 would now experience.
The best time to have invested in American Express in recent years would have been at the depth of the financial crisis, when the price dropped to around $15/share. The current yield on cost for those investors would be more than 9 percent based on the current annual payout of $1.40 per share while experiencing a capital gain of well above 600 percent based upon current (December 2017) prices.
The current dividend payout ratio for American Express is 23 percent for the first nine months of 2017. For calendar year 2016, the payout ratio was 21.6 percent. As noted above, even during the depths of the Great Recession, AXP only paid out 50 percent of net income in dividends at the lowest point.
This low payout ratio would indicate that American Express can continue to grow the dividend into the future as long as income remains steady or grows.
American Express Revenue and PE Ratio
When looking at the most recent annual report, American Express has basically seen its revenue stagnate over the past five years (2012-2016). This lack of revenue growth could become concerning at some point, but there are other factors that have mitigated this stagnant growth.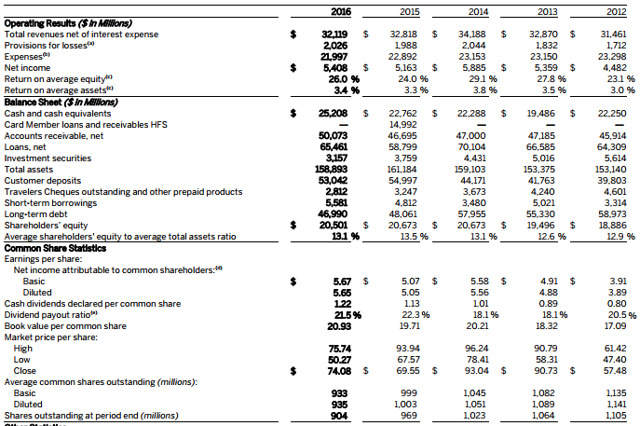 Source: American Express 2016 Annual Report
Earnings per share have grown from $3.91 to $5.67 over this period of time. One of the reasons for this growth in EPS in the past five years is the decline in the number of shares outstanding. AXP bought back more than 200 million shares in the past five years. This was a reduction of about 18 percent in the number of shares on the market over the past five years.
While net income has been basically flat in the past four years, the rapid buyback program has allowed EPS to grow. Additionally, even with the flat revenue and the dividend growth, the payout ratio has only grown from 20.5 percent to 21.5 percent. This has basically been a result of the lower share count cutting the dividend that needs to be paid out, which is good for current shareholders.
When looking at the current PE ratio, AXP is quite a bit lower than the market as a whole. The PE ratio stands at 18.95, which is much lower than Visa's 40.21 (as of December 8). However, it should be pointed out that Visa has been growing its revenue at a much faster rate than American Express in recent years, and it is also accepted by more merchants.
Conclusion
American Express is a good company to own for dividend growth investors. Its dividend growth in recent years has been a nice development, and the current payout ratio makes it likely that the dividend can grow for the next few years. The low yield for AXP will most likely keep some who want current income think twice about owning it, however.
The stock is not terribly expensive when looking at the market as a whole, although it's PE ratio has grown quite a bit over the past year (it was less than 11 at times in 2016). Those buying in 2016 would have seen a nice capital gain over the past 12 months. Stock buybacks have allowed the payout ratio to stay stable while also providing for a growing EPS in spite of fairly stagnant top-line revenue growth.
Disclosure: I/we have no positions in any stocks mentioned, and no plans to initiate any positions within the next 72 hours.
I wrote this article myself, and it expresses my own opinions. I am not receiving compensation for it (other than from Seeking Alpha). I have no business relationship with any company whose stock is mentioned in this article.
Additional disclosure: I am not a licensed financial professional. This article is only for educational/entertainment purposes and should not be construed as a recommendation to buy or sell any securities. As losses up to and including all capital invested can occur, be sure to do due diligence and check with a financial professional before investing in securities.