Written by Bob Ciura for Sure Dividend.
Food and beverage stocks are good choices for investors looking for companies with stable cash flow, and reliable dividends. As 2017 draws to a close, it is an opportune time to look over the food and beverage industry.
The five stocks on this list are highly profitable companies with top brands in their respective product categories. They have all paid dividends for several decades, and have also raised their dividends for many years.
Two of the stocks on this list are Dividend Achievers, which have raised their dividends for 10+ consecutive years. You can see the entire list of all 264 Dividend Achievers here.
Moreover, three are Dividend Aristocrats, a group of stocks in the S&P 500 Index, that have increased dividends for 25+ years in a row. You can see all 51 Dividend Aristocrats here. Two of the three Aristocrats are also members of an even more exclusive club - the Dividend Kings.
This article will discuss the top 5 dividend-paying food and beverage stocks for 2018, in no particular order.
Food & Beverage Dividend Stock #1: PepsiCo (PEP)
Dividend Yield: 2.8%
First up is PepsiCo, a Dividend Aristocrat with 45 consecutive years of dividend increases. PepsiCo is a global food and beverage giant, with annual revenue of $62 billion.
PepsiCo's business is nearly split between its food and beverage segments. It is also balanced geographically, between the U.S. and the rest of the world.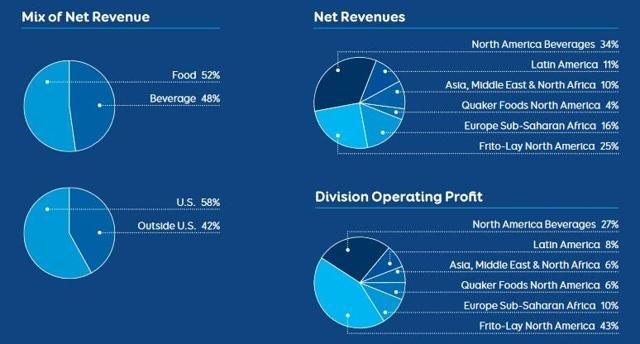 Source: 2016 Annual Report, page 14
PepsiCo has a large and diversified product portfolio. Some of its major beverage brands include sparkling beverages such as Pepsi and Mountain Dew. Its still beverages include Pure Leaf, Tropicana, Gatorade, along with bottled water brands. In addition to beverages, PepsiCo has a large snacks business under the Frito-Lay brand. It has also built a portfolio of healthier foods, including Quaker, Naked, and Sabra.
PepsiCo has 22 individual brands that each collect at least $1 billion in annual revenue. Thanks to its strong brands, PepsiCo generates steady growth. In 2016, PepsiCo grew organic revenue and adjusted earnings per share by 3.7% and 9%, respectively.
2017 is shaping up to be another good year. Over the first three quarters, earnings per share increased 9%. For the full year, the company expects 3% organic revenue growth, along with 8% earnings growth.
PepsiCo's strongest growth prospects are expanding its healthy foods and beverages portfolio in the U.S., and growth in emerging markets. PepsiCo has invested heavily in healthier products, designed to respond to changes in consumer demand. The PepsiCo of the future will no longer rely exclusively on soda and salty snacks.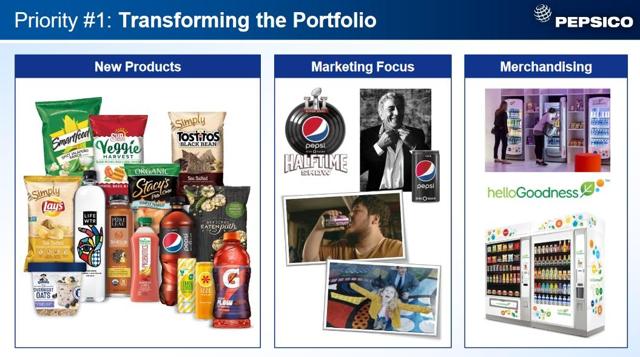 Source: 2017 CAGNY Presentation, page 3
Separately, emerging markets like China, Africa, India, and Latin America are still promising growth catalysts. These markets have large populations, and high economic growth. For example, over the first three quarters of 2017, organic revenue increased 6% in Latin America, and 4% in the Asia, Middle East, & North Africa segment. This more than offset a 1% decline in North America beverage sales.
PepsiCo's dividend is highly secure. The current annual dividend of $3.22 per share represents a payout ratio of 61%, based on 2017 expected earnings per share.
Food & Beverage Dividend Stock #2: Hormel (HRL)
Dividend Yield: 2%
Hormel is a legendary dividend growth stock. It has increased its dividend for 52 years in a row. It is not just a Dividend Aristocrat. It's also a Dividend King, a very small group of just 22 stocks, with 50+ consecutive years of dividend increases. You can see all 22 Dividend Kings here.
Hormel has a relatively low dividend yield, in comparison to the other stocks on this list, but it makes up for this with high dividend growth rates. The most recent dividend increase was a 10% hike. Such strong dividend growth is the result of a high-quality brand portfolio.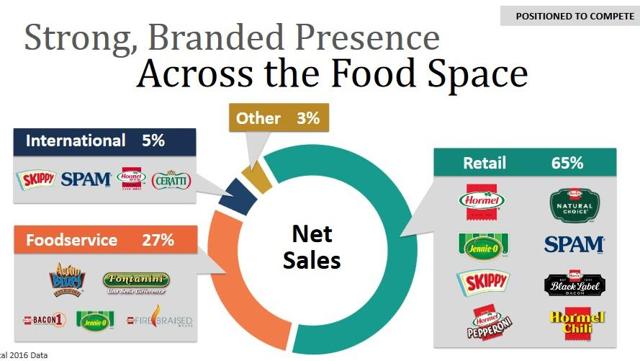 Source: 2017 Barclays Global Consumer Staples Conference, page 10
In the past five years, Hormel grew adjusted earnings by 13% per year. Hormel's adjusted earnings per share increased 24% in 2016. 2017 was a more difficult year for Hormel, primarily because of falling poultry prices, which have negatively impacted its Jennie-O turkey business. Record turkey production caused price deflation, which eroded margins in one of the company's largest operating segments.
Overall, Hormel's earnings per share fell 4% in fiscal 2017, to $1.54. Operating profit declined 25% in the Jennie-O segment. Fortunately, growth in other areas helped offset weak results in the turkey business. For example, company-wide organic sales increased 3% for the full year, driven by 6.9% growth in international markets, and 4% growth in grocery products and refrigerated foods.
A return to earnings growth is likely, as the company has a long track record of delivering strong results. Hormel has increased earnings in 28 out of the past 31 years, driven by its strong brands. Hormel has the #1 or #2 position in over 35 separate product categories.
Hormel supplements its organic growth with an aggressive, yet disciplined, acquisition strategy. The company has conducted a number of transformational acquisitions in recent years, to strengthen existing categories, and enter new ones.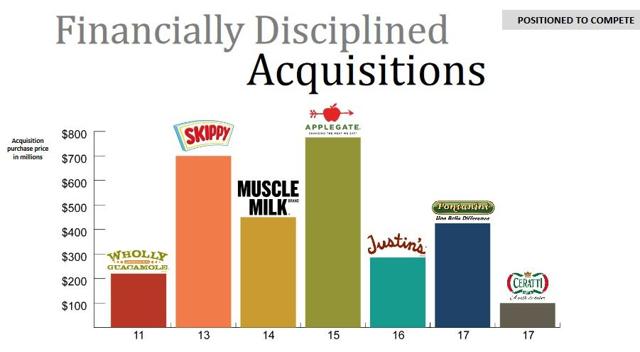 Source: 2017 Barclays Global Consumer Staples Conference, page 15
In 2013, Hormel acquired Skippy peanut butter. The following year, the company acquired CytoSport Holdings, maker of MuscleMilk, to diversify into nutritional products. In 2015, Hormel acquired Applegate Farms for $775 million. Applegate is the number one brand in natural and organic meats, and gave Hormel a huge presence in a high-growth category.
More recent acquisitions include Fontanini Italian Meats and Sausages, which will boost Hormel's refrigerated foods portfolio. The company also acquired Ceratti, a branded meats business based in Brazil. This deal will spur further international expansion in South America. Lastly, on October 31st Hormel announced the acquisition of Columbus Manufacturing, a premium deli meat and salami manufacturer. Hormel expects the acquisition to increase earnings per share by $0.02 to $0.03 next year.
Hormel expects earnings per share of $1.60 to $1.70 in fiscal 2018, which represents growth of 3.9% to 10% for the upcoming year. This will be more than enough growth to deliver another strong dividend increase next year.
Food & Beverage Dividend Stock #3: Kellogg (K)
Dividend Yield: 3.3%
Kellogg has a 3.3% dividend yield, and has increased its dividend for over 10 years in a row, including a 4% dividend raise in 2017. The company has paid over 370 consecutive dividends since 1925.
Like General Mills, Kellogg is struggling with shifting consumer preferences. Cereal sales are declining, due to sagging demand among younger generations like the millennials. This has created a fundamental headwind for Kellogg, which dominates the cereal industry alongside General Mills.
The good news for Kellogg is that its turnaround initiatives are progressing well. Sales fell by just 1% in 2016. While net sales fell 3% over the first three quarters of 2017, cost cuts and share repurchases fueled 10% earnings per share growth in that time.
Kellogg is well-positioned to respond to changing consumer demands. It has made several acquisitions in recent years, including the $2.7 billion acquisition of Pringles in 2012, to expand its lineup of snacks. Kellogg has a vast product portfolio outside cereal, with brands including Kellogg's, Keebler, Cheez-It, and Pringles.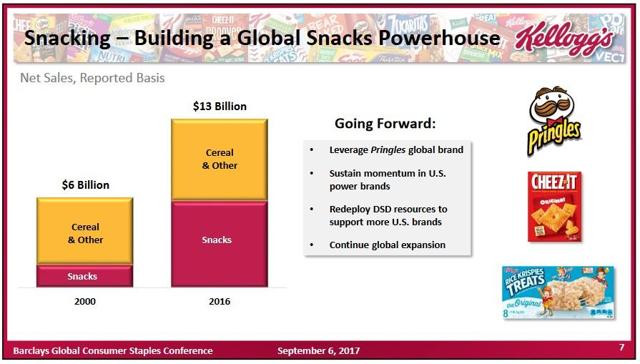 Source: Barclays Global Consumer Staples Conference, page 7
Kellogg management stated that the snacks industry is growing at 4% per year. By 2020, snacks are projected to be a $100 billion market. Kellogg's snacks products like Cheez-It and Rice Krispies Treats have been among the company's best-performing brands over the past year.
The other key piece of Kellogg's turnaround is margin expansion. Kellogg has employed a number of cost-cutting initiatives, including zero-based budgeting, to improve margins. Indeed, operating margin over the first three quarters of 2018 is up 450 basis points from 2015.
Kellogg expects sales to decline by approximately 3% this year, but earnings per share growth of 8-10% for 2017, driven by margin expansion and share repurchases. High single-digit earnings growth would be more than enough growth to continue increasing the dividend next year.
Food & Beverage Dividend Stock #4: General Mills (GIS)
Dividend Yield: 3.5%
General Mills is one of the largest food manufacturers in the U.S., with over $15 billion of annual revenue. Its most popular brands include Cheerios, Annie's, Yoplait, Nature Valley, Fiber One, Häagen-Dazs, Betty Crocker, Pillsbury, and Old El Paso. Thanks to its strong brands, General Mills is one of the most reliable dividend stocks around.
General Mills has paid uninterrupted dividends for 119 consecutive years. The combination of a 3%+ yield and more than 100 years in business means General Mills meets our definition of a "blue-chip" stock.
General Mills has had a tough time lately. It has struggled alongside the difficulties facing many large manufacturers of shelf-stable foods, in particular cereal. For example, total sales declined by 6% in fiscal 2017, as cereal sales fell 3.5% for the year.
Conditions have remained challenging to start fiscal 2018. First-quarter organic revenue and adjusted earnings per share declined 4% and 9%, respectively, from the same quarter last year. Sales in North America fell 5%, due to cereal and yogurt, which were down 7% and 22%, respectively.
The good news is the declines are moderating.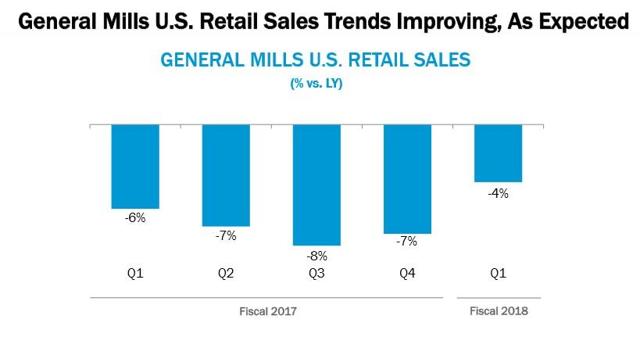 Source: Barclays Global Consumer Staples Conference, page 51
And, the company remains highly profitable. This allows it to drive margin expansion and repurchase shares, which helped adjusted earnings per share increase 6% in fiscal 2017. It also allows the company to invest in its turnaround. For example, General Mills eliminated artificial flavoring and colors from many cereal brands.
Separately, General Mills is building its snacks business, which remains a growth category in the food and beverage industry. The company has a large portfolio of snack bars and ice cream. The company is making a big push in natural and organic foods. It acquired Annie's for $820 million. Annie's sales doubled from 2010 to 2014, and General Mills expects sales to double again by the end of the year. General Mills expects its natural and organic product sales to reach $1 billion by next year.
In fiscal 2018, General Mills expects organic net sales in a range of down 1%, to up 2% for the full year. Adjusted earnings per share are expected to increase 1% to 2% in constant currency. While this does not appear to be an overly impressive growth rate, it should be enough for a modest dividend increase in the upcoming fiscal year. The company has a dividend payout ratio of 64%, based on fiscal 2017 adjusted earnings per share.
Food & Beverage Dividend Stock #5: The Coca-Cola Company (KO)
Dividend Yield: 3.3%
Last but not least is Coca-Cola, which is one of the 22 Dividend Kings. Coca-Cola has increased its dividend for 55 years in a row. It owes its amazing dividend track record to having one of the strongest consumer brands in the world, along with an unparalleled distribution network.
According to Forbes, Coca-Cola took the #5 spot on the 2017 list of the world's most valuable brands. The Coca-Cola brand alone is worth $56 billion. In addition, Coca-Cola has the largest beverage distribution system in the world. Of the roughly 59 billion beverages consumed around the world every day, more than 1.9 billion come from Coca-Cola.
Coca-Cola sells over 500 brands, in more than 200 countries. The company has 21 brands that generate $1 billion or more in annual sales. Its most popular products include Coca-Cola, as well as other soda brands like Diet Coke, Sprite, Fanta, and more. The still beverage portfolio includes water, juices, and ready-to-drink teas, such as Dasani, Minute Maid, Vitamin Water, and Honest Tea.
This is not an easy time for Coca-Cola. Sales are under pressure, as consumers in developed markets like the U.S. are gravitating away from soda, for its high calories and sugar content. Excessive soda consumption is increasingly being linked to obesity, which is a significant public health issue in the U.S. As a result, soda consumption in the U.S. has fallen for more than a decade, and is currently near a 30-year low.
In response, Coca-Cola has significantly expanded its product categories in still beverages. The global non-alcoholic beverages industry continues to grow, and Coca-Cola has plenty of opportunity to capture market share in areas beyond soda.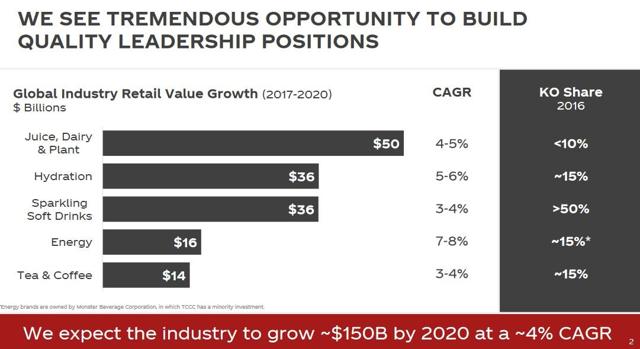 Source: 2017 Investor Day Presentation, page 4
Finally, Coca-Cola is returning to growth. In 2016, Coca-Cola's organic revenue increased 3%, along with 5% adjusted earnings-per-share growth. Earnings growth was due to price increases, volume growth, and share repurchases. Organic revenue increased another 2% over the first three quarters of 2017, driven by price increases.
Coca-Cola's brand and distribution capabilities are supreme competitive advantages, that will help fuel its turnaround. The company simply needed to develop new products to meet the changes in consumer demand, which it has done. In the meantime, investors can collect Coca-Cola's solid 3.3% dividend yield and receive dividend increases each year.
Final Thoughts
Food and beverage stocks might not be the most exciting investment ideas around, but they serve a valuable purpose. The food and beverage companies on this list have strong brands that generate cash flow, regardless of the state of the economy. In turn, this allows them to pay reliable dividends.
The five stocks presented here all fall on our list of 350 dividend-paying stocks in the consumer staples sector.
These five stocks do not have the highest dividend yields around, but there is something to be said for safety. All five stocks have a unique mix of category-leading brands, secure dividends, and growth potential.
Hormel, PepsiCo, and Coca-Cola are all Dividend Aristocrats. Find out if they are undervalued, with our service Undervalued Aristocrats, which provides actionable buy and sell recommendations on some of the most undervalued dividend growth stocks around. Click here to learn more.