The S&P 500 rose just under 0.5% last week to a record close above 2,650, but the big news is that the rotation out of international and technology companies into domestic companies (expected to benefit from the impending tax reform) seems to be losing some steam due to mounting criticism of the latest tax bill. As always, Wall Street seems to have overreacted to the ultimate beneficiaries of the impending tax reform.
While some Democrats say that the tax bill is a "tax cut for the rich" (they always say that), some of the rich complain about how their taxes will rise. For example, have you noticed how stressed some CNBC commentators like Jim Cramer and David Faber become when they talk about the impending tax reform bill? That's because they would have to pay more income taxes due to the fact that their state income tax deductions would be eliminated, while their property tax deductions would be capped at $10,000.
Clearly, high-tax states like California, Hawaii, New Jersey, New York, and Oregon - or anyone with big itemized deductions or high property taxes - are expected to be taxed significantly higher, which is causing some doubt about the reconciliation of the House and Senate versions of the proposed tax reform.
This temporary doubt about the final version of tax reform halted the previous switch from multinational stocks to domestic stocks. In the end, what I really care about are positive analyst earnings revisions and what stocks are going to post the strongest fourth-quarter results in January and February. Since the analysts are not yet changing their earnings estimates, I do not think we should overreact, since any corporate tax benefits would not show up until the first-quarter results come out in April and May.
I have been watching the technology stocks carefully. Last Monday and Tuesday, there was some significant selling pressure in the last hour from the ETF industry - when big block trades are typically done. Specifically, according to the Financial Times, the PowerShares QQQ was hit with $848 million in redemptions and State Street Technology Select Sector SPDR (NYSEARCA:XLK) was hit with $720 million in outflows.
In my opinion, the recent technology sell-off is grossly overdone. Bloomberg had a great article on Wednesday illustrating that when technology stocks faltered, the most-shorted stocks performed the best.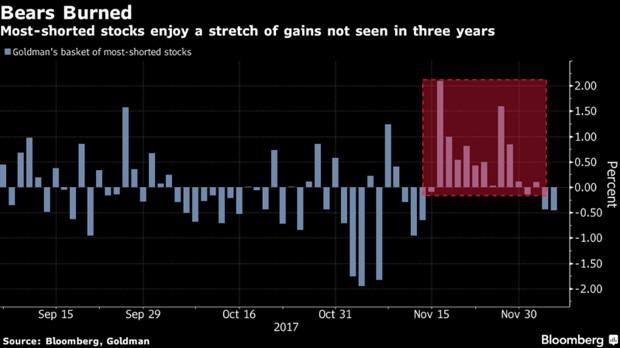 Graphs are for illustrative and discussion purposes only. Please read important disclosures at the end of this commentary.
This is a good time to remind investors that a short-covering rally is not a real or sustainable rally, since it represents artificial demand. In the meantime, Broadcom (NASDAQ:AVGO) announced better-than-expected earnings on Thursday and also provided positive guidance, which helped to boost all the Apple (NASDAQ:AAPL) iPhone X suppliers. (Please note: Louis Navellier does currently hold a position in Broadcom in Mutual Funds. Navellier & Associates does currently own a position in Broadcom and Apple for client portfolios).
Only those stocks that post better-than-expected earnings will be able to squeeze the shorts, while heavily-shorted stocks with poor fundamentals should continue to falter. Fundamentals win in the end.
New Hiring Continues to Beat Forecasts
Last Friday, the Labor Department reported that 228,000 payroll jobs were created in November, which was significantly higher than the economists' consensus estimate of 195,000. The unemployment rate remains at 4.1%. Despite more workers finding full time work, average hourly earnings rose by only 0.2% or 5 cents per hour to $26.55 per hour. The average workweek rose by 0.1 hour to 34.5 hours.
In parallel with Friday's Labor Department report, ADP reported that 190,000 private sector jobs were created in November. Most of these private sector jobs (150,000) were created in the service sector, but the manufacturing sector also added an impressive 40,000 new jobs.
Speaking of the service sector, last Tuesday, the Institute of Supply Management (ISM) announced that its service sector index slipped to 57.4 in November, down from a robust 60.1 in October, but both numbers are very bullish. Since any reading over 50 signals an expansion, this "deceleration" from the strongest service sector pace in 12 years essentially means that the service sector slowed down from 150 mph to just 135 mph. The service sector is strong as 16 of 17 industries surveyed expanded in November.
Overall, the economic situation is strong enough to insure that the Fed will likely raise key interest rates tomorrow by 0.25%. The more important news is what they SAY afterward. The Federal Open Market Committee (FOMC) statement will be crucial, since it will hint at any future key interest rate hikes. Due to the impending exit of the three highest-ranking Fed members, plus a flatter Treasury yield curve, I actually expect a relatively dovish FOMC statement, which might spark an impressive stock market rally!
Finally, I hope all of you in Southern California are safe from the horrific fires there. After three major hurricanes and the horrible fires in Northern California, we have had enough natural disasters for one year. Ironically, all the rebuilding in the aftermath of these disasters will likely boost GDP growth in the upcoming quarters. Despite these disasters, please try to stay safe and enjoy the holidays.
Disclosure: *Navellier may hold securities in one or more investment strategies offered to its clients.
Disclaimer: Please click here for important disclosures located in the "About" section of the Navellier & Associates profile that accompany this article.