By Gary Alexander
There's nothing mysterious about the market's recent rise. Corporate profits keep rising by double digits (or nearly so), and they may rise even faster if corporate tax rates are dramatically decreased in 2018.
We already know that corporate earnings are up strongly in the third quarter. With nearly all (495) of the S&P 500 companies reporting their third-quarter results, the near-final results are that earnings are at record highs, up 8.4% over the third quarter of 2016. When you expand that to all of the companies in America, we learned on November 29 from the National Income & Product Accounts (NIPA) that after-tax corporate profits rose to a record high of $1.86 trillion last quarter, up 10.0%. Many other numbers from the NIPA report are also at record highs. Corporate cash flow rose to a record $2.38 trillion last quarter, while the S&P 500's operating profit margin was at a record high 10.8% (see chart, below).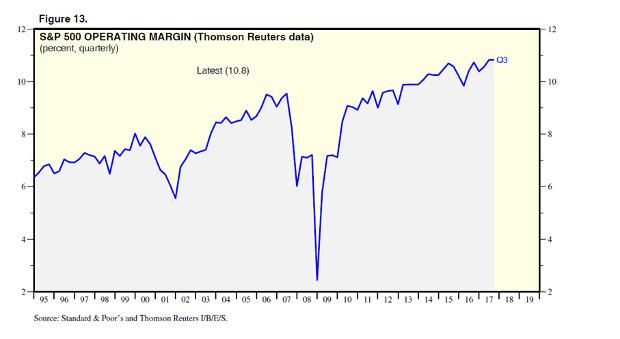 Graphs are for illustrative and discussion purposes only. Please read important disclosures at the end of this commentary.
Double-digit profit margins have been the norm for the last three years. These profits can fuel a lot of shareholder-friendly actions, like dividends, share buy-backs, expansions, mergers, strategic hiring, and more product research. That's one reason why jobs reports and confidence surveys have been rising.
This third-quarter data plus rising online sales data for Black Friday and recent holiday sales are evidence that the fourth quarter should also deliver 3% or greater growth, which can sustain 10% or greater profits growth and 10% or greater corporate profit margins, especially if we see corporate tax rates significantly cut if Congress can pass tax reform this month, and if those new rates take effect as of the start of 2018.
We can't count our chickens before they're hatched, but the major historical tax cuts of the 1920s, 1960s, 1980s, and 2000s each fueled rapid economic and huge stock market gains. First came the Coolidge tax cuts in the 1920s, then the Kennedy-Johnson cuts in the 1960s, then Reagan in 1983, and Bush in 2003.
The investment payoffs were stunning in each of these four tax-cutting decades:
Decade
Low
High
Dow Gain
1920s
1921 (August 21)
1929 (September 3)
496.5% in eight years
1960s
1962 (June 26)
1966 (February 9)
85.7% in 3.6 years
1980s
1982 (August 13)
1987 (August 25)
250.4% in five years
2000s
2002 (October 9)
2007 (October 10)
97.3% in five years
Source: Stock Traders' Almanac 2010, using the Dow Jones Industrial Average
This time, corporate tax cuts are more important for investors than personal tax rates, since corporate tax rates leverage corporate profits and therefore earnings. With so much corporate cash stored overseas, a dramatic lowering of corporate rates could generate a one-time economic burst if this cash is repatriated.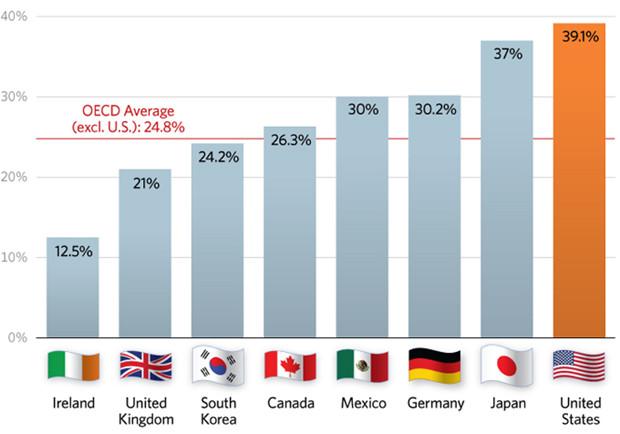 Graphs are for illustrative and discussion purposes only. Please read important disclosures at the end of this commentary.
In this context, any tax rate around 20% would be a massive inducement to bring that capital home.
Disclosure: *Navellier may hold securities in one or more investment strategies offered to its clients.
Disclaimer: Please click here for important disclosures located in the "About" section of the Navellier & Associates profile that accompany this article.