By Stuart Burns
China has always had a long-term dream - America has always scoffed - at the idea that one day China's economy may exceed that of the U.S.
Many still believe that is inconceivable. However, relentless growth at 6% gradually has its effect, and a Financial Times article quoting EIU research states that at current growth rates, it is likely that China's GDP will exceed the U.S.'s by 2026, less than 10 years from now.
The key phrase here is "at current growth rates."
U.S. growth is picking up and China's is slowing down from its recent trends over the last decade, but even so the idea is no longer fanciful. Which country has the largest GDP though is, in and of itself, less of an issue. More important is which has the highest productivity, the greatest innovation and attracts investment in new technologies; those measures point the way to future prosperity.
The U.S. has always prided itself as having the greatest innovation, creating the new companies that rise from disrupter start-up to billion-dollar global brands.
Thanks in part to Silicon Valley, that is no false claim.
The word "unicorns," referring to start-up companies that are valued at over a billion dollars (nearly all in tech or tech-related sectors) was coined only in 2013, but many of the names we are familiar with today are U.S. companies.
It seems almost inconceivable to us in the West that places like Shenzhen, on China's border with Hong Kong, and Hangzhou - the city near Shanghai where Alibaba (BABA) was founded - could challenge Silicon Valley as the global center of cutting-edge tech, but that is exactly what the Economist is suggesting is underway.
As the article says, China is catching up with the U.S. in its creation of unicorns. In June 2016, one-third of the world's 262 unicorns were Chinese, representing 43% of the $883 billion worldwide valuation attached to these companies, according to McKinsey Research.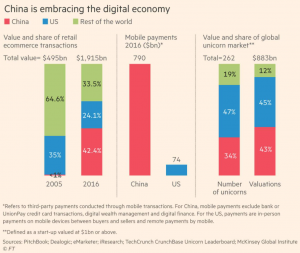 Source: Financial Times
The Financial Times reports that last year, according to McKinsey Research, China ranked in the top three countries for venture capital investment in some particularly competitive fields of digital technology, including virtual reality, autonomous vehicles, 3D printing, robotics, drones and artificial intelligence.
Beijing is actively supporting firms in these new fields, the Chinese have always played the long game with patience and planning. Ten years from now these technologies will be major disrupters of nearly every walk of life, business and even society.
Artificial intelligence and robotics alone will change the way businesses operate and it is probable many businesses will not survive the disruption such technologies will introduce.
Already, Chinese consumers are more, as the Financial Times would term it, "at ease" with technology. For example, mobile payments in China outstrips those of Americans by 10-to-1 last year, and China's e-commerce market is already twice the size of the U.S.'s. Nor are Chinese tech giants like Tencent (OTCPK:TCEHY) or Baidu (BIDU) as readily accessible to Western investors; the game is rigged by Beijing such that their firms invest heavily overseas but foreign investors are barred from taking direct stakes in the equivalent Chinese firms.
The landscape is changing fast and is not immediately apparent to those of us in the West, but the direction is clear and progress relentless. New technologies will increasingly be dominated or heavily influenced by Chinese firms in the next decade.
Editor's Note: This article discusses one or more securities that do not trade on a major U.S. exchange. Please be aware of the risks associated with these stocks.