Over the weekend, Barron's released its list of ten favorite stock ideas for 2018, and also mentioned the five favorite stocks of ten strategists. Of the 15 stocks mentioned, we only find three are attractive. These are in order of attractiveness:
All three of these stocks are attractively priced on a relative basis, and show strong potential for free cash flow growth ROIC expansion -- the key drivers of any assets value.
To find such stocks for our model portfolio strategies, (see our latest report, 35 Stocks for December 2017), and gauge the initial attractiveness of stocks for ad hoc valuation projects, we examine four key metrics:
Relative Value
Operating Momentum
Consensus Estimate Revision Momentum
Fundamental Quality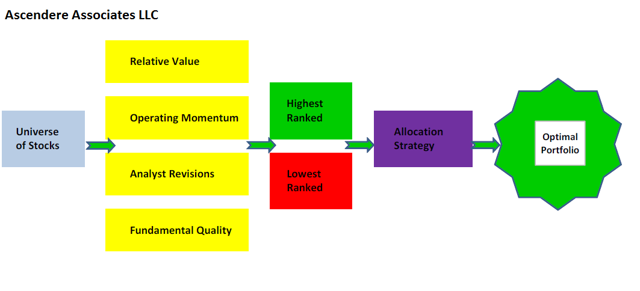 Within the article discussing S&P 500 targets for 2018, Outlook 2018: The Bull Market's Next Act, Barron's mentions four stocks favored by ten strategists: JPMorgan Chase, Signature Bank, DowDuPont, Deere:
JPMorgan Chase & Co.

JPMorgan's net interest income and ROE have been steadily improving over the last few quarters. While it is a solid stock idea, it was removed from our model portfolio on November 30 for an incrementally better alternative (see our report, 35 Stocks for December 2017). We can see from the table above that it ranked 3 out of 5 for consensus estimate revisions. Not bad, but also not indicative of any likely significant near-term upside surprise.
Signature Bank

There does not seem to be anything interesting going on with Signature Bank. Here we have just the opposite of JPM -- declining growth in net interest income and declining ROE over time. In addition, consensus estimates have been trending negative. If this is anyone's favorite idea for 2018, they must be focusing on the potential for a 2H18 recovery. Cullen/Frost Bankers Inc. (CFR) is a much more impressive alternative among regional banks, in our opinion.
DowDuPont Inc.

DowDuPont Inc. (DWDP) is unfairly penalized in our ranking model because the financials we measure are not pro forma for the August 31, 2017 merger close. Even so, consensus estimates have been revised down over the last few months, and this typically does not augur well for outperformance in the stock price. As we move further away from guidance created with the help of investment bankers to guidance that is anchored to operating expectations, we suspect there is a good chance estimates get revised down even further. This is not some contrarian call -- we just note that M&A comes with integration risk, investment bankers tend to favor projections that inflate value, and the trend for consensus estimate revisions is already down. There are plenty of other opportunities that are better than DWDP.
Deere & Company

Deere & Company (DE) looks great on operating momentum and consensus estimate revisions. However it ranks poorly on fundamental quality, mainly because over the last 12 months capital spending has been greater than cash flow from operations. While a poor fundamental quality ranking can be explained away by strong growth expectations and the past strong record of a management team, it still does not override the consideration that relative value is too high. There are too many other companies that look relatively better than DE, so this would not be our top choice for 2018 by any stretch of the imagination.
Alphabet Inc.

Of the ten stocks mentioned in Barron's 10 Favorite Stocks for 2018, we only like two of them: Alphabet Inc. (GOOGL) and Applied Materials Inc. (AMAT). Both of these stocks are part of our theoretical long model portfolio.
While it is useful to find companies that with strong operating momentum, we tend to favor stocks that trading at a good relative valuation -- but not too good. Sometimes when a stock is at a compelling bargain, this could indicate that the market is pricing in an "unexpected" decline in fundamentals. When the market pays up for stocks of companies with a trend of strong operating momentum, this could be corroboration of ongoing fundamental strength. GOOGL is neither a bargain, nor is it overvalued. It is attractively priced relative to its underlying fundamentals, in our opinion.
Applied Materials, Inc.

Next, we have Applied Materials. Like Alphabet above, it too has a strong track record for proxies related to sustained improvements in ROIC and consensus estimates. However, unlike Alphabet, valuation looks very compelling. This could indicate that AMAT is near a peak in its cycle, and the market is pricing in expectations for a reversal of such trends. That could very well be the case, but we have found it makes sense to keep a stock like this in our model portfolio, which turns over monthly, until the record proves otherwise.
Just this morning, on December 11, we read a headline that "Citi is 'getting more nervous on semiconductors after Asia trip" and there are "signs of an inventory build and...upside to consensus estimates is declining." For buy-and-hold investors with long-term holding periods, they should dig deeper into expectations of where AMAT and other semiconductor companies lie on the overall cycle.
The rest of the "top ten" list
As for the other stocks on Barron's top ten list, they just do not look attractive on the four key metrics we measure. While there is always room for exceptions to a simple quantitative viewpoint, justifying these exceptions can take much more time and effort and carry more risk of underperformance, in our opinion. Talented value investors such as Bill Ackman and David Einhorn have experienced this all too well in 2017.
As mentioned previously, Barron's 10 favorite stocks for 2018 include Alphabet, Delta Air Lines (DAL), Berkshire Hathaway (NYSE:BRK.A) (NYSE:BRK.B), Volkswagen (VLKAY), Pioneer Natural Resources (NYSE:PXD), Applied Materials, Enterprise Products Partners (EPD), Ally Financial (ALLY), Anthem (ANTM), and US Foods Holding (USFD).
We do not typically include pink sheet ADRs in our ranking model, so Volkswagen is not included this month. Some limited partnerships are also not included in our model, so we have not included Enterprise Products Partners as well. Next month we may include a few key pink sheet ADRs and LPs in our overall ranking system.
If we were to study any of these additional names, we would start with Pioneer Natural Resources. Consensus estimate revisions look very strong. Are they strong enough to support acceleration in ROIC and earnings growth that supports its current multiple? Barron's seems to think so.
In our opinion, ConocoPhillips (COP) is a much more promising alternative stock idea in the Oil and Gas Exploration and Production industry.


Quantitative snapshots for the rest of Barron's top ten companies are provided below:





Disclosure: I/we have no positions in any stocks mentioned, and no plans to initiate any positions within the next 72 hours. I wrote this article myself, and it expresses my own opinions. I am not receiving compensation for it (other than from Seeking Alpha). I have no business relationship with any company whose stock is mentioned in this article.
Additional disclosure: As a simple quantitative model based on fundamental rankings, the portfolio models do not take into account rumors or pending M&A transactions. Theoretical return data reflect simple cumulative returns (not compound returns) and do not assume the impact of costs such as execution fees, margin fees, slippage, the availability of stocks for short selling, or any other kind of cost. There are limitations inherent in our theoretical model results, particularly with the fact that such results do not represent actual trading and they may not reflect the impact material economic and market factors might have had on our decision making if we were actually managing client money. We do our best to provide accurate information in this report, but do not guarantee its accuracy.
Editor's Note: This article discusses one or more securities that do not trade on a major U.S. exchange. Please be aware of the risks associated with these stocks.