Back in April, I wrote a short thesis on iRhythm Technologies (NASDAQ:IRTC) and then watched the stock increase from $37.5 to over $50. While the timing of this trade has been less than spectacular, I believe recent events make the fundamental case for a short position in IRTC and/or a long position in BioTelemetry (NASDAQ:BEAT) more compelling than ever.
iRhythm Technologies
Quick Overview
IRTC provides ambulatory electrocardiogram, or ECG, monitoring for patients at risk for arrhythmias through its Zio XT patch. The Zio XT patch is applied to a person's chest for up to 14 days while it continuously records an ECG of the patient's heart. At the end of the 14 days, the patient sends the device back for analysis. The bull case for IRTC is that the company will continue to experience significant sales growth as the ZIO XT patch takes market share away from traditional holter monitors. Please read my previous report if you want to see why I think the fundamental case might be flawed. In some ways, nothing has changed - the sell-side analysts still love the stock and recommend you pay 9x next year's sales to justify the current valuation. However, there are a few items that have changed that I will focus on in this report.
Competition
The first new data point is that BioTelemetry's ePatch is in the market and is expected to make a full launch in the first quarter of 2018. On BEAT's Q3 earnings call on November 8th, CEO Joseph H. Capper responded with the following to a question about new products:
"We've also, over the past year, launched a couple of extended-wear products, new market niche created by one of our competitors where we can't keep up with it, frankly. In the first quarter, we'll make a whole lot more devices to serve that product line because we have taken some business there at an accelerated rate, which is kind of a good sign for us."
The competition discussion becomes even more interesting since BEAT announced on November 30, 2017, that they entered into a partnership with Apple to provide cardiac monitoring services in conjunction with the Apple Heart Study. It is our understanding that the study will work like this - one would get a notification if the AAPL watch detects an irregular heartbeat/arrhythmia. The person would then call American Well, a telehealth company, and a doctor would prescribe BEAT's ePatch if appropriate. More important than the near-term numbers related to the Apple study, is the fact that Apple selected BEAT as a partner instead of IRTC. I thought IRTC didn't have any competition?
Large Shareholder Exodus
Another development over the past year has been the change in IRTC ownership. In the last write up, I noted that the bankers had a vested interest in keeping a number of large shareholders happy including Synergy Life Science Partners, Norwest Venture Partners, Novo Ventures, and New Leaf Partners. As you can see from the table below, the sell side bull machine has done a great job in helping these shareholders exit their positions.

And the table below lists some of the notable buyers over the past year.

So, if I am reading these tables correctly, the insiders and large shareholders who were with the company pre-IPO are on the way out. These investors are being replaced with passive funds and large institutions that can take large stakes and the position will still be insignificant in relation to the overall firm's assets. Which shareholder base probably knows the name better? The ones selling or the ones buying? These large asset managers have found liquidity through eager insider sellers, but I am not sure where they will find the liquidity or the next large buyer when it is their turn to sell.
One last item on IRTC, the chart below is often used in reports that are initiating new coverage on IRTC. The chart, sourced from IRTC presentations, shows the patch has better diagnostic yield than Mobile Cardiac Telemetry (MCOT). The data appears to be sourced from several sources including a 2007 study conducted by Rothman et al. We looked at the Rothman study and read that "a diagnosis was made in 88% of MCOT subjects", yet the chart below looks like the MCOT data point is around 60%.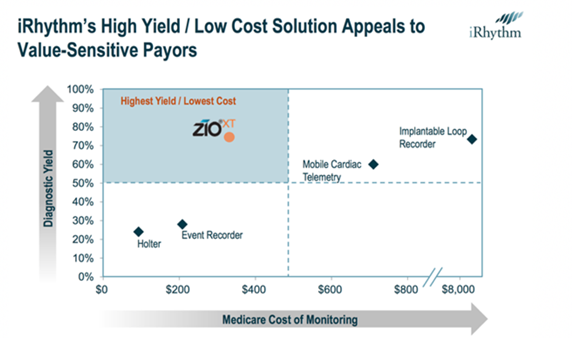 Source: IRTC Company Presentations
What assumptions did someone make to give MCOT a lower diagnostic yield than ZIO XT? Is there anyone actually looking at the studies or do investors just accept management's conclusions from the studies? Are there other assumptions that management has made that should be discussed as well?
BioTelemetry
The short case for IRTC is that it is essentially a one product company with a first mover advantage in its specific niche - medium-term holter monitoring - trading at an aggressive valuation with increasing competition. BioTelemetry, for instance, has released a patch version of its own medium-term holter monitor (sound familiar?) CardioKey, which Apple has selected for use in its Apple Watch heart-monitoring study, and is releasing the patch form factor of its extremely popular MCOT (mobile cardiac outpatient telemetry) device. IRTC essentially had a monopoly on a specific space in the cardiac monitoring market which will be challenged as larger companies with better technology and broader product offerings move aggressively into their territory.
One of the risks to the short case is that passive flows will continue to dominate the shareholder base and the addressable market for the ZIO XT patch continues to expand. A long position in BEAT is a way to hedge the sector exposure in an IRTC short while benefiting from the growth of patch forms to monitor patients for arrhythmias.
BEAT has an attractive valuation - at $26.28 the company trades at approximately 2.9x 2018 sales estimates and 12x 2018 EBITDA estimates. BEAT has several catalysts for sustainable growth including the recent acquisition of competitor LifeWatch in 2017 (which will add more than 40 million in EBITDA), the launch of new patch form factor products, the continued growth of the company's flagship mobile cardiac telemetry device, and an increasing number of partnerships to leverage BEAT's remote monitoring platform.
Another partnership BEAT has announced is with Onduo, a joint venture between Alphabet (NASDAQ:GOOG) (NASDAQ:GOOGL) and Sanofi (NASDAQ:SNY). This partnership will focus on diabetes management and leveraging BEAT's platform to monitor patients remotely. I view the diabetes program with Onduo and the aforementioned heart study with Apple as optionality that should only increase the addressable markets for BEAT's products as well as the valuation multiple that BEAT commands.
Recommendation
I believe a long position in BEAT and a short position in IRTC is an attractive investment opportunity in 2018.
Thank you for reading this Seeking Alpha PRO article. PRO members received early access to this article and get exclusive access to Seeking Alpha's best ideas. Sign up or learn more about PRO here.
Disclosure: I am/we are short IRTC. I wrote this article myself, and it expresses my own opinions. I am not receiving compensation for it (other than from Seeking Alpha). I have no business relationship with any company whose stock is mentioned in this article.
Additional disclosure: We are long BEAT.