Vanda Pharmaceuticals (NASDAQ:VNDA) is a biopharmaceutical company focused on the development and commercialization of products for central nervous system disorders.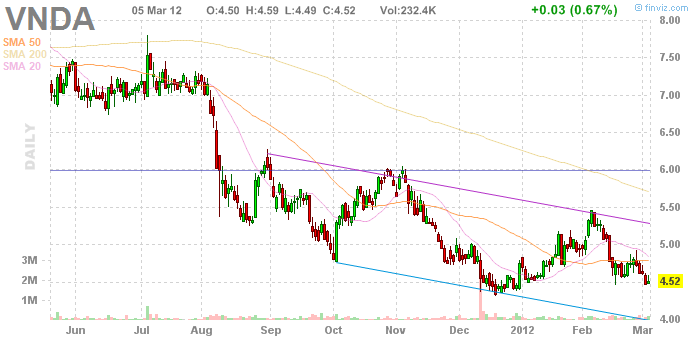 Pipeline
1. Fanapt belongs to a class of medications for schizophrenia known as atypical antipsychotics. The term "atypical" refers to the different mechanisms of action of second-generation antipsychotics.
The FDA approval of Fanapt was supported by two placebo- and active-controlled short-term (4- and 6-week) trials and safety data derived from more than 2,000 patients. Both trials enrolled patients who met the DSM-III/IV criteria for schizophrenia. Fanapt was shown to be superior to placebo in controlling symptoms of schizophrenia across doses of 12 mg to 24 mg per day -- which is the recommended daily target dose range. Titration to the target dose of 12 mg per day can be achieved in 4 days.
2. Tasimelteon is an oral compound in development for sleep and mood disorders, including Circadian Rhythm Sleep Disorders (CRSD). Examples of CRSD include transient disorders such as jet lag and chronic disorders such as shift work sleep disorder and Non-24-Hour Sleep-Wake Disorder. Tasimelteon binds selectively to the brain's melatonin receptors, which govern the body's natural sleep-wake cycle. Compounds that bind selectively to these receptors are thought to be able to help treat sleep disorders, and additionally are believed to offer potential benefits in mood disorders.
Tasimelteon has been shown to improve sleep parameters in prior clinical studies that simulated a desynchronization of the circadian clock. In two such studies, tasimelteon caused significant improvement in sleep onset and sleep maintenance without evidence of next-day residual effects. On January 19, 2010, the FDA granted orphan drug designation status for tasimelteon in Non-24-Hour Sleep-Wake Disorder in blind individuals without light perception.
Operational Highlights
On January 26, 2012, Vanda announced that initial clinical data in the RESET study revealed the potential of tasimelteon to reset the body clock in Non-24-Hour Disorder. The tasimelteon Non-24-Hour Disorder program continues to advance towards a projected mid-2013 NDA filing with the FDA. Vanda is in continuing discussions with the FDA to confirm the path and requirements for this regulatory submission. Vanda expects to complete the two Phase III efficacy studies, SET and RESET, by the end of 2012.
The tasimelteon MAGELLAN efficacy study for MDD is ongoing and Vanda expects to report top-line results in the first half of 2013. This Phase IIb/III study in MDD was initiated in September 2011 and is expected to enroll 500 patients across approximately 40 sites.
Full year 2011 Fanapt® prescriptions, as reported by IMS, exceeded 120,000 compared to approximately 55,000 for 2010. Vanda has been informed that Novartis (NYSE:NVS) is continuing the Phase II development program for the long-acting injectable formulation of Fanapt®.
The review of Vanda's Marketing Authorization Application (MAA) for oral iloperidone tablets in the European Union is ongoing. The European Medicines Agency (EMA) has provided its standard 120-day list of questions and has granted Vanda a 3-month extension, through mid-May 2012, for Vanda to prepare its response. After further evaluation of the regulatory and commercial environment, Vanda has no current plans to pursue registration for Fanapt® in Singapore and Australia. Regulatory filings for market approval of Fanapt® by Vanda's commercial partners are under review in Israel, Mexico and Argentina.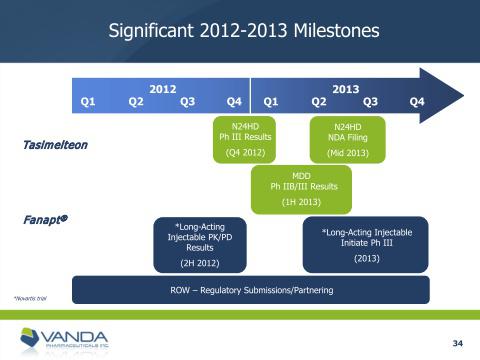 Financials
On February 14, 2012 the company announced financial and operational results for the fourth quarter and twelve months ended December 31, 2011.
Total revenues for the full year 2011 were $31.3 million, compared to $35.7 million for 2010. Full year 2011 revenues included $4.5 million in Fanapt® royalties received from Novartis, as compared to $3.1 million for the prior year. Both 2011 and 2010 revenues include $26.8 million recognized from the $200.0 million upfront payment previously received from Novartis for Fanapt® U.S. and Canadian rights. 2010 full year revenues also included $5.8 million in product sales to Novartis and grant revenue.
Vanda recorded a net loss of $9.8 million for 2011, compared to net income of $7.2 million for 2010. Diluted net loss per share for 2011 was $0.35, compared to diluted net income per share of $0.25 for 2010.
The company had total cash and marketable securities worth $167.9 million or $5.98 per share at December 31 2011. The company is currently using cash around $1.5 per share per year.
Insider Transactions
The President and CEO Polymeropoulos Mihael Hristos has purchased 10,000 shares of the company during the last 7 months at $5.35 share price. Polymeropoulos Mihael Hristos currently owns 1.5 % of the company.
Conclusion
I recommend buying this stock under the net cash of $5.98 per share. The next major catalyst is the possible EMA approval of iloperidone this year.
Disclosure: I am long VNDA.