Introduction
As we are relearning about the industry, we would like to invite investors new to shipping to walk with us! Don't be scared, be prepared! If generalists like us can recover from failure, anyone that can learn from our mistakes will be able to avoid potential pitfalls. Even though we might have taken a step back, we have not yet missed the boat.
In this report, we present a general background of shipping, the important drivers, simple valuation work, and essential news and reports sources for tempted investors. Part II will dive deeper into Dry Bulk. Finally, Part III will present favourite stocks that we currently have in our portfolio. (Links to be updated as reports are published.)
Related companies
As we will use examples from Dry Bulk in this part and dedicate the second part of the report to Dry Bulk, we disclose a list of companies with exposure to the sector: Diana Shipping, Inc. (NYSE: DSX), Eagle Bulk (NASDAQ: EGLE), Genco Shipping (NYSE: GNK), Golden Ocean Group Ltd. (NASDAQ: GOGL), Navios Maritime Holdings, Inc. (NYSE: NM), Navios Maritime Partners L.P. (NYSE: NMM), Scorpio Bulkers (NYSE: SALT), Safe Bulkers, Inc. (NYSE: SB), Star Bulk Carriers Corp. (NASDAQ: SBLK), Seanergy Maritime Holdings (NASDAQ: SHIP) and Ship Finance International Limited (NYSE: SFL).
Background investment history
Like any generalists, we hold a neutral view about all sectors, knowing the biggest trade-off is that we have to forego in-depth understanding of individual companies or industries. On the other hand, we are more protected from emotional attachment and biases to certain stocks or sectors. Even so, this approach has not handicapped us from making good returns. Our last picks from various sectors in Seeking Alpha have included, for example, L.B Foster in infrastructure, Solaredge (NASDAQ:SEDG) and First Solar (NASDAQ:FSLR) which operate in renewable energy. We are also investing in in retail, Fossil Group (NASDAQ:FOSL) and GNC Holdings (NYSE:GNC). Yes, a pretty dreadful scene at the moment, but we have been very successful there in the past with Christopher & Banks (NYSE:CBK) and Pier 1 Imports (NYSE:PIR). We are also investing in pharmaceuticals, Valeant Pharmaceuticals (NYSE:VRX) and completely divested out of tech, Tesla (NASDAQ:TSLA) and Amazon (NASDAQ:AMZN). Bitcoin (BTC) and blockchain technologies? We hold no opinion of it, or let's just say we prefer to hold income-generating assets!
Now, shipping is a completely different ball game to what we currently invest in, much trickier, we admit, but like all things, we will get better with practice.
You might have heard of Hanjin's bankruptcy, GulfMark's bankruptcy, DryShip's restructuring, and numerous toxic finance cases! Shipping has plenty of problems. However, please leave your pre-conception of what this industry is all about; be as objective and open-minded as possible. That way we will look at it with a fresh pair of eyes, free from recency and confirmation bias.
Our mistake and what we learned
We invested in the GulfMark Offshore (OTCMKTS:OTCPK:GLFMQ) in 2016 and walked away with a 60% loss in a double position. It was an offshore marine support and transportation service company. The mistake took us almost a year to recover. The lessons deserve a separate article, but in brief, we are now fully aware that shipping is a highly volatile, cyclical and leveraged industry.
We can't remind ourselves and our readers enough to be extra-sceptical with: shippers' cash flow management, they are highly capital intensive and highly leveraged, their liquidity position is always in question. Management words or "spin" like their forward guidance and commitment to serve equity holders, we take with a pinch of salt. We are aware of the existence of poor corporate governance, and we put corporate governance as one of the major factors in our analysis. The ins and outs of the economics in a highly cyclical industry. Take the long-term view, shipping stocks move much more erratically than other sectors we have invested.
With all of that caveats out of the way, let's go through the quick facts and important drivers of shipping.
Segmentation of shipping
The shipping industry is fragmented, broadly classified into:
wet bulk (LNG, LPG, oil and products),

dry bulk (Iron, Coal, Grains) and,

liners (Containers)
All have their nuances, different supply and demand drivers. It can get very technical and intricate once we dig into ships types, sizes, regulations and trade routes. We suggest new investors follow a top-down approach to learn about the overall macroeconomic environment and supply/demand dynamics before anything else.
Why shipping and how did we get here?
Out of the three segments mentioned, we decided to focus on dry bulk as it offers the most attractive short to medium term investment proposition at current market conditions.
We came to this conclusion by looking at:
the drivers and dynamics of supply and demand of each of the segments

the trend of freight rates,

chartering profile (fixed or spot) and,

individual companies in each of the segments to get an idea of how each of these segments performs.
Even though all the examples we use are related to dry bulk, new investors can still follow a similar approach in exploring wet bulk and liners.
Importance
As complex as shipping can be, the above high-level analysis helped us boil everything down to the simplest form:
Revenue and cost of running a ship
We all know that revenue is driven by the workings of supply and demand, which have been in wild swings of late. Despite this, the cost of operating a ship (OPEX + interests of loan) has been fairly stable. After all, shipping is highly capital-intensive. Asset prices do not vary as much as share prices or market sentiments. A ship's average operating life is almost 30 years! Thus, the majority of the costs are fixed. This cuts us some work trying to figure out the relative Net Asset Value (NAV) and likely cash flow generation of a ship operator. A section at the end of this report will talk more about this.
But at this point, having an idea of what a ship can earn make things a lot easier to digest. It helps us to understand who runs ships more efficiently and at what freight rate they will make money.
Supply and Demand
The main drivers of ship are the demand for the products that they transport. Shipping facilitates 90% of the world trade! So, as you can imagine, pretty much any products in the world are delivered by ships, therefore, a part of the cost of getting it to you would be shipping.
Besides demand, the cost (or value) of shipping is also determined by the availability of ships. The fewer ships are in the water, the fewer ships are available for booking. As can be expected, the shipping cost will shoot up pretty quickly as a result of fiery bidding wars between buyers.
Demand
In dry bulk, the underlying products transported are commodities. Roughly, they are broken down into 29% iron ore, 23% coal, 10% grain, 15% metals and minerals, 15% manufactures, 3% agribulks, 3% fertilisers, 1% sugar and others. To understand where the demand for these bulks comes from, we looked at their main customer. And you guessed it! It is China!
China the largest consumer
In fact, except for oil and gas (wet bulk), China is the largest consumer! The chart below shows the country was the world largest's consumer of most commodities in 2015. China also accounts for between 50% to 100% of global consumption upsurges across most major commodity markets.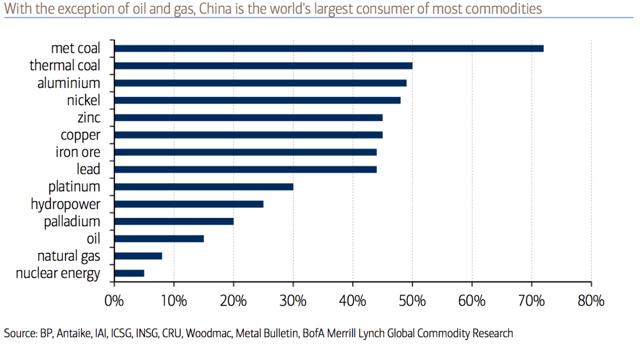 Source: Business Insider, 2015
The country is crowned as the largest producer, exporter and largest consumer of aluminium and iron ore. This year, global iron ore imports were at 1.478bn tonnes, where China alone, imported 1.075bn tonnes, or 73%.
Two events that helped China become such a dominant force were the joining the WTO and achieving $3000 GDP per capita mark in the early 2000s; a point purportedly signals an exponential increase in consumption. This 'tipping point' as it was theorized, propelled an individual consumption from just 2.2 cars per thousand people per year and 1.4 barrels of oil per capita to 9 vehicles and 2.2 barrels per year respectively. This surge in consumption happened during under seven years from 2001 to 2008, which corresponds to China's growing impact on global markets to 25% of current world trade.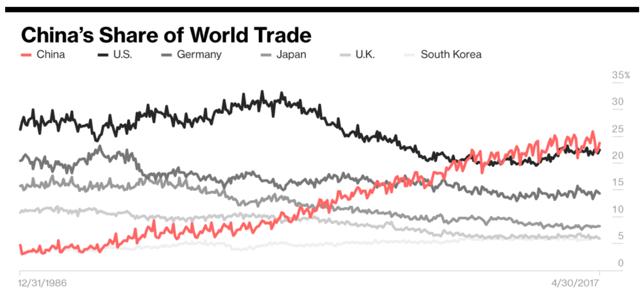 Source: Bloomberg
As China's influence in global trade is growing, it makes the global economy's health increasingly susceptible to any risks derived from China. One needs to keep a close watch!
In fact, bad news has already been brewing! Part II will analyze how China's economy is performing and how that might affect the outlook for Dry Bulk.
Supply
If you are a shipping veteran, you might know that the supply side is a lot more elastic than the demand side. Therefore, the two most important numbers that you should pay close attention to are, one, the total fleet size, and two, the reduction or addition. In shipping, any news related to increase or reduction in supply of ships can cause erratic movements in freight rates and share prices.
For a newbie to shipping, let's just start with the notion that even a 2-3% undersupply of vessels can pump freight rates up instantaneously! Why? Because the supply of ships (particularly larger ones) bears extremely long lead times and high production costs, thus any shortage cannot be met within a short timeframe. As a result, commodities traders will frantically bid up the price to transport their orders, quickly shooting up freight rates.
Similarly, a 2-3% oversupply of ships can cause freight rates to drop like a stone. It takes a long time to dispose of redundant ships. Consequently, this inability to react quickly to supply and demand disequilibrium is what causes the shipping index to experience high levels of volatility and freight rates to swing drastically.
The period between 2013-2016 is a perfect example of oversupply; in fact, it was the worst time for the dry bulk market in modern history. During this time, the market was flushed with ships that were first ordered in 2008 to supposedly fill the "demand gap" from the bull cycle pre-recession from 2002-2008, which we all know, never came to fruition. This caused a record drop in freight rates and vast numbers of bankruptcies, GulfMark included.
History set aside, in our recent evaluation we found the dynamics to be extremely favourable! We looked at the number of ships currently in the water, and the number of ships is likely to be delivered in the coming years. We found that in the next two years the numbers will be extremely optimistic. With over 10 thousand ships in the water, the number of ships produced in 2018 and 2019 is likely to be in the hundreds, which is merely a few percentage change. We also exclude factors that can disrupt actual deliveries, such as slippage, lack of finance and so on. Part II will provide more in-depth analysis of each of these factors. As one said, a picture speaks a thousand words. The graph below from Scorpio Bulkers Q3 presentation resonates a very bullish supply dynamics in the next 24 months.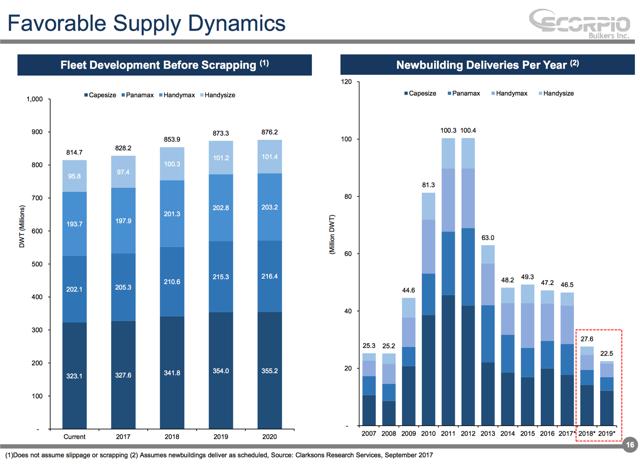 Source: Page 16 of SALT Sept 2017 presentation
The figures above present in DWT or dead-weigh-tonnage, a handysize ship has the least DWT capacity of 15k-35k, capesize carries the largest at 150k-200k. This means we have around 828mil of DWT of carrying capacity in the water in 2017, and we expect to have an extra 27.6mil in 2018 and 22.5mil in 2019. This represents an increase of 3% and 2% respectively. As mentioned, these increases do not take into account of the likely cases of shipbuilding delays, non-delivery, slippage and the scrapping of old vessels. In fact, this year slippage is as high as 50 percent of ships ordered. Now, this is likely to push this year's delivery to the next, but it also means that 2018 and 2019 orders will also be pushed to 2020 and beyond. Overall, the growth of this year's fleet and next two years' fleet are subliminal.
Navios Maritime Partners's data validates the current order book slippage possibilities.

Source: NMM Q317 presentation
Overall, you can find out the state of the supply pretty quickly as it revolves around the current fleet and order book. The demand side is more segment-specific, but again, if you can reasonably guess how the volume and demand of the underlying products are performing then that's a good start.
To sum up, in dry bulk, we see the tightening of supply of ships and a stronger demand in the commodities market than previously expected. On balance, the current market dynamics is tipping the scale into the bull territory.
Freight rates - Baltic Dry Index
If there is one thing that you should learn from reading this report is to be aware of the Baltic Dry Index. It is one of the most important factors that drove our motivation to dive deeper into dry bulk shipping. BDI tracks the prevailing freight rates in the dry bulk market. The Baltic Dry Index also offers a forward view of global supply and demand trends. A rising index can indicate a strengthening global economy. A contracting BDI index signals a slow-down. As ship orders usually book many months in advance, it is considered the leading indicator/proxy of economic development.
To us, it is the most influential factor and the quickest way to gauge the health condition of shipping.
The technical break down of BDI is:
BDI = ((CapesizeTCavg + PanamaxTCavg + SupramaxTCavg + HandysizeTCavg) / 4 ) * 0.113473601)
At the moment, the four-ship categories have equal weighting, however, next year, adjustments will be made to reflect the relative capacity these ships will carry. At the moment, Capesize ships make up of only 10% of the world fleet, but transport for 62% of dry bulk traffic. Thus, we will likely see a much higher BDI index as Capesize has been a major driver in the recent rate recovery.
We see BDI as a proxy measure of the current level of supply and demand for ships and, to some extent, the demand for the transported commodities. High BDI rates imply demand exceeds supply. As we can see in the table and graph below, freight rates of dry bulk ships (Capesize, Panamax and Supramax) have doubled year on year, consistently charging at 20k vs the 9k per day for Capesize ships. The reversal of rates has been consistent since we started tracking in September to November.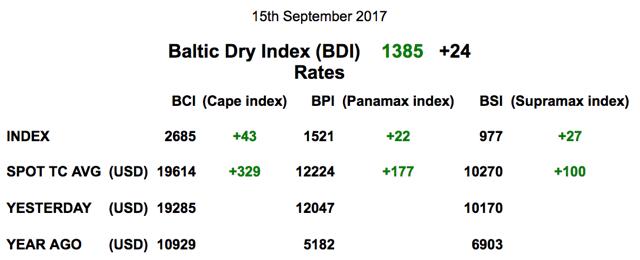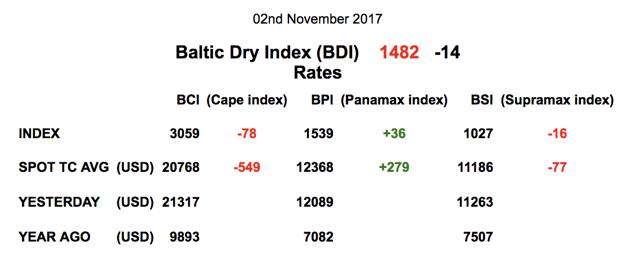 Source: DryShip Website, BDI index 15th Sep and 2nd Nov 2017
The link might not work anymore as DryShip website is under renovation. However, you can track daily BDI rates on Bloomberg, Hellenicshipping and Hegnar.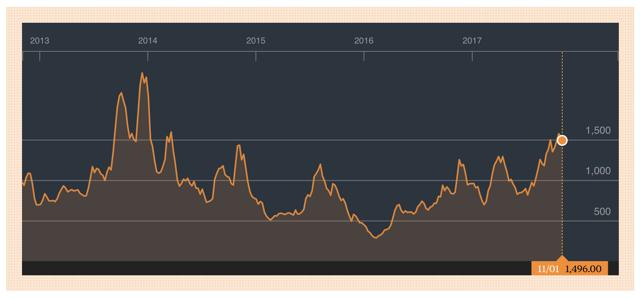 Source: Bloomberg BDI index five-year chart
Twenty months ago, the BDI index was at its lowest and started to rebound on the back of improving supply and demand. The rates recovery elevated revenue optics of shippers (income) and the value of ships (asset) considerably. To demonstrate the impact of this improvement, we look at the example as follows.
At the lowest point, the time charter equivalent rate (short as TCE, or the rate to hire a vessel a day) of a Capesize vessel (mainly used to transport iron ore and coal) was around $3,500 per day, while the value of a 5-year-old ship was approximately at $20 million. This year, during Q2 and Q3, the freight rates have been between $15-$20,000 per day, and the value for a 5- year-old Capesize is currently $32 million. As a result, the income statement and balance sheet of dry bulk operators are due for a significant upgrade in the coming Q4 and Q1 earnings release.
An example of the impact of rising BDI
Scorpio Bulkers (SALT), one of the first dry bulk operators kick-started the Q3 earnings season, confirmed the improving freight rates. The improved rates swung the company back in solid operative cash flow position for the first time in as much as five quarters and subsequently boosted the company confidence to resume its dividend distribution again. You could argue that the dividend distribution is premature nevertheless, it showed the company is very bullish about the future of dry bulk economics.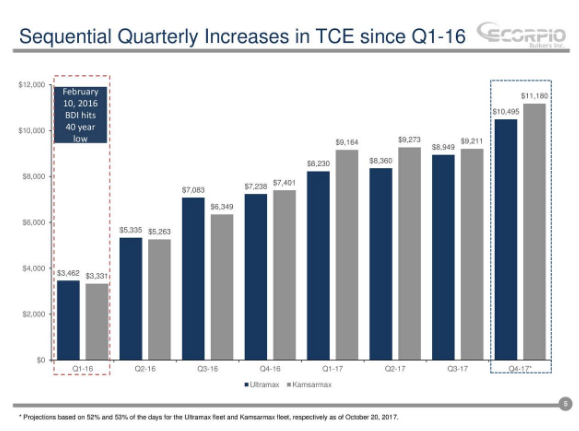 Source: SALT Q317, page 5, earnings call slides
Similarly, at current market rates, Navios Maritime Partners L.P (NMM), also a dry bulk player, is expecting a strong guidance in 2018, targeting $100mil free cash generation.
Positive impacts of rising BDI don't stop there. It is also a vital indicator of the future asset value of ship operators, i.e. vessel value. A rising BDI will likely result in a stronger balance sheet. Recently, vessel value has seen drastic improvements. We see higher trading prices of second-hand vessels, higher scrap values and also higher demolition value. As vessel value constitutes a significant part of a shipping company valuation or NAV, this development is extremely positive, further lifting fundamentals.
Part II shows how these fundamentals have changed over the year, yet the good news has gone unnoticed. A very useful tool I would like to show is live valuations.
Live Valuations
A highly regarded source to gauge a shipper's NAV is VesselsValue (VV); it is essential to subscribe to for any serious investor in this space. The chart below shows vessels prices reported at VV are showing improvement in residual value. In fact, dry bulkers had recently doubled in value since the trough of 2016.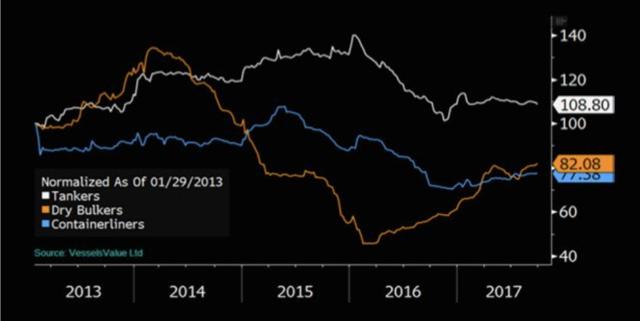 Source: VesselsValue cited in Global Maritime Hub
Overall, we see a lot of positive effects from supply and demand economics on vessels value. The upward trend of scrap value, demolition value and steel prices will support ship operators' fundamentals going forward.
Where are the Black Swans?
So, we returned to shipping because of all of the upside of the fundamentals above. Clarksons Platou Securities, a highly regarded shipping research firm, thinks it's the best time to invest in over 30 years. However, we approach the investment opportunity with caution; and investors interested in shipping and Dry Bulk need to consider potential red flags as follow.
China debt issue
As we know, China is so important to the global trade. More or less of 50% of all dry bulks go to the sole customer – China. Therefore, any hiccup in China's economy poses potential risks to shipping going forward.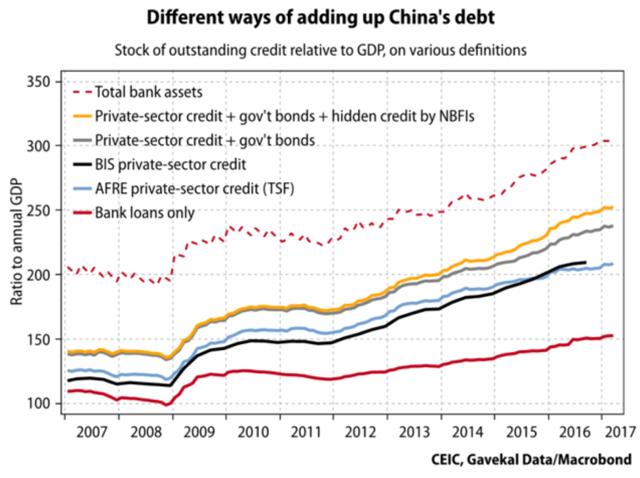 Source: ABC
Unfortunately, China has the highest debt loads in the world to the size of its economy. We don't want to get bog down on the debt conundrum, it comprises of so many pieces that we cannot fit in here, and there are much smarter people who have attempted to predict what can and cannot happen but are often wrong. So excuse us for oversimplifying.
If we can assume that the layers of debt above are manageable in the long-run, household debt is controllable (which by the way, is also surging at an alarming rate), the housing market (as high as it is) won't blow up anytime soon, then we can move on to a more immediate question of whether the government will resort to even more stringent restrictions to tackle the imbalances.
We believe that it is unlikely that the government would entirely eradicate an infrastructure-based stimulus plan without a transitional phase. Aside from the steel industry, there would be numerous other industries impacted, as well as, millions of workers dependent on these measures.
However, there is likely short-term pain. Peter Sand, BIMCO's chief shipping analyst, mentioned that the Chinese government are reducing steel production by 50% in 28 cities. Though Drewry, a maritime research firm believes that the real figure is closer to 25%. It is an oversimplification but any cut in steel production north of 25%, or more than the amount of iron ore imported, will likely dampen the investment sentiment again.
The good news is that high-quality iron ore is not readily available through domestic mining and iron ore stored at ports is at lower-grade. Thus, any decrease of iron ore consumption will need to be at a significant amount to temper the positives from the increased distance that iron ore will have to travel since the majority of high-quality products comes from Brazil and Australia. Nevertheless, we are approaching the low season of shipping, and the beginning of the pollution curb regulation, therefore, we cannot be too optimistic. For interested investors, I highly recommend James Caitlin's article, who wrote about this topic in great detail.
Supply
Fortunately, supply visibility is clear, we have high confidence that vessels supply for the next 24 months will not be over 4% as order book in 2018 have closed and 2019 closing soon. However, the risk is that the order book will likely to the rise again from 2019 onwards. Coupled with the forward-looking (and the short-term) nature of the equity market, we should monitor the sentiment closely against any backdrops.
We should also be cautious when bombarded with noises and headlines that suggest ship orders are already 4x the amount in 2016. The reality is that the number is still low compared to the 20-year average, and a comparison to the lowest point is always substantial. Moreover, the increase of 189 ships in order is tiny compared to the fleet currently at 10k strong. Nevertheless, there is a real risk from the supply side. Ship owners can spoil the recovery very quickly by mindlessly order more vessels without considering the fundamentals. Therefore, be vigilant of the change in investment mood, order book tally and shipyards and ship owners' activities.
Other countries and other dry bulk
China is not the only country that can pose significant risks. When it comes to the outlook for dry bulk, other parts of the world may hold considerable influence as well. Peter Sand, BIMCO's chief shipping analyst, said
"For thermal coal, a few other nations are worth taking note of, in addition to China," he explained. "Those are India, South Korea and Malaysia. Additionally, the US seems to have re-established itself as an option in the seaborne coking coal market, providing long-distance voyages into Asia."
Little or no moat in shipping
The elasticity of demand and supply makes shipping a very cyclical industry; however, it is not the only worry. To operate a shipping company, we almost always require hard assets and high capital costs, thus, companies are usually highly-leveraged. The market mainly competes on price, therefore, there is a limited scope to develop any durable and wide moat. Consequently, the most efficient operators with low debt usually survive. Besides, it also has distinctive low and high seasons. December to March is low, with freight rates much below the breakeven point of many operators. Thus, ineffective management of cash flow and hard assets can tremendously affect the ability to remain solvent until the high season comes.
And, as the current market is just coming off a recovery, the short to medium term outlook remains a testing time for many operators. As BDI index usually at its year low, we expect to see wild and irrational swings of share prices, and as a result, equity holders may switch to other industries.
Coming from a value investing and generalist angle, a highly capable and shareholder-friendly top management team is vital to our conclusion.
Buffett once said:
"If you don't know jewellery, make sure you know the jeweller."
As generic investors, we don't kid ourselves by trying to think that we can make sense of every fine detail about any business. Realistically, we know we can achieve reasonable confidence with just two assessments. One, take a bird eye view of the business and see if it is sustainable, and two, examine the competence of the captain steering the ship. If the latter is soundly displayed, one should not worry too much about the nitty-gritty of financial metrics.
We cannot trace the exact reading, but we are a fan of Ben Graham, and we recall one of his students, Walter Schloss, once commented about Buffett:
"He is a very good judge of people."
And Charlie Munger once said of Buffett:
"I see him talk about these present value calculations, but I have never actually seen him do these calculations."
Our point is, as outsiders, investors cannot figure out the fine details of jewellery. However, thankfully, we have a good chance of distinguishing between a competent and honourable jeweller from an incompetent fool. Unfortunately, this means that a lot of CEOs in this industry do not qualify.
We have some examples that display these CEOs' interest misalignments those of their shareholders. These examples cover conflicted related-party transactions, manipulative stock sale transactions ( DCIX), the sale of shares (ATM) at below NAV (CPLP), mismanagement of capital, generating record cash flow in one year and burning cash the very next, lack of transparency (SHIP). And, some management actions are just downright toxic (DCIX, DRYS).
We are not alleging that the majority of shipping management team is akin to these kinds of behaviour. There are good examples too, GLOP, for instance, issued shares through ATM at around $23 excluding expenses, 15% higher than NAV. However, it is a significant risk to be cognizant when investing in this sector.
We found this article a good starting point for new investors. It outlines the 'scorecard', names and shames some of the ship operators for bad corporate governance. We won't mention any more names here, but you can avoid many potholes following the article.


Basic valuation workings
So, congratulations on reading this far! We have outlined few essential financial metrics for investors to get started in this sector.
In an (unrealistically) efficient market, most shipping companies would trade at 1x P/NAV. Any more than that depends on its balance sheet strength (D/A, liquidity position), operation efficiency (break-even point), revenue visibility (at good TCE rates), and the aptitude of the management team. Below are some simple calculations we advise you to go through to have a feel of a company's valuation.
NAV = Value of current fleet + Cash – Debt
Daily cost / Breakeven = Operation expense (OPEX) + General and administration expenses (G&A) + Interest rate
Revenue = Rates per day * Number of days = estimated cash flow for the quarter/year
Cash flow = Revenue per day – Daily cost per day
The value of current fleet derives from looking at the recent fleet sales which are published on various shipping news sites such as Splash247, Hellenicshipping and Tradewinds News. However, a shortcut is to subscribe to VesselsValue, which updates shipping companies' fleet valuation periodically. This will give an excellent starting point for your valuation work.
It gets more interesting when you collate the fleet information of each operator. This is available in all 10-Ks and quarterly earnings reports. It's a lot more work, but you will appreciate the number ships, their types, capacity and the rates at which each ship are hired (either on spot or chartered). As a result, you can calculate meaningful ratios to the share price or market cap to see how much you are paying for each dead-weight-tonnage (DWT). This figure is very useful as you do not want to overpay for their operational capacity. Similarly, you can do the same calculation with the market cap to the fleet. J Mintzmyer does an excellent job of analysing shipper's fleet data. If you are interested in the technical details, I highly recommend trying out his service. Other experts in this space are James Catlin and Joeri van der Sman. A free resource with detailed workings can be found at Gersemi Research.
Conclusion
We hope you find our overview of shipping and dry bulk useful! We leave you with the final remark:
"There's good assets and bad assets, but good prices and bad prices supersede whether the assets are good or bad." -David Abrams
We are value investors at heart. At the end of the day, we find the price the most important factor. Price cuts both ways, it fluctuates every day, but value doesn't. From our two attempts at the industry, it seems shipping attracts rather a lot of traders and short-term investors, but that lies the opportunity to get in at reasonable prices.
There are a lot of moving parts in one's analysis of shipping or any industry for that matter. Mares with recent bankruptcies and toxic corporate governance, combined with high leveraged and operationally stretched to the bone. Many of the operators' market value slumped so much that they fell into small and mid-cap categories which limit their coverage and pushed the industry to the extreme in recent years. That makes investing incredibly exciting, and we foresee an extremely bullish outlook for supply and demand and more support for the fundamentals in the next two years. We invite investors to follow the links in this report and explore this topic in more depth.
"Even the ugliest of assets purchased at the right price can make a great investment." Marathon Asset Management
Note: This report was generated with input from exclusive research on Value Investor's Edge. Value Investor's Edge is the preeminent source for deep value and global shipping research.
Editor's Note: This article covers one or more microcap stocks. Please be aware of the risks associated with these stocks.