Firstly, thank you for the new followers, I am actively updating portfolio changes through my "blog post" feature, so if you are interested in receiving active updates for articles, please "follow" but if you would like to receive my (relatively more active) blog posts consider selecting "email alerts". I promise you will not be inundated with those updates.
This last two weeks have been a good two weeks for my portfolio holdings up to today (post-trading, November 12th) though I imagine two companies in particular (Alaris Royalty and Medical Facilities) might give up some gains tomorrow due to the high daily increase during this trading session.
Standard disclosure: Please bear in mind that I am in a relatively unique financial situation and financial background that might not align with the readers. I recommend that most retail investors have a broadly diversified strategy at the core of their investment holdings.
Main Update: The Big Trade Week
This week I purchased and proceeded to sell a stake in CRH Medical (CRHM). Those following with alerts may have seen the disclosure. There was not enough information or time to do a full article on why I decided to purchase the company, but we can explore it here.
The main article which I am sure many saw was a PRO article highlighting CRH (CRH Medical - Less Than 6.5x Free Cash Flow, Extreme Mispricing, Favorable Risk Reward Scenario) from Greystone Capital. This reminded me of this company that has been on my previous watch list (all of my company watch lists used to be in Google Finance before it disappeared making my watch list life much more difficult). After reading and doing my own due diligence I decided to utilize some of my medical weighting into this company, utilizing some capital from NWH.UN (rather than the medical marijuana position in Village Farms). This turned out fairly well, NWH.UN did alright, but I reached my 20% expected return much sooner than was anticipated and exited the position at just under that amount (did not sell at the high point, waited a day out of greed and missed it).
The new attention from SA readers into a relatively small company, combined with my comfort with their business and model gave me comfort purchasing into the company for a short term gain. I like the business and their model, but I believe the market discount is likely to continue until there is more clarity. Leaving the position may leave some money on the table, but the company does not fit into my main strategy, so I purchased with an intention to leave at a particular watermark. This is part of my strategy with short-term holdings, though I do not mind holding those companies for the long-term should I not realize that watermark in time. Let's talk strategy for new readers.
General Investment Philosophy
My core strategy guidelines are around four main points:
1) Current undervaluation from what I consider their current value based on all factors I consider. They are a good deal today.
2) They will likely continue that undervaluation over a time frame I am comfortable with, with catalysts for why that undervaluation will eventually disappear. I can continue to accumulate the investment for many years at a good value.
3) They allow me to re-invest in the companies relatively easily and with relative safety over time. Good dividend yield and/or relatively under-followed company.
4) They are currently severely undervalued and represent a short-term, higher-risk position that I follow in order to boost long-term returns but that are not required for long-term investment success. Risky investments that keep things interesting, with a justifiable risk profile.
Let's apply that to CRH Medical: They are currently (and still) undervalued on many of my key measures. They are suffering from American healthcare uncertainty and a hit to their pricing from re-pricing measures that do not eliminate its growth potential. This companies business model is a good one, their core products add tremendous value to their hospital partners and they have a great growth trajectory. Their lack of dividend strategy and speciality business make it a difficult choice for addition to the permanent portfolio. I decided this position should be temporary and was happy with the short term gains.
Speaking of short term gains.
The Portfolio By Weighting
Just a note, I tend to avoid dollar amounts as they may distract from the discussion:

As we can see the makeup has changed, the biggest change is that there is now a cash position from the NWH.UN selling (which is why it's weighting changed so much despite little price movement). I have now posted gains in all positions, although my Morguard North American REIT has been relatively weak lately, making me interested in growing the position in the New Year.
Village Farms International: Active Portfolio Discussion
The most gains were from Village Farms International as the news of their medical cannabis license being approved for review (not the same as receiving it). Those following in real time received an update where I mentioned that they did what I was hoping they would not do but expected: they issued equity. This was a great decision and was used to eliminate debt, particularly that required for the transfer process. I respect that decision, it likely would have been silly not to do so. If investors used the issuance as an opportunity to buy/add they would be up around 25%, depending on when in the day they saw the opportunity and acted on it. I am at a full speculative position so I didn't add on the weakness, regrettably.
For those interested, I have no official target for Village Farms International, though that is the position I watch the closest. I am expecting it to increase quite a bit to what I would think is fair value (I hope to get an article discussing it out though I am finding it difficult to get to it). I am basically running an ongoing analysis as the company quickly increases toward my price targets. The expected returns get higher as the company reaches new goals, so I am waiting for the company to very quickly surpass that expected value by a wide margin before selling (and then purchasing on pullbacks until we get to a company where the transition is made and they begin selling medical marijuana, profit improves commensurately and people begin to price based on future prospects).
Right now the company price is discounting the possibility that the company never becomes a major supplier. This is where the value is right now, as it approaches that value. If the company unreasonably surpasses that fair value estimate (which is possible due to its possible inclusion in an index and as investors find the investment) it may rocket passed what I think is reasonable. I need to get an analysis together to publish, so hopefully I can get to that point relatively soon.
Returns and Allocation Discussion
Since our last update I am up approximately 2.6%. As my Google Finance portfolio's are gone (I am going to be bitter about that loss for life I think) I did switch my portfolio information to TMX Money's system, which has some information that readers might find interesting.
All the following is from TMXMoney's portfolio feature.
By Company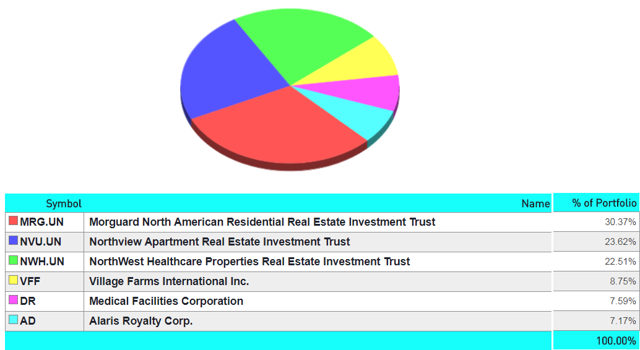 By Sector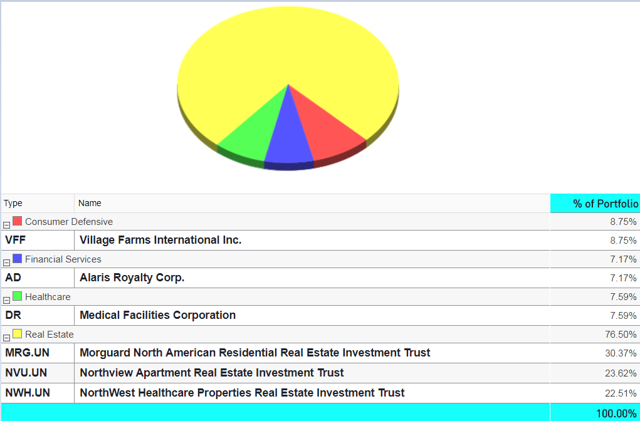 I am including this as I hope that TMX money will sponsor me (just kidding), but I find the information in visual form interesting. It helps bring home how concentrated and sector-specific my holdings are. Things to note: Village Farms is definitely not a consumer defensive stock anymore, they would likely be considered a consumer discretionary or a healthcare company, depending on whether you are valuing them as a "legalize marijuana" story or a "medical marijuana" story.
There is no "region" type chart but this does play into my decisions so I'll just speak to it here. Village Farms is 10-90 Canada to America (based on projections of where growth will come from once its fully a legalize marijuana story), Alaris Royalty is 60-40 US to Canada (expected), Medical Facilities is 100% US, Morguard is 60-40 US to Canada (projected), Northview is 100% Canada and NorthWest Healthcare is 30-30-30 projected for Canada, Brazil and Australia.
Where I Am Looking Next/ Likely Next Purchase
I really do not like to discuss upcoming investment decisions, but I feel it will add some extra value for readers and allow those with excess capital to use it if they like the idea(s) enough (I'll try not to let my jealousy show).
Here is my current favorite idea that I am actively exploring (and may purchase before publication, mind the disclosure). Please note I may find others or abandon this option, depending on how my due diligence goes and if other followed companies are brought to my attention from articles I read (like I did with CRH Medical). I plan to make this an addition to my portfolio updates so I can discuss the one idea I am most actively pondering or find most interesting in each update.
TransAlta Corporation (TAC)

Generally I pick or decide on companies with high dividend yields, where I can pick up those undervalued picks with a DRIP as I await their true value to be realized. In this case, the minimum value in the company is dictated by its ownership in a high yield investment product (TransAlta Renewables TRSWF) while it's upside is steady, meaningful gains over the long term. While their renewable arm is likely fairly valued, the main company stock is not, in this authors opinion. They are a dividend payer (yield is 2%), they are in a highly regulated business, they have impressive scale in their core market, low payout ratio (sub-20%) and solid growth prospects.
Let's try discussing this company in my three main categories for long-term holdings.
1) Current undervaluation from what I consider their current value based on all factors I consider. They are a good deal today.
The company should be trading substantially higher than they do today. In this case the company's equity is supported nearly entirely by their equity position in Transalta Renewables leaving the rest of the business effectively equal to the debt they have on the books. Combined with the companies sub-book level price (about 0.91 P/B) this means their regulated and unregulated utility business is discounted substantially despite including weighting in renewable energy, government subsidies to transition out of the legacy coal business and the revenue after they have successfully transitioned their coal power plants to other sources (or diversified out of them). When we consider the value added to the core business when they can develop renewable energy products and sell them to their own arm at fair value (sell to Transalta Renewables at full price with their comparatively low cost of equity) which appears to not factor in at all. Combined we should see some strong gains as the company approaches their fair value.
2) They will likely continue that undervaluation over a time frame I am comfortable with, with catalysts for why that undervaluation will eventually disappear. I can continue to accumulate the investment for many years at a good value.
The main sources of undervaluation (in the authors opinion, more due diligence is necessary) is the high weighting in coal (dirty industry) and their focus in Alberta, a particularly "sensitive to oil prices" region of Canada. On top of that they have a particularly unpopular government in power that investors in Canada view as anti-business (I disagree with this characterization but that hardly matters here, what matters is the opinion). So foreign investors are discounting due to the ties to oil prices, and local investors are unhappy with the political climate (including the introduction of a carbon tax that is extremely unpopular in the Alberta region). Both of these issues are temporary in nature in my long-term investing horizon. This allows continued accumulation while we await both of these factors to boost TA past a reasonable valuation (allowing us to exit if we so wish). The return profile is still strong, however, even if these events prove not to be temporary.
3) They allow me to re-invest in the companies relatively easily and with relative safety over time. Good dividend yield and/or relatively under-followed company.
Although not a particularly high dividend payer at the moment (yielding 2%) they have the room and the will to pay out a much higher amount of their earnings over time. At the moment they are conserving cash as they build out their capacity (they are investing in their future) and await a higher share price (does not make sense to push the yield too high when equity prices are too low to get a decent price on equity). But they do have a decent yield in today's environment (could be worse) and a growth profile that allows for increases tied to new projects and a return to a dividend payout ratio from 65-80%, depending on their strategy. That would get us to 6-8% yield on cost assuming no growth, which is fine by me.
Conclusion
I hope there was some valuable information or ideas here for investors that share my proclivity for these types of investments. I value any readers feedback about the portfolio's prospects and/or ideas. Particularly I am interested to hear readers opinion on TransAlta, why do you believe there is such a discount? It might help with my own due diligence.
Thanks for reading and I look forward to our continued discussion.
Disclosure: I/we have no positions in any stocks mentioned, but may initiate a long position in TAC over the next 72 hours.
I wrote this article myself, and it expresses my own opinions. I am not receiving compensation for it (other than from Seeking Alpha). I have no business relationship with any company whose stock is mentioned in this article.
Additional disclosure: Please note that the author is not a financial adviser and recommends consulting a qualified one before making any major investment decision. TheBaron Investing maintains that for the majority of retail investors a well diversified portfolio of low cost ETF's is the best option.
Editor's Note: This article covers one or more stocks trading at less than $1 per share and/or with less than a $100 million market cap. Please be aware of the risks associated with these stocks.