It's that time of the year again when market observers predict the year ahead. There are many ways to develop these forecasts. In this article I use momentum as a guide. I've called this approach Heat-seeking Alpha because it uses heat maps to quickly focus in on what's hot and what is not. You can use this approach to bet on the best performers, which is momentum, or against them, which is reversal or regression to the mean. In my end of year commentary I predicted a reversal in small cap value because that "smart beta" stampede had run its course in my opinion. I was right.
At the end of this article I'll give you my views for 2018, but first let's see where the momentum has been in 2017. The following tables show heat maps for the U.S. stock market and for the non-US stock markets in the first 11 months of 2017.
U.S. Heat Map

Everyone is aware that larger growth companies have led the way in the 2017 U.S. market while smaller value stocks have lagged. This heat map shows that most of the dominance in large growth has been in the technology sector, so a momentum bet would buy large technology companies. Similarly the map shows that most of the problem in small value has been in the energy sector, so a reversal bet would buy smaller energy stocks.
Non-U.S. Heat Maps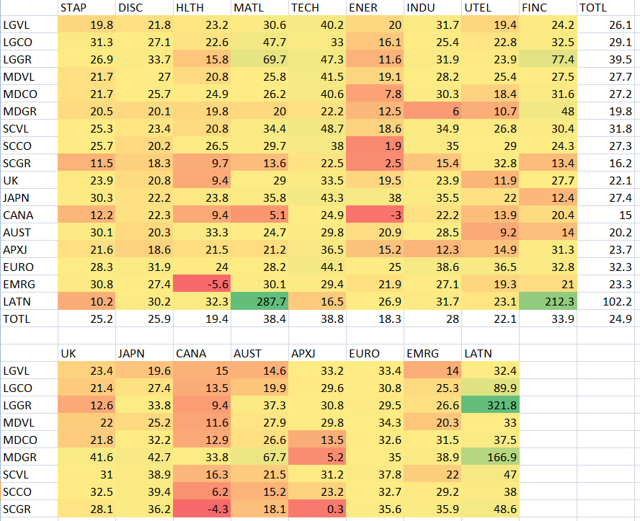 Outside the U.S., Latin America leaps off the heat map page as delivering extraordinary performance, earning 102%, especially large growth companies. By contrast, Canada has lagged with "only" a 15% return.
A Bigger Picture
Stock picking is a challenging and important endeavor, but there is currently something much more important that deserves our attention. 75 million Baby Boomers are all currently in the Risk Zone that spans the transition from working life to retirement. Losses in the Risk Zone can devastate lifestyles even if markets subsequently recover. The big problem is that Boomers are taking way too much risk because they rely on others to make this decision for them. Specifically, target date funds and individual retirement accounts at 55% in equities are way too risky for those in the Risk Zone. Boomers are poised for a sucker punch that they might never shake off. Their problem is everyone's problem because we care for our elderly, and could end up supporting them even more than is currently planned.
By all means, make your investment plans for 2018, but if you are a Boomer or know one, recognize that you only get one pass through the Risk Zone.
Not Market Timing
Reducing risk in the Risk Zone is not market timing. It's risk management. We all must decide at this Risk Zone point in our lives if we feel lucky that markets will continue to rise. Please see Bad Gamble for some considerations.
My best wishes for a happy and prosperous 2018.