Forties crude oil pipeline shutdown, carries 40% of North Sea crude
On Monday, December 11, 2017, privately held chemicals giant INEOS announced the shutdown of its Forties Pipeline System (FPS). On Wednesday, December 6, 2017, a repair and oil spill response team was mobilized due to reports of seepage and worsening of a hairline crack discovered during routine inspections last week in an onshore section of the pipeline just south of Aberdeen. After reducing the pipeline pressure, the crack continued to extend leading to the decision to the FPS down for repairs.
INEOS has owned the pipeline for less than six weeks having acquired it from BP P.L.C. (BP) on October 31, 2017. The 235-mile FPS, opened 42 years ago (in 1975) and links 85 North Sea oil and gas assets to the United Kingdom ((U.K.)) mainland (see picture below) delivering almost 40% of the UK's North Sea oil and gas production. The FPS connects with INEOS' refinery site in Grangemouth, Scotland, which supplies 80% of Scotland's fuels.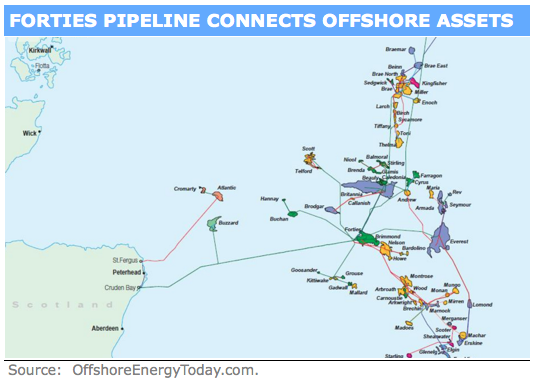 The onshore section of the FPS carries crude oil through a 36" diameter pipe 130 miles from landfall at Cruden Bay to Kinneil near Grangemouth where it is processed.
In 2016, the FPS's average daily throughput was 445,000 barrels of oil and about 3,500 tonnes of raw gas per day. The FPS has a capacity of 610,000 barrels of oil per day and was expected to carry approximately 450,000 barrels per day in the month ahead.
Expect U.K.'s crude oil supplies to experience multi-year lows due to shutdown
September 2017 crude oil supplies to the U.K. were approximately one million barrels per day. With the cold weather tightening its grip in the U.K., supplies were expected to follow seasonal increases growing to about 1.15 million in December and slightly higher in January 2018 (see charts below).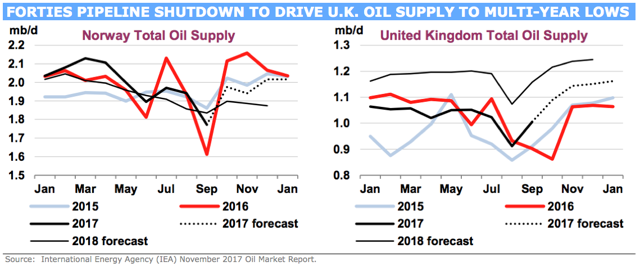 Brent crude oil prices responded sharply and immediately higher on the news of the FPS shutdown. Brent crude oil hit a two and a half year high, hitting $64.93 peak in the December 11th session.
A couple of company spokespeople have stated that repairs will take several weeks, although the exact time frame remains unclear at this time. So instead of rising supply in December 2017 and January 2018, we expect U.K. crude oil supplies will hit multi-year lows.
The impact to the UK oil and gas industry will be significant. Offshore oil producers that rely on the FPS will likely have to shut down production impacting their expected cash flows.
Supplies to customers of refined crude oil products in Scotland and the U.K. will still received supplies (albeit likely at higher prices). INEOS' Grangemouth refinery, which supplies the majority of fuel in Scotland and parts of the north east of England, has storage tanks and can receive tanker supplies is expected to be able to continue operating.
Forties Pipeline System shutdown one of largest production outages in years
We expect that the FPS shutdown will be one of the largest non-OPEC production outages in the last several years. The FPS shutdown is expected to remove 450,000 barrels of oil per day in production during full shutdown. To put that in perspective; in September 2017, total worldwide non-OPEC outages totaled approximately 300,000 barrels per day.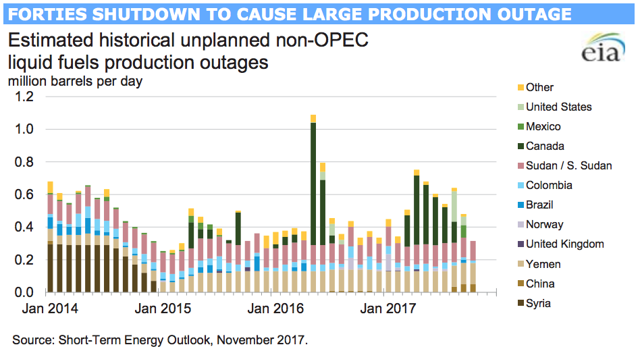 FPS shutdown to exacerbate 2017 global crude oil supplies and inventory contractions
Global supplies have contracted sharply in 2017 due to OPEC and non-OPEC production cuts of 1.8 million barrels per day.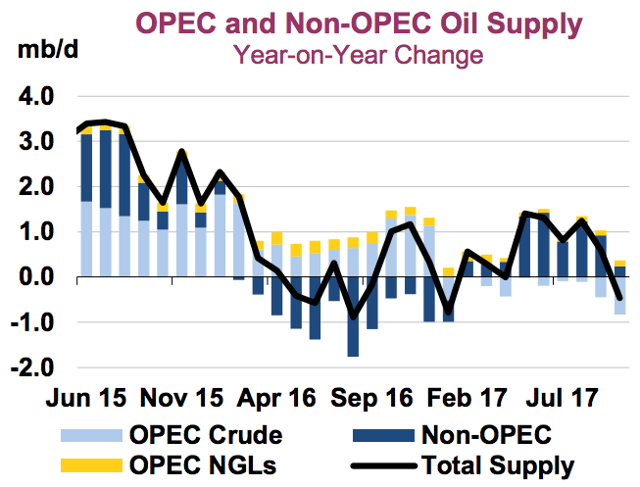 A result of the sustained production cut cooperation between OPEC and non-OPEC producers has driven Organization for Economic Co-operation and Development (OCED) crude oil inventories down toward their five-year average level.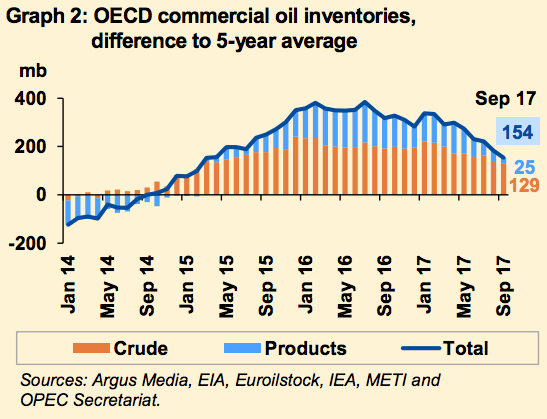 The FPS shutdown is hitting Europe at a time when inventories are especially low. OECD Europe commercial crude oil stocks fell more than usual in September 2017, by 18.5 million barrels to 972 million barrels, thus reaching their lowest level in more than two years.
An FPS outage of 30 days would lower supply (and inventories) by approximately 13,500,000 barrels.
While we expect the period of higher prices due to the FPS shutdown to be limited to the time period of the outage, prices may benefit longer term to the extent that OCED crude oil inventories would be further drawn down.
America shale oil producers will benefit from improved export opportunities due to the higher Brent-WTI spread.
With the announcement of the FPS outage, Brent oil prices surged and extended the Brent-WTI spread to $6.74 a barrel, up from around $5 in the prior week.
The major cause of the Brent-WTI spread being much higher than "normal" due to the sharp rise in shale oil production in 2017. America shale production of light oil is greater than demand by U.S. refineries requiring a mix of heavier oil. The result of supplies exceeding demand has been a widening of the spread. Other factors have caused the spread to widen as well, such as, infrastructure (e.g.; distribution pipeline, rail, and shipping) constraints to get the oil to areas where it can be refined or exported.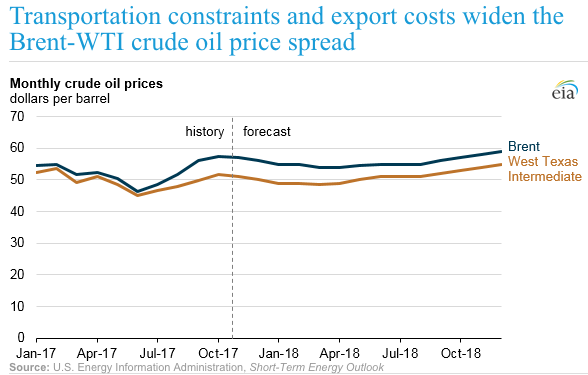 In December 2015 the U.S. decided to lift the nation's 40-year ban on crude oil exports driven by a boom in domestic drilling and production. Exports were slow to respond as infrastructure ramped to transport America crude oil production was limited and transportation costs were high. In 2017 exports began to pick up as growing production put increasing pressure on producers to find alternative markets for their crude oil supplies.
Crude oil supplies coming into Midland and Cushing (where WTI is priced) continues to surge causing the Brent-WTI spread to grow. The higher spread can make it more economical to export as the higher prices realized by producers or midstream distributors can more than offset the transportation costs.
As a result (as can be seen in the chart below), U.S. exports have surged.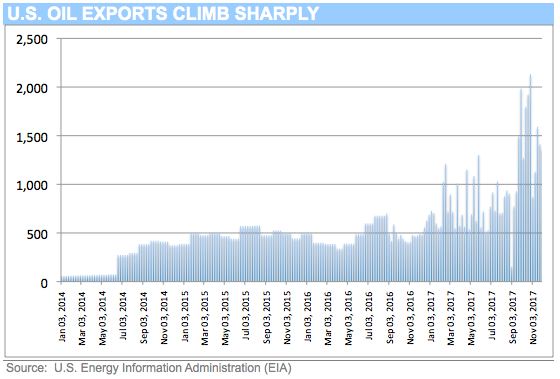 How important have exports become to the America shale oil production story was discussed by Pioneer Natural Resources Co. (PXD) on their 3Q17 Earnings Call held on November 02, 2017:
We've become a very significant player in world export markets and I think that will continue through time. As shown in the slide, we exported 1.4 million barrels of WTI during the third quarter and expect that number to be 2.3 million barrels during this quarter.

The last three cargoes interestingly have gone through various areas of the world, including South Korea and Japan as well as into Wales. It's really quite possible, if you look at our numbers internally, that our export volumes could quadruple next year compared to this year.

In fact, it's possible by the end of 2018, we would be exporting 100,000 barrels a day. So this is going to be a bigger and bigger component of our plan going forward. I'd say more importantly though, with the Brent-WTI spread having widened to, let's say, $7 to $8 per barrel, our most recent sales have been accomplished at a premium to WTI of nearly $5.

And accordingly, those sales are just not moving oil, they're making substantial value-adds when compared to our alternatives for domestic sales. Really, we do need the exports to move all this incremental oil that's going to be coming out of the Permian Basin and we're making significant strides toward that end.
With growth in production expected to continue in the Permian Basin and a growing number of drilled but uncompleted (DUC) wells, our Permian producers (click on link to view our 14-stock Permian Pure Play Stock Universe) will need a strong Brent price and Brent-WTI spread to support exports in 2018 and beyond.
Disclosure: I/we have no positions in any stocks mentioned, and no plans to initiate any positions within the next 72 hours. I wrote this article myself, and it expresses my own opinions. I am not receiving compensation for it (other than from Seeking Alpha). I have no business relationship with any company whose stock is mentioned in this article.