Welcome to the "potential liquidation edition" of Natural Gas Daily!
There are head scratching all around today. January contracts just moved to a new low today trading below $2.70/MMBtu. All eyes have been on mother nature (weather models) for the last 2-weeks, so it was interesting to see that price action diverged materially from what took place in the 12z (afternoon weather model) update.
In the ECMWF-EPS 12z run today, total heating degree days (HDDs or heating demand) increased by about ~5. Now that can change with the 00z run tonight, but that's usually bullish enough for a 1%+ move.
Here's a look at the 6-10 and 11-14 day composite outlook:

Courtesy of StormVistaWxModels.com
For those of you wondering what that means in heating demand, the latest run shows slightly higher natural gas demand relative to the 30-year average for the next 2-weeks. There are also no sharp divergences in the weather models, which means they are mostly in agreement with where heating demand will be in the next 14-15 days:

Courtesy of StormVistaWxModels.com
So, why are prices selling off today?
We have asked around and found a few discussions that made sense, but the most glaringly interesting one was that of a liquidation taking place. Now what do we mean by this?
If you watch the natural gas price curve, you will notice that January 2018 contracts are now selling BELOW July, August, and September 2018 contracts...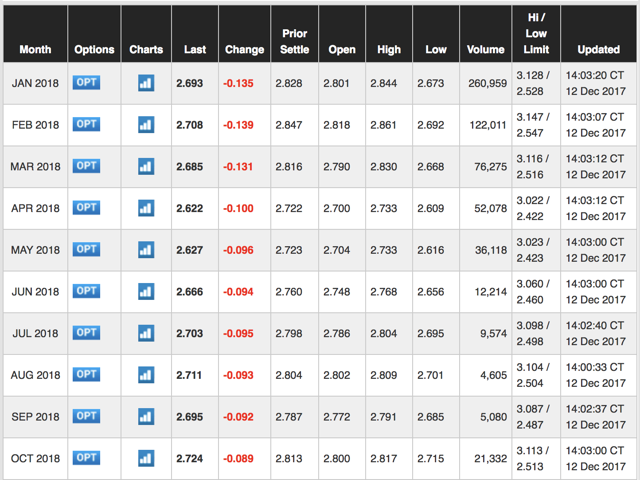 Now there are some significance to this because normally, winter gas prices trade at a premium to summer gas prices. Well, weather tends to be volatile, demand more inelastic, and there's always the risk that weather can trend colder leading to higher demand and higher short-term prices.
But the sell-off in the spread between these months have captured some traders' attention. Brynne Kelly, a prominent natural gas trader, posted this on Twitter today:
The premium that's usually embedded into winter gas prices (Jan, Feb, and March 2018) contracts are all but disappearing. Did someone's trade go wrong and was forced to liquidate?
What's puzzling to most of the people watching the price action is that 1) weather didn't explain it, and 2) volatility has been crushed. If it wasn't the case that liquidation took place, was it concerns over supply? We don't think so.
For those of you confused, rest assured, most are today. But as our fundamental analysis point out, natural gas storage assuming normal weather conditions will still push storage below the 5-year average come April 2018. As bearish as production may be, the current supply - demand set-up still tilts slightly to the bull side.
So for the rest of winter, weather remains the most important variable.
Thanks for reading. If you would like to start receiving must-read daily updates on natural gas fundamentals and trader commentary, sign up for HFI Research Natural Gas, a dedicated natural gas publication based on our years of research in the space and regular talks with traders in the industry. In preparation for the winter season and 2018, we are offering readers a chance to lock in our legacy rates, before prices change on January 1, 2018. Check it out and join us today, before winter arrives!
P.S. - We are posting all weather updates live to our subscriber-only live chat platform twice a day.
Disclosure: I/we have no positions in any stocks mentioned, and no plans to initiate any positions within the next 72 hours.
I wrote this article myself, and it expresses my own opinions. I am not receiving compensation for it (other than from Seeking Alpha). I have no business relationship with any company whose stock is mentioned in this article.