The Consumer Price Index for All Urban Consumers (CPI-U) rose 0.4% in November on a seasonally adjusted basis, the U.S. Bureau of Labor Statistics reported today. Over the last 12 months, 'headline' inflation was up 2.2%.
While the November number looks high at 0.4%, it matched the consensus estimate and wasn't a surprise. The energy index rose 3.9% in November and accounted for about 3/4 of the overall increase in inflation. Gasoline prices rose 7.1% in the month and are up 16.4% over the last 12 months.
In many other areas, price increases were moderate. For example, food prices held steady and are up only 1.4% over the last 12 months. Apparel prices were down 1.3% in the month and have fallen 1.6% over the last year.
Core inflation - which strips out food and energy - was up only 0.1% in November and has increased 1.7% over the last 12 months. This indicates that overall inflation remains muted, even as energy prices rise. In fact, higher energy costs may be reducing spending in other areas, keeping inflation lower.
This chart shows how core inflation has remained moderate over the last 12 months, despite strong fluctuations in headline inflation: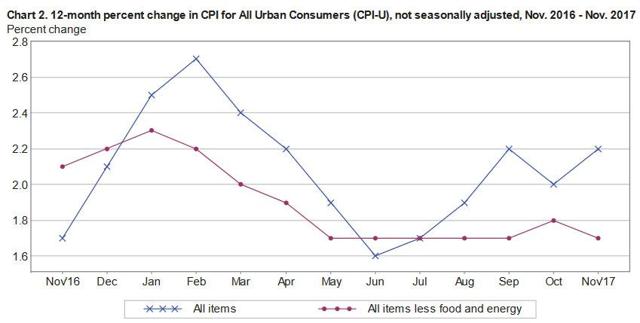 What this means for TIPS and I Bonds
Holders of Treasury Inflation-Protected Securities and U.S. Series I Bonds are also interested in non-seasonally adjusted inflation, which is used to adjust TIPS principal balances and set future interest rates for I Bonds.
For November, the BLS set the inflation index at 246.669, essentially unchanged from October's 246.663. This means that principal balances for TIPS will remain unchanged in January, after declining very slightly in December. Here are the new January inflation indexes for all TIPS.
For I Bonds, the November number is the second of six that will determine the I Bond variable rate, which will be reset on May 1. So far, non-seasonally adjusted inflation has declined 0.06% in October and November. Here are the relevant inflation numbers:
What this means for future interest rates
The Federal Reserve is meeting today and is widely expected to raise its key short-term interest rate by 0.25%, to a range between 1.25% and 1.5%. That announcement will be coming at 2 p.m. Nothing in today's inflation report should change the Fed's course. Gasoline prices are pushing headline inflation higher, but core inflation remains under the Fed's 2.0% target.
From this morning's Wall Street Journal report:
The report is the Federal Reserve's last peek at a major inflation gauge before the central bank's two-day policy meeting concludes Wednesday afternoon. Central bank officials are likely to look through the uncertain inflation outlook and raise interest rates by a quarter-percentage point, the fifth such increase since the Fed began raising rates from near zero two years ago.
For investors, an increase in short-term rates will make shorter-term fixed-income investments even more attractive as the yield curve flattens. Especially interesting is the December 22 reopening of a 5-year TIPS, CUSIP 912828X39, creating a 4-year, 8-month Treasury Inflation-Protected Security.
The Treasury estimates a full-term 5-year TIPS is yielding 0.40% after inflation, only 11 basis points lower that a 10-year TIPS and 41 basis points lower than a 30-year TIPS. A year ago, these same spreads were 47 basis points for the 10-year and 100 basis points for the 30-year. Clearly, the shorter-term TIPS is more attractive.
I'll be previewing the December 22 auction later this week. Follow me on SeekingAlpha.com to get all the updates.