Applied Optoelectronics (NASDAQ: AAOI) had a wild ride since the days of its IPO. It went up 1000% from the IPO price of $10 per share, touching $100 very briefly before falling over 60% to $40. With fundamentals and technicals aligning, it is the perfect candidate to write put options against.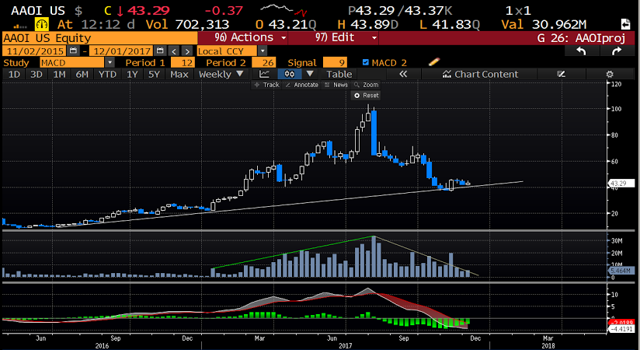 Looking forward
Before I became an investment advisor, I pitched AAOI to readers of Seeking Alpha when it was trading around $17 per share. I highlighted the proprietary MBE manufacturing process and the industries likelihood to swiftly adapt to 100 Gbps optical transceivers, all while AOI's had strategic positioning to grasp significant market share.
AOI does appear to be holding the multi-year weekly trend line, making for a great risk/reward entry for mid to long term investors. Take notice of how volume has been steadily declining since the selloff from highs, a more cautious short to medium term trader might wait until both price and volume spike simultaneously to confirm a change in trend. Last earnings report AOI rose over 10% on decent volume, this was despite $1.08 per share earnings results and uncertain guidance with their top customer Amazon. An interim bottom may be in the 38/39 pricing level, coinciding with the long term trend.
Fundamental View
From a fundamental perspective, AOI is financially sound and is a value play compared to its competitors (NASDAQ: OCLR), (NASDAQ: FNSR) AND (NYSE: NPTN). Basing a DCF valuation on a 20% growth rate for the next for 4 years, with a terminal growth rate of 5%, we derive a fair value of $60 per share.
Some assumptions we based this valuation are as follows:
Strengths
Highest margins in the industry with a gross margin of 44.4% in Q3, (Q4 estimates in the range of 41% - 43%)
Vertical integration with the Molecular Beam Epitaxy production process giving AOI a technological moat and capability to produce modules at a significant cost advantage.
One of the most profitable company in optics. EPS came in around $4.20 per share annually. PE (9.5), and EV to EBITDA ratio is (6.75), which signals the market is undervaluing AOI shares.
Some risks associated with this valuation:
Earnings volatility moving forward, AOI has large customers and any order reduction can significantly impact the bottom line. Customer concentration remains an issue as we saw Amazon significantly decrease ordering last quarter and sales drop below $10 million a quarter.
Investor sentiment can keep the stock price below fair value, optical companies have been ravaged by huge earnings misses and have to convince the market they deserve higher valuations.
Competition remains high as players like Intel enter the transceiver market.
Technological innovation could shift the industry landscape and customers will switch to faster modules capable of transmitting data at 200g and 400g speeds. AOI remains positioned to be the industry leader due to their vertical integration and capability to transition their production process to other product lines.
Product mix can impact margins as 100g transceivers face stiffer pricing competition. AOI's margins are going to be at risk moving forward and if they don't transition to a new product line, a good product mix will shift to bad very quickly.
Portfolio Strategy
AOI is the perfect candidate to write put options against. My firm specializes in writing covered calls and selling cash secured puts as a form of income generation and a trading strategy to purchase shares cheaper than where they are currently trading.
We believe options premiums are elevated and we seek to sell cash secured puts as a method to acquire shares in the stock.
This strategy is based on the investment philosophy that investors fear the downside in owning a specific name and are willing to pay an elevated premium for insurance to the downside. In most instances the expected pricing move in a stock is less than the actual move. When a stock such as AOI has elevated implied volatility there is profit potential in the stock.
Selling cash secured puts is a great way to generate a higher annualized ror
If assigned the stock, you will own it cheaper than where it was trading
Once assigned, write covered calls as form of cash generation
Roll and Repeat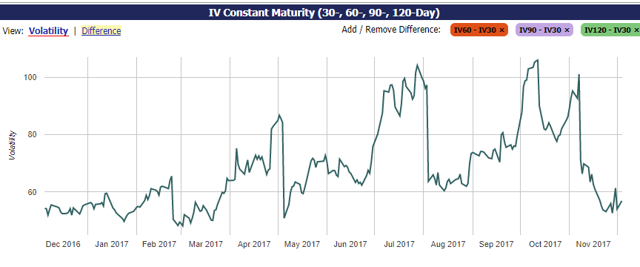 The implied volatility is priced very extreme on AAOI, sometimes over 100% during the last year. When you compare IV against the SPY, AAOI has 10X the implied volatility priced in the options market. While the pricing movements have been extreme historically, there is no reason to believe there will be similar pricing movements moving forward. AAOI is a fundamentally sound company, they have the highest margins in optics and are about to bounce off of a long term pricing trend line.
Sell out of the money options, they have a high probability chance to expire worthless
It's a numbers game, selling the lower delta options have a higher success rate
So why would implied volatility be priced extreme on AAOI?
Options have to be priced extreme so market makers can create the options market and have a wide enough bid/ask spread to make a small profit. The market maker is taking an elevated form of risk to buy and sell options, which have the ability to move up, down and all around. This translates to the actual move in the underlying stock being less than what the options pricing models predict a move will be. Because the expected move is less than the actual, investors can capitalize on this by selling puts and covered calls.
This is an example trade detailed:
The January 19th expiration $30 put is trading for $0.57 cents, or $57 in premium
You are getting paid $57 dollars to buy the stock at $30 per share should the stock price fall and you are assigned stock
It's a 8 delta option, implying roughly 8% of outcomes this option will touch the strike price, or 92% of the time it will expire worthless
From the current share price of $40.24, the stock has to move down over 25% before your option would be put away and assigned stock
If you want to own a name and get paid to acquire shares lower than where they currently are trading, cash secured put writing is a trading strategy for you. In the event of a worst case scenario and you get assigned, you just own a 100 shares and write covered calls against them. Same trading principles, sell a 10 delta call and collect the full premium 90% of the time.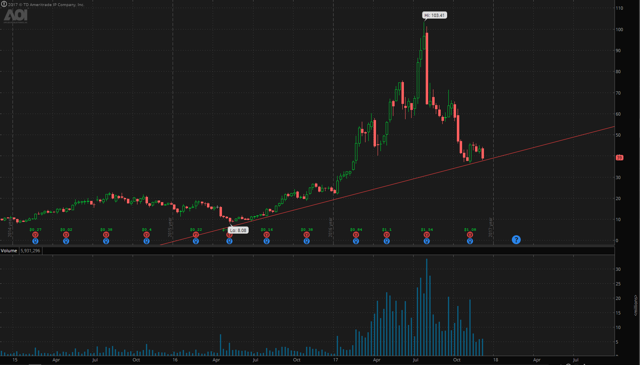 Disclaimer
Options trading is not for everyone and this strategy is for experienced investors. I am writing this article to show a unique perspective of trading AOI. If you have any questions about how to implement this strategy, contact a finance professional for guidance.
Copper Canyon LLC is a Registered Investment Advisor in Central Florida. We have outlined our market commentary and all information detailed in this article is not investment advice, it merely indicates the opinions and views of Copper Canyon LLC and its Investment Advisors.
This commentary was created by Dylan Quintilone, Investment Advisor Representative of Copper Canyon LLC. Copper Canyon LLC is a State of Florida Registered Investment Advisor.
Dylan Quintilone CRD# 6732024
More information can be found about Copper Canyon LLC CRD#286061 at https://brokercheck.finra.org, by typing Copper Canyon LLC into the search box.
Disclosure: I/we have no positions in any stocks mentioned, but may initiate a short position in AAOI over the next 72 hours.
I wrote this article myself, and it expresses my own opinions. I am not receiving compensation for it (other than from Seeking Alpha). I have no business relationship with any company whose stock is mentioned in this article.
Additional disclosure: We may initiate a short put and/or covered call position for clients. We have presented this trading idea before writing about it on Seeking Alpha. We are long and manage client position's in FNSR.