I last wrote about Brown-Forman Corporation (BF.A) (BF.B) exactly a year ago. At the time, I felt compelled to defend BF stock, then trading at 52-week lows, since other authors were suggesting it was still too expensive at 24x earnings.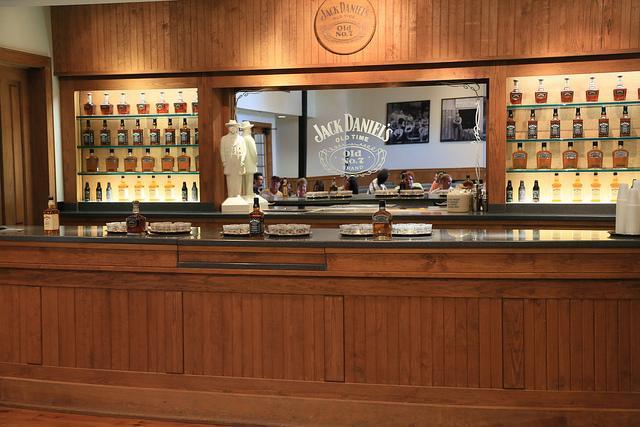 (Source)
Since then, BF stock is up 49%, and the PE ratio has expanded to 37x. Needless to say, for the bunch of folks that were hoping for BF to retreat back to a 20x PE ratio, that opportunity never came along. Can I, the willing proponent of "overpriced" BF stock last year, still defend Brown-Forman now, up another 50%?
The answer to that comes back to what role you see a stock like Brown-Forman playing in your portfolio. If you view B-F as a short-term holding, it's hard to justify much more upside over the next couple of quarters. Brown-Forman is trading at 37x trailing earnings and 32x forward earnings. After the company's stellar earnings earlier recently, I'd expect analysts to raise their 2018 guidance to some degree. However, even if analysts take their EPS estimates up 5%, we're still at a 30+ PE ratio for next year.
B-F is the highest quality company in the best sector out there for investors. Alcohol stocks trailed only cigarettes over the past 82 years among the US's 30 sectors for compounded performance. And nowadays, alcohol producers are better off than tobacco, given the declining consumption of the later. Put another way, B-F just announced 7% sales growth over the past year - you won't see a cigarette company do that very often anymore.
Even with that defense, we're still talking more than 30x forward earnings for a company that blew away investors with a high single digits growth rate. And in the conference call, it suggested that growth may slow down going forward, as it is up against stronger comp quarters going forward. The 18 P/B and 8 P/S ratios are also pretty hard to defend. And while it is a Dividend Aristocrat, the 1.2% dividend yield isn't that exciting when a 1.8% yield-on-cost was available for people who bought a year ago December.
To put it bluntly, even I, a perennial B-F bull, can't justify buying shares of stock today (except with one condition discussed below). To get reasonable total returns over the next five years, you'll need the market to continue paying elevated PE ratios in perpetuity - the company simply can't grow fast enough to justify a 37 trailing PE. Yes, growth is back with the emerging markets recovering, but this is a slow and steady business that can grow the top line at 5% - it's not going to put up tech stock style growth usually associated with near 40 PE ratios.
As a long-term holder, I see little reason to worry about Brown-Forman stock being overvalued today, though. B-F stock is overvalued by traditional valuation metrics the vast majority of the time. That being the case, it's wrong to assume this will go back to a market average 15 PE ratio anytime soon. As a company that has earned stratospheric returns on equity and profit margins for decades, I don't expect BF stock to go back to market normal valuations anytime soon. A valuation premium is justified, and the market will support it going forward.
However, the PE ratio could go back to the low-to-mid 20s, leaving us with rather unimpressive returns over the next couple years. A couple years of consolidation, such as what we saw from 2014 to 2016, followed by another breakout is hardly the end of the world for patient dividend growth investors, though: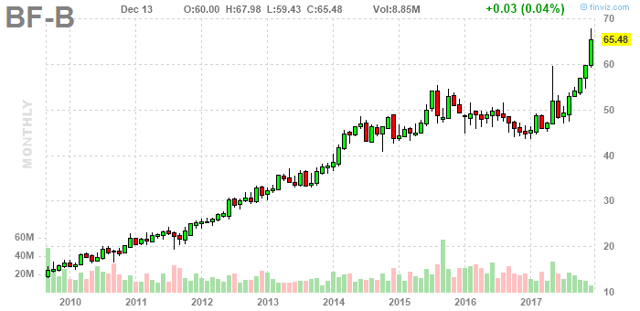 BF Stock Arbitrage Opportunity
The recent run in Brown-Forman shares has unleashed a fresh arbitrage opportunity across the company's two share classes. The company has "B" shares, which don't come with voting rights, and "A" shares, which do. In all other regards, including the size of the dividend payment, the shares are equal.
As such, you'd expect the A shares to trade at a small premium to the B shares, since in theory voting rights are worth something, in practice, they're not worth a whole lot since the business is family-owned and can pretty easily swat aside takeover offers if it so chooses.
In practice, this is not what has played out. In fact, for extended stretches of time, the A shares have traded below the value of the B shares. This is in large part due to the magic of passive investing. The B shares are more liquid, and as such, index funds concentrate their positions where there is more float. Additionally, some investors don't like illiquid stocks, so they'll suck it up and pay a little more for the B shares even though the A shares are demonstrably better (voting rights) and cheaper/offer a slightly greater yield.
Why do I bring all this up today? Because the B shares have just, for the first time in a long time, overtaken the A shares in value (B shares in orange, A shares in blue):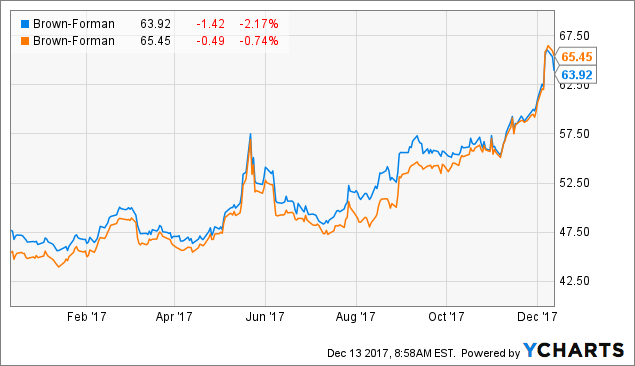 BF.A data by YCharts
With yesterday's 2.2% decline for the A shares, and just 0.7% for the B shares, a decent gap has now opened between the two shares classes. This has partially closed in early Wednesday trading, but given the A class shares' illiquidity, this gap will fluctuate and is worth monitoring. Let's suppose that you own $10,000 of Brown-Forman B class stock at Tuesday's closing prices.
If you swap that into Brown-Forman class A stock, you could pick up an additional three and a half shares, increasing your shareholding from just under 153 shares to more than 156. This gives you a more than 2% dividend yield increase - an extra hike on top of the 8.2% increase the company just gave us.
To be clear, this would likely be counterproductive in a taxable account. However, if you can make the swap without incurring present-day tax liability, it seems like a reasonable option at this time.
There is one more question worth addressing on this. I know some of you are thinking - if the A shares are more illiquid, and the company isn't going to get taken over, what will make the A shares ever trade over the B in value again?
Just because a buyout isn't coming soon doesn't mean the voting rights are totally useless. A company can be put into play at any point - see Constellation Brands' (STZ) unexpected bid for B-F last year. You never know when voting rights will come in handy, and when the only difference between the share classes are said voting rights - as a long-term investor - there's no reason to pay more for an inferior ownership class.
And while we have no idea when a voting premium will come back, it will someday. Consider the last 10 years. The two share classes traded within a few percent of each other virtually the whole time. Except in 2015. That year, an ownership premium developed as rumors started swirling about management succession plans, and the A shares (orange) ran as much as 14% ahead of the B shares (blue).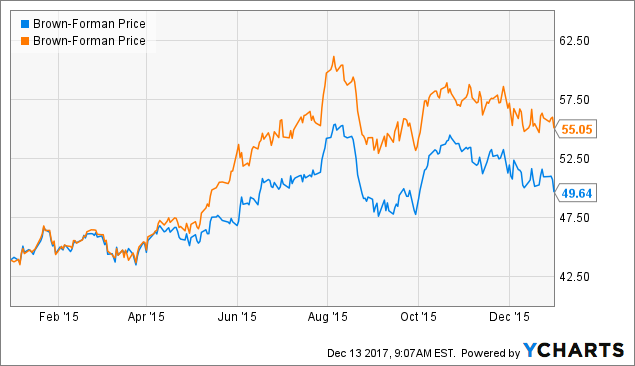 BF.B data by YCharts
There's no guarantee a similar run will occur again anytime soon. But unless you're buying BF stock with the intention of selling again in the near term, it's hard to imagine why you wouldn't want the optionality of having voting rights and buying at a cheaper price.
Disclosure: I am/we are long BF.A, BF.B.
I wrote this article myself, and it expresses my own opinions. I am not receiving compensation for it (other than from Seeking Alpha). I have no business relationship with any company whose stock is mentioned in this article.