Welcome to the weekly oil storage report edition of Oil Markets Daily!
We are back (as promised)! Below, you will find a more revamped version of the weekly oil storage report. We have also started giving preliminary figures for the following week's crude (USO) storage estimate. This can be tricky as it's not as precise as natural gas storage but will offer some signs as to what to expect.
Let's get into it!
Highlight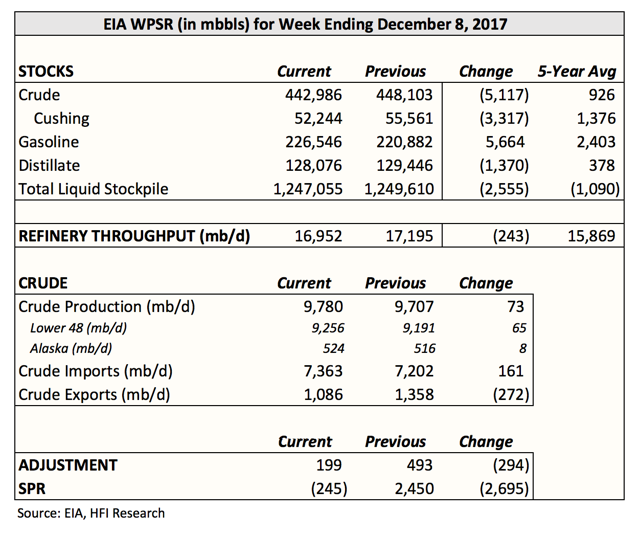 Above, you will find the highlight of this week's storage report. Several things stand out:
Adjustment factor dropped 294k b/d week over week.
US crude production jumped 73k b/d to 9.78 million b/d, powered by 65k b/d higher from Lower 48 and 8k b/d from Alaska.
SPR release went from adding crude of 2.45 million bbls last week to subtracting -245k bbls as refineries payback the crude borrowed from the storm period.
Refinery throughput dropped 243k b/d, but more on that later.
Crude storage drew 5.117 million bbls and gasoline built 5.664 million bbls and slightly higher than the 5-year average.
Now, we will go over each of the variables in more detail, but the discussion around US oil production should always be first and foremost.
US Oil Production, Refinery Throughput, and Adjustment
Here's a look at EIA's latest weekly oil production figure: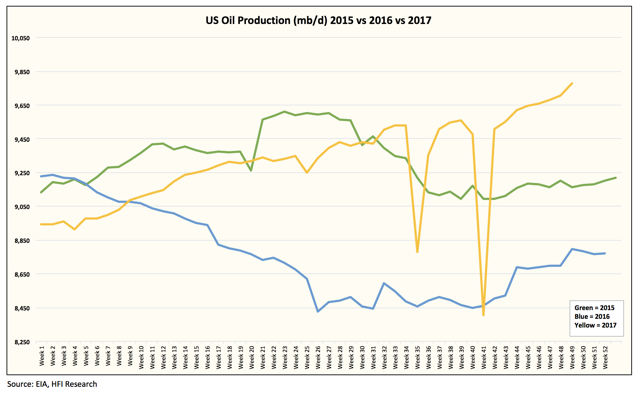 US oil production is now sitting at 9.78 million b/d. Adjustment factor was positive, does that mean EIA is underestimating production?
Not necessarily, and from our analysis, we do not believe that to be the case. See chart below: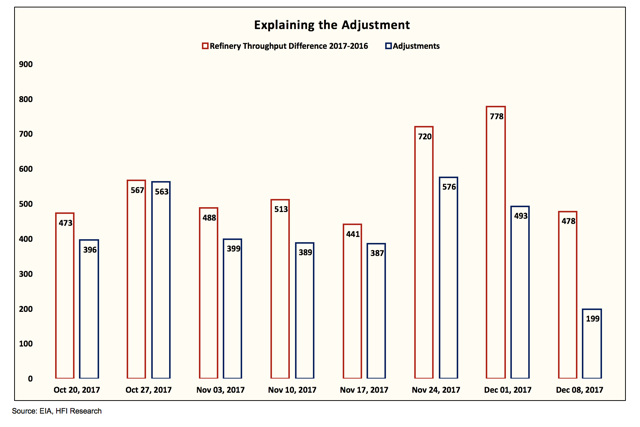 Estimating any of the variables in the EIA weekly oil storage report is prone to errors, and in our opinion, we see the outlier in the refinery throughput from October 20. In our weekly oil storage report released to subscribers last week, we spent a whole section explaining this, but basically, our conclusion was that - US oil production is now close to reflecting actual output, but the adjustment is explained from EIA likely overstating refinery throughput.
By our estimate, refinery throughput is closer to 16.7 million b/d as opposed to the 16.952 million b/d. As a result, we think demand is being overstated by ~200k b/d, which explains the adjustment perfectly. In addition, we wrote last week that once EIA starts estimating lower refinery throughput, we should start to see the adjustment factor (unaccounted for crude oil) to move lower, which was the case this week. Here's what the adjustment factor looks like on an 8-week rolling average basis: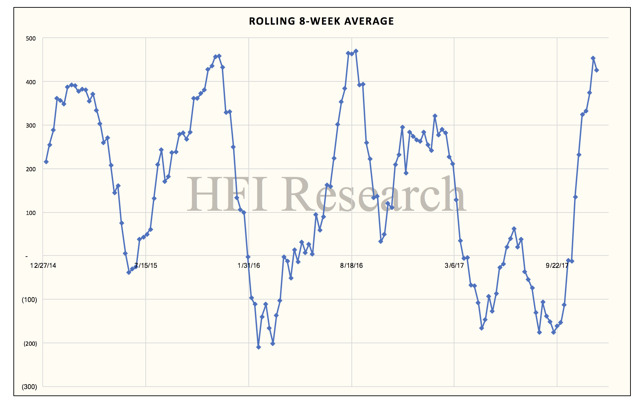 So, what does that mean for US oil production then?
The jump in Lower 48 production week over week is related to the higher revision in EIA's STEO yesterday.
On a total volume basis, US oil production is now higher than what we expected in Q3 of this year. In our analysis of US oil producer capex, bulk of the production increases were weighted towards Q4 this year, and so while we expected a moderate increase to 9.55 million b/d, this is proven to be 200k b/d over our original estimate.
What does that mean for US crude balance and global oil storage balance moving forward?
We released our expectations on global oil storage balance in this write-up along with our WTI price forecast for 2018.
Crude Storage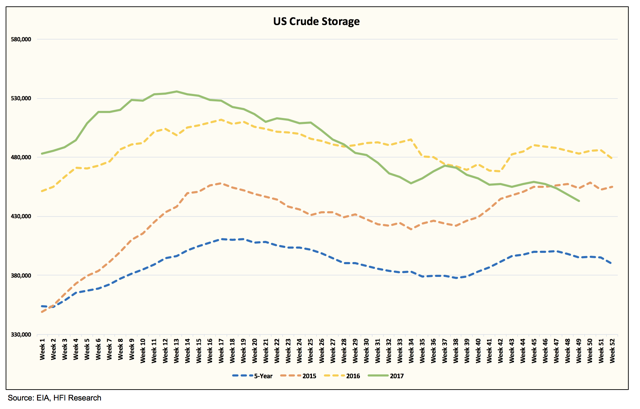 US crude storage fell 5.117 million bbls. This is how the draw compares to the five-year average: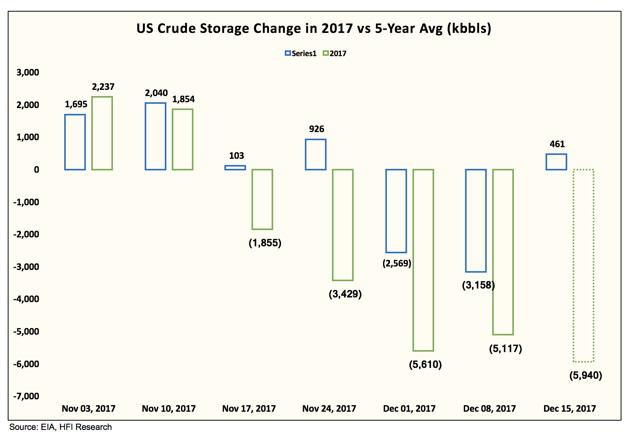 For next week, we are currently forecasting ~-6 million bbls. Assumptions are below: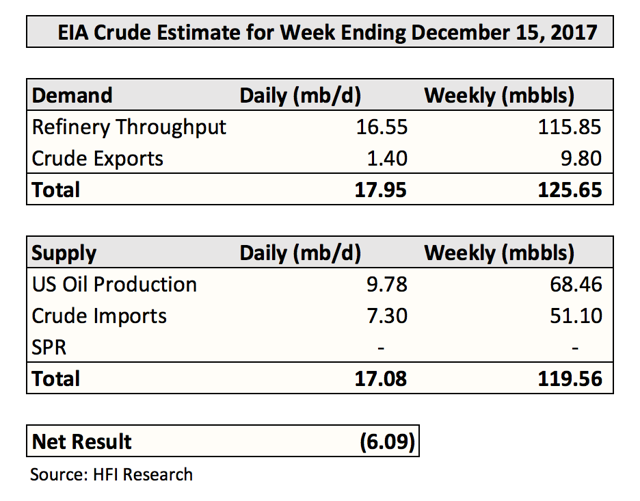 Here is a look at the year-over-year comparison in crude storage: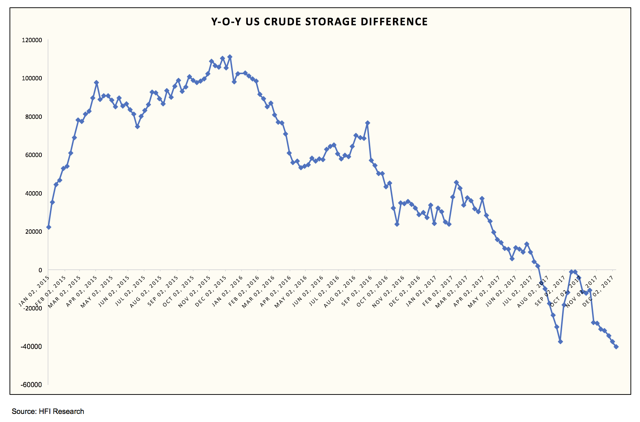 And here's our estimate for crude storage to year-end: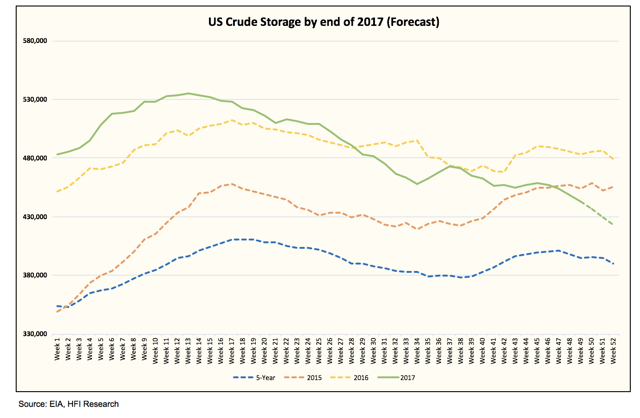 And this is what WTI overlapped with crude storage looks like: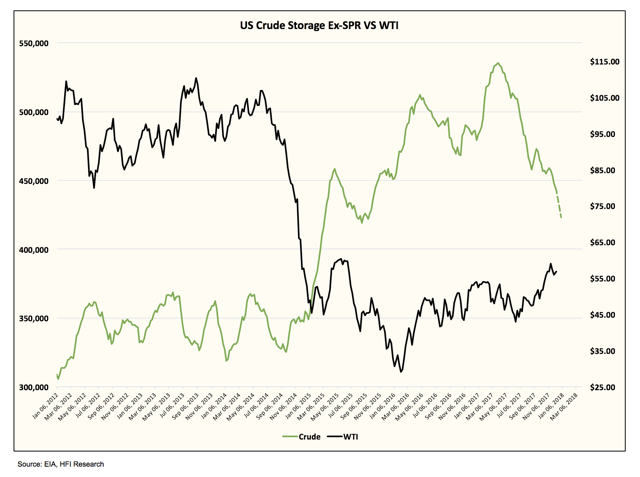 Cushing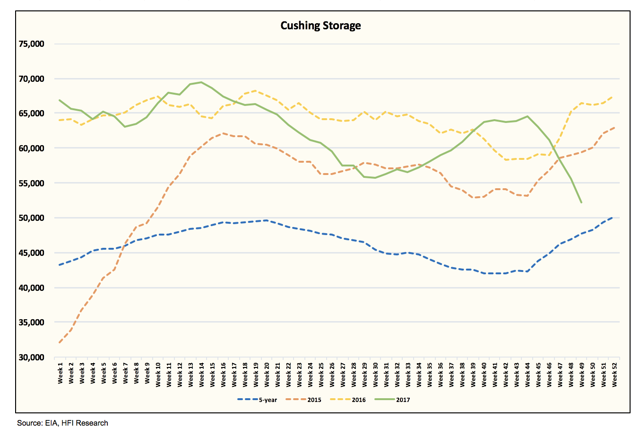 Cushing storage drew 3.317 million bbls w-o-w. The impact of TransCanada's (NYSE:TRP) Keystone continues to impact storage here. You can also see this in the counter-seasonal comparisons to the builds we usually see in storage going into year-end.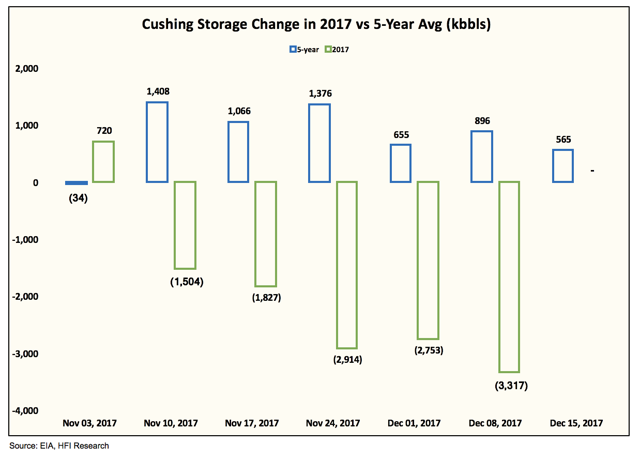 Gasoline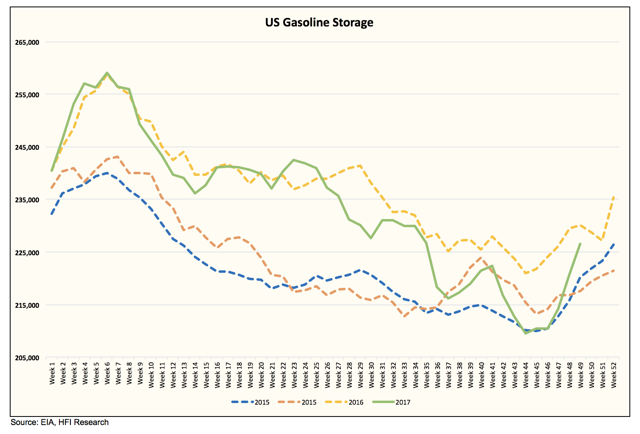 Gasoline storage jumped 5.664 million bbls from last week.
Here is how gasoline storage compares to the 5-year average: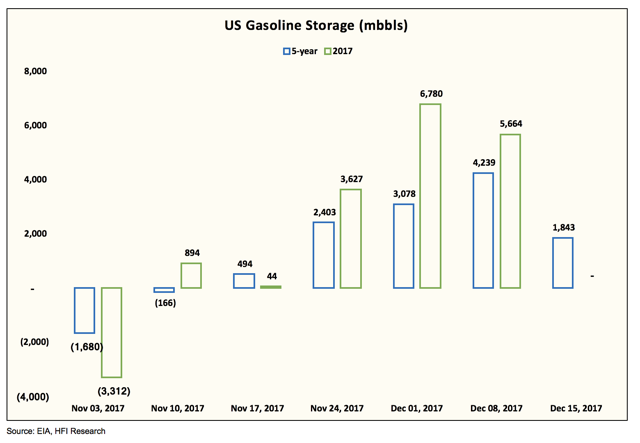 Seasonally, next week should also report a build and with us expecting higher than normal refinery throughput, we expect the build to be higher than the five-year average of 1.843 million bbls.
Distillate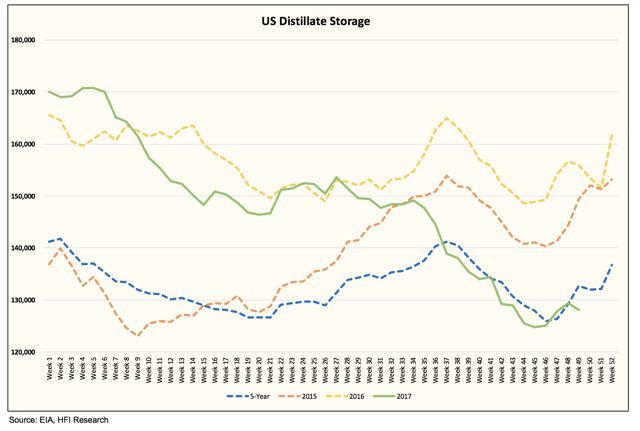 Distillate storage drew 1.37 million bbls from last week.
Here is how distillate storage compares to the five-year average: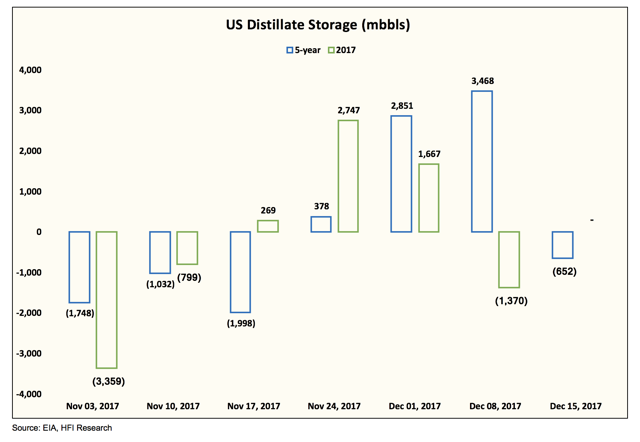 As you can see, on a relative basis, distillate storage continues to shine, given the relatively bigger draws. Next week should be no different.
Total Liquid Stockpile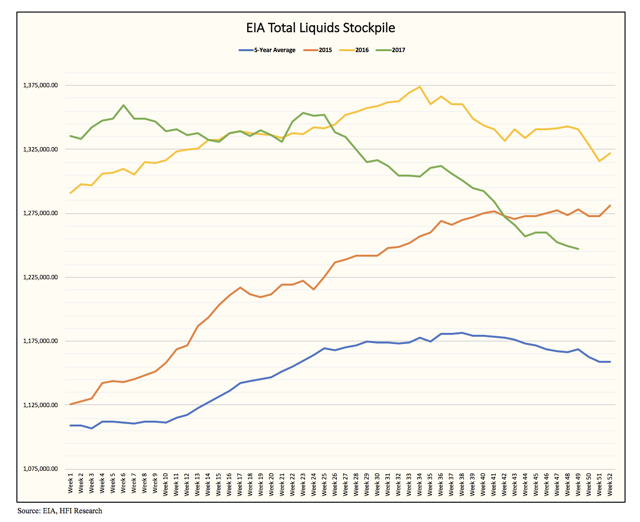 Total liquid stockpile drew 2.555 million bbls from last week. The year-over-year comparison continues to move lower:

And on a relative basis, next week should show total liquid stockpile drawing again: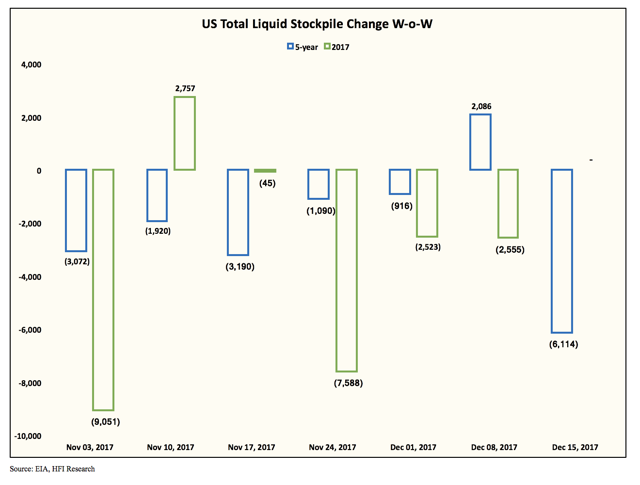 As you can tell from the storage draws since November 3, the oil markets continue to rebalance as we expected and should continue unabated into 2018.
US Crude Exports and Imports
US crude exports fell 272k b/d from last week.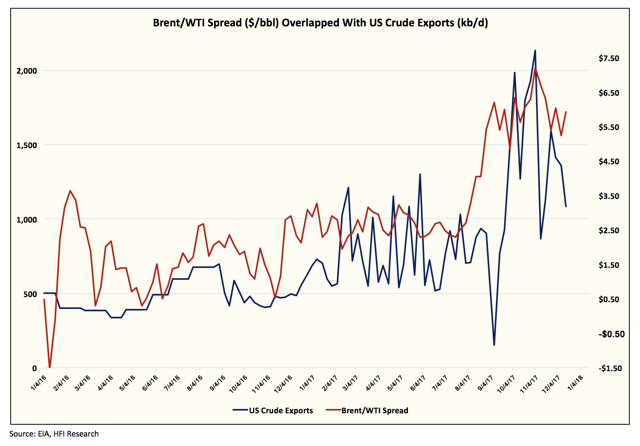 As you can see in the chart above, with the Brent-WTI spread still wide apart, we expect exports to rebound.
Here's how it looks on a 4-week moving average basis: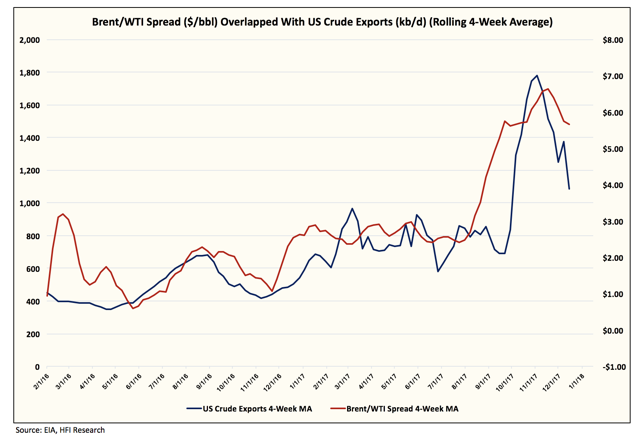 And for crude imports, we saw a slight increase of 161k b/d from last week: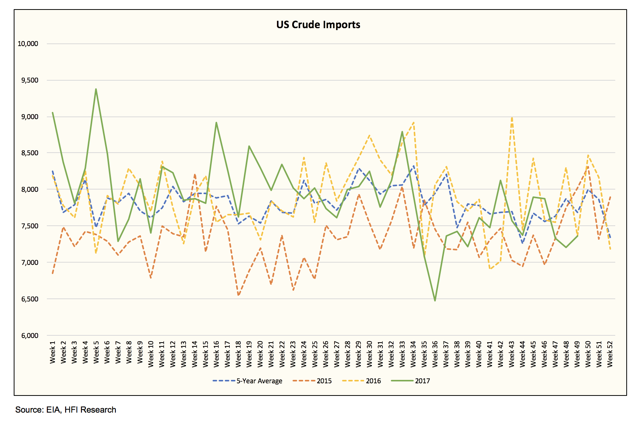 Conclusion
US oil storage continues to rebalance led by crude storage. We currently estimate a crude storage draw of ~6 million bbls next week (assumptions above) and storage to fall to a ~33 million surplus to the 5-year average versus the current ~47.9 million surplus.
US oil production according to the latest weekly is a better reflection of where oil production is at. We explained that the adjustment factor is more likely the cause of EIA overstating refinery throughput than underestimating supply.
Lastly, we expect to see US crude exports to rebound next week providing tailwind for crude to draw.
In essence, the balancing continues.
Thank you for reading. For those who have found our public oil market articles insightful, we want to let you know about a unique opportunity. You can sign up for HFI Research before Jan. 1 and lock in our current rates before they move higher in 2018. Readers have found our work "indispensable and highly addictive," and if you like these articles, we know you will find our exclusive reports to be even more helpful. Sign up for HFI Research here to lock in today's rates.
Disclosure: I/we have no positions in any stocks mentioned, and no plans to initiate any positions within the next 72 hours. I wrote this article myself, and it expresses my own opinions. I am not receiving compensation for it (other than from Seeking Alpha). I have no business relationship with any company whose stock is mentioned in this article.