Pop! The wood in the fireplace just crackled, as we sit here in our home in Georgia with the largest snowfall we've seen in decades happening as I type. For those of you living north of the Mason-Dixon line you probably find this amusing. "Georgia? Snow? Fireplace?" you might say? Well, yes. It is in the twenties, my son and I just measured the snowfall (in three different places) out on our deck and it is at 3.5", and still coming down. If you know anyone in the Metro Atlanta area, ask them and they'll tell you: that's a LOT of snow for here.
Even with the lovely fire we have going, our furnace and many other furnaces in our area are working harder than normal tonight. So it seems quite appropriate that I am currently analyzing several companies from the utility sector, and two of the better ones happen to be Southern Company (SO), who is huge around here, and NextEra Energy (NEE), which gets most of their revenue from Florida.
The five utility stocks I've chosen for this comparison are the two I've already mentioned (SO and NEE) plus Dominion Energy (D), Duke Energy (DUK) and I threw in a water utility, Aqua America (WTR).
Ratings System
I will use the same system I used in my past several articles, for example when I just purchased my latest stock from the consumer discretionary sector. It will be color coded and completely subjective. For each metric I will assign a Good, Neutral, or Bad rating to each stock. The charts below all have data pulled from Marketwatch.com unless otherwise specified and then I manipulate the numbers in a spreadsheet. If warranted, I will search out the most recent quarterly or trailing twelve months number. Where appropriate or useful I have included the 5 year CAGR or compound annual growth rate.
Now for the first table:
Guideline #1 - Revenue Per Share Increasing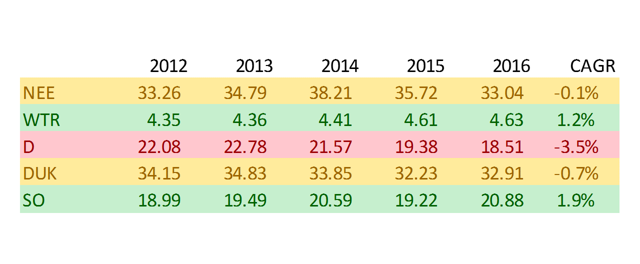 The first thing I like to see in a income statement is evidence that the company I am going to buy has ever increasing revenues. Both WTR and SO get a good rating. WTR has very slowly and steadily increased their revenues, and SO has increased theirs as well, though not quite as steadily.
Dominion Energy's revenues have fallen from $12.65B in FY12 to $11.41B in FY16. DUK and NEE, on a per share basis, are showing relatively flat performance. NEE's revenues have grown, as have DUK's, but not as fast as their share count as we shall see.
Guideline #2 - Book Value Per Share Increasing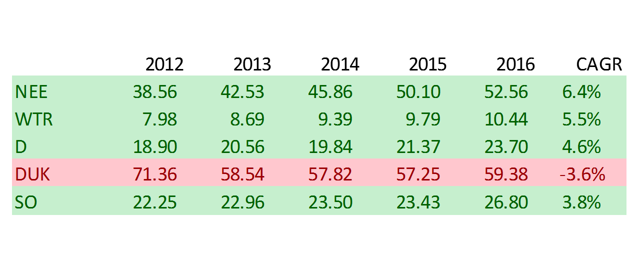 All of these companies, with the exception of DUK, have grown their book value per share nicely. I present this every few articles and it is instructive here in case you are unclear what book value per share is:

First, shareholder's equity (basically what is "yours" if you buy the company) is all of the assets (what the company owns) minus all of the liabilities (what the company owes other people). That basically means you own what is left of the company after they pay back all of their debts.
Then, you take that number and divide it by the number of shares outstanding. So there are two ways to move this number - either by changing the equity (what you own) or the number of shares (how many other people own it with you).
As you will see, not a one of these companies has reduced their share count since 2012, but DUK has issued way more shares than any of the other four companies we are looking at. Add to that the fact that all of the other four companies are growing their book values while DUK's has remained fairly flat and you arrive at DUK getting the lone bad rating, while all of the other utilities get good ratings.
Guideline #3 - Quality Rating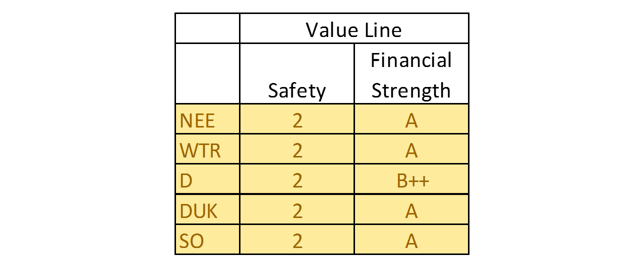 Safety is ranked on a scale of 1 to 5 with 1 being the safest, and there are nine levels of Value Line's Financial Strength rating (A++, A+, A, B++, B+, etc.). So it's really hard to know what to do with this information you see above. I don't want to blast Dominion for getting a B++ when a rating of A is just one step ahead. I gave them all neutral ratings. I could have given them all good or all bad ratings, it wouldn't really matter in the end. I just included the information here for completeness sake.
Guideline #4 - Debt
I can't really use the metric I typically use here, which was debt to free cash flow. Because as a rule, there's not a lot of free cash flow in this group. A more sensible metric for companies that are this capital-intensive is debt to equity.
Utilities are generally very heavily leveraged, because the nature of their business often requires large capital investments in their infrastructure. Of course, all of this infrastructure also means they have a massive amount of equity. So we will look at the debt to equity ratio which is simply: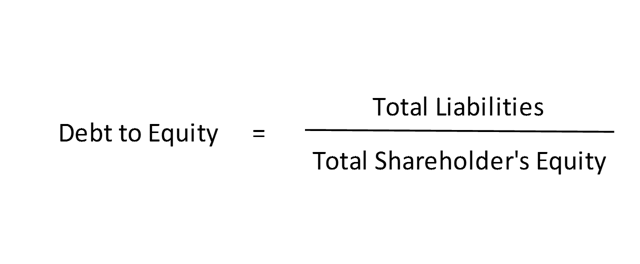 A lower debt to equity ratio is generally considered less risky, since the company has fewer claims on their assets from their various lenders. The higher a debt to equity ratio, the more aggressively a company has been expanding by using debt, which means they may be too highly leveraged if the business goes south. So let's see how these companies stack up.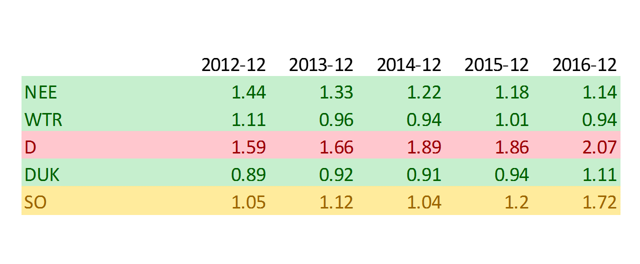 Source: Morningstar
Dominion received the only bad rating, because they have the highest debt to equity ratio and their total debt has grown very quickly. SO's debt has also grown a great deal (nearly doubled) since 2012, mostly it jumped in 2016. In 2016 Southern Company acquired AGL Resources for $8 billion, which accounted for much of the increased debt. Up until they made this major acquisition, they had a very good ratio. Still, caution is warranted given the recent spike in the ratio.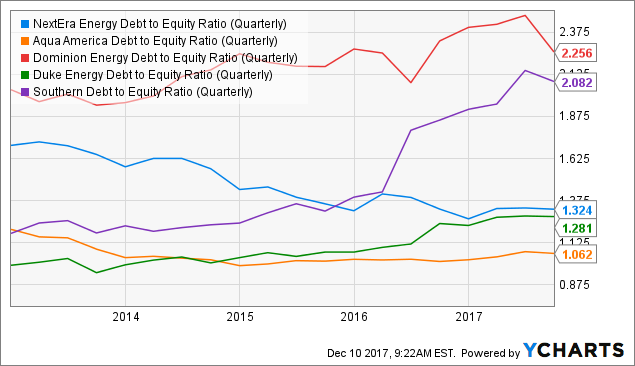 NEE Debt to Equity Ratio (Quarterly) data by YCharts
Guideline #6 - Common Shares Outstanding
If you were paying attention you will notice I skipped guideline #5, FCF and Payout Ratio. That is because as I mentioned none of these companies have stable free cash flow, and in most cases their free cash flow is negative because in most cases their capital expenditures gobble up all of their net operating cash flow and usually more. So, common shares outstanding: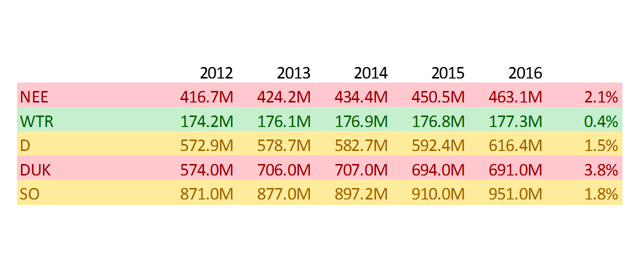 As you can see, all of these companies have more shares outstanding than they did in 2012, and most of them do issue shares regularly, presumably to fund their capital projects. WTR earned the only good rating, simply because they seem to be fairly conservative in this particular method of raising capital.
I had to draw a line somewhere between neutral and bad and I made that line 2% average growth in the number of shares outstanding. So two got a neutral rating and two made the naughty list (I told Santa).
Guideline #7 - Show Me the Money!
For this guideline, I consider both the history of the company in terms of raising the dividend as well as the current yield. The following information was taken from David Fish's spreadsheet and the yield as I write this from my brokerage house. I do not consider share buy-backs here, but they were already discussed above.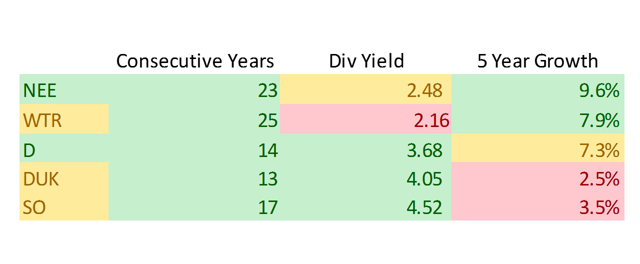 The color of the cell that the ticker symbol is in is my final rating. NEE and D both get good ratings because they have two good and one neutral rating. The other three both have two good and one bad rating between the three categories. If SO and DUK had better growth history or WTR had a higher yield at present, all of these companies would receive good ratings.
Guideline #8 - P/E Ratio
All of these companies are considered utilities stocks, though they fall in slightly different industries according to Morningstar. WTR is obviously different than SO or DUK.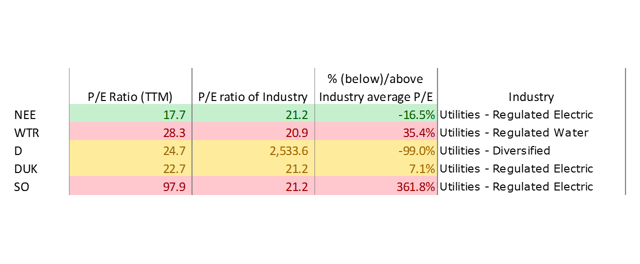 It turns out, regulated water and regulated electric utilities have very similar P/E ratios. There is obviously something very, very odd going on in the diversified utilities industry because a P/E of 2,533.6 makes zero sense. I included the ratio so you could see it, but I pretty much disregarded it when assigning my rating. I'm going with D and their P/E of 24.7 is probably within 10% or so of the actual industry average.
NEE, despite being pretty close to their 52 week high, is actually maybe still a little bit undervalued by this metric. So I gave them a good rating.
SO has suffered some rough couple of quarters (or years) with the difficulties they've had with the Kemper project in Mississippi. The cost overruns and delays have taken literally billions off of Southern Company's bottom line. The forward P/E ratio of SO according to Morningstar is 16.8. By contrast, DUK is 18.0, D is 20.7, NEE is 21.7, and WTR is 25.8. So clearly Morningstar thinks the troubles at SO are behind them.
Still, I can't give them anything but a bad rating based on their TTM P/E ratio.
Final Results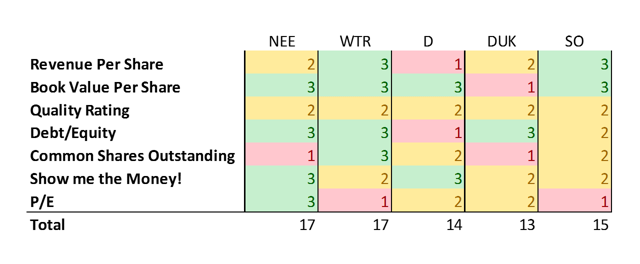 I have to be honest. I have owned Southern Company stock in this account for a little over five years and it is one of those stocks that you buy and forget about. The cost basis of my 27 shares is about $1,200 and I have collected almost $300 in dividends to date. If they hadn't had these recent troubles in Mississippi, they would likely have also scored a 17 (at least), and I have never been anything but happy as an owner.
The other stock that I like based on these ratings is NextEra Energy, which has Florida Power and Light as their subsidiary. Not only is their dividend respectable at right at 2.5%, but it is growing the dividend extremely quickly for a utility company. They are also a big player in renewable energy (wind and solar), which would have to make you feel at least a little bit good if you owned part of that I would think.
The other company that scored a 17 is the water utility Aqua America. If this stock had a 2.5% dividend yield I would probably be writing a limit order right now. However, part of the reason most people have a portion of their portfolios in utilities stocks is because they act almost like a bond. They don't fluctuate much in price and they pay you a very rich dividend. I may eventually add a company like WTR as a third stock in the utility sector, but my gut is telling me that I should either add more SO or start a position in NEE next.
Conclusion
At last check the utilities sector made up about 3% of my overall stock portfolio. That is the lowest of any of the sectors except for the materials stocks, which I am still struggling to find a good entry into. Just today I purchased some more of a closed end fund in the fixed income space to bring my asset allocation back closer in line with my targets, so I have almost no cash at the moment. If either SO or NEE gives me a good reason though, I will likely purchase one of them in the next few weeks.
I hope you enjoyed the article, and thank you so much for reading it. If you like what you read, please do follow me and good luck!
Disclosure: I am/we are long SO.
I wrote this article myself, and it expresses my own opinions. I am not receiving compensation for it (other than from Seeking Alpha). I have no business relationship with any company whose stock is mentioned in this article.