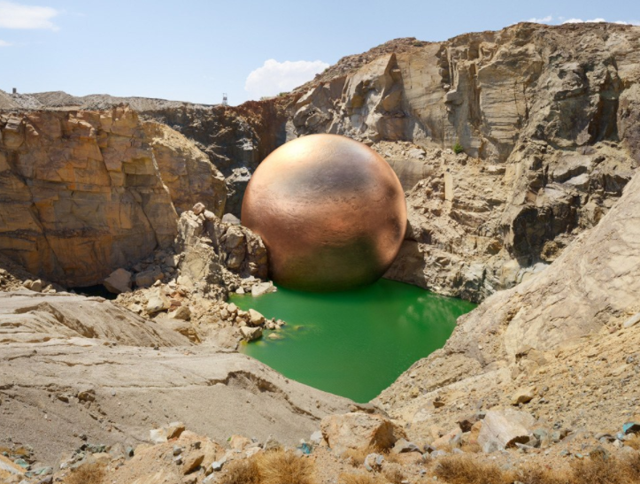 World copper producing countries in order of amount produced are; Chile, China, Peru, United States, The Democratic Republic of Congo, Australia, Russia, and Zambia. I wanted to start off with that so that people can begin to see why the copper market can be such a great tell for what is happening in the markets. I will be willing to bet that most people did not realize that the United States produces more copper than Australia. On the other end of things, copper is used in a wide variety of applications, from roofing and plumbing to electronics to fungicides used on farms. As the world goes around, copper is used throughout.
The year 2017 was a good one for copper prices. Prices dipped a bit into the early summer and then moved up significantly, due to some disruptions and a better world economy. Chile and Indonesia experienced supply disruptions, and economists were sure that the Chinese economy would experience a downturn over 2017. The Chinese economy actually did much better than expected and copper demand increased up until the last month or so. The Chinese economy is set up a bit different than most of the economies of the western world, economists have been looking for a cyclic recession for years now, but that just has not come yet. The demand from China could quickly pick up again as we head into the new year and that could contribute to higher copper prices in the near future. China makes up 50% of world copper demand. The PBOC has been working to tighten monetary policy as the debt load increases, but this has not affected economic growth as of yet. Following is a chart from the International Copper Study Group showing mining, processing, and usage by region of the world.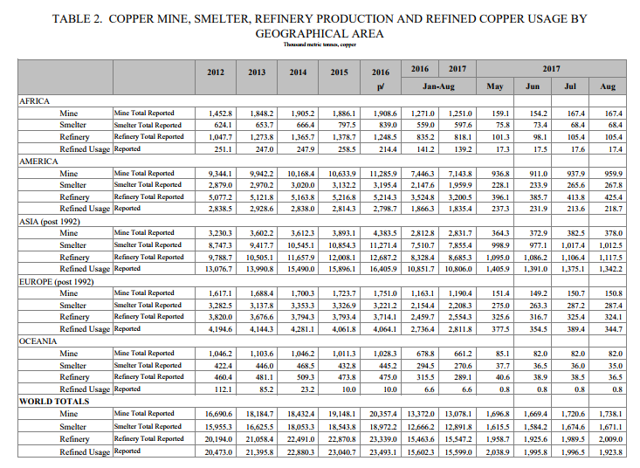 Table from here
From the chart below, one can see that the blue line, adjusted lagging copper usage, illustrates how much the supply disruptions moved prices this year. Forecasted demand for electric cars also pushed future and current copper prices up; this increase is likely to be discounted over the coming months, as investors realize that the demand for electric vehicles is not as much as projected. A good deal of copper is also used in alternative energy sources; the word will need continued incentives to keep demand for these types of products at highs. Overall, we can see that supplies have been steadily increasing since the highs in 2002.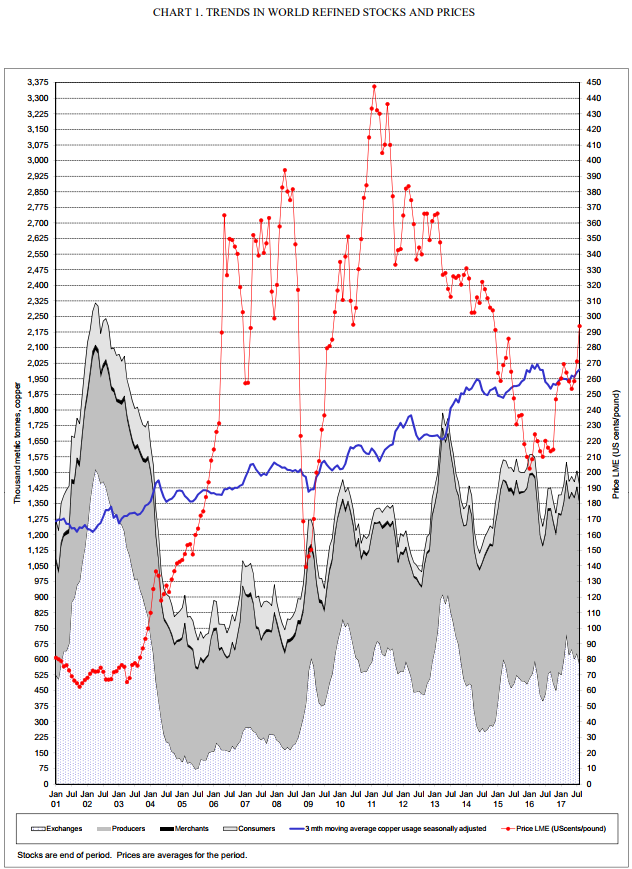 Chart from here
The largest disruptor to copper prices for 2018 are the 40 labor contracts that are up for renewal over the year. These contracts add up to 7.8mnt of supply, which is almost 40% of the world's supply. Therefore, in the ever so slim chance that all 40 contracts find much pushback and even strikes on renegotiation, copper prices would rise significantly. This is not likely to happen, but a few businesses could encounter this, and talk of negotiation issues could pump and dump prices as well.
China is looking as though it will surprise to the upside again. Things to keep an eye on in China for the year as far as copper prices are concerned is a slowing real estate market, lower PMI, higher construction costs and other poor data.
It will be the balance of both the labor agreement processes (supply) and the Chinese economy (demand) that drive copper prices next year. Both of these factors could introduce a lot of volatility into copper prices, or push them up significantly from here. This uncertainty will likely bring prices down a tad over early 2018 as volatility is priced into futures and options contracts. It is because both sides of the copper equation, both supply and demand are in question for next year that word of caution comes to mind here when thinking about investing in products directly related to copper prices.
Over 2017 there were 25 renegotiated labor contracts, this was the cause of major supply disruptions. There were strikes, the longest one in Escondida, lasting 43 days, with a loss of almost 300kt of copper. Workers have been fighting for better contracts and working conditions; this is not expected to stop anytime soon. With the sheer volume of contracts to be renewed in 2018, strikes and lagging production is something to keep an eye out for. Following are the projections for next year by the ICSG.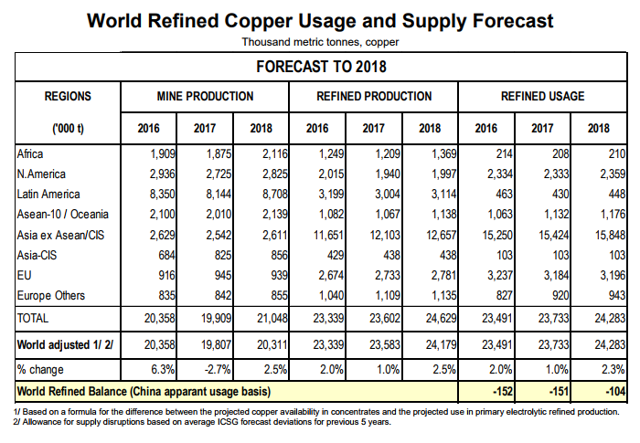 Chart from here
As far as China is concerned, there is one more caveat to be mentioned. These are new, larger capacity smelting systems that are to come online in 2018. They will bring an additional 500kt of smelting capacity, but many projects are behind at the moment, due to inaccessibility to needed equipment. This is projected to increase China's refined production by 3.5% over the course of 2018, should the projects be up and running in a timely fashion. The above chart does not include this data, or it was not in the attached report. There is a good chance that we see a more significant deficit in the world refined balance of copper usage.
For 2018, if you are already long companies like Freeport-McMoRan (FCX), I would not drop your positions, fundamentally 2018 does not sound like it will be bad. Also, charts such as FCX look technically bullish. My call for 2018 will be to buy copper or copper related assets on dips, the only thing that would deter me from this trade is if Chinese economic data goes downhill really fast. I do not expect this to be an issue, but I will be watching for it over the coming months. I think that to get in long we will want to wait for the turn of the new year and at least the first month of Chinese manufacturing data to come out, which will be in February. Often copper will be referred to as Dr. Copper as downturns in price often signify weakness in the world economy. This is another reason to wait on adding to or opening those longs, as markets can sell off a bit headed into January. After that we should be good to go, keeping an eye on Chinese data to get long copper futures, copper miners, such as FCX or copper ETFs such as JJC, CPER or CUPM. I factor copper prices into my spot FOREX, currency futures trades and I trade the HG futures as well on a short-term basis.
As a side note, if copper continues to hold correlation with the stock markets, that would be a reason to be pretty bullish over the next year, unless China runs into big trouble.
Disclosure: I/we have no positions in any stocks mentioned, and no plans to initiate any positions within the next 72 hours. I wrote this article myself, and it expresses my own opinions. I am not receiving compensation for it (other than from Seeking Alpha). I have no business relationship with any company whose stock is mentioned in this article.