Overview
Part I has briefly shown why dry bulk presents the most attractive short to medium term investment proposition at the current market conditions. Part II will show how the improved supply and demand dynamics and, subsequently, better BDI have improved recent earnings results. Finally, we will look at the market outlook and the upsides and downsides we should be prepared for.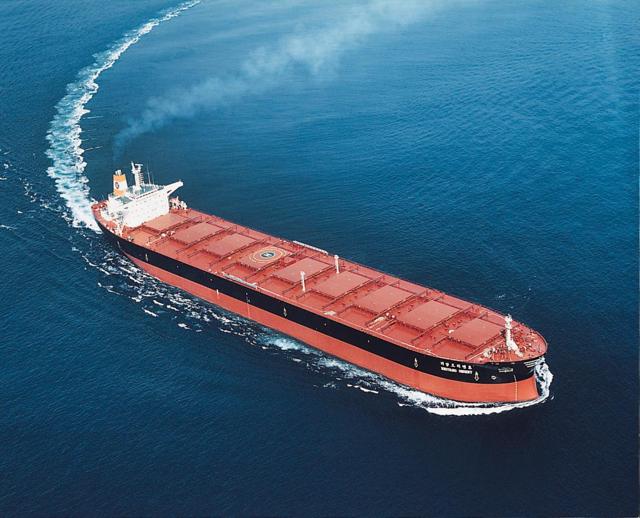 Related companies
Companies with exposure to the sector: Diana Shipping, Inc. (NYSE: DSX), Eagle Bulk (NASDAQ: EGLE), Genco Shipping (NYSE: GNK), Golden Ocean Group Ltd. (NASDAQ: GOGL), Navios Maritime Holdings, Inc. (NYSE: NM), Navios Maritime Partners L.P. (NYSE: NMM), Scorpio Bulkers (NYSE: SALT), Safe Bulkers, Inc. (NYSE: SB), Star Bulk Carriers Corp. (NASDAQ: SBLK), Seanergy Maritime Holdings (NASDAQ: SHIP) and Ship Finance International Limited (NYSE: SFL).
Why dry bulk?
Thanks to the more favorable combination of tightening of supply of ships and stronger demand in the commodities market than previously expected, dry bulk is poised for a great foreseeable future. On balance, the current market dynamics tips the scale into the bull territory.
Baltic Dry Index
As mentioned, the one indicator that drove our motivation to dive deeper into dry bulk is the Baltic Dry Index. We are obliged to post the most current chart below. As you can see, the index has more than doubled year on year, currently at 1743, a three-year high. If you track the individual rates of Capesize, Panamax and Supramax, you will also see that the individual rates are more or less doubled, with the biggest change in Capesize. Specifically, Capesize has been charging consistently at $20k vs. $9k per day in the previous year. Currently, it is running at $30k/day. The reversal of rates has been robust since we started tracking in September to December. We are very bullish about the current trend and suggest interested investors track the index actively. Bloomberg chart is a good starting point. Alternatively, you can track it at the Hellenic shipping news website or Hegnar, where BDI is broken down into individual ship category.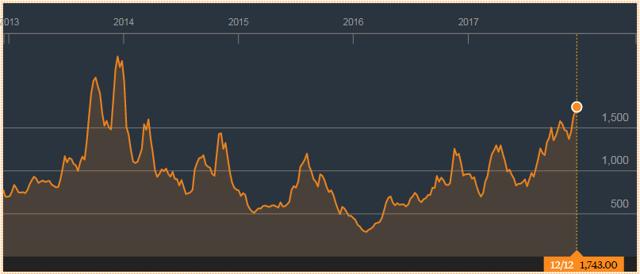 Source: Bloomberg BDI index five-year chart
Recent dry bulk performance
Scorpio Bulkers (NYSE: SALT), one of the first dry bulk operators, to kick-start the Q3 earnings season, confirmed the improving freight rates. In fact, the improved rates swung the company back in solid operative cash flow position for the first time in as much as five quarters, and subsequently, boosted the company confidence to resume its dividend distribution again.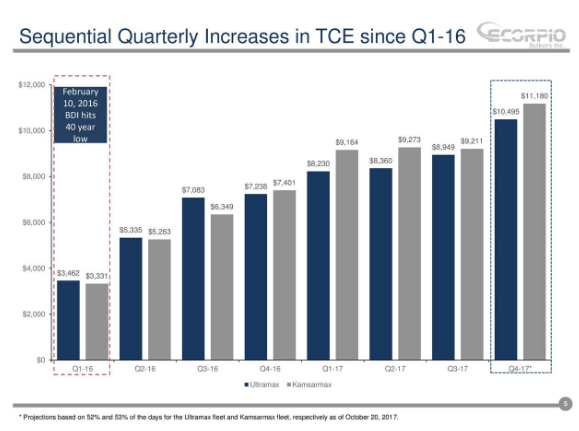 Source: SALT Q317, page 5, earnings call slides
Similarly, at current market rates, Navios Maritime Partners L.P (NMM), also a dry bulk player, is expecting a strong guidance for 2018, targeting $100mil free cash generation.
However, not all operators achieved strong expected results. The flying BDI certainly put investors ahead of themselves here.
Star Bulk Carriers (SBLK) reported mixed-bag results, underperformed in earnings but beating on revenues. The company reported average TCE per vessel at $9,619/day. They have also
"…fixed 80% of our fleet available days during Q4 2017 at an average daily TCE rate of $12,615 and 25% of our fleet available days in Q1 2018 at an average daily TCE rate $11,982."
Source: 3Q17 Press release
It was a conservative move to book the majority of their fleet at $12,616/day, but with the benefit of hindsight, everyone is a genius! It's a rate higher than their breakeven point so we can probably call it a job well done!
During the same time, Seanergy Maritime reported a TCE of $11,678/day and a forward fixture rate of $15,720/day for capesize, substantially lower than they should have produced. Arguably, the 'mediocre' result on the back of such a strong index reflects primarily unlucky heavily-weighted charter timing towards the end of Q2 and very early Q3. So, bear in mind that it depends on the timing of the booking. If we revisit the BDI graph, there are notable spikes and drops at the end of August, October and recently mid-November. If most ships booked at these drops, then it may not be great results after all.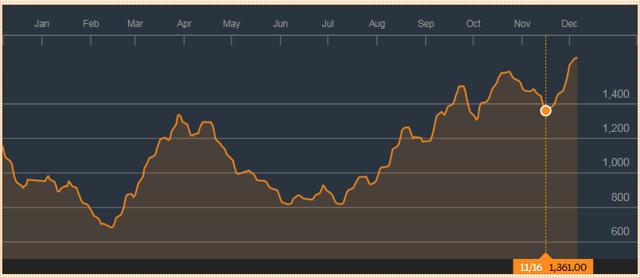 Source: Bloomberg BDI index one-year chart
For Seanergy Maritime, overall cash flow for Q3 was around a burn of $2M, but we expect its management to be fully aware of the uptrend and take full advantage of the higher rates for Q4, which will likely see positive cash flow.
Supply Outlook
So, we have established that the current fleet size is not going to grow very much in the next two years (3% in 2018 and 2% in 2019). As long as this growth is kept to the minimum and below the growth of the demand for shipping, we should be on to very good years. Scarcity creates value!
Part I showed that,
" With over 10 thousand ships in the water, the number of ships produced in 2018 and 2019 is likely to be in the hundreds, which is merely a few percentage change. We also exclude factors that can disrupt actual deliveries, such as slippage, lack of finance and so on."
Slippage has been discussed so we will discuss other factors that affect supply here:
Financing
We are happy to learn that major ship companies have observed a change of moods on the financing side. It is observed that the equity holders and private equity funds have been more active in exiting the current positions in ships, scrapping more ships with the purpose to improve liquidity over the next 12 months than rushing money into speculative orders.
Ship owners and even shipyards are also more cautious with partaking in building more ships. They are more reluctant to put refund guarantee on ship orders. This change of sentiment across parties is very important as operators will find it tougher to fund any new order. As a result, it suppresses supply even further.
Fuel prices
Another factor that can put a lid on supply is fuel prices. Fuel cost is a big part of the operating expenditure of ships. It limits the speed of the fleet, and as a result, determines the number of journey and utilization rate of the fleet. It's not a one size fit all rational, but, overall, higher fuel prices will increase the cost of transporting commodities. Thus, operators will need to optimize by either speeding up the fleet to deliver shipments more cost-effectively. The higher fuel costs rise, the more likely ships will run slow, leading to higher demand and higher rates until equilibrium is found.
All in all, with the consolidation of the industry during the past few years, slower growth of the fleet size and negative financing sentiment have exacerbated the oversupply issue. Recent Q3 earnings results from SALT, NMM and SHIP have confirmed. Supply has never been in a better position for a long time.
Demand Outlook
We are aware that out of all commodities, iron ore and coal are the most transported. We also know that the biggest customer is China. South Korea, Japan, Germany all fare well behind.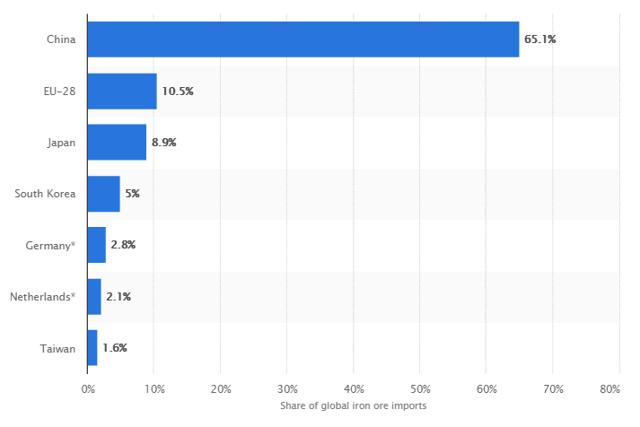 Source: Statista
It makes the industry's health increasingly susceptible to any risks originated from China. If the country catches a flu, the world gets sick. And the bad news has been brewing that China is slowing down.
China's slow down
A slew of recent data indicates that the slow down is already happening as a result of current government initiatives to pare back borrowing. Official figures released on the 13 November shows that Chinese banks are stepping on a brake at which they issue new loans to both individuals and businesses. It's not all surprising that China currently holds the heaviest debt loads relative to the size of its economy. Data also shows that Chinese industrial production (see chart below) decelerated in October compared to the previous month following the introduction of tighter regulations. At the same time, retail sales dropped, and investment in equipment and buildings grew at its slowest pace since 1999.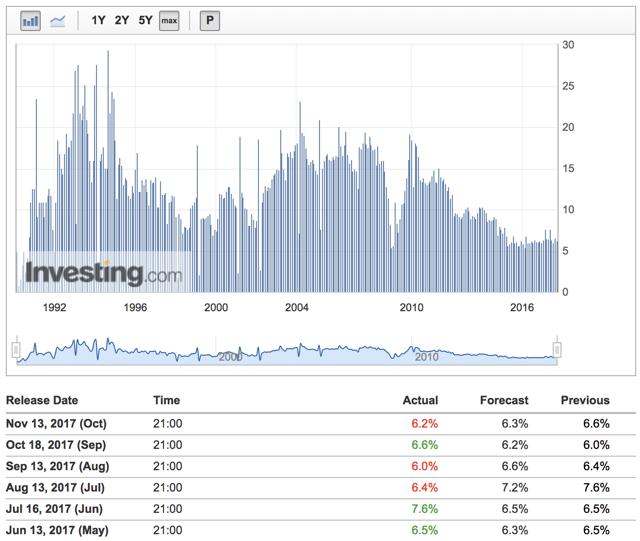 Source: Investing.com
The slower pace of growth certainly tempered China's appetite for commodities. However more strikingly, in November this year, the government executed more stringent air pollution curbs by revoking mines license, fined countless non-compliant businesses, and cut steel production. As enforcement of environmental laws has been lax in the past, these sudden crackdowns on heavily polluting industries have had rippling effects on the economy.
On the surface, all of these spells terrible news for the global economy and particularly, commodity trading!
But it is good news!
Some experts and CEOs believe that the news is not so grim. A cut in steel production directly leads to lower need for iron ore and coal, but it does not necessarily cut down the volume transported. To limit pollution, China has already closed down 1/3 of all its domestic iron ore mines, especially mines that produce with the lowest quality iron ore. As a result, domestic steelmakers will need to fill the gap with higher quality iron ore from abroad, as Genco's CEO John Wobensmith explained in a recent interview with Bloomberg.
" If you look at dry bulk shipping, it has four [major] steelmakers to buy much higher quality iron ore than what can't be produced domestically…"
Thus, China's emphasis on environmental protection isn't bad news to dry bulk shipping. To explain a little further, with regards to dry bulk demand, the prices of steel and iron ore are not the real issue. Yes, the shutdown of mines and factories have resulted in more consolidation among surviving firms, and therefore explained the steep increase in iron and steel prices. However, the most important thing in dry bulk shipping is the volume and distance transported. The increase in volume and distance from imports will far outweigh the cost of the reducing iron ore used resulting from steel production decrease.
So, we have a reduced production of steel (a negative -) that is more than counterbalanced by higher import of iron ore (a positive +)
Thanks to the cut of domestic iron ore, Chinese steelmakers will need to fill the reduced local volume gap by importing higher quality iron ore from Australia and Brazil. These two countries iron ores possess much higher fe content, at 62% and 68% respectively, compared to China's 20%. This is particularly advantageous for the dry bulk market. The trade route between Brazil-China and Australia-China are the longest routes, with the former most beneficial to shipping miles.
The use of higher iron ore quality from abroad also means that it produces far less pollution to smelt higher grade iron ore into steel, aiding the government initiative to alleviate the country's environmental problems. So, less steel production pollution, less mining and a cleaner environment, good news all around.
Below is the latest Q317 results of Navios Maritime Partners, its forward guidance suggests China iron ore imports are set to rise 6.7% YoY for 2017 and 3.6% in 2018, driven by Australia and Brazil ore. A recent report in October this year also reported YoY 12.5% increase in iron ore imports from Brazil to China.

Source: NMM Q317 results
Overall, the Chinese government policy to cut down pollution through curbing steel, domestic coal and iron ore production are no more than a spook and, at most, a short-term headwind. Over the medium and long run, to achieve its environmental paradigm shift, transitioning from the world's top polluter to global leader in the fight against climate change, one of the many drastic actions China will have to enforce is to close down more domestic mines and source a larger portion of its commodities from abroad. Mining giant Rio Tinto seems to agree and also expects future increases in iron ore shipment and coal production in 2018.
We don't want to get ahead of ourselves but the world economy is firming, and since 2014, the trend of global dry bulk trade growth is bright! In 2017, we are sitting nicely at 4% growth.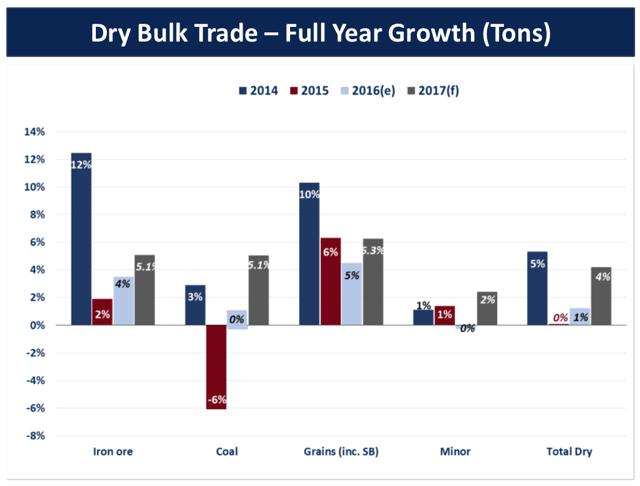 Source: SBLK Q3 presentation
India - the next powerhouse
And returning to the remark about the 'tipping point' previously mentioned in Part I of our series, we have India as the next catalyst for long-term growth in global trade and economic development. The country is gearing up to be the next big economy to surpass the $3,000 GDP per capita mark. We will leave the commentary with the following graph. For the curious minds, this post put it boldly
" This will be big!"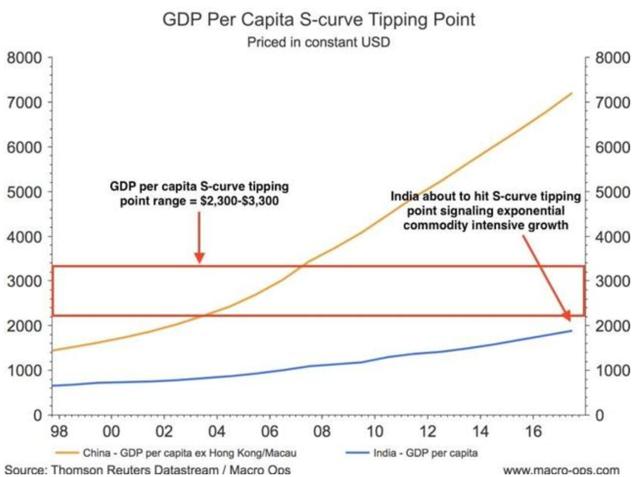 In the immediate term, India is a smaller economy than China. It is also under stronger government protection from foreign market pressure. Domestic mines and heavy productions continue to receive subsidies. Despite, they soon will face similar environmental issues like China. They buy cheaper and dirty fuel waste product from the US, petroleum coke from Canada to burn for heat and energy, which are far more damaging to the environment. This is a dirty truth that the country has yet to act against.
Last year, India imported 25 percent of all of US 'petcoke', or 8 mil tons. That is about 20 times more than 2000, enough to fill the Empire State Building eight times. As a result Delhi resident cried out:
"My life is finished….My lungs are finished,"
It won't be long until India realizes they have to take drastic actions to curb environmental pollution. Hopefully, the recent alarms will prompt them to change their ways. We will remain observant of India's environmental development. The opportunity for shipping investors will be big!
Asset value
As we can see from the supply and demand dynamics above, all we need for the bull case to continue is to have a stable global trade growth and that ship owners remain sane. So far, dry bulk demand is expected to grow around 3% to 5%, and forward supply of ships is expected to grow 3% next year and 2% in 2019. So, we can sort of make 'smart' bet on demand exceeding that level. The odd has never been so high!
The disequilibrium is well-reflected in the BDI chart below. The trend line since 2016 is a lot smoother and less erratic than 2013/14. We believe all the underlying factors mentioned had a role to play, i.e. stable global trade growth, modest fleet growth and cautious financing.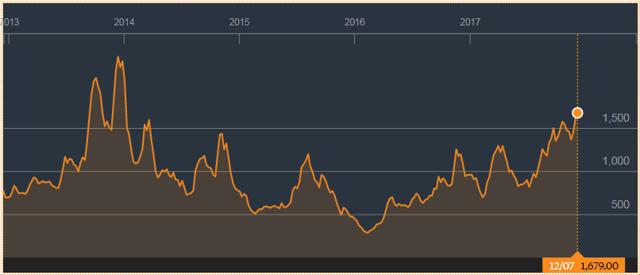 Source: Bloomberg 5 year BDI chart
The good news doesn't stop there! The by-product of increasing charter rates is an increase in asset value! Therefore, we see higher trading prices of second-hand vessels, higher scrap values and as well as higher demolition value. As vessel value constitutes a significant part of a shipping company valuation or NAV, this development is extremely positive, further lifting fundamentals.
The inevitable effect of this improved condition is reduced debt/asset metric (D/A), leaving more room for owners to leverage up (purchase more assets). The current industry average D/A ratio (50%) already allows for some increased leveraging as asset prices have climbed significantly over the past year.
The chart below was taken from SALT latest quarter earnings release. It shows Ultramax and Kamsarmax ships (199 meters and 229 meters in length respectively) are reselling at much better prices. Consequently, the average 5-year-old asset value has also improved.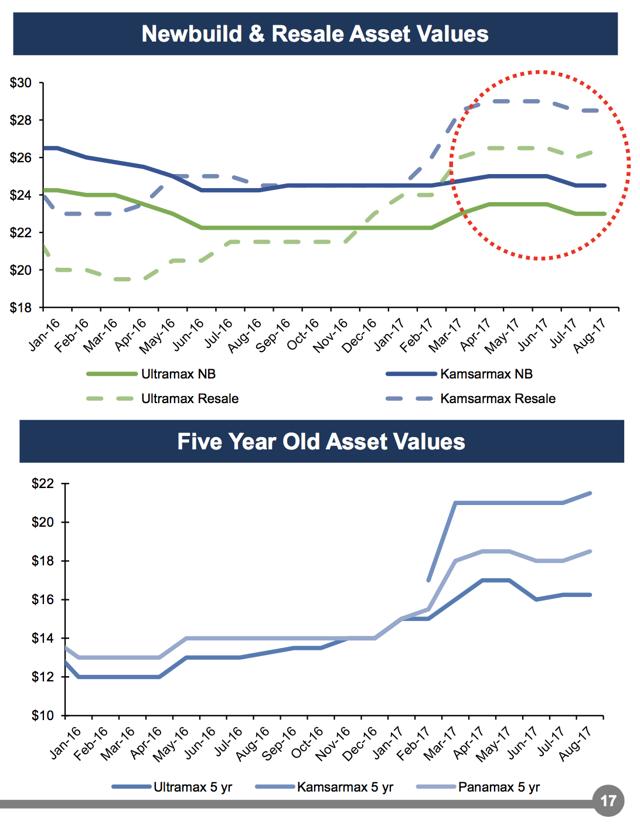 Source: Page 17 of SALT Sept 2017 presentation
Of course, these prices ride on the back of soaring demand and supply tailwinds. Ship operators probably find it hard to control their excitement seeing some of the ships, for example, a capesize ship (289-meter length), turning over around $20k per day, which translates into $6.9 mil a year (presumably operates on 346 days a year, or 95% utilization). That is $6.9 mil of revenue on a ship valued at $32m (5-year-old capesize ship). Taking OPEX ($5k) and overhead ($2k) and income before debt obligation is around 14%.
| | | | |
| --- | --- | --- | --- |
| Rate ($) | Revenue ($) | Income before interest ($) | Yield @ 32mil/ship |
| 20,000 | 6,935,000 | 4,507,750 | 14% |
| 25,000 | 8,668,750 | 6,241,500 | 20% |
| 30,000 | 10,402,500 | 7,975,250 | 25% |
Source: Author's calculation
It is eye-catching. Such optimistic return is likely to drive up the price of second-hand vessels to at least another $10m in the near future (1-2 years). This will still bring over a yield of 11% per ship, all held constant. That is still very attractive considering the long-term average expected unlevered returns is at around 8-9%.
Similarly, with the Ultramax and Kamsarmax's asset values increases, the 10-year-old Capesize vessel value also increased by 75% to $21 mil since the beginning of 2016. We are still 65% lower than the long-term market average of $34.6 mil.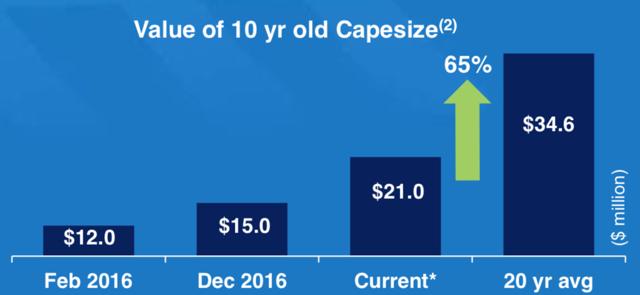 Source: Page 7 of NMM Nov 2017 presentation
The most recent vessel sales in mid-November (see below) also showed that ships are undervalued by the market, with Bulker vessels exchanged hands at roughly 10% higher than the value VesselsValue estimated. The tendency to revert to the 20-year average ($34.6 mil) will add 'tonnage' of value to the balance sheet of most shippers.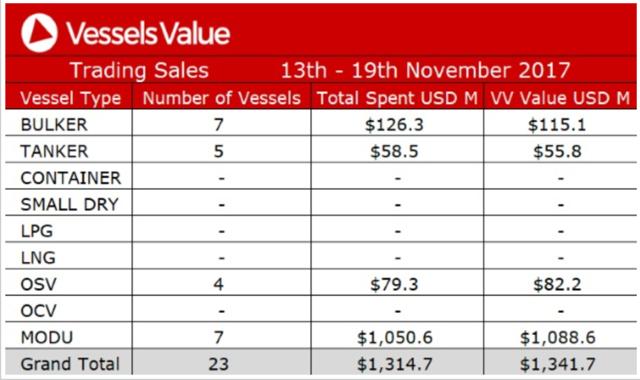 Source: VesselsValue cited in Hellenicshippingnews.com
Also, if steel prices continue to improve, it will provide additional support to ship demolition value, which is the reason why we are experiencing improving scrap value as shown in the following chart. Demolition price index shows tankers' and bulkers' value is practically 60% higher in value compared to the low points of 2016.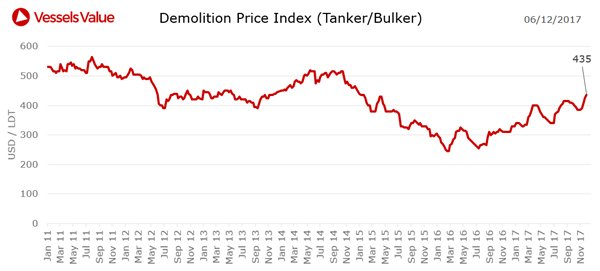 Source: Ship Recycling Forum@Vessels Value tweets
Risks
Part I outlined an extensive list of the risks critical to shipping, the health of China's economy being the most significant. The country accounts for more than 50% of the growth of most commodities. The second risk is the fallacious behavior of ship owners and destructive financing sentiment with regards to adding more vessels to the market. Shipping is also highly cyclical, and thus it remains a challenge to find a fundamentally sound company. To recap, we mentioned in part I that
" To operate a shipping company, we almost always require hard assets and high capital costs, thus, companies are usually highly-leveraged. The market mainly competes on price, therefore, there is a limited scope to develop any durable and wide moat. Consequently, the most efficient operators with low debt usually survive."
The industry is also infamous for shady corporate governance. Unfortunately, this is a turn off for the majority of investors. It will take a long time for this sentiment to change. Thus, we will see a lot more of short to medium-term opportunities than really long-term ones.
While we urge prudence and caution regarding the conditions under which you invest in the shipping, we don't recommend you ignore their significance. Opportunities are there at the right prices!
Conclusion
Overall, we see a lot of positive contagious effects, from current supply and demand economics to higher freight rates, boiling down to higher revenue, cash flow and elevated assets value. The upward trend of scrap value, demolition value and steel prices will also gradually improve fundamentals going forward.
The prospect of India following China's economic growth and environmental clean-up is a very interesting theme to follow. All in all, dry bulk shipping is due for healthy growth years.
Part III of the series will focus on dry bulk stocks in which we see tremendous upside. We will provide the link soon as the article is published.
Notes: This report was produced with input from exclusive research on Value Investor's Edge. Value Investor's Edge is the preeminent source for deep value and global shipping research.
Author's note: Thank you for reading! If you have enjoyed our article, please click "follow" to get notified each time we publish a new piece. Lastly, please do further due diligence to reach your own conclusions.
Disclosure: I am/we are long SHIP, SBLK. I wrote this article myself, and it expresses my own opinions. I am not receiving compensation for it (other than from Seeking Alpha). I have no business relationship with any company whose stock is mentioned in this article.
Editor's Note: This article covers one or more microcap stocks. Please be aware of the risks associated with these stocks.