The auto parts retail segment has underperformed over the past year with major players O'Reilly's (ORLY), AutoZone (AZO), and Advance Auto Parts (AAP) down 11% to 40%.

The reason for this is sales (as measured by same store sales) have slowed (or turned negative) for each company. Slowing sales coupled with the fear of Amazon entering the space and taking market share have lead the market to punish the companies' stock prices.
There are two competing narratives. Company executives have blamed the sales slowdown on two consecutive mild winters and just a general lull in replacement parts demand. Others believe the industry is being disrupted by Amazon. Indeed, the theme of 2017 seems to be "disruption". The Google Trends graph for the word "disruption" have steadily increased so Amazon is on everyone's mind.

So, who is correct? What's the reason for the sales slowdown and when (if ever) can we expect sales to turnaround?
Auto Parts Sales Slowdown or Disruption?
The key question is whether or not the traditional parts stores are losing share. If auto parts sales are increasing as a whole but the big three are seeing their sales flat line or turn negative than there is reason to be very worried. If sales are down industry wide then its likely factors other than competition are at play.
The table below dating back to 2006 shows monthly sales for auto parts, accessories, and tires using data from the US Census Bureau's retail sales reports.

We can see that sales are down so far this year (tracking -.81% lower this year compared to the same period last year). We can also see that winter sales this year, particularly in February really took a hit. Also, January and March weren't great either. We can also see that there is some pretty significant variability to yearly sales. Sales dropped by 2.7% the year of the great recession and then bounced back strongly over two years. Sales growth also flat-lined a bit in 2013 and 2014 before coming back strong in 2015.
How about the weather? Looking at the weather for the past two years we can see that it has indeed been unseasonably warm. The NOAA's National Centers for Environmental Information publishes climate data and weather overviews each year for the US.
For 2015 the contiguous US experienced the second warmest year on the 121 year record. While there was record snowfall in some parts of the Northeast and Midwest in general winter precipitation was slightly below average and the contiguous US had the 20th warmest winter on record.
For 2016 the weather story is similar. 2016 now took the record for the second warmest year for the contiguous US. Additionally, it was the warmest winter on record. Snowfall was generally below average for most of the country except some major metropolitan areas like Boston, NYC, and Washington D.C..
So far, it appears managements' explanation for sales challenges at the big three auto parts stores makes sense. Additionally, as someone who lived in the epicenter of the "rust belt" in Rochester, NY for four years and owned two vehicles during that time I can tell you that harsh winters most certainly affect vehicle maintenance requirements.
So what factors could drive a turnaround of auto parts sales besides weather, which is unpredictable?
Secular Drivers for Auto Parts Retailers Still Strong
The two biggest predictable drivers for auto parts sales are miles driven and average age of vehicles on the road. Both of these factors look strong.
Miles driven flat lined after the great recession but lower gas prices and a growing economy are now pushing miles driven up.

The average age of vehicles on the road also continues to increase. Using data provided by the DOT we can see a steady increase in the average age of light vehicles currently on the road today.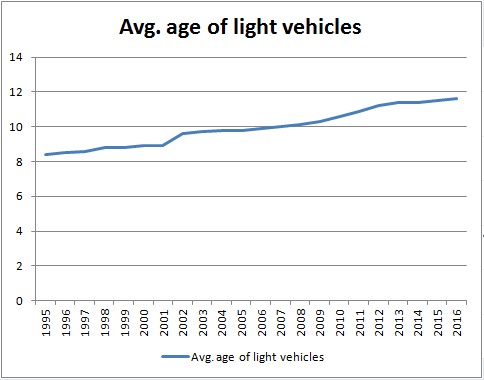 Summary
There is no reason not to expect auto parts sales to recover. Light vehicles are depreciating assets that will eventually need maintenance. Mild winters may prolong the maintenance cycle but the gaining of America's cars and trucks means eventually replacement parts will be needed. Management's explanation of the sales slowdown jives with the industry data we've seen and there is no reason to expect a significant share loss to Amazon (or others) is responsible for slowing sales.
Given the extreme relative underperformance over the past year of the big three auto parts stocks compared to the market now could be a good time to buy.
Disclosure: I am/we are long AAP. I wrote this article myself, and it expresses my own opinions. I am not receiving compensation for it (other than from Seeking Alpha). I have no business relationship with any company whose stock is mentioned in this article.