At first glance, the subject of this article may seem odd. What could be so unusual about this particular year? Plenty, as it turns out. The last working year is one of preparation. The first retirement year is one of discovery. The second year, of which I am in month 11, is one of adjustment, perspective, and learning. If we bring some mindfulness to the experience, we become more effective as investors and as people.
Most people know of Socrates' command to "Know thyself," but here is a more amped up variation from Pythagoras: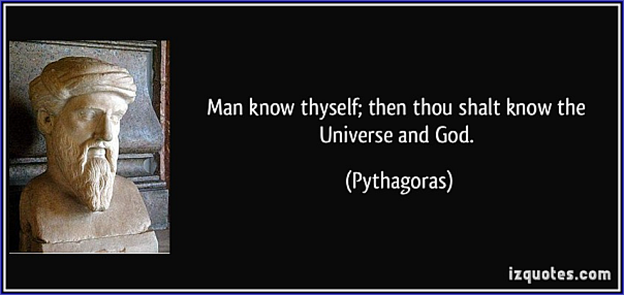 The challenge of time
Some people like to say that after retiring they are busier ever. This retiree is happy to report that it's not necessarily true. In fact, finding the way towards meaningful activity is daunting when suddenly you have 40 or more hours a week to fill. I have previously written that a successful retirement takes intentional personal and financial planning. The planning doesn't stop on retirement day, it changes. Once the initial "To Do When I Retire" list is all checked off, constructing the long term turns out to be a very different challenge. Enthusiasm and a sense of adventure can help make it an stimulating and rewarding experience.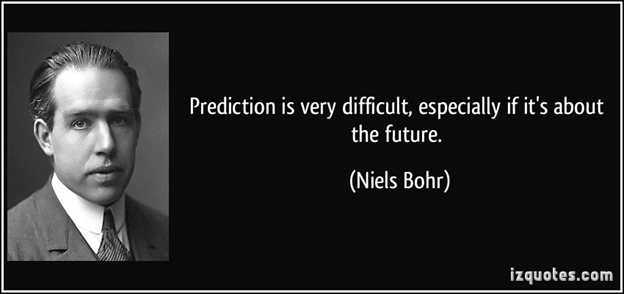 Prediction is very difficult…
The first year is a time for getting oriented to a new life and observing how the years of preparing for retirement turn out. In a personal example, contrary to pre-retirement plans, I soon became restless about not collecting social security and foregoing that big chunk of income. Common knowledge says to delay taking it if possible but I was spending several thousand a month of my own money when it could be social security footing the bill. A bigger payment down the line didn't make sense when it would take 12 years to recoup the delayed income. I recognized that this personal dissonance was not going to go away, so I arranged to take SS about 9 months in when I turned 65.
Another conventional guideline says you need 80% of your working income in retirement. My financial advisor at TIAA said that in his experience, clients needed closer to 100%. Convention this time proved to be correct. Many expenses are lower than when working, and I was pleasantly surprised to have money in the checking account at the end of the month. In the last working years, I only spent about 80% of income, so carrying over longstanding habits resulted in a surplus even with new expenses for leisure and other pursuits of happiness. Actual spending is difficult to know in advance because of the many life changes in retirement. In my case, there was less spending on clothes, food, transportation, no more 401(k) match, and I paid off the mortgage.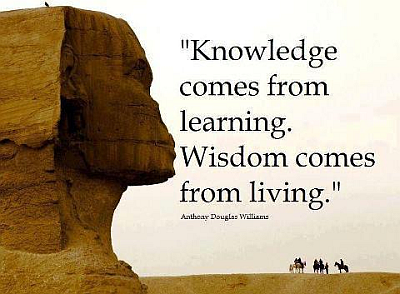 Wisdom is yours
As retirement progresses, there is time to recognize and appreciate an asset available to every retiree: wisdom. Not the province of gray-bearded men and mountaintops, wisdom is simply an understanding of the world and your place in it. It comes from experience and observation along with some self-awareness. By 60+ years of age, we are no longer preoccupied by the drive to acquire status or material things. There is a much different conception of what is important and how to use time, talent, and treasure responsibly. Some of this wisdom is rational and conscious, some is more intuitive.
Where is your investing competence?
Most retirees have reached the point when they can recognize and understand his or her circle of investing competence. To do so requires an honest review of successes and failures, including self-reflection about what personal traits have contributed to each kind of result. It's what could be called recognizing your investing personality. Ideally, this is part of an ongoing process over an investing lifetime, but changes in retirement presents a perspective that is different from earlier stages of life when other concerns predominate.
In my case, for example, success has most often come from a conservative approach of finding pockets of value that lead to incremental gains. I have no regrets about moves like selling Amazon (NASDAQ:AMZN) at 100. A 100% gain there was enough, and other opportunities beckoned. My personality is not suited to holding on to a stock long enough to have a 10-bagger.
Know thyself
By the second year of retirement, ideas that may have been developing over a period of years become increasingly clear. I have noticed that any pressure to have every stock be a winner has dissolved away. Similarly, I'm unconcerned with what an investment does in the short run.
Pre-retirement, the financial focus is on Retirement Day +1. The unspoken target is your financial situation on that day and you are occupied with positioning SS, pensions, 401(k), dividends, and other assets. Post-retirement, the focus begins shifting more to the out years. Retirement planning is a long-term project that continues to evolve long after the event itself.
The importance of high-quality dividend stocks, always high for me, has only increased. There will be periods when capital gains are hard to find, and I never want to be dependent on them for income. I have cash and near-cash equal to a year of expenses for the same reason.
No mo' momo
There's no temptation to chase high-momentum stocks. The level of risk there is not appropriate for this stage of life, and the link between successful stock-picking and self-esteem that I confess was present in younger days is gone. Instead, with an adequate level of ongoing income assured, there is more freedom to consider stocks with low or no dividend but perhaps more potential for long-term growth. I profiled three of these in More Historically High Yields For The Dividend Investor, and others in Historically High Yields For The Dividend Investor and Using Historically High Yields To Find Value.
I look at high fliers like Amazon, Tesla (NASDAQ:TSLA), and especially cryptocurrencies with a mixture of bemusement and horror. Retirees have seen these "always the same but always different" situations before, and this retiree has zero fear of missing out on the other side of this market cycle.
Ironically, although there's more free time, I want to spend less daily time working on investments. There's little reason to monitor day-to-day developments, which are nothing but noise for the long-term investor. New reports on jobless claims, inflation, or GDP have no relevance to the situation ten years hence. For example, proclamations about Amazon's threat to entire sectors of the economy will take many years to play out. There's plenty of time to discern when, where, and if they will have an effect.
Practical examples:
Here are two practical examples of how the second year perspective is influencing my investing:
Cardinal Health (CAH). Cardinal has issued soft guidance in the last two quarterly reports. The stock dropped 12% in one day in April, rallied some, then fell 17% in August. It was also hit by Amazon, and federal government attention related to the opioid crisis. At $59.50, it is 30% off its high, but some or all of these setbacks will be temporary. Being retired, I have the luxury of looking past them to note that by 2019, they project a more normal high single-digit growth. CAH also has a moat as part of a three-member oligopoly (along with McKesson (MCK) and AmerisourceBergen (ABC)). They have a long record of increasing dividends. To me, Cardinal Health is an easy long-term investment decision.
Philip Morris (PM). PM is one of the world's largest tobacco companies. Investor enthusiasm has been waning primarily because of anti-tobacco activity in areas around the world. However, management (part of Altria before the spin-off in 2008) has been battle-hardened by anti-tobacco sentiment since at least the Surgeon General's report in 1964. Success in adversity is in the company's DNA, and adversity is no reason to think PM and Altria won't continue to reward shareholders handsomely. I prefer Philip Morris over Altria because of its geographic diversity and current price weakness.
These are old economy companies, but in the time of FANGmania, that's where the value is. When the market changes, the pockets of value will change as well. Some of the companies I will be watching are KLA-Tencor (KLAC), Lam Research (LRCX), Visa (V), Mastercard (MA), and PayPal (PYPL).
Summing up
In the second year of retirement, there is time to take a breather, look around, and assess. The multi-year pre-retirement planning is done. A new post-retirement process, quite different, is in place. In my case, it is less urgent and more relaxed, with a stronger emphasis on consistency and the long term. By taking some time to look at personal strengths, weaknesses, and investing personality, it's possible to acquire a more confident and complete understanding of how to build and maintain a successful financial life.
To the readers who have made it this far, thank you for allowing me to go on unusually long about my favorite subject: myself (… and isn't that everyone's favorite subject?). My hope is that the ideas here stimulate some reflection and encourage you to use your hard-won common-sense wisdom to good effect.
Disclosure: I am/we are long CAH, PM. I wrote this article myself, and it expresses my own opinions. I am not receiving compensation for it (other than from Seeking Alpha). I have no business relationship with any company whose stock is mentioned in this article.