My Ian's Million Fund, IMF, is a quasi-index fund where I have two main goals. One, beat the S&P 500 over time with my own diversified basket of stocks, while avoiding any ongoing management fees. Two, build a model that my non-investment professional friends can copy. If I didn't have other investments and had $1,000/month to invest, what retirement portfolio would I build to ensure I ended up with a strong solid nest egg? The IMF answers that question.
As has been the case for most of 2017, I didn't see any reason to delay this month's purchases - and made my move on December 1st. The S&P 500 remained in a strong uptrend, and with the holidays upon us, it was unlikely that the market would drop sharply in the near term. At this point, bears' best hopes for a correction are a post-Christmas sell-off, as we've gotten several times over the past decade.
So for now, I figured I should put the fresh capital to work as quickly as possible. Throw in the brief but stiff sell-off on December 1st related to the now retracted story about the Trump Administration, and prices on some stocks dipped nicely for the month's purchases. Anyways, here are the 16 purchases for the month.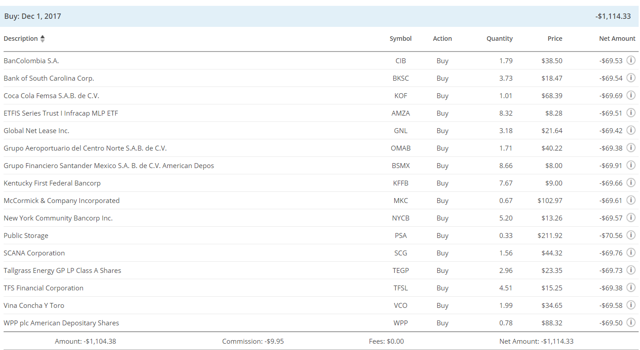 Note that funds used this month exceed the usual $1,000. That's because I sold the IMF's position in Charles Schwab (SCHW) and reinvested the funds. I explained this portfolio sale in my November portfolio review.
The month encompassed three main themes. These include banks, foreign stocks, and adding to the IMF's top positions. Let's start with the last one.
This month's purchases added to the stakes in five of the IMF's top 10 holdings. The IMF is being run as a quasi-index fund, and I'm happy that it owns tons of positions (106 at this point). With that in mind, it's still good to weight one's best ideas a bit more heavily.
Take McCormick & Co (MKC) for example. The stock has a 52-week range of 89 to 106. I said last month that I wanted to keep buying as long as shares were still under 100 - I don't like chasing stocks closing in on 52-week highs. However, here we are over $101, and I'm still a buyer. Ultimately, the market is significantly underappreciating how much the French's/Frank's Red Hot deal resets the valuation picture for MKC stock.
With earnings set to advance 20% or so next year into the high 4s/share, and then over 5 in 2019, the new floor on MKC stock will soon be 100 based on a 20 P/E ratio. More likely, the stock will continue trading in a mid-20s P/E ratio range, leading a bunch of folks talking of how it's a great company but simply too expensive to buy now. People will be begging for a dip back to 100 to buy, just as numerous commenters were waiting for a retrace to the low 80s earlier this year, which never came. Such is life with the top tier dividend growth stocks, particularly after making a huge earnings-boosting acquisition. MKC remains a top conviction holding, and I don't mind having to allow my cost basis to rise a bit.
Also in the category of adding to big holdings, I furthered my stake in Grupo Aeroportuario del Centro Norte (OMAB). For whatever reason, it badly trailed the other two airport operators over the past month. I'm bullish on all three companies however, it makes most sense to add the one that is momentarily underperforming. PAC and OMAB are the portfolio's #1 and #3 holdings (Brown-Forman overtook OMAB this month with its hot performance).
It will be a balancing act keeping these airport positions right-sized, as they are highly volatile, but they're also among my best ideas at the moment. In 2018, I'm intending to emphasize adding to winners and best ideas somewhat as opposed to bottom fishing off the new 52-week lows list.
New York Community Bank (NYCB) also continues to receive new funds. The stock is now within 2% of the IMF's cost basis given the sizable rebound rally in November. Still, compared to other regional banks on offer, NYCB's combination of dividend and regulatory upside appeals even at $13/share, though the stock was recently in the 11s.
Public Storage (PSA) isn't the most exciting company, or even REIT, in the world by any stretch. However, it's one of the highest-rated and most stable real estate operators in the US. Between its industry-leading credit rating and locked-in funding structure from its preferred stocks, PSA is one of the best positioned REITs for the rising interest rate environment. The yield isn't that juicy at first, but it is one of the fastest growing in the space. I'd rather own a 4% yielder that grows at 10%/year than a 6% yielder that grows at 1%/year, particularly in an account that isn't tax sheltered.
Rounding out the additions to top positions, I put more money into Bancolombia (CIB) enjoying the recent dip back under 40. Stronger oil prices, improving Latin American sentiment, and a sharp drop in Colombian interest rates all bode well for the bank's prospects in 2018.
Sticking with foreign names, I added to several more positions that the IMF is up on but which have retraced lately. Mexico's Coca-Cola Femsa (KOF) soft drink bottler remains much more attractive as a dividend growth stock than its stalled-out overpriced US namesake. KOF stock has enjoyed a full Trump round-trip now, and is back to bargain levels - already under 19x earnings with stronger EPS coming up as South America rebounds and the Venezuelan government likely gives way over the next year: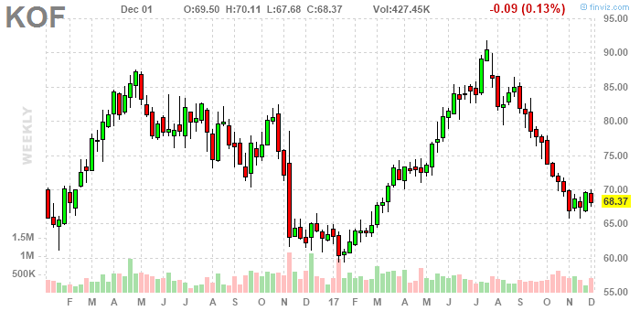 Similarly, Mexico's Grupo Financiero Santander Mexico (BSMX) went from 7 after the election to the high 10s, and has now given back most of the gains. If you're bullish on Mexico, buying the country's arguably best bank looks nice down here: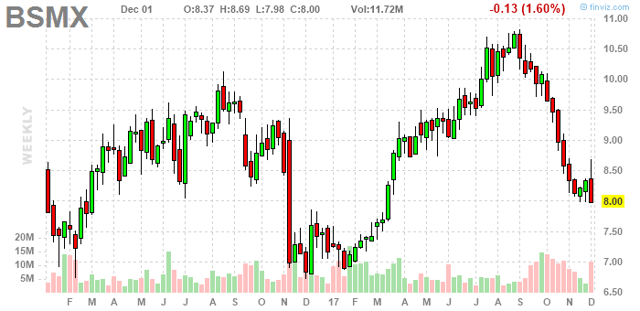 These two charts in particular show the importance of waiting for stocks you want to buy to go on sale, rather than purchasing whenever you hear about the story. It's not uncommon for emerging market stocks to go up and down 20-30% for no particular reason other than changing sentiment. Over a lifetime of investing, buying near the troughs rather than during the good times amounts to one of your greatest potential edges competing against index and passive money.
Another stock I wrote up recently, Vina Concha y Toro (VCO) gets the nod this month. I don't have much more to say beyond my recent article other than that I'm not worried about the presidential election in Chile - any further dip on that is a buying opportunity. Even in the surprising event that the favorite ends up losing, the alternative isn't horrible for that market either - particularly in consumer staple stocks.
Moving back to the US, I continue adding to the two bank conversion stocks in the portfolio. Kentucky First Federal (KFFB) dipped on earnings, allowing an addition at $9/share - representing a 4.4% dividend yield. I anticipate continuing to collect that from this sleepy stock for years until whenever the conversion goes off, with the stock then rallying into the mid-teens.
Similarly, the profoundly overlooked TFS Financial (TFSL) continues to trade around $15, making it one of the most exciting 4.5% yielders out there. Given its 9 P/E ratio and the fact that it is selling at just half tangible book value, and you have one of the true deals of 2017. Throw in an aggressive share buyback on top of the healthy dividend yield, and there are so many ways to win here.
Sure, we don't know when the bank will complete the second-step conversion (and it's unlikely to be soon), and a large subset of investors will continue believing erroneous P/E and Price/Book data they see on internet finance sites until said conversion is complete. That said, more opportunity for the rest of us.
There's no special situation involved with the Bank of South Carolina (BKSC), but it's one of the few reasonably run regional banks offering a greater than 3% yield, which hasn't rallied in recent weeks. This author loves small bank stocks, and even with the sector levitating, I'll keep picking through the options to see what remains a decent buy.
As I mentioned in my 7 Black Friday Sales You'll Be Thankful For In 2018 article, the advertising agency names look interesting, given the steep declines in 2017. There are several suitable options for growth and income investors; however, I went the easiest one, averaging down on my position in British firm WPP (WPP). With the stock down more than 20% year-to-date and peers such as Omnicom (OMC) down similarly, this is a good area to go bargain hunting among the year's losers.
Turning to another of 2017's big losers, I continue adding to the position in Scana Group (SCG). I'm still of the opinion that not much will happen with them from a regulatory standpoint - they'll negotiate a settlement agreement reasonable to both sides, rather than South Carolina trying to put them out of business. Sure, there is some downside risk here politically, but then again, you haven't had many chances to buy utilities down this hard since the financial crisis either: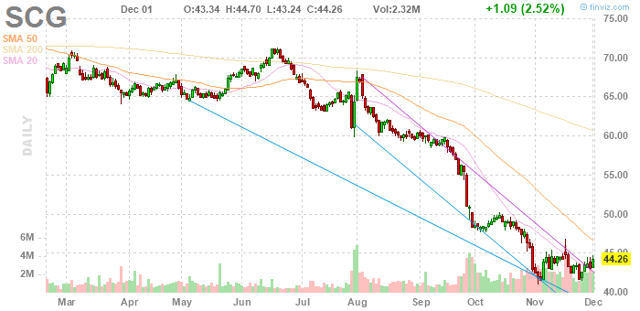 There's a decent chance SCG stock will settle back down around 55-60 once the scandal passes, offering investors buying today the chance to lock-in a solid 5.5% yield on cost out of the utility sector.
Finally, we have our yieldiest names of the month. One is an addition - the recent dip in Global Net Lease (GNL) allowed the IMF to shave a few cents off its cost basis. I don't expect much in the way of capital gains, but the 10% monthly-pay dividend is nice, and I do see that as being safe given the long leases and high-quality tenants they possess. As I mentioned above, I'd rather own a REIT that grows quickly, or one that pays a massive yield today. The sour spot, at least in today's market, are the 5-6% yielders that don't grow much. I see those getting hit worst on a total return basis if interest rates really shoot up.
The other two purchases this month are new names for the portfolio. Given the recent sell-off in MLPs, and the divergence from oil prices, it is an interesting time to start nibbling in the sector. Alas, buying MLPs outright would be a pain, given the K-1 implications for what are ultimately tiny positions within the IMF.
As such, I got around this problem by buying a C-corp in the space, along with an ETF. Tallgrass Energy GP LP (TEGP) looks like a reasonable option in the limited group of MLP-related C-Corps. Though it trades near 52-week lows, revenues are growing nicely, and the company is stringing together a pretty impressive series of dividend hikes. The 6% starting yield is reasonable for the level of risk here.
And the ETF is one of the most hotly discussed here at Seeking Alpha. It'd be the InfraCap MLP ETF (AMZA). This is no ordinary ETF - since it uses both leverage and options selling to juice its returns. This is great when asset prices are rising, but has led to crushing losses from 2015 onward as oil prices disintegrated.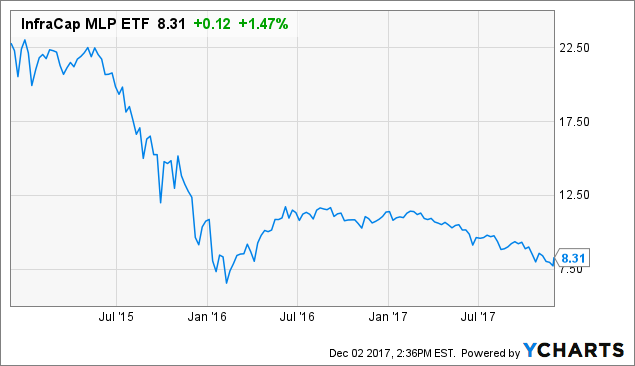 However, that leads to a potentially rewarding setup now. AMZA stock has been pounded again this year, despite rising oil prices. There are some worries about pending tax reform, rising interest rates, and other such matters. But the core businesses should be faring as well or better than last year, given improving energy pricing.
Throw in some leverage and elevated options premiums due to higher realized volatility, and there is a lot to like for AMZA heading into 2018. That said, I'm not convinced they can maintain their dividend at the current level - there's a decent chance it will cut a bit in the short run. Even so, investors should get most of their capital back within a few years if oil prices are merely flat let alone rise from here.
This is absolutely not the sort of holding to overweight. I see commenters stating that they have material portions of their net worth in this ETF. That's dangerous, since if oil prices tank again, the leverage will cause another big drop for the share price. I view this sort of holding as a 0.5-1% of funds sort of thing as part of a high-yield basket. Not all the names in it will work out, but the ones that do more than pay for the rest of the bunch.
Ian's Insider Corner members receive these reports first, along with extensive coverage of the portfolio's holdings.
Disclosure: I am/we are long ALL THE STOCKS IN THE TABLE.
I wrote this article myself, and it expresses my own opinions. I am not receiving compensation for it (other than from Seeking Alpha). I have no business relationship with any company whose stock is mentioned in this article.
Editor's Note: This article covers one or more stocks trading at less than $1 per share and/or with less than a $100 million market cap. Please be aware of the risks associated with these stocks.