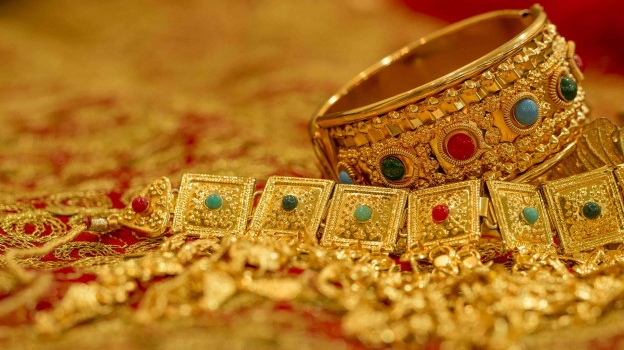 Source: Gainesville News.
There are two key drivers of gold jewelry demand, which follow consistent trends across countries. These two drivers are income and the price of gold. An economic hypothesis has already proven that there is an obvious negative relationship between gold jewelry demand and increasing gold prices. China uniquely has a positive relationship between gold demand and higher gold prices.
In the statistical correlation charts below, relationship between higher gold prices versus demand are generally negative except for China and Hong Kong: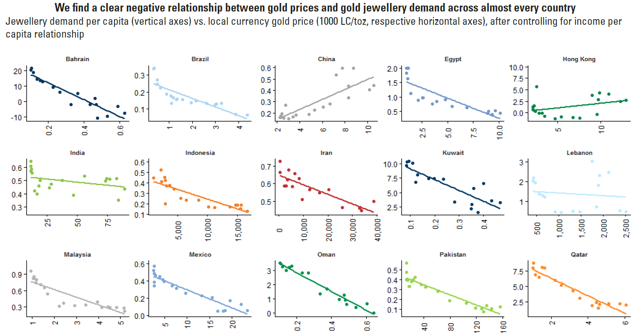 Source: Goldman Sachs Investment Research
Here are four potential macroeconomic factors why China, despite the rising prices of gold, still possesses a consistent increase in demand for gold:
1. Trade Liberalization: Jewelry demand represents around half of the annual global gold demand. China currently accounts for one-third of global demand. China's gold prices and supply were fully controlled by the People's Bank of China until 2002. China's gold market was then liberalized with the establishment of the Shanghai Gold Exchange after 2002. This resulted in the abolition of licensing for running a gold business. It also lifted the restrictions on marketing gold products such as jewelries in the country.
Trade liberalization opened up a door to spur demand, wealth and boost incomes. There are now thirteen banks in China that are duly licensed to import gold. Majority of Chinese gold exports are in the form of 1 kilogram- gold bullion bars that are certified at 99.99% purity.
Demand growth is staggering with the increase of Australian gold exports to China from 110 metric tons in 2011 to 232 metric tons in 2016.
2. Consumption: According to the World Gold Council, Chinese gold demand has the potential to double from today's levels over the next decade. The country's appetite for gold has grown significantly since 2002. It became the world's second largest consumer of gold in 2009 (in tonnage shipment). The country's per capita demand for gold remains well below that of western economies.
China's demand has constantly soared despite the country already being the number one gold producer in the world. It seems gold demand is still not enough to sustain the rising demand levels. Australia is presently occupying the second spot as the largest gold producing nation in the world, with a niche to export gold.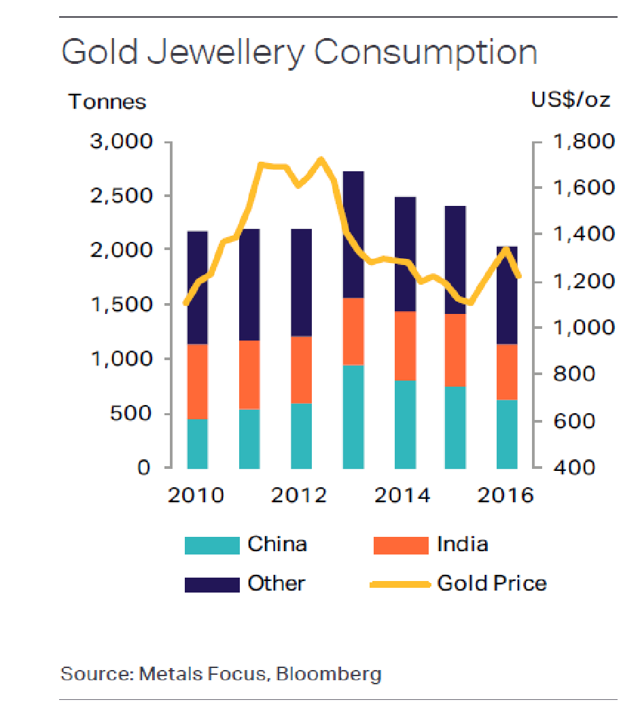 3. Incomes: Rising average incomes, surplus of investable income derived from high savings rates and improved standards of living in China fueled the significant growth in Chinese gold jewelry demand.
China was the only bright spot within the developing world last year, as demand jumped by 25%, which is its second highest annual increase. Investors' appetite for the yellow metal there was fueled by improving price expectations along with growing macroeconomic uncertainties. In particular, the marked devaluation of the Chinese yuan and limited options for alternative assets raised gold's appeal among high net worth Chinese investors.
As the Chinese gold industry was liberalized, amounts of gold bullions in private hands of Chinese consumers were believed to be much less than in countries like India and Vietnam. It means there is still an ample scope for growth.
In addition, total gold investment was stimulated by the recent promotional program "Proposals for Promoting the Development of the Gold Market". It included new financial products like gold Exchange Traded Funds (gold ETFs) and other ways to access the gold market. New financial products on gold were introduced jointly by the People's Bank of China, the National Development and Reform Commission, the Chinese Ministry of Finance and the Chinese Securities Regulatory Commission.
4. Market Dynamics: Gold jewelry in Asia tends to be higher in purity, with the US and Europe favoring mid to low karatage jewelry. China's jewelry demand tends to be much more statistically skewed towards the very high karatage jewelry (including 24k, or 9999 gold).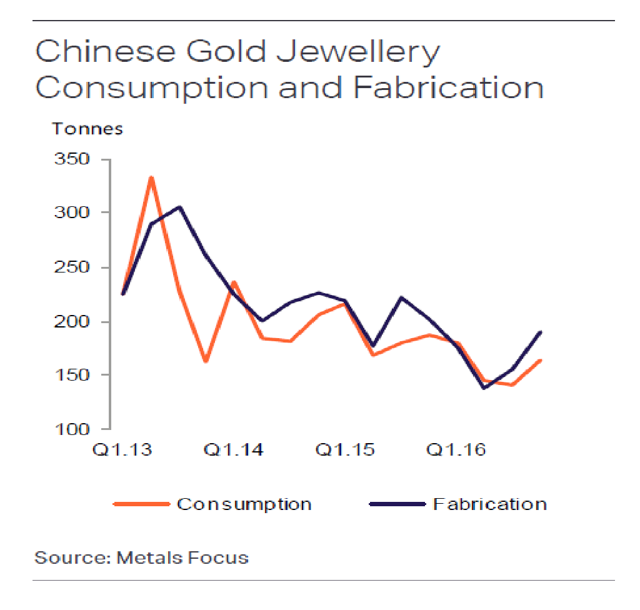 Jewelry fabrication in the country was decreased by a sizeable 19% to its lowest level this decade. China and India, the world's two largest markets, accounted for 83% of gross losses. However, it is worth pointing out that rising gold prices were not the dominant driver behind weakness in both countries.
The hefty decline in China was owed much to the impact on consumer sentiment of current and anticipated economic challenges. This was compounded by further increases in living costs, while ongoing changes to consumer preferences also impacted gold jewelry last year.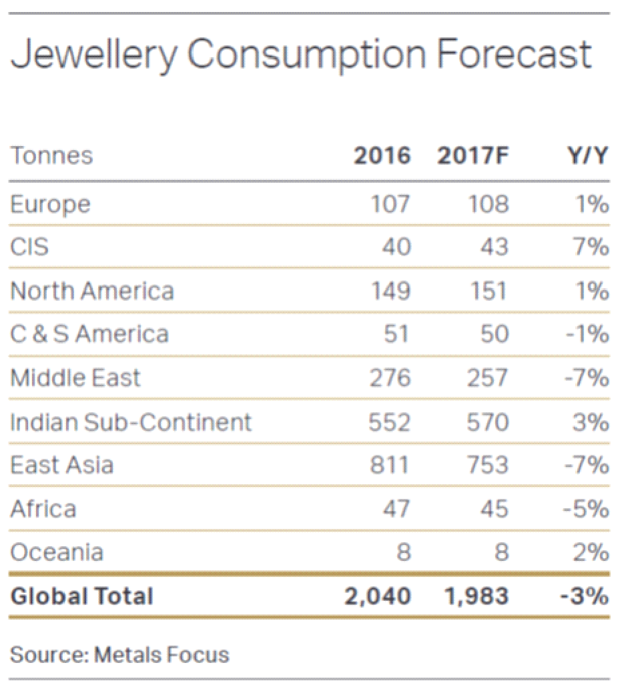 Recommendation:
Just as we should expect, it is different in China where there is a positive relationship between higher gold prices and gold jewelry demand. They are strongly influenced by trade liberalization, consumption, disposable wealth and market dynamics.
We expect a negative relationship between higher prices and gold jewelry demand among the rest of the nations. All else equal (and in particular at unchanged income levels), higher gold prices will incentivize consumption to shift away from jewelry towards other luxury items.
Disclosure: I/we have no positions in any stocks mentioned, and no plans to initiate any positions within the next 72 hours.
I wrote this article myself, and it expresses my own opinions. I am not receiving compensation for it (other than from Seeking Alpha). I have no business relationship with any company whose stock is mentioned in this article.