Purpose
The purpose of this post is to provide readers with a report card on the recommendations I have made since joining Seeking Alpha in September 2016. Of my 34 posts on Seeking Alpha, all but two have focused on banks.
Eleven of my Seeking Alpha posts included specific buy or avoid/sell recommendations to investors. Of the 11 recommendations, ten were specific to individual banks and one was a recommendation to buy bank stocks as a sector in 2017.
All performance data in this post compare the change in stock price from the date of the recommendation to closing stock prices as of December 12, 2017. All data are sourced from Ycharts.
"Alpha" is defined as the difference in stock price return of an individual or group of recommended banks versus the average change in stock price for peer banks during the same time.
The one exception is the January 17, 2017 analysis which recommended investors buy and hold bank stocks as a group in 2017; "Alpha" in this case is defined as the average stock price change of 25 big banks compared to the change in price of the S&P 500.
Headline Results
Chart 1 shows that nine of my 11 recommendations have created Alpha as of December 12, 2017. The average Alpha is 10.1% (1,010 basis points) for all 11 recommendations. The average Alpha created from the four recommendations made more than one year ago is 16.1% (1,610 basis points).
Chart 1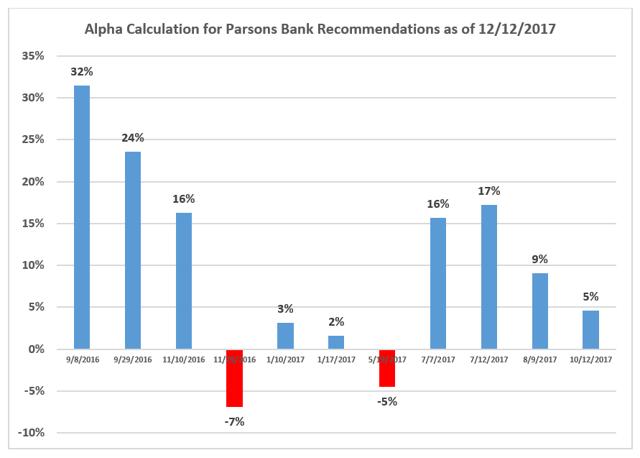 Recommendation September 8, 2016: Banks to Benefit from Rising Interest Rates
In this analysis I recommended four banks best positioned for rising interest rates. By far my strongest recommendation was Silicon Valley Bank (SIVB) which has seen its stock price appreciate by 116% since the article was published. The other three recommendations were J.P. Morgan Chase (JPM), Zions Bank (ZION), and Comerica (CMA). See chart 2.
Many bank investors do not appreciate the simple fact that not all banks are created equal. Different business models and different balance sheets produce different results over time. Interest rates are a key variable when picking bank stocks. As the analysis described, clearly SIVB and CMA were and are well-positioned to benefit much more than other banks from rising rates.
This analysis demonstrates clearly that a bank investor willing to do homework can achieve returns superior to investors buying a generic bank ETF.
Chart 2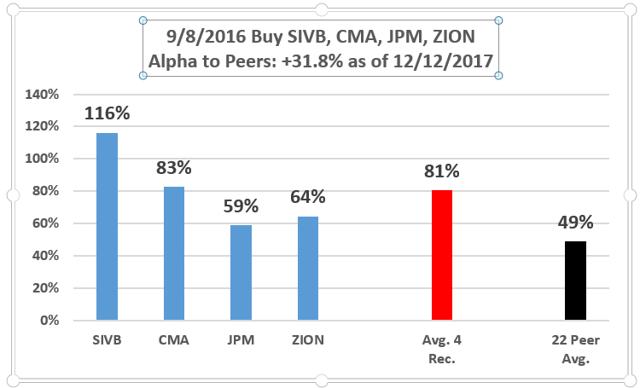 Recommendation September 29, 2016: Do Not Buy Wells Fargo Until Insiders Do
In this analysis I recommended that investors avoid Wells Fargo (WFC) shares until insiders start buying.
As chart 3 shows, Wells Fargo has seriously underperformed peer banks since September 29, 2016. Clearly bank investors would have been better off holding a bank ETF versus WFC during this time.
Before dismissing WFC's performance since September 2016, it is important to note that its stock price has actually outpaced the S&P 500 during the same time. Clearly Wells has benefited from a rising tide that has helped all banks.
In a recent analysis, I urged WFC investors to take advantage of the recent price surge and sell shares given the bank's string of governance failures. My view is that investors should avoid WFC until bank insiders start buying. Other banks simply look more attractive from a risk-return perspective.
Chart 3
Recommendation November 10, 2016: Avoid 3 Banks with Heavy Insider Selling
In this analysis three banks – BB&T (BBT), M&T (MTB), and USBank (USB) -- were identified as having significant insider sales in the three months prior to the 2017 Presidential Election. The recommendation to bank investors was to follow the insiders' lead and redirect bank investment dollars to other peer banks.
Since this article was posted on November 10, 2016 the average change in stock price for these three banks is up 25% versus 41% for peer banks. The gap in performance has actually increased every quarter since the article was written. I predict the gap will be even greater at year-end 2017. See chart 4.
Chart 4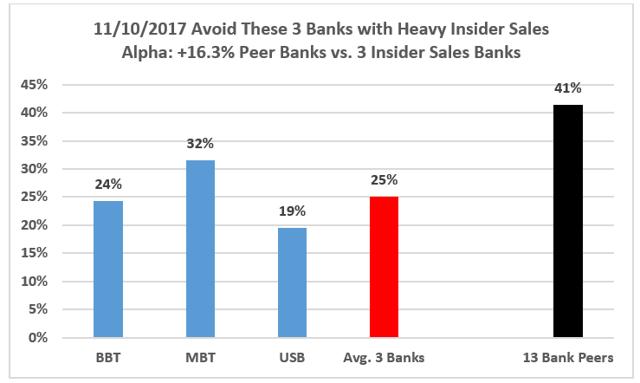 Recommendation November 29, 2016: Predicts PNC Stock Price Decline to $95
My worst recommendation came on November 29, 2016 when I suggested that investors in PNC (PNC) wait to buy the shares until they fall back to $95. This was a terrible call that actually cost me a chunk of change. I was a very aggressive buyer of PNC shares in late June 2016 (Brexit) when shares were available for less than $80.
See chart 5. Today PNC is $145.80. When the price hit $105 I sold 25% of the shares and then proceeded to sell off an equal increment at $110, $115, and $120.
Clearly the mistake I made was a failure to project the benefit PNC would accrue from its approximate 22% ownership of Blackrock (BLK). Although my original June 2016 investment thesis and November 29, 2016 Seeking Alpha analysis captured in great detail the benefits of PNC's Blackrock ownership, I clearly underappreciated Blackrock's potential in 2017.
As reflected on chart 6, I failed to foresee the 38% run-up in market cap enjoyed by BLK. The math means PNC's market cap appreciation (and stock price) has moved roughly in line with peer banks absent its investment in BLK.
I remain confident in PNC's management and business model and will be a buyer in the future. This is a great bank for buy-and-hold investors. Also, for the record, I continue to be a long-term buy-and-hold investor in BLK. It will be interesting to see if PNC sells some or all of the BLK holdings if and when corporate tax relief is signed into law. At $517 a share, PNC may be motivated to sell BLK holdings. If PNC's board chooses to sell some or all of the BLK shares, the bank could buy back more PNC shares – which may not be an attractive option at today's valuation – or issue a special one-time dividend to PNC shareholders.
Chart 5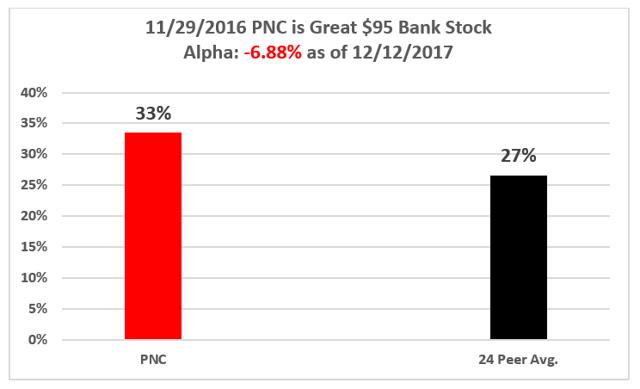 Chart 6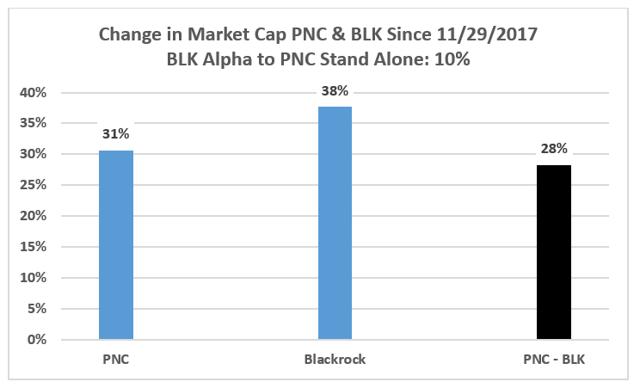 Recommendation January 10, 2017: Five Banks for 2017
Using data dating back to 1991, this analysis recommended five banks with low Price to Tangible Book Values. The five banks were: Bank of America (BAC), Citibank (C), Capital One (COF), Regions (RF), and Zion Bank (ZION). Chart 7 shows that this group of banks produced 3.1% Alpha compared to its 20 bank peer average.
One problem using strict valuation rules for bank stock selection is that it often results in a relatively unattractive investment making the list.
Such is the case with this recommendation as it includes my least favorite big bank investment, Capital One. As seen from chart 7, COF share price appreciation continues to lag peers. This bank is plagued by very expensive cost of funds, an inefficient, high cost mishmash branch distribution model, and a choppy, ever-evolving strategy that has failed to produce results comparable to bank peers in the short and long-term.
COF will for sure show up on this same list for 2018 when the big banks are stack-ranked on Price to Tangible Book Value. More than any other big US bank, COF is a pure play on the economy given its reliance on mass market credit quality. Any hiccup in the economy will prove troublesome to COF investors.
Chart 7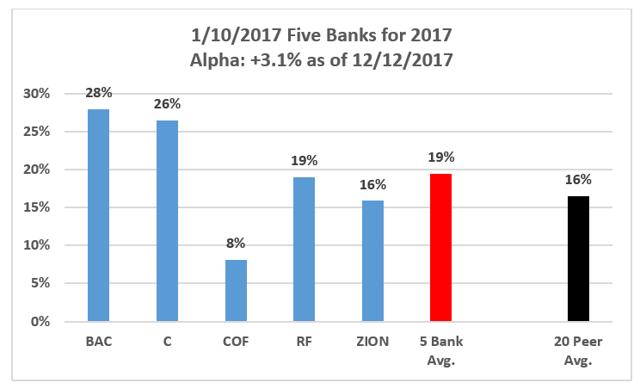 Recommendation January 17, 2017: Expect 2017 to be Great Year for Bank Investors
Based on key credit performance metrics, this analysis recommended investors buy and hold bank stocks in 2017. As chart 8 shows, the average stock price of 25 big banks is up approximately 21% through December 12, 2017 compared to 19% for the S&P 500.
Chart 8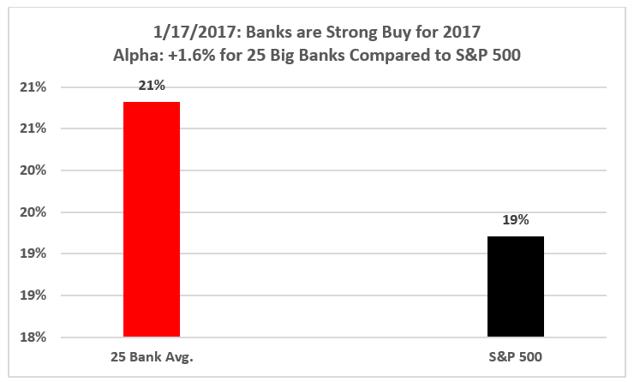 Recommendation May 19, 2017: Buy Huntington Bank
Without question one of my favorite bank buy signals is when a bank CEO makes a significant open market insider buy. In February 2016 CEOs of JPM, KEY (KEY), Huntington (HBAN), and Cullen Frost Bank (CFR) did just this and investors who followed them were rewarded with impressive returns.
The current year has seen only one major bank CEO conduct an insider buy. In May 2017 Huntington's CEO bought 50,000 shares. The May 19 analysis recommended investors follow his lead. Since the date of this post HBAN is up 18%. However, its 24 bank peer average is up 22% as shown in chart 9.
I continue to like HBAN a lot because this bank's management team and directors are all committed long-term shareholders. Do not be at all surprised to see HBAN announce a major acquisition in 2018. While historically bank mergers almost always work in favor of sellers, HBAN has the skills to be an exception to this rule given its management team's history.
Chart 9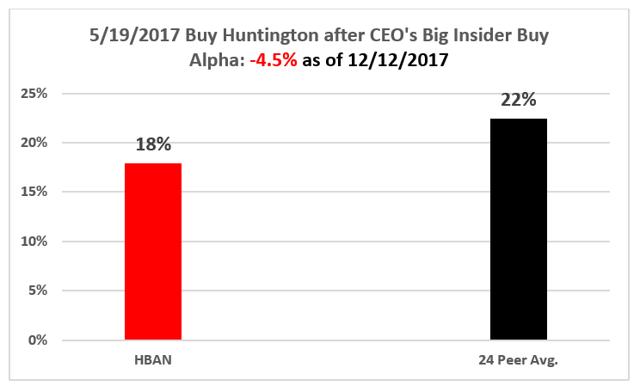 Recommendation July 7, 2017: Avoid Fed Stress Test Losers, Buy Winners
This analysis reviewed the results of the Fed Stress Test released by the Federal Reserve in late June. Here is further proof that investors who do their homework can outperform those buying bank ETFs.
Three banks were identified as "losers" in the Fed Stress Test: Capital One, Northern Trust (NTRS), and USBank. While the average stock price of this group is up 8%, during the same time the three "winners" from the Stress Test – Ally (ALLY, Citibank, and Regions – are up on average 23%. See Chart 10.
Chart 10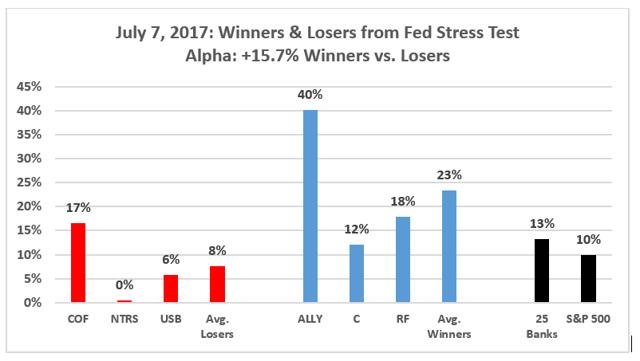 Recommendation July 12, 2017: Buy Ally and Discover Financial Services (DFS)
Using Y Charts data from analysts following banks, this analysis recommended investors buy ALLY and DFS. Investors who did so are up 30% on average compared to a bank peer average of 12%. Do not be surprised if the gap does not expand in the months ahead as both ALLY and Discover Financial Services are well-positioned for a strong economy. At some point, rising rates, however, will put a crimp in their profitability. But for now, that's not a concern. See chart 11.
Chart 11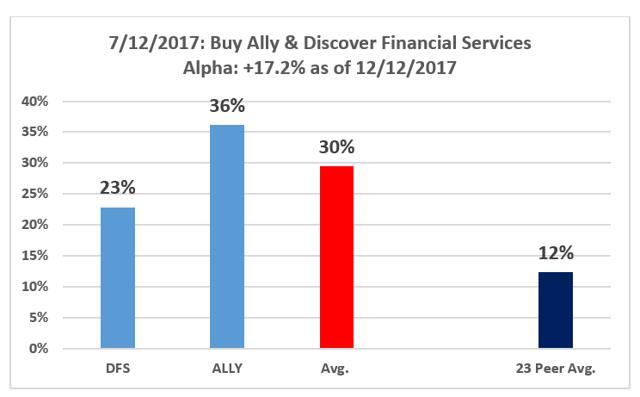 Recommendation August 9, 2017: Take Profits at USB; Other Banks have More Upside
This analysis offered ten reasons why USBank does not have attractive share price upside compared to peers. At the heart of the analysis is the view that the bank's industry-leading valuation (price to book and P/E) is not sustainable. See chart 12.
Chart 12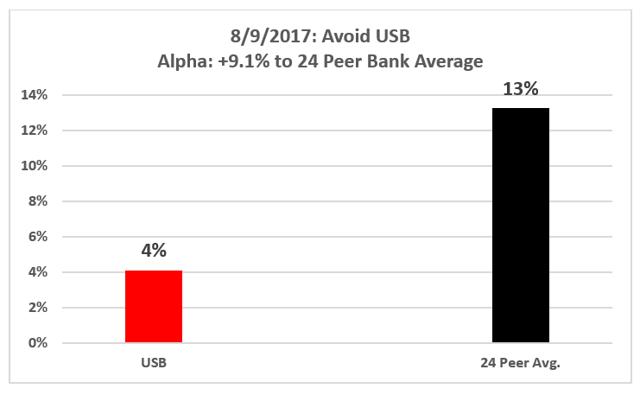 Recommendation August 9, 2017: Buy DFS and KEY
An October 12, 2017 analysis, using data from industry analysts, recommended bank investors buy DFS and KEY. Investors who did are up 14% compared to 9% for big bank peers. Expect the gap to expand by the end of Q1 2018. See chart 13.
Chart 13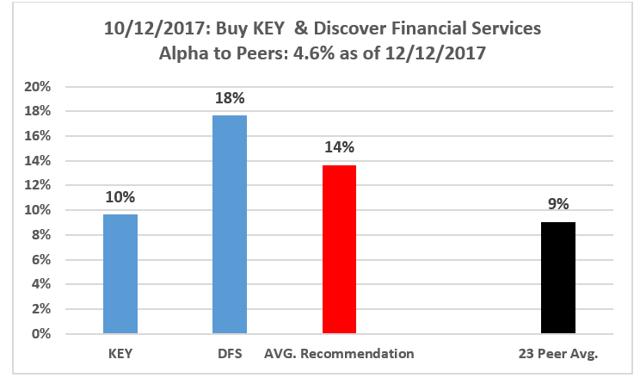 Summary
Let me be clear about something. I do not believe I can construct a portfolio of investments to beat the market over time. In this regard, I am in the camp of Burton Malkiel (author of "A Random Walk Down Wall Street") and Vanguard's Jack Bogle.
While acknowledging I cannot beat the market over time, I think it is possible to select 10 to 15 commercial bank stocks that can outperform peer banks over the long-term based on a strong understanding of business models, management expertise, and the state of the overall economy.
I consider myself a buy-and-hold investor. I prefer to own a diverse group of banks with managers who have proven skill navigating business cycles. These banks produce superior risk-adjusted returns. Therefore, they are excellent sleep-at-night buy-and-hold stocks. This is the topic of my 2016 book, "Investing in Banks."
The analyses I have chosen to post on Seeking Alpha tend to focus on short term investing. Just to be clear, I consider a short term bank investment to be any bank stock that I do not plan to hold forever.
Frankly, I am surprised how well my short term recommendations on Seeking Alpha have done. Truthfully, it could be just luck which is what I am sure Nassim Nicholas Taleb would conclude were he to read this post. (Taleb is the author of "Fooled by Randomness" and "The Black Swan.")
Maybe the market for bank stocks is a lot more inefficient than I have long thought. Certainly my analyses of the impact of rising interest rates (Sept. 2016) and the 2017 Stress Tests (July 2017) suggest this to be possibly true.
Expect to hear from me in early 2018 when I will provide a short list of banks to buy and avoid for the coming year. Also, I am in the middle of an analysis of banks that are likely going to see falling profits as rates rise. While I personally do not short bank stocks, there may be a case to do so in 2018 as investors look to hedge gains built up during the present bull market.
Disclosure: I am/we are long BLK, CFR, CMA, JPM, HBAN, SIVB. I wrote this article myself, and it expresses my own opinions. I am not receiving compensation for it (other than from Seeking Alpha). I have no business relationship with any company whose stock is mentioned in this article.
Additional disclosure: As a retired Bank of America employee, though I currently own no shares, I continue to have certain financial interests in the bank