What a Year 2017 was!
No matter where you look in 2017 - returns were phenomenal (any "total return" in this article = YTD, based on 12/13/2017 closing prices).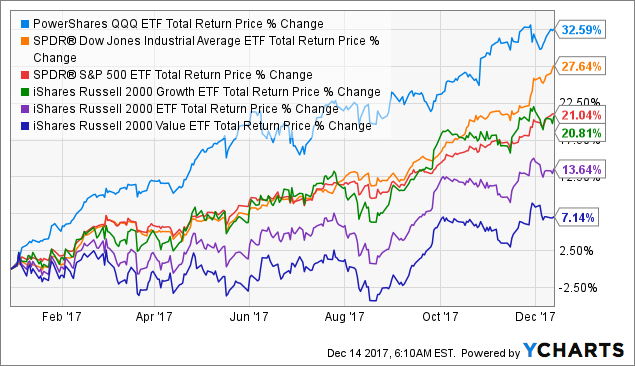 QQQ Total Return Price data by YCharts
Main (large cap) indices:
Broader (small cap) indices:
Even if we look at sectors - the picture only change slightly with nine out of 11 sectors posting double-digit total returns and only two sectors currently having negative YTD total returns: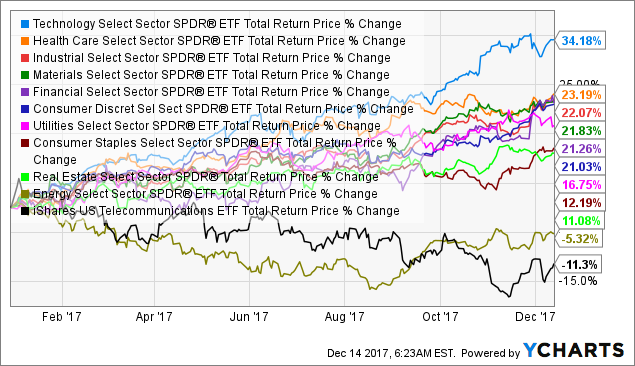 XLK Total Return Price data by YCharts
Here the nine sectors that record a total return greater than 10% YTD (sorted in the order of performance, from highest to lowest):
Here the two sectors that record a negative total return YTD:
Who needs analysis and risk management when principally you can almost pick any stock randomly knowing that you have an over 80% being successful (to the degree of a double-digit return!...)?
That was the case in 2017 but will it be more of the same in 2018?
Not only that we, at The Wheel of FORTUNE strongly doubt it but we also think that it would be big mistake - big... huge! - to let the (past year based) perception mislead you....
What has worked phenomenally in 2017, aka "pretty woman," may not work as well - and possibly not at all - in 2018, a year that may contain "the good, the bad and the ugly" altogether.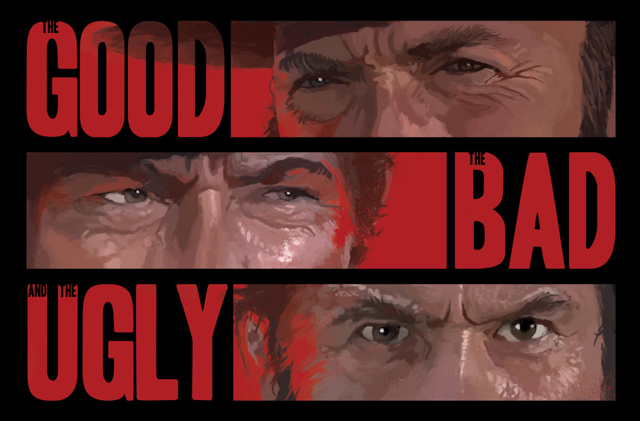 How 2018 is going to look like?
Good? Bad? Ugly? All for one and one for all?
We believe that 2018 isn't going to be as easy as 2017 was. Although recent years, up to and including 2016, saw passive investments outperforming active managers, 2017 is going to be a year where active management ends with the upper hand, in spite of stocks going up almost non-stop.
The three-month correlation between the S&P 500 sectors is nearly at its lowest level on record. On one hand, this means that different industries within the index are trading independently of one another. On the other hand, it doesn't mean that they don't move (up or down) in tandem, when one is looking at a longer period.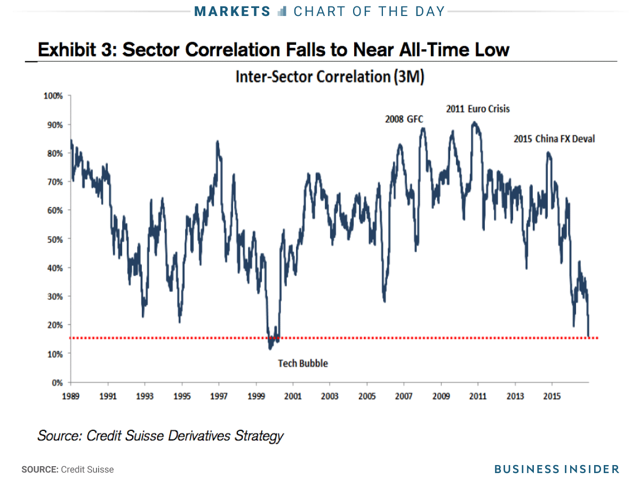 Such a combination - a low, short-term (inter-sector) correlation and a long-term, non-stop (overall) rally - is very positive for active managers because it allows them to ride the biggest winners - i.e. being overweight the most profitable sectors/trends - without risking much on the less profitable ones.
We believe that 2018 will be different for various reasons:
1. It's hard, perhaps impossible, to expect the inter-sector correlation to move any lower than where it already is.
2. The multi-year rally of stocks may continue but the odds of another, 10th consecutive, year without a (real, whatever it is...) correction are getting slimmer and slimmer as time goes by.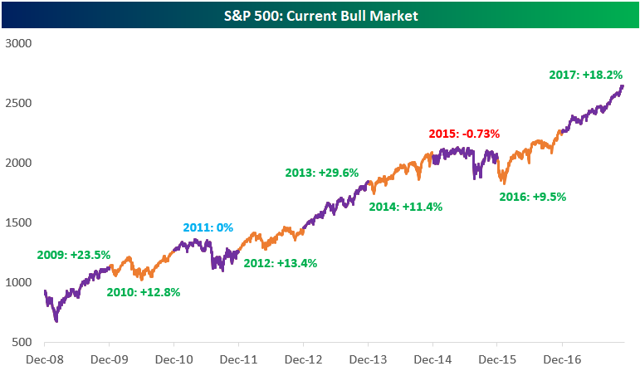 Source: Bespoke Investments
3. Most, if not all, of the big changes/bills that investors were expecting since President Trump won the US elections about 13 months ago - expectations that fueled this market rally - have already materialized and/or are baked in. Simply put, when it comes to the administration (and legislation) there's much less to anticipate in 2018 than in 2017.
4. The Buffett indicator already is sounding a warning alarm: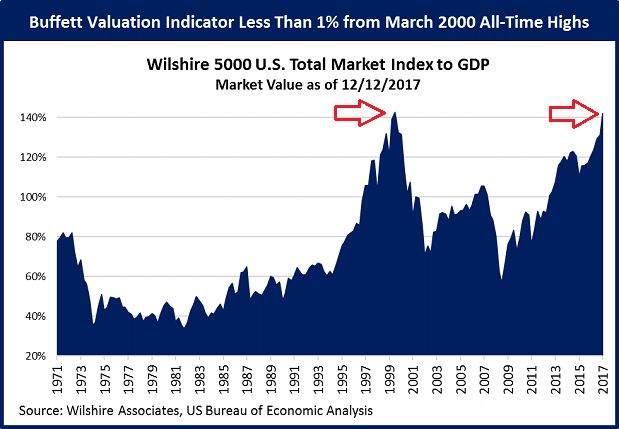 I'm not saying that 2018 should be a bad year. I do, however, think that it would be a big mistake to assume that it's going to be another 2017.
Risk management hasn't died. It never did and it never will.
It's the market that perhaps make it looks redundant or irrelevant. Nonetheless, just like Julia Roberts in "Pretty Woman" - one should never underestimate the power of money, the ability to reverse course and the risk of missing the point of no return (pun intended).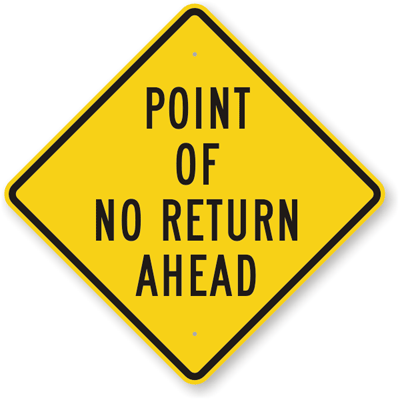 The Wheel of FORTUNE's various sectors/segments A-Teams
Over the next two-three weeks we intend to publish the top 10 picks within various sectors and segments. That may include most, if not all, of the following groups:
Principally, for each of the above sectors/segments we create an A-Team that we will follow throughout 2018. If you liked our original A-Team - this is your opportunity to take a look at our new-additional A-Teams.
The original A-Team most recent update (for November 2017) can be found here. We intend to publish one-last update about it during January 2018 (covering December 2017) and then let this one (old A-Team) go in order to focus on our many new A-Teams.
Rock-Solid Dividend Payers
What makes you a solid-rock dividend payer? When you meet at least one of the following two:
1. Time. Dividend is paid for over a 100 years. This means that you have witnessed the worst that a person/company/market can go through - world wars, market collapses, economic depressions and recessions, many (more than one can count) geopolitical conflicts and macro-economic upheavals
2. Growth. Dividend yield greater than 2.5% and dividend growth over the past three years greater than 10%
The below list of fifteen names in total is sorted alphabetically:
| | | | | | |
| --- | --- | --- | --- | --- | --- |
| Name & Symbol | Short Description | Industry | Dividend Yield | Paying Dividend Since | Dividend Growth (Past 3 Years) |
| Avista Corp. (AVA) | Generates, transmits and distributes energy as well as engages in energy-related businesses in the United States and Canada. | Diversified Utilities | 2.77% | 1899 | 4.37% |
| Colgate-Palmolive Company (CL) | A major consumer products company that markets oral, personal and household care and pet nutrition products in more than 200 countries and territories. | Personal Products | 2.18% | 1895 | 4.33 |
| Consolidated Edison, Inc. (ED) | An electric and gas utility holding company serves parts of New York, New Jersey and Pennsylvania. | Diversified Utilities | 3.14% | 1885 | 3.28% |
| Cracker Barrel Old Country Store (CBRL) | Develops and operates the Cracker Barrel Old Country Store restaurant and retail concept in the United States. | Restaurants | 2.93% | | 10.71% |
| Cummins Inc. (CMI) | A leading manufacturer of truck engines also makes stand-by power equipment and industrial filters. | Diversified Machinery | 2.55% | | 16.61% |
| Exxon Mobil Corp. (XOM) | Formed through the merger of Exxon and Mobil in late 1999, is the world's largest publicly owned integrated oil company. | Major Integrated Oil & Gas | 3.71% | 1882 | 5.04% |
| General Mills, Inc. (GIS) | A major producer of packaged consumer food products, include cereal, yogurt and Betty Crocker desserts/baking mixes. | Processed & Packaged Goods | 3.47% | 1898 | 6.41% |
| Johnson Controls Inc. (JCI) | Supplies building controls and energy management systems, automotive seating, and batteries. | Auto Parts | 2.76% | | 11.27% |
| Lockheed Martin Corp. (LMT) | The world's largest military weapons manufacturer, is also a significant supplier to NASA and other non-defense government agencies. LMT receives about 93% of its revenues from global defense sales. | Aerospace/Defense Products & Services | 2.52% | | 11.92% |
| Phillips 66 (PSX) | Spun off from ConocoPhillips in 2012, is one of the largest independent refiners and marketers of petroleum products in the U.S. | Oil & Gas Equipment & Services | 2.8% | | 15.32% |
| Texas Instruments Inc. (TXN) | One of the world's largest manufacturers of semiconductors, this company also produces scientific calculator products and DLP products for TVs and video projectors. | Semiconductor - Broad Line | 2.51% | | 20.88% |
| The Coca-Cola Company (KO) | The world's largest soft drink company, KO also has a sizable fruit juice business. | Beverages - Soft Drinks | 3.22% | 1893 | 7.39% |
| The Procter & Gamble Company (PG) | A leading consumer products company that markets household and personal care products in more than 180 countries. | Personal Products | 3.04% | 1891 | 3.21% |
| Union Pacific Corporation (UNP) | Operates the largest U.S. railroad, with more than 32,000 miles of rail serving the western two-thirds of the country. | Railroads | 2.04% | 1900 | 11.17% |
| WGL Holdings Inc. (WGL) | Provides natural gas service in the Washington, DC, metropolitan area and surrounding regions, including Maryland and Virginia. | Gas Utilities | 2.38% | 1852 | 5.44% |
If you wish to stick to rock-solid dividend payers - this is the list you should start with.
The Wheel of FORTUNE is now offering a special deal for new annual subscribers.
If you become a paying annual subscriber till and including…
12/15/2017 - we will extend your subscription period with two months free of charge.
12/31/2017 - we will extend your subscription period with one month free of charge.
The extra-extended period of free subscription will be given at the end of the one year of paid subscription.
In order for your annual paid subscription period to start ticking, please ensure that your free trial ends before the cut-off time; you can switch at any time by contacting subscriptions@seekingalpha.com.
Disclosure: I am/we are long AMZA. I wrote this article myself, and it expresses my own opinions. I am not receiving compensation for it (other than from Seeking Alpha). I have no business relationship with any company whose stock is mentioned in this article.