In April of 2015, I skimmed 15 of the largest cap Dividend Achievers (VIG). Of course, the index is available in ETF form thanks to Vanguard. Here are the 15 Achievers that I skimmed and purchased in 2015:
Nike (NYSE:NKE), CVS (NYSE:CVS), Walgreens (NASDAQ:WBA), Microsoft (NASDAQ:MSFT), 3M (NYSE:MMM), Colgate-Palmolive (NYSE:CL), Johnson & Johnson (NYSE:JNJ), Qualcomm (NASDAQ:QCOM), Medtronic (NYSE:MDT), Abbott (NYSE:ABT), PepsiCo (NYSE:PEP), Texas Instruments (NYSE:TXN), Wal-Mart (NYSE:WMT), United Technologies (NYSE:UTX) and Lowe's (NYSE:LOW).
The Dividend Achievers 15 has closely tracked the underlying total index ETF. But had I skimmed further down the list in 2015, to the next largest Achievers I would have purchase these 20 companies. Costco (COST), TJX Companies (TJX), General Dynamics (GD), Target (TGT), Monsanto (MOS), EOG Resources (EOG), FedEX (FDX), NextEra Energy (NEE), Caterpillar (CAT), ADP Data Processing (ADP), Trinity Industries (TRN), Air Products and Chemicals (APD), Northrop Grumman (NOC), Stryker (SYK), Illinois Tool Works (ITW), Ecolab (ECL), Emerson Electric (EMR), Praxair (PX), Yum! Brands (YUM), Chubb Limited (CB).
Had I purchased those companies instead of tracking the performance of the underlying cap weighted index ETF, I would have greatly outperformed VIG in total returns. Here's the Next 20 Dividend Achievers Portfolio, from April of 2015 through to end of November 2017, courtesy of portfoliovisualizer.com. Of course past performance does not guarantee future returns. Portfolio 1 is the Next 20 Portfolio.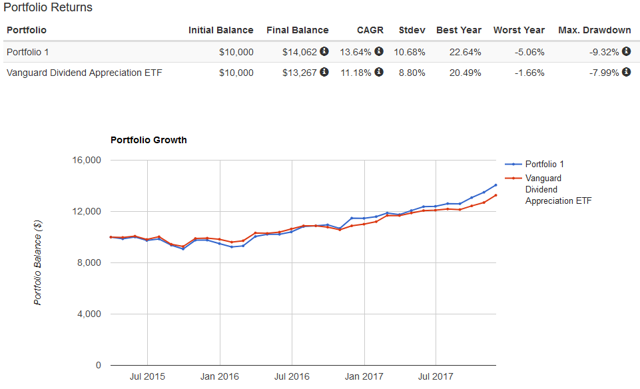 And here's the returns breakdown of the individual holdings. The CAGR for VIG for the period was 11.18%.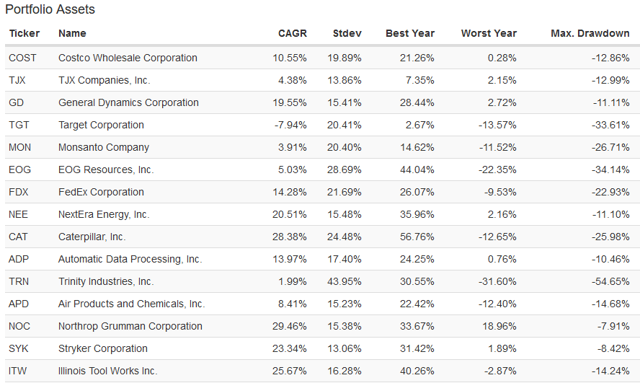 Why 20 companies and not 15? I had originally planned to purchase 20 Achievers, feeling that 20 might be 'enough' to manage the concentration risks, but given that I had and have stock picks of Apple (AAPL), BlackRock (BLK) and Berkshire Hathaway (BRK.B), I decided that 15 + 3 was close enough for the US dividend holdings allocation.
Of course those that study and follow the factor based investing styles that can historically find some outperformance, the above outperformance is likely courtesy of the size premium. Smaller companies historically have delivered greater total returns. I would invite readers to read Ploutos' articles, particularly this article: "Smart Beta Over Generations: Size."
Now certainly the Next 20 Achievers are not small cap, but they are lesser cap. And the Next 20 Achievers mirror the findings in the Ploutos article. It's not always that "smallest is best." But there is a sweet spot that is a little more consistent and that is "lesser cap" outperforming the mega caps.The small cap outperformance can come and go, the lesser cap has more staying power and again has that sweet spot. From the Ploutos article. Once again, and as Ploutos will also point out, past factor based performance does not guarantee future success. Here's a chart from that Ploutos article.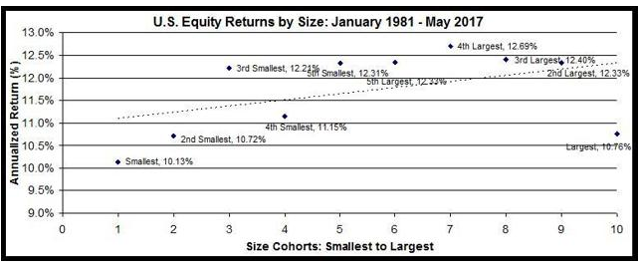 While small cap outperformance has not occurred in all periods and market cycles, Ploutos finds that the smaller cap outperformance is found in longer periods when the smaller cap constituents are also from the lower volatility universe. The above demonstration of the Next 20 Achievers might be finding that lesser cap grouping combined with the lower volatility that is found by that divining rod of a very meaningful dividend growth history. The Dividend Aristocrats have historically offered lower volatility and draw down in major market corrections. Buy way of VIG we can see that the Achievers Index had much less drawdown in the market meltdown known as the financial crisis. From June of 2006 to end of November 2017, Portfolio 1 is VIG.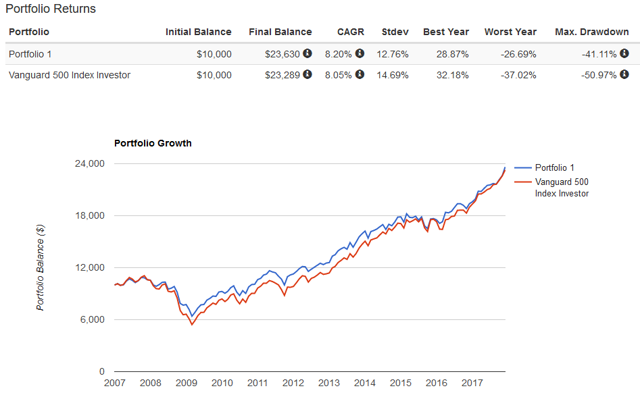 We can see that the drawdown and standard deviation is considerably less for VIG compared to the S&P 500 index (IVV). Did a simple Dividend Achievers skimming exercise combine the factors of size and lower volatility to deliver that outperformance? That may be the case. Now of course, the time period is very short. I will offer this up to my portfolio modelling friends to see if we can find some historical correlation and relationship. I will also track this portfolio moving forward through a full market cycle or two. As we know, it is the market corrections that separate the winners from the losers. We will see how this Portfolio holds up over time.
If I could go back in time, I would certainly purchase the Next 20 Dividend Achievers. Who doesn't want a greater portfolio balance? That said, I purchased my 15 Dividend Achievers, concentrating on the largest cap Achievers for their potential lesser drawdown in a major market correction. I am hoping that the larger cap PepsiCo's (PEP), Johnson & Johnson's (JNJ), 3M's (MMM) and Wal-Mart's (WMT) deliver on that lesser drawdown front. Time will tell.
In the article "The Original Dividend Achievers Top 10 Beats the S&P 500," I tracked the original Dividend Achievers top ten from inception through the financial crisis. The top 10's greatest benefit might have been the performance during the financial crisis. Click on that article, you'll see.
I purchased the largest cap Dividend Achievers for their potential performance in a major market correction, an event has not yet occurred of course. In the next correction, I'll find out if I found an effective way to manage portfolio price risk.
Thanks for reading, and happy holidays and happy investing.
Disclaimer: Dale Roberts is an Investment Funds Advisor at Tangerine Investment Funds Limited a subsidiary of Tangerine Bank, wholly owned by Scotia Bank; he is not licensed to provide professional advice on stocks. The opinions expressed herein are Dale Roberts' personal opinions relating to his experience as an investor and are not those of Tangerine Bank or its subsidiaries and/or affiliates. This article is for information purposes only and does not constitute investment advice or an offer or the solicitation of an offer to buy or sell any securities. Past performance is not a guarantee and may not be repeated. Investment strategies are not suitable for everyone and you should always conduct your own research or speak to a financial advisor. Please always know and understand and invest within your risk tolerance level. Always know and understand all tax implications and consequences. Investors might also consider international diversification.
Disclosure: I am/we are long AAPL, NKE, BCE, TU, ENB, TRP, CVS, WBA, MSFT, MMM, CL, JNJ, QCOM, MDT, BRK.B, ABT, PEP, TXN, WMT, UTX, LOW, BNS, TD, RY, BLK.
I wrote this article myself, and it expresses my own opinions. I am not receiving compensation for it (other than from Seeking Alpha). I have no business relationship with any company whose stock is mentioned in this article.