The U.S. Treasury announced today it will reopen CUSIP 912828X39 at auction on December 21, creating a 4-year, 4-month Treasury Inflation-Protected Security. Because of favorable trends in the short-term Treasury market, this could be the most attractive TIPS auction of 2017.
Of course, I am speaking of most attractive, 'relatively.'
The real yield curve has been flattening all year, and Wednesday's action by the Federal Reserve to raise its key short-term rate should continue that trend. With short-term rates rising, and longer-term rates declining, the yield curve is sending a strong message: Buy short-term.
Here is the 8-year trend line comparing real yields for 5-, 10- and 30-year TIPS. It's been rare to see the gaps narrow as much as they have today. The chart clearly shows how short-term rates are rising while longer terms are stable or dipping.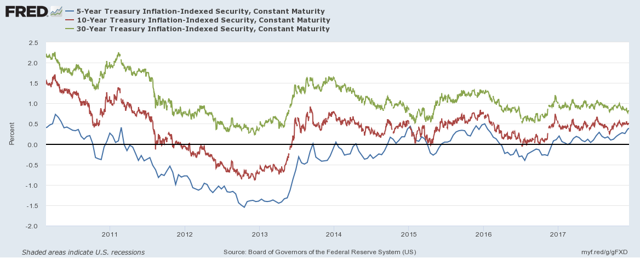 The chart below shows how the real yield on 5-year TIPS, currently 0.38% based on Treasury estimates, is just 10 basis points below the yield on a 10-year TIPS and 41 basis points below a 30-year. That is well below the average spreads over the last eight years of 0.52% and 1.17%, respectively.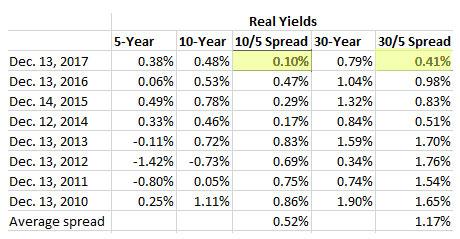 In recent years, December has been an interesting month for Treasury yields - especially short-term yields - because the Federal Reserve has raised its key short-term interest rate in mid-December in 2015, 2016 and 2017. Those moves usually come one week before the last TIPS auction of the year, creating a 4-year, 4-month TIPS. Because of that, the December TIPS auction is often fairly attractive. I think that will be true again next week.
So let's take a look at CUSIP 912828X39, which originally auctioned on April 20, 2017, with a real yield to maturity of -0.049%. That's right, it had a negative real yield, which set its coupon rate at 0.125%, the lowest possible. It cost investors $101 for $100 of par value. In my preview of this auction, I called it a 'loser' because I Bonds and bank CDs were more attractive alternatives. This TIPS then reopened on August 24 with a real yield of 0.117%.
CUSIP 912828X39 is trading on the secondary market, so it's easy to track the current market yield and price.
The best data source for reopening auctions is Bloomberg's Current Yields page, which posts real-time data. As of about 2:30 p.m. Thursday, this TIPS was trading with a real yield of 0.32% and a cost of about $99.18 for $100 of value. It is trading at a discount because the real yield is higher than the coupon rate of 0.125%.
You can also use the Treasury's Real Yield Curves page to track estimates of yields for full term TIPS. As of Wednesday's close, a full-term 5-year TIPS was yielding 0.38%.
Inflation breakeven rate. With a 5-year nominal Treasury currently yielding 2.13%, this TIPS has an inflation breakeven rate of about 1.81%. That's in the middle-to-high range of breakevens over the last five years. In my opinion, this TIPS is fairly priced versus a nominal Treasury.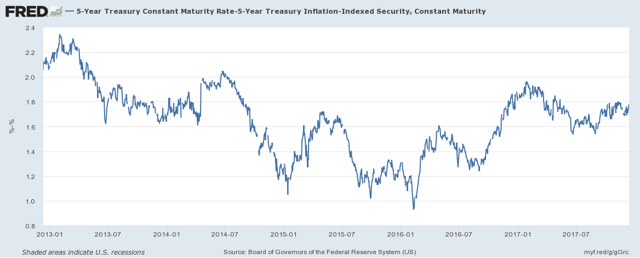 You could also compare this TIPS to best-in-nation 5-year bank CDS, which are paying about 2.40%. That pushes the inflation breakeven rate up to 2.08%, making the CD versus TIPS investment a toss-up. Want the yield? Buy the bank CD. Want inflation protection? Buy the TIPS. Or ... buy both.
Yes or no on this TIPS? I think we can expect a fair amount of volatility in the days leading to next Thursday's auction, which closes at noon for noncompetitive bids. It's possible that Congress will approve a tax reform package by then, which some investors could view as inflationary. If that package gives a boost to the stock market, how will the Treasury market react?
As of today, a week before the auction, we're heading toward a real yield above 0.30% on the shortest-term TIPS the Treasury auctions. It's not a screaming buy, but it is attractive enough to consider for an investment. As long as yields hold, I will be a buyer.
Note: Keep in mind that this TIPS will have an inflation index of 1.01432 on the settlement date of December 29. That means investors will be buying about 1.4% of additional principal, which could raise the adjusted price above $100 for $101.43 of principal.
Here is the history of every 4- to 5-year TIPS auction since 2007: