Five fabulous signals recently flashed for the housing sector, and specifically for the new home segment. The news is especially good for homebuilders and other relative housing shares.
Fabulous data in the most recently reported: Housing Market Index; Housing Starts data; New Home Sales; Construction Spending; and the Employment Situation Report all point to a robust new home market.
When the Housing Market Index was last reported for November, it showed builder confidence rising to an 8-month high. More importantly, the reading at 70 marked the second highest level on record since July 2005. I could not express the level of builder joy any better than the National Association of Home Builders (NAHB) did through the report, which indicated:
Demand for housing is increasing at a consistent pace, driven by job and economic growth, rising homeownership rates and limited housing inventory," said NAHB Chief Economist Robert Dietz. "With these economic fundamentals in place, we should see continued upward movement of the single-family housing market as we close out 2017.
The latest monthly construction spending data for October 2017 showed private residential construction up 0.4% over September, and it was up 7.2% for the year. New single-family home construction was up 0.3% for the month and 8.9% year-to-year. New home sales data reported for October showed the annual pace of new single-family home sales jumped 6.2%, to 685K. The pace of sales was an astounding 18.7% higher than the prior year period.
Forward looking housing starts data showed the rate of new construction soared 13.7% in October, to an annual rate of 1.29 million units. It marked the highest level of production in a year. Multi-family starts led the way, up 36.8%, but single-family starts gained as well, by 5.3%.
Lastly, the Employment Situation Report for November, released just last Friday, offered an interesting tidbit for relative investors. While unemployment kept at low levels indicative of full-employment, an important positive for American home buyers, there was something else in the release that interested me. We saw significant hiring in construction, with 24K non-farm payrolls added in November. Within that figure, employment among specialty trade contractors increased by 23K, and was up by 132K over the course of the year.
So, builder confidence is reflecting a euphoric mood; residential construction is up and new housing starts are strong; new home sales are surging to important historic strength; and there is significant hiring occurring within the construction sector. These are all positive signals for the real estate sector and also for housing relative stocks.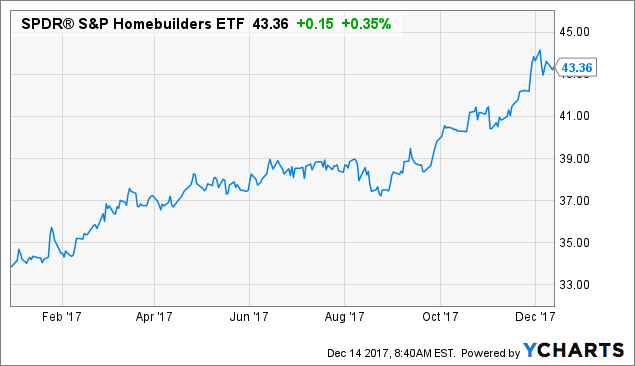 XHB data by YCharts
But it's no secret
| | |
| --- | --- |
| Housing Relative Stocks | 52 Week Change |
| SPDR S&P 500 (NYSE: SPY) | +23%* |
| SPDR S&P Homebuilder ETF (NYSE: XHB) | +30.5%* |
| PulteGroup (NYSE: PHM) | +80% |
| D.R. Horton (NYSE: DHI) | +79% |
| Home Depot (NYSE: HD) | +34% |
| Williams-Sonoma (NYSE: WSM) | +18% |
Table by author
*Total Return
Housing relative shares are up sharply year-to-date. Still, that fact certainly does not preclude the continuation of good times for the housing sector, and maybe not either for housing relative stocks, considering their valuation. The valuation of these cyclical shares, illustrated here by the P/E of the SPDR S&P Homebuilders ETF (NYSE: XHB) at approximately 18X, versus about 22X for the SPDR S&P 500 (NYSE: SPY), would seem relatively cheap. It's noteworthy also that the SPDR S&P Homebuilders ETF contains within it a broad spectrum of shares extending beyond homebuilders, and including shares like Lowe's (NYSE: LOW), Home Depot (NYSE: HD), Mohawk Industries (NYSE: MHK) and Williams-Sonoma (NYSE: WSM).
Still, because of the gains in these stocks year-to-date, they may be vulnerable to profit-taking around the calendar (now through January). Also, depending on the specifics of the tax legislation, they could see short short-term profit-taking on any unfavorable housing related tax changes.
I suggest investors look to any such weakness as an opportunity to purchase the shares. Long-term investors in housing relative stocks should be served well again in 2018, as the real estate sector benefits from strong employment levels, healthy economic growth and improving demand for housing as a result. The broad benefits of tax reform legislation should serve housing as well. For more of my coverage of real estate and markets, readers are welcome to follow the column here at Seeking Alpha.
Disclosure: I/we have no positions in any stocks mentioned, and no plans to initiate any positions within the next 72 hours. I wrote this article myself, and it expresses my own opinions. I am not receiving compensation for it (other than from Seeking Alpha). I have no business relationship with any company whose stock is mentioned in this article.