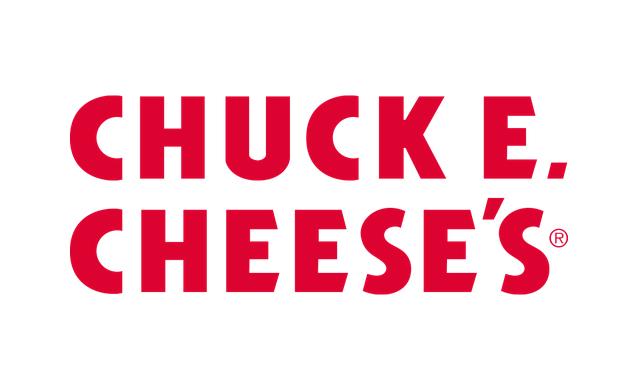 CEC Entertainment, 9% Yield-to-Maturity, Maturing February 2022 - Durig Fixed Income Review
This week, Durig Fixed Income 2 (FX2) focuses on the parent company of a beloved family entertainment restaurant that has a long and distinguished history in the childhood of many Americans. CEC Entertainment is the parent company of Chuck E. Cheese as well as Peter Piper Pizza. Since 2014, the company has been owned by Apollo Management. Under Apollo, CEC has:
Steadily grown annual revenues (from $718.6 million to $923.7 million)

Expanded into unrepresented markets. The company added 22 new venues in 2016.

Made progress on updating its restaurants to reflect changing consumer tastes.
Earlier this year, Apollo was in talks to either sell CEC or take the company public. Neither has materialized, but either might still be in the works. CEC has excellent interest coverage of 2.5x for the nine months ending September 30, 2017. The company's 2022 bonds with a yield-to-maturity of 9% make an excellent addition to the Durig Fixed Income-2 (FX2) managed income portfolio, the recent aggregate performance of which is displayed below.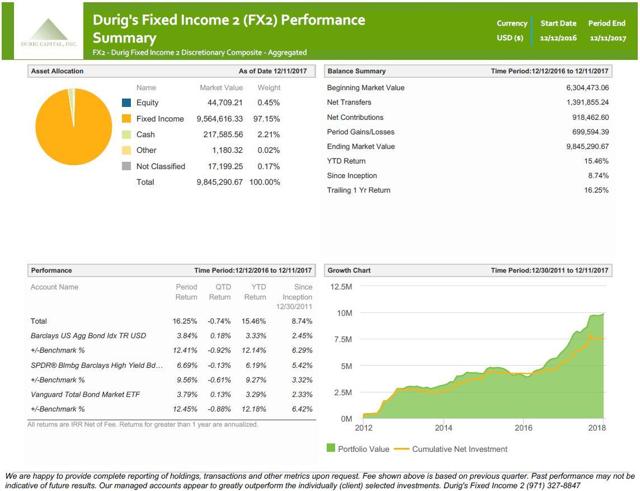 About the Issuer
Headquartered in Irving, Texas, CEC Entertainment. Inc. (CEC) was originally incorporated under the name ShowBiz Pizza Place. In 1998, the company changed its name to CEC Entertainment. CEC is currently majority owned and controlled by investment funds affiliated with Apollo Global Management, LLC. For more than 35 years, CEC Entertainment has served as the nationally recognized leader in family dining and entertainment. Its brands include Chuck E. Cheese as well as Peter Piper Pizza.
Franchises such as CEC can be very profitable for corporations in that they are very low cost and low risk while providing the corporation with royalties and portions of revenues. This can also be said for another issuer operating within a franchise model we reviewed in May of 2017, "Get Healthy 14% Yields from GNC Holdings, Mature August 2020". As the award-winning, number-one, kid-friendly restaurant for millions of families across the world, the company and its franchisees operate a system of more than 562 venues located in 47 states and 13 foreign countries or territories as of October 1, 2017.
Growth under Apollo Management
Since Apollo Global Management acquired CEC in February 2014, its goal has been to increase comparable venue sales, improve profitability and margins and expand CEC venues domestically and internationally.
Increasing comparable venue sales: Last year, CEC continued to refine its experience for kids and adults alike. It introduced a re-vamped menu to appeal more to adult preferences while improving on its traditional kids' menu items. The company also added Wi-Fi in all of its restaurants and introduced a proprietary card system called PlayPass which replaced the traditional tokens for its gaming machines. PlayPass was well received and CEC is in the process of finalizing the addition of this card system to all of its restaurants by the end of this year.

Improving Profitability and Margins: All CEC General Managers at each location as well as corporate management staff have revenue, profit and cash flow incentives to encourage customer satisfaction along with controlling costs. CEC is also adding technology to aid in labor management, inventory management as well as automating reordering of food and supplies.

Domestic and International Expansion: In 2016, CEC opened 22 new venues collectively in six countries, with two new company-operated Chuck E. Cheese's venues and four new company-operated Peter Piper Pizza venues in the United States and 13 new franchised Chuck E. Cheese's venues and three new franchised Peter Piper Pizza venues in four other countries.
In addition to these initiatives, CEC has increased its revenue and operating income each year since it was acquired by Apollo.
| | | |
| --- | --- | --- |
| Fiscal Year | Revenues | Operating Income |
| 2014 | $718.6 M | ($32.3 M) |
| 2015 | $922.6 M | $55.1 M |
| 2016 | $923.7 M | $61.5 M |
Redesigning for Today's Customer
After almost 20 years, Chuck E. Cheese is renovating. The goal - to make the spaces more inviting to adults as well as kids. These updates include a revamped menu, more muted colors, sleeker furniture and brighter lighting. And not only is the company updating the interior of the restaurant, but also the exterior look as well. Outside, the company will do away with the purple and red awnings and checkerboard paneling as well as the iconic logo of its well-known mascot. In place of these will be softer colors, wood paneling on the sides of the building, more refined signage and an updated logo. In addition to the exterior and interior changes, the company is incorporating an open concept kitchen area to convey good food credibility. New menu items include BBQ chicken pizza, fresh wraps and sandwiches specifically aimed at parents' tastes. Repositioning to meet the needs of a changing consumer is a familiar trend these days, and is similar to how Avid Technology (NASDAQ:AVID) has transitioned its business model to more effectively reach digital consumers and is covered in our review from May 2017, "Avid Technology, June 2020 Convertible Yielding 10.04%". The new look of Chuck E. Cheese will be rolled out in seven locations initially - four in San Antonio and three in Kansas City - so that the company can learn from the revamped locations before rolling out the new look nationwide.
Possible IPO or Private Buyer?
In May 2017, CEC's owner, Apollo Global Management, was reportedly looking to sell the company and was negotiating with several firms. Since then, the buzz about a possible sale has gone quiet. At the same time, despite the ongoing sale negotiations, an initial public offering (IPO) of CEC Entertainment was still a possibility. And while talk of this has also quieted for the moment, this could still be strategy Apollo uses to spin off CEC. In fact, in July 2017, CEC Entertainment's CEO, Tom Leverton, told the Dallas Business Journal: "It's not a permanent situation that we would be private equity-owned". An IPO would bring a new influx of cash to CEC, which would provide options to pay down debt, upgrade its restaurants, or both.
Financials
As noted above, CEC revenues have shown year-over-year improvements from 2014 to 2016. 2017 may prove to be more challenging especially as the company was affected by declines in revenues in Q3 due to Hurricane Irma and Hurricane Harvey. This is reflected in the company's Q3 revenues, which registered 6.5% lower than Q3 2016.
CEC's net cash provided by operating activities has steadily increased over the past three quarters. In Q1, CEC had net cash provided by operating activities of $58.8 million, in Q2 this grew to $76.8 million, and by Q3 this amount registered at $94.2 million.
Interest coverage indicates a company's ability to service its existing debt. For the nine months ending September 30, 2017, CEC had operating income of $133.0 million (not including non-cash charges of impairments, and depreciation/amortization). For the same period, the company had interest expense of $51.6 million for an interest coverage ratio of 2.5x. This level of interest coverage is very similar to that of Albertsons (NYSE:ABS) in our September 2017 review, "Pick up 7.4% YTM with Albertsons Fixed Income Bonds, June 2024". CEC also had healthy liquidity levels as of its last reported financial results. As of October 1, 2017, the company had cash and cash equivalents of $79.4 million, with another $140.1 million available on its undrawn revolving credit facility.
Risks
The risk for bondholders is whether CEC can continue to transform its brands, mostly its well-known Chuck E. Cheese brand, to appeal to the changing tastes of consumers. The company is taking steps to update its offerings, including transforming the look of its restaurants as well as its menu offerings. Ownership by Apollo Management since 2014 has improved CEC's revenues and the company continues to selectively expand into markets where it is underrepresented. In light of these considerations, the yield to maturity of 9% on CEC's 2022 bonds appears to outweigh the risks identified.
In general, bond prices rise when interest rates fall and vice versa. This effect tends to be more pronounced for lower-couponed, longer-term debt instruments. Any fixed income security sold or redeemed prior to maturity may be subject to a gain or loss. Higher-yielding bonds typically have lower credit ratings, if any, and therefore involve higher degrees of risk and may not be suitable for all investors.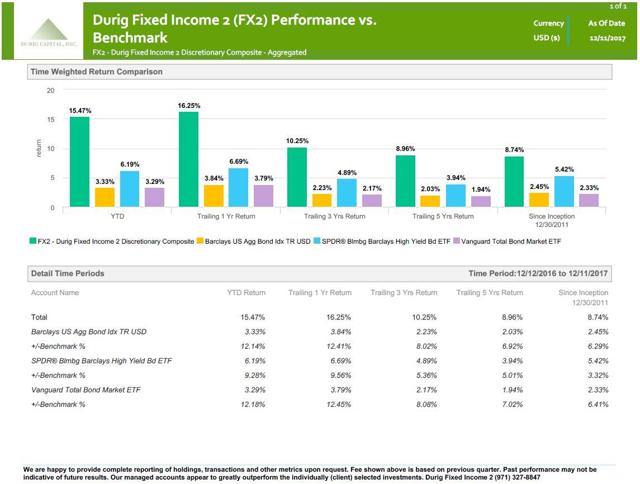 Summary and Conclusion
CEC Entertainment has been serving and entertaining families for nearly 40 years. The company is effectively addressing the current challenges of changing consumer tastes as well as updating its branding and image. Under the ownership of Apollo Management, the company has grown steadily. The prospect of a sale or a possible IPO could both be a win for investors depending on the eventual owner and/or the capital raised by an IPO. CEC's 2022 bonds couponed at 8.0% and with a yield-to-maturity of 9% make a great addition to an already diversified portfolio such as the Fixed Income 2 (FX2) managed income portfolio, the recent benchmarked and aggregated performance of which is shown above.
Issuer: CEC Entertainment, Inc.
Symbol: CEC
CUSIP: 125137AB5
Coupon: 8.00%
Maturity: 02/15/2022
Ratings: Caa2/CCC
Pays: Semiannually
Price: 96.25
Yield to Maturity: ~9.09%
Please note that all yield and price indications are shown from the time of our research. Our reports are never an offer to buy or sell any security. We are not a broker/dealer, and reports are intended for distribution to our clients. As a result of our institutional association, we frequently obtain better yield/price executions for our clients than is initially indicated in our reports. We welcome inquiries from other advisors that may also be interested in our work and the possibilities of achieving higher yields for retail clients.
Disclosure: I/we have no positions in any stocks mentioned, and no plans to initiate any positions within the next 72 hours.