When I retired after 45 years in the field of public education, I had a 403-b portfolio that I converted to a rollover IRA. I intended to use the income from this to augment my school pension and social security income. My original goal was to maintain a constant balance over my lifetime after RMD (annual IRS required minimum deduction) was withdrawn each year. It soon became evident that not only was that an attainable goal even in this era of very low interest, it was also possible to increase the balance, at least during the current bull market. A future bear market, eventually inevitable by historical standards, would probably reduce my capital, but hopefully would not reduce income below the RMD, at least not for more than two or three years at most.
I had invested most of my retirement savings in mutual funds while still employed, but I also maintained a brokerage account and traded stocks on a small percentage of my total. I also attempted to manage my mutual fund portfolio by choosing fund types that were increasing at a faster pace than the overall market, but not always completely successfully. In retrospect, I probably came out about the same as if I had invested 100% in passive funds, but I feel I learned a great deal about investments as a result of this endeavor spanning about 25 years.
I'm still learning. When I converted to an IRA, I invested mostly in quality dividend growth stocks, plus about 15% in REITs. The latter issues produced a good income stream, but as the market continued to rise, along with all my "boats", the 2% - 3% dividend income was not going to keep pace with my annual RMD for very long, since the IRS tables require an increasing withdrawl percentage as you age. So I did much research on higher paying issues such as "baby" bonds, BDC's, and preferred stocks. As the price of many common stocks increased with the market, yields went even lower. So, I set about to double the total yield on the portfolio. I traded up numerous times and have now reached the point where the total portfolio currently earns about 5.5%, or 6% on the original investment. And, in addition to withdrawing the full yield, including the required RMD, to provide a supplement to my pension income, the value of the portfolio has increased 10.7%, providing a cushion against a future market drop. Some of this amount was realized by selling covered calls which resulted in a couple of stocks being called away and a realized gain. I never sold a call unless I could earn a profit on the stock if it was called, and in either case I got to keep the call's premium.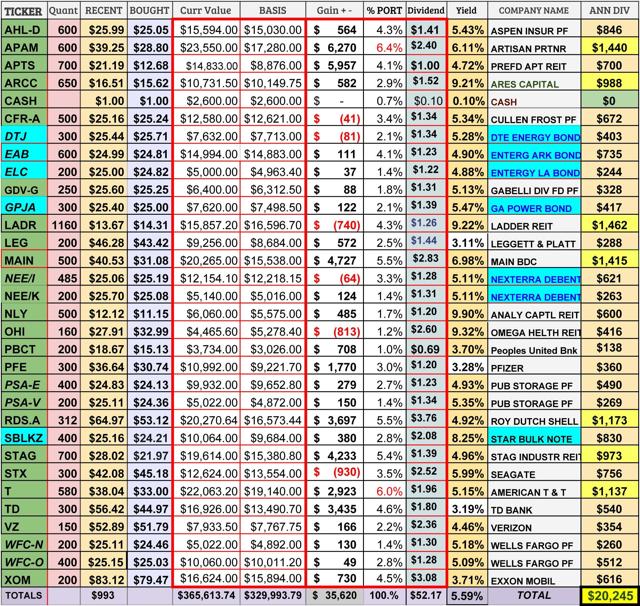 None of the current sold calls are included in the table above. Because of the current very low volatility in the market overall, I have had to sell 6 month calls to provide a worthwhile sum in each trade. Also, a $5000 investment in local municipal bonds is not shown, since I don't track it and intend to keep it until its call date. The blue background in the company name indicates a bond issue with a par value of $25. I used Google Sheets to make this spreadsheet since it allows you to link most stocks to the current market value (20 minutes late) and saves a lot of work. (The blue background on the ticker indicates the ones that are not covered by Google and have to be inserted manually.)
I include this table only to supplement the information in this article; you should not use this as any sort of reference guide for your own investments. I have been very pleased with the results from the baby bonds, and I would encourage you to do research on these if you are looking for income. Quantum Online is an excellent resource for information. I will not reach for price on these, since they often have a call date that can be exercised now or in the near future, and you will not receive more than $25 per plus accrued interest when called. Look for investment grade bonds selling for less than $25 but you will find very few these days. Get your broker to email you on new issues before the market drives the price up - and don't chase them.
If you want to compare what has happened to my portfolio in the past two years, see my article.
Some of the stocks held in this portfolio are probably more risky than I should have: for example Seagate (STX) and Star Bulk Carriers (NASDAQ:SBLKZ). But the latter is a note with less than 5 years to go, and I did want at least one technology issue. OHI, NLY, ARCC, and LADR each yield a value that may not be sustainable with rising interest rates. but I could sustain a 50% dividend cut in one or two of these without too much loss to income.
I look forward to any suggestions or criticism you may have. By doing this we can all benefit from your advice.
Disclosure: I am/we are long ALL ISSUES IN TABLE. I wrote this article myself, and it expresses my own opinions. I am not receiving compensation for it (other than from Seeking Alpha). I have no business relationship with any company whose stock is mentioned in this article.