I fully understand that the stock market is at new all-time highs and that practically all the data points we receive with respect to the economy and market fundamentals are interpreted as positive ones, even when they are not. If we disregard the way we are achieving our growth, I agree that things look pretty good. The problem is that the economy and the stock market run in cycles, and we never know when those cycles are going to end. All we can do is look at the warnings signs, which in the past proved to be prescient, and monitor risk levels. Every cycle is different, and this one is beyond anything we have ever seen before because of the unprecedented involvement of our central bank - the Federal Reserve.
Most investors couldn't see the long-term investment opportunities that presented themselves in the stock market during the earliest years of the recovery when valuations were historically low. Most of us were fixated on the crisis upon us and continued to be after it ended. Today, an ever-increasing number of investors see relatively little downside. They continue to increase exposure to risk assets of all kinds at valuations that are well above historical norms despite the probability of diminished forward returns. They are even finding new assets in which to invest, like cryptocurrencies, which I imagine most don't really understand. This is very typical behavior at the end of cycles, but we have no idea how long this one will last.
Due to the intentional manipulation of market prices by the Federal Reserve to achieve its mandate, as well as my long-held belief that monetary policy has been far less impactful on the real economy than the Fed asserts, I have tried to analyze economic developments over the past two years irrespective of market prices. Historically, market prices have been discounting mechanisms, rising and falling in advance of real world economic developments. I think that relationship has been broken. With market valuations at such historically high levels, my focus has been on identifying what is wrong with this expansion rather than jumping on the Wall Street bandwagon that assumes everything is all right. All news seems to be good news.
There is a broad consensus among the economic and market pundits, Federal Reserve governors, our political leadership and stock market investors that the US economy is strengthening, with even better days ahead. This optimism is fueled, in part, by the steady gains in employment each month. Yet, all are confounded by the fact that income, as measured by average hourly earnings, is barely rising on an inflation-adjusted basis. This continues to be the Achilles' heel of this expansion, and it has been the basis for my assertion that the US economy is weakening rather than strengthening.
The reason that I focus on average hourly earnings is that this figure is far more representative of the middle class than personal-income figures, which include the most highly compensated. Average hourly earnings were $26.55 per hour in November, which works out to $55,224 for a full-time employee working a 40-hour work week. That is very close to median income in the US. We learned yesterday that real (inflation-adjusted) income fell on a monthly basis for a fourth consecutive time, declining 0.2% in November.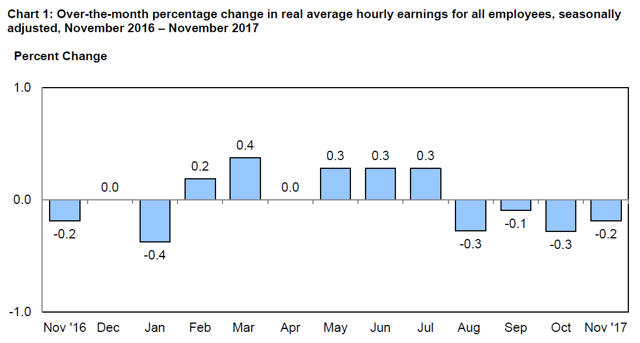 What has been my concern is that as the unemployment rate has fallen, so have the gains in real average hourly earnings. We saw year-over-year gains of 2-3% a couple of years ago. Now, we are struggling to stay in positive territory, as real weekly take-home pay rose 0.8% in November of 2017 compared to November of 2016. If we exclude supervisory employees, the increase falls to 0.3%.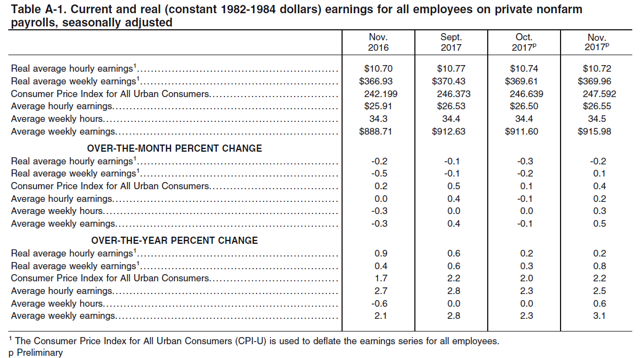 This real increase assumes that most employees, who are also consumers, are dealing with a cost-of-living increase that equates to the Consumer Price Index increase of 2.2%. For those who rent, have medical or educational expenses, or are servicing some form of revolving credit line, the increase in their cost of living is likely to be a lot higher. Such a modest increase in real income for most consumers is not supporting the rise in spending we have seen, which is why the saving rate has fallen to decade lows. Meanwhile, debt outstanding continues to increase.
I believe that to see the economy strengthen we need to see middle-class incomes rise on a real basis so that consumers are not required to borrow to meet their current levels of spending, but can save and invest. This isn't happening, and it's the primary reason that I believe the US economy is gradually weakening. The reason wages are not rising, despite the low unemployment rate, seems to be the low quality of the jobs that are being created. The chart below shows how the employment-to-population ratio has nearly fully recovered for those without a high school diploma. Yet it has stagnated for those with a high school diploma or more advanced degree. So focusing on the quality of the jobs numbers rather than the absolute numbers is telling a very different story.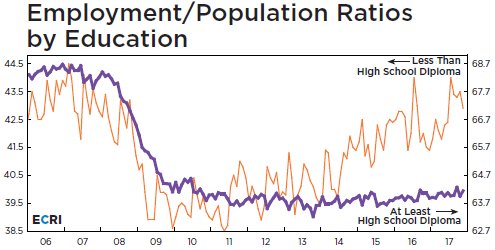 This inconvenient truth is just noise when the Dow Jones Industrial Average (DIA) is hitting new all-time highs. Who cares about real wages, so long as risk asset prices continue to rise. I will admit that this deteriorating economic data point is not going to undermine the expansion or bull market overnight, but it is a slow-growing cancer on our economy. It is one factor contributing to growing wealth disparity, which slows the rate of economic growth, weakens the economy, and increases the demand for social programs at a time when their funding is in peril.
There is the possibility that the top 10-20% of wage earners and wealth accumulators can continue to spend at rates that offset any stagnation, or decline, in the rate of spending by the bottom 80%. I think that is what is keeping this expansion afloat. We just have to hope that financial assets remain at historically high valuations and that interest rates don't rise to the extent that investors reallocate en masse.
Disclosure: I/we have no positions in any stocks mentioned, and no plans to initiate any positions within the next 72 hours. I wrote this article myself, and it expresses my own opinions. I am not receiving compensation for it (other than from Seeking Alpha). I have no business relationship with any company whose stock is mentioned in this article.