Today's announcement by T-Mobile USA (NASDAQ:TMUS) of immediate acquisition of Layer3 TV is exciting news for US consumers seeking alternatives to cable TV service.
A shake-up of traditional TV service is already well under way, with cord-cutting consumers finding new ways to access TV programs and movies at lower cost. They can find many alternatives, for both online and wireless access.
"Over the top" and "over-the-air" are moving into the mainstream. Millennials were the first to go there, but now it is just as likely to be baby-boomers making the switch.
Ubiquitous ads offering free trials for Netflix (NFLX) , Hulu, and Sling-TV owned by DISH Network Corp (NASDAQ:DISH), as well as AT&T's (T) DIRECT TV-Now service get the greatest airtime. Online websites, apps for smartphones and tablets and Android WiFi TV boxes make this "over-the-top" TV access increasingly easy.
But consumers are also trying out antennas and ClearStream TV wireless HDTV tuners to get "over-the-air" service for $0 monthly charges.
Stability of the familiar cable TV service is now challenged in ways that are gaining momentum.
T-Mobile USA announced acquisition of Layer3 TV today. Citing surveys that show cable and fiber broadband companies are the most hated by US consumers, John Legere, T-Mobile CEO, discusses his reasons for the Layer3 TV acquisition. Cord-cutting consumers are likely to say "T-Mobile gets it".
Layer3 TV is still in start-up mode, a venture funded company that has raised $72 million to date from VCs including Evolution Media (whose shareholders include TPG Growth, Creative Artists Agency, and Jeff Skoll/Participant Media), Paulson and Company, Inc., Altice, and North Bridge Venture Partners.
Layer3 TV now provides up to 250 HDTV channels in 4 US cities, using leased fiber from established broadband companies. Services feature a "pureFiber" branded service for $50 per month and a "platinum version" for $75 per month.
T-Mobile USA was no doubt attracted to Layer3 TV by its advanced technology. The wireless Layer3 TV box enables 8 channels to be recorded at once, with 1 terabyte of DVR video data storage and software enabling advanced queuing based on AI (artificial intelligence) analysis of each unique users' preferences. Videos are transmitted in HEVC (high efficiency video coding), a new video compression standard said to lower video transmission bit rates by (40%)-(60%). This HEVC standard has been accepted by Ericsson (NASDAQ:ERIC), Panasonic (OTCPK:PCRFY), Qualcomm (NASDAQ:QCOM), Sharp (OTCPK:SHCAY) and Sony (NYSE:SNE), while other media providers are clustered around a next generation video standard called AV1 from Alliance for Open Media, backed by Amazon (NASDAQ:AMZN), ARM (now SoftBank (OTCPK:SFTBY)), Cisco (NASDAQ:CSCO), Google (NASDAQ:GOOG), Intel (NASDAQ:INTC), Microsoft (NASDAQ:MSFT), Mozilla, Netflix (NASDAQ:NFLX) and NVIDIA (NASDAQ:NVDA).
T-Mobile USA already promised investors it will deliver a nationwide 5G mobile and fixed broadband service with MIMO by the end of 2020. The acquisition of Layer3 TV ups the ante, providing a reason for cable TV subscribers to switch to the "Un-Carrier".
Wireless competitors AT&T and Verizon (VZ) are taking a far more traditional approach to offer TV services. While this month AT&T proudly announced 1 million subscribers for "over-the-top" DIRECT TV-Now, subscriber losses for AT&T's fiber U-verse service almost exactly offset the gains. see image below for AT&T video metrics for 3Q 2017 on p 7 from AT&T 3Q 2017 report AT&T video metrics 3Q 2017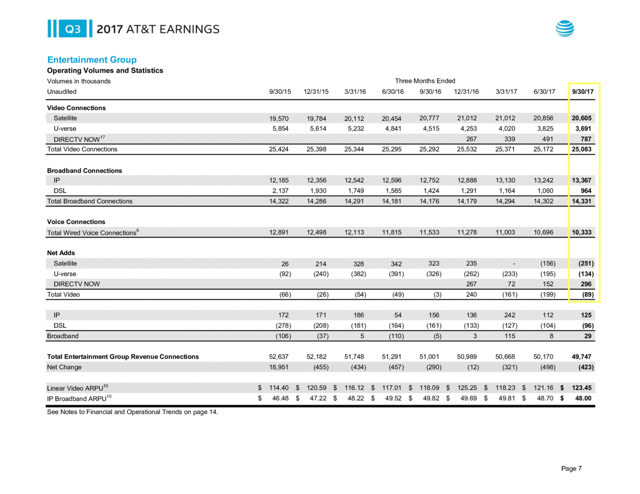 AT&T's 25 million TV subscribers are still concentrated 82% in the old DIRECT-TV satellite system.
AT&T now plans to own TV content directly with the pending $85 billion merger of AT&T with Time Warner. This massive media merger now faces obstruction from the US Department of Justice, seeking to force AT&T to divest CNN, Turner Broadcasting and other well known media properties (HBO), before such a huge media merger would be allowed to move forward.
Verizon has achieved less revenues than AT&T from TV services. Verizon has 14.4 million broadband Internet connections through its Fios network, but only one third of them subscribe to Fios TV, directly competitive in prices and channels with standard cable TV. see image below for Verizon statistics for 3Q 2017, on page 16 from Verizon 3Q earnings report. VZ video metrics 3Q 2017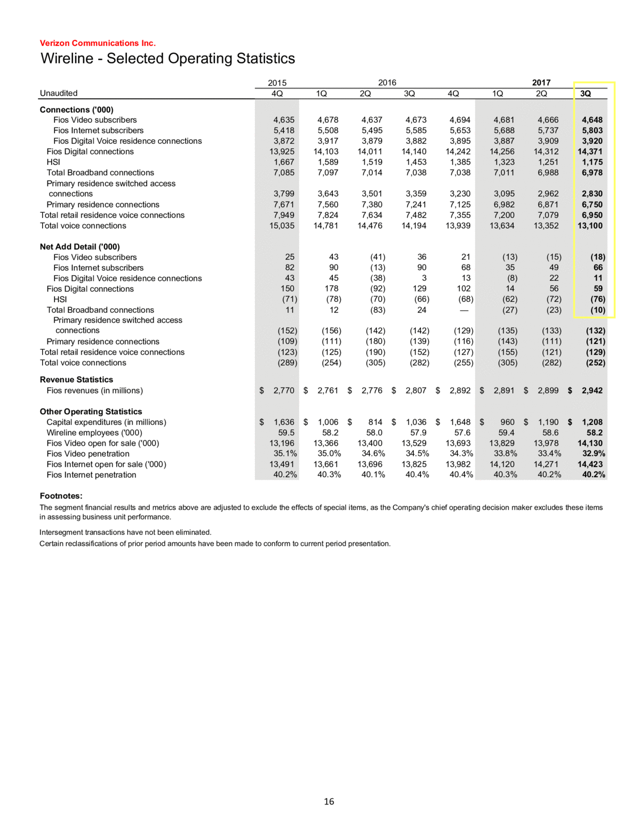 Verizon also attempts to draw online visitors to AOL for video pages that include unique programming and TV guides for local channels and satellite services. While Verizon promises its own "over-the-top" service for 2018, little has been said so far about the content.
As for Sprint (S), smartphone users can get Sprint TV (20 basic channels) for free, but only with a regular monthly data charge. Subscribers can get 30 add-on channels from Sprint for $9.99 per month. A new Android app makes Sprint TV now viewable from Android WiFi TV boxes, but only for Sprint wireless subscribers. While Sprint's 80% equity owner, Softbank, would like Sprint to compete effectively in wireless TV, its a good bet that few Sprint wireless subscribers are using it yet.
All of this competition for "over-the-top" TV services, whether delivered online or via wireless mobile devices, is great for Cell Tower REITS.
Cell Tower REITs, Crown Castle (NYSE:CCI) and American Tower (NYSE:AMT), love to see their wireless tenants compete, as promotional offers and consumer advertising campaigns drive incremental subscribers, a key factor stimulating an increasingly mature market for mobile wireless devices. 5G enhanced mobile broadband services, expected in most US markets by 2020-2025, could dramatically enhance the probability that TV goes wireless.
More video data traffic means more leases and more revenues for Cell Tower REITs. For more background on implications of the transition to 5G, see my previous Seeking Alpha article for more on the 5G implications for Cell Tower REITs link to my previous article on 5G for Cell Tower REITs.
This evening Crown Castle closed at $111 per share and American Tower at $144 per share. Both have 40,000 cell towers in the US, as well as broadcast locations, small cells and fiber network assets. American Tower also has 58,000 cell towers in Asia, 35,000 in Latin America and 16,000 in Europe, enjoying far more rapid growth in revenue from global leases than in the US.
Both Cell Tower REITs are dividend stars. Crown Castle provides consistent yield of 3.8%, and management firmly forecasts dividend will increase at 6%-7% annually. American Tower has a lower yield of 1.9%, but has increased its dividend per share every quarter since it began paying dividends 5 years ago in 2012.
These 2 Cell Tower REITs are not undiscovered stocks. American Tower stock traded up 36% year to date for 2017, while Crown Castle traded up 28%.
Looking at the next 8 years of growth likely to be achieved through 5G transition to 2025, driven by more competition for consumer TV services, I would still BUY both American Tower and Crown Castle at these prices.
About REITMonitor Index:
REITMonitor Index tracks 88 REITs with total market cap of $915 billion. Performance is analyzed by REIT sectors, noting standout performers and underperformers triggering investor response - see charts below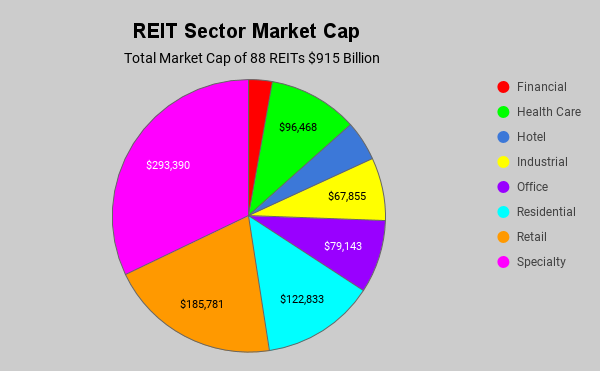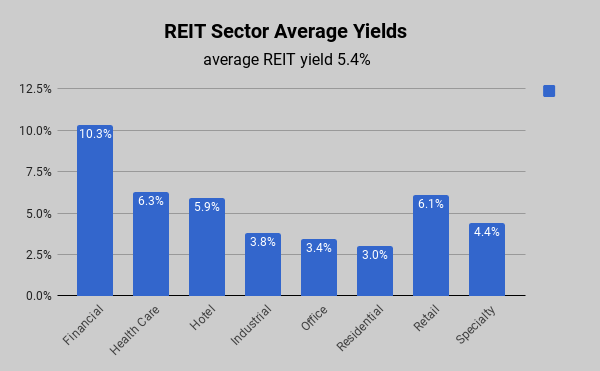 Disclosure: I am/we are long CCI AND AMT.
I wrote this article myself, and it expresses my own opinions. I am not receiving compensation for it (other than from Seeking Alpha). I have no business relationship with any company whose stock is mentioned in this article.