Defying consensus expectations, 2017 turned out to be a year marked by stellar stock market performance and a gradual --initially very timid-- investor confidence resurgence. This would not have been possible without the historically unprecedented monetary stimulus supporting asset prices. However, there is a strong likelihood that the liquidity tsunami engendered by the world's most systemically important central banks will start to fade in 2018. In turn, this could trigger an unpredictable wave of market turbulence.
Market participants, having grown dangerously accustomed to the prolonged implementation of massive quantitative easing, remain skeptical with regard to the willingness of major central banks to adopt a truly hawkish stance, especially in the face of potential threats to financial stability. Yet, this deeply ingrained market belief that the central bank put is here to stay will be challenged by two key factors.
First, the impressive rally in global markets has resulted in materially elevated asset prices, which could unleash inflationary pressures that may be impossible to contain in the midst of an ultra-loose monetary landscape.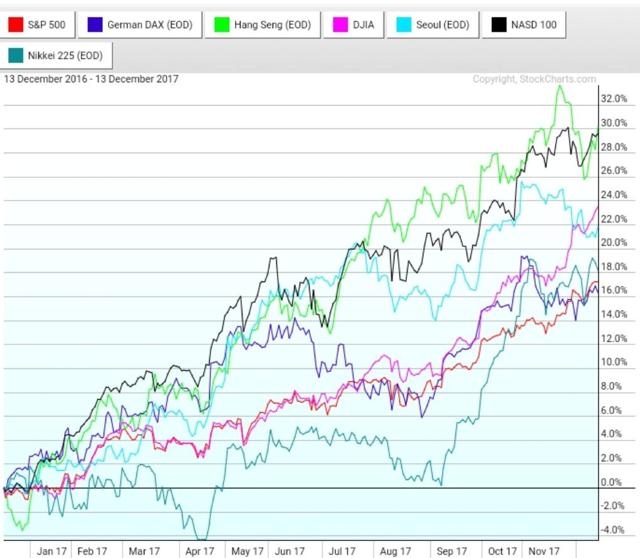 Remember, one of the primary responsibilities of central banks is to preserve price stability. And now that global financial stability appears to have been restored, it would be inappropriate to not address the risks that emerge from ballooning asset bubbles.
In addition, the level of market volatility suppression has reached such levels that policymakers are beginning to grasp the extent of the distortionary effect that their unconventional measures are having on the normal functioning of markets, generating an alarming mispricing of risk. This, combined with a rapid surge in leverage and increasing levels of debt, fosters conditions that may well lead to broad-based instability down the road, predominantly by a forced unwinding of highly leveraged positions on a potentially unprecedented scale.
Second, the ongoing synchronized pick-up in global growth may in large part be nothing more than a reflection of the freshly unleashed animal spirits in financial markets, but still warrants policy adjustments to prevent the economy from overheating. Such a development could have disproportionately negative consequences as it would necessitate a pace of interest rate hikes far more aggressive than the market has currently priced in. Put simply, if major central banks do not withdraw the ongoing stimulus in a timely fashion they risk becoming inexorably forced to do so later, but in a more frantic and market destabilizing manner.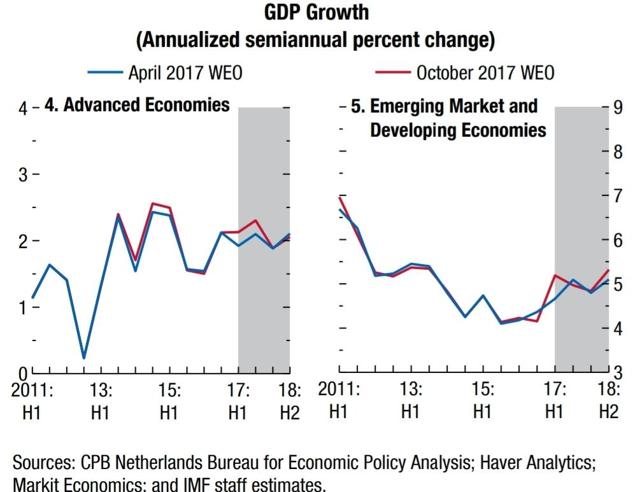 Heading into 2018, monetary policy normalization will be a commonly shared goal across the central banking community, but each central bank faces its own unique set of challenges and dilemmas, and therefore their policy path will materially differ. As such, the need for careful coordination of their planned course adjustments has become more pronounced.
A lack of sufficient transparency, flexibility and cooperation between major central banks, including the Fed, the ECB, the BoJ and importantly the PBoC, could quite possibly lead to a spike in market volatility, particularly in the event of a simultaneous acceleration of their tapering plans. Such a development would inevitably translate into a sudden withdrawal of market liquidity, potentially shocking investors and -- through the subsequent disorderly repricing of risk-- derailing the global economic recovery.
As a result, it would be prudent for traders and investors to internalize the fact that, with the continued strengthening of global growth trends, the world's most systemically important central banking institutions will not be able to remain passive for much longer. Instead, they will have to act decisively in order to limit the excessive risk-taking and the unsustainable leverage levels, which are shaping into a major market risk going forward.
The era of extraordinarily loose financial conditions is coming to an end. Only when this process is concluded and interest rates finally normalize, will we be able to accurately assess the degree of success of the unconventional tools employed by major central banks to address the financial crisis of 2008-09. It is then that we will have a clear and undistorted picture of the underlying health and resilience of the global economy.