It was just a little over a week ago when I referred in an article to a South Korean company named SK Innovation, which just announced that it is planning to build an EV battery factory in Hungary at the end of November. Now, less than two weeks later we have a Japanese company called GS Yuasa Corporation, which announced it also intends to build an EV battery plant in Hungary. It is the third such investment, given that more than a year ago Samsung (OTC:SSNLF) announced the first such project in Hungary, which is when I first pointed out the fact that it is likely to be the first sign of the start of a new phase in Europe's EV industry in an article entitled "Samsung's Hungary Gigafactory, A Sign That The EU EV Market Is About To Get Brutal." My main thesis then was that thus far, aside from Tesla, no other major car maker has been making much of an effort to capture EV market share in Europe or North America, but that is about to change dramatically by the end of this decade.
Major companies have been offering a variety of EV options, but it was mainly intended to gain expertise in building them and also a way to probe market preferences. As I pointed out in my article on Samsung more than a year ago, the first signs that this will all change and the European car industry will gear up for a period of brutal competition will be when we will start seeing investments made in the Eastern part of the EU, where wages and other production costs are considerably cheaper, meant to produce EV parts or entire EV assembly lines. The latest investment in Hungary, together with a host of other developments once more confirms the fact that the moment is here and thus far, given the frequency of new announcements in regards to new investments, I'd say the brutality aspect of the EV market in Europe after 2020 may be underestimated by most.
Hungary set to produce 150,000 or more EV batteries per year.
The Samsung plant is set to produce 50,000 batteries per year. It is not as clear how many batteries the other two plants are planning to produce, but it seems that we are looking at a similar volume. SK Innovation's plant is said to build a capacity of 7.5 Gigawatt hours, which may suggest that it might have a capacity of more than 50,000 batteries per year, when compared with the Tesla Gigafactory, while GS Yuasa Corp's project does not have as many details out there, aside from the fact that the plant will employ about 400 people. Based on what we know so far these three plants will be able to produce more than 150,000 batteries per year. We should keep in mind that this is just one small country in the EU, while there are plenty of other projects all around Europe, either planned or already in progress. To put the magnitude of battery production in Hungary into perspective, it is more or less equivalent to total yearly car sales in that country. In addition to these battery plants, Daimler (OTCPK:DDAIF) is building a flex plant in Hungary which is thought to be capable of switching production from ICE to EVs, while Volkswagen's (OTCPK:VLKAY) Audi is producing EV motors in Hungary already. My guess is that in the aftermath of these battery investments, we will see additional announcements of EV assembly plants in Hungary and other former communist countries in the next few years, which will be the positioning process for the expected market share war, which will include quality as well as an intense price competition.
Price competition may end up being more intense than expected.
While this is something I spelled out before in previous articles, It's important in my view to mention again the fact that I believe that most major car makers are ready to take a loss of a few thousand dollars per EV in coming years, in order to gain market share. The production cost reductions that will come from building EVs in Eastern Europe will not be used to compensate for the lower prices that these EVs will be offered at, but rather as a way to further reduce the price.
This price reduction might become more and more painful as EU countries, many of which already are suffering from severe debt and budgetary pressures, will probably start to reduce their EV incentives as sales volumes will surge.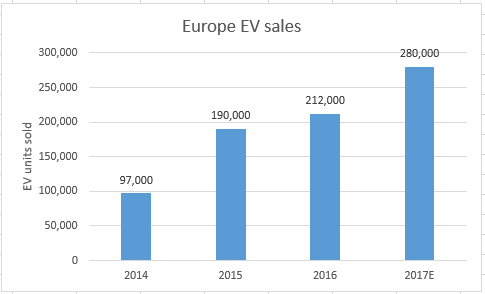 Data source: Carsalesbase.com
While in 2014, fewer than 100,000 EV units were sold, based on the ramp-up in production capacity that we are seeing in Hungary, and Europe, we may be looking at over a million EVs sold within a few years. Assuming an average incentive per EV of about 5,000 Euros, in 2014 total incentives cost European governments about 500 million Euros, while within a few years they may be looking at 5 billion Euros. I think we will be seeing significant incentive reductions across the continent, because as I pointed out on many previous occasions, aside from Germany and a few other countries, most government budgets cannot support many extra burdens. France for instance has not complied with the EC deficit rule for a decade now. The rule states that countries need to keep their deficits under 3% of GDP. France would stand to lose over a billion Euros per year once yearly EV sales will reach 100,000 units.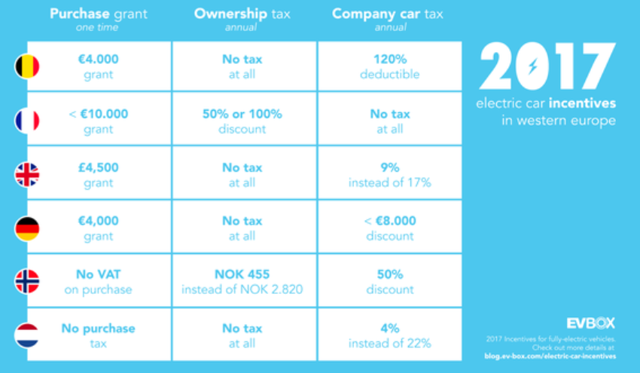 Source: Clean Technica.
In addition to the roughly one billion Euros ($1.2 billion) in purchase grants, as we can see, France stands to lose out on collecting yearly taxes on these EVs for the rest of the life of the car. We should appreciate the fact that the revenue loss has a cumulative effect, as more and more EVs will be on the road, instead of the taxable ICE cars.
It goes without saying that many countries in the EU will in fact scrap current EV incentives, as these start to chew a growing hole into their often already strained budgets. As that happens, given that it will happen just as car makers are ramping up production and attempting to sell that production, it is more than likely that EV makers will feel further pressure to reduce prices in order to make up for the scrapped incentives which have been supporting sales so far. I have to say that so far, every aspect of this that I look at points to a post-2020 EV future in Europe where all car makers will be forced to take deep losses on their EV sales.
As I pointed out in a recent article, there's a differing degree of just how much of a loss certain car makers can afford to take in coming years. Volkswagen for instance can afford to take a yearly loss of $5,000 per EV sold, and still retain about three quarters of its ICE sales profits, as long as it only sells 500,000 EVs per year. Tesla (TSLA) on the other hand needs to show some profits on those EV sales and do so urgently, before its creditors decide that it no longer makes sense to continue lending it money. One of the factors that will make for a successful EV maker in the future is the ability of companies not only to produce EVs that will perform well from a technical point of view, but also an ability to absorb significant losses on these EV sales for a while, which I believe most EV brands and models will have to do for most of next decade, as the fight for market share will get under way. As the latest investment in Hungary, along with many other such investments across Europe show us, it will get under way very shortly. We will be seeing the first signs of it in Europe by the end of this decade, at which point this should start to get interesting. We may even get a glimpse as investors with regard to which companies we should start considering as potential future EV bets.
Disclosure: I/we have no positions in any stocks mentioned, and no plans to initiate any positions within the next 72 hours.
I wrote this article myself, and it expresses my own opinions. I am not receiving compensation for it (other than from Seeking Alpha). I have no business relationship with any company whose stock is mentioned in this article.
Additional disclosure: I currently own Albemarle (ALB) as a way of playing the longer term EV trend.
Editor's Note: This article discusses one or more securities that do not trade on a major U.S. exchange. Please be aware of the risks associated with these stocks.