For the first time since core CPI reached a post-financial crisis low in 2010, real two-year yields are in positive territory. The surge in the two year yield is largely a result of monetary policy and increases in the Federal Funds Rate. The Federal Reserve has much greater influence over the short end of the curve, than the long end. With the yield curve flattening, it's been clear that the Federal Reserve through increasing the Federal Funds Rate is having a less than meaningful impact on long end yields but a strong influence on the short end.
The 10-year treasury market has largely ignored short term interest rate hikes. I think this will change as real (inflation-adjusted) short term rates are quickly moving into positive territory. Negative real and low nominal short-end yields will no longer be a tailwind for long-end bond prices. This yield curve reverberation is further discussed by Goldman Sachs', lead economist Jan Hatzius, courtesy of Bloomberg linked here.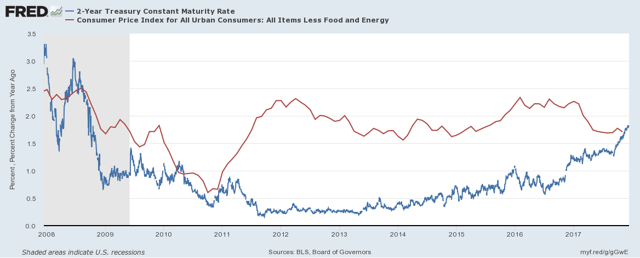 I think the Federal Reserve balance sheet strategy is being severely overlooked and underpriced by the market. It is not yet fully reflected in the yield curve. As the balance sheet unwind reaches terminal velocity, it will reach a max decline of -$600 billion annually or -$50 billion per month of treasury and mortgage-backed securities.
This balance sheet strategy is very similar to reversing QE, and many have referred to it as quantitative tightening. I believe QE and forward guidance that it would continue did a fantastic job of pushing up inflation expectations while driving treasury yields lower. The decline in expected real yields from December 2008 when QE1 was implemented until Bernanke's taper testimony in May 2013 shows QE was effective in this sense. This is pictured below with the 10-year inflation indexed security yield over this period of time acting as a proxy for expected real rates. Overall, I think it's improper to believe QE had an effect on the way in, but won't on the way out.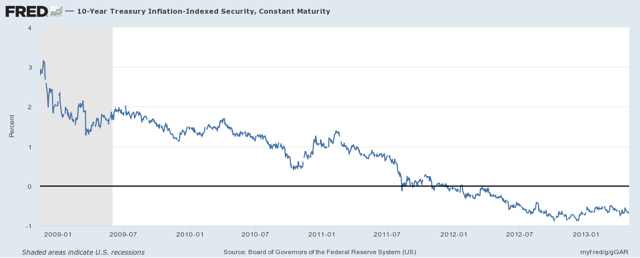 Interestingly, since Federal Reserve "lift off" in December 2015, which was when the first interest rate increase occurred, financial conditions have eased considerably. Financial conditions are determined by stock prices, long-term yields (interest rates), currency values, and credit spreads. After multiple rate increases, financial conditions have counterintuitively eased which makes one wonder has the Fed been tightening at all or has it been ineffective to date? William Dudley has voiced concerns about this as well, and signaled it could lead to a faster pace of future tightening or a "steeper policy rate path".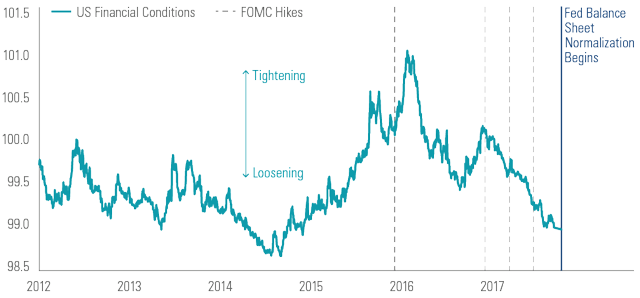 Source: Goldman Sachs Asset Management