Summary
As those familiar with my articles know, I forecast the value and future distributions of various oil and gas trusts. This article presents a comparison of 15 trusts, given forecasts of their future performances.
Quarter in Review
What started as a sleepy year, with stable commodity prices and little to show other than a special situation on Enduro Royalty Trust (NDRO-OLD), has blossomed with oily splendor. A near-20% WTI price gain is one reason that oily plays Pacific Coast Oil Trust (ROYT), VOC Energy Trust (VOC), and MV Oil Trust (MVO) have been up big. But even gassy Mesa Royalty Trust (MTR) reached +30% above summertime lows without a HH tailwind.
However, the sector is far from the slaughterhouse that made shorts in 2014 so lucrative. Chesapeake Granite Wash Trust (CHKR) is still on the downslope and SandRidge Mississippian Trusts I (NYSE:SDT) and II (NYSE:SDR), which were running regular bleacher circuits earlier this year, have been completely nonplussed by oil's rise. Did traders finally realize that these wells didn't have much oil? Sad!
The Forensic Accountant took a few months off tracking the trusts, but has also returned to action this fall. Not following closely let some major plays turn into modest returns. A massive NDRO play netted a few pennies per share. An MV Oil Trust short played well, but was undersized. And well-timed profit-taking on Whiting USA Trust II (OTC:WHZT) merely took previously won money off the table.
That said there's quite a bit on the table right now. Here are the ideas that I'm currently mulling (or more than mulling) over:
The market has noticed ROYT's premium spreads. Could this laggard gain another 20%? You betcha.
SDR, SDT, and PER are all 20% off. Two of these three are worth a look.
How are all of the BPT shorts going to react when the trust drops another hefty distribution? Hint: Don't be short.
NDRO's distribution should return with a pop. I think the market price will do the same.
MVO and VOC have gone parabolic in recent weeks. Figure out the timing on the return to earth and you might be able to buy a boat.
Let's get to the numbers.
Two Ways to Forecast Value
I compute two different estimates of value for each trust. The first is a fundamental valuation that uses an engineering-style model and discounted cash flow (DCF) analysis. The second is an adjusted NPV-10 based on previously published reserve reports.
Model/DCF Method
The model/DCF method estimates future distributions by developing bottom-up forecasts for each revenue and cost component of a trust's distributable income statement.
Production is forecast based upon historical well depletion rates and expected future well completions and workovers; published reserves are ignored.

Sales prices are forecast as NYMEX Henry Hub (HH) and West Texas Intermediate (WTI) futures, adjusted for historical spreads.

Costs are forecast individually based on prior costs, revenues, production and inflation.

Share subordination and unique passive income streams are explicitly considered.

Termination date and terminal value are based on the specific terms in each trust's agreement, the expectation that the proprietor will act only in their own best interests over time, and forecast production and sales prices, not on the reserve report.
Reserve Report Method
The reserve report method adjusts the estimate of NPV-10 in each trust's reserve reports for updated price and production information.
Production since the date of the reserve report (if any) is subtracted from published reserves.

Oil and gas prices are updated to reflect current HH and WTI prices and historical spreads.

Costs, as provided by the reserve report, are prorated by remaining production.

Trust administrative costs are subtracted.
Although both methods may appear to be similar, there are key differences that provide strengths (or weaknesses) to each approach. Trust reserve reports are in theory based on detailed well production data. However, their assumptions are impossible to verify and they frequently exclude key costs and other considerations. The model is based only on public information and is fully transparent - if you would like to know a trust-specific assumption, please ask.
Oil Booms, Gas Swoons
As I noted above, WTI has been a big oily gusher in Q4. With spot prices consistently above $57, the next round of trust distributions are set to be turbocharged. Oil futures, however, suggest a gradual return of the $50 barrel, meaning that the market is seeing higher near-term spot prices than mid-term futures for the first time since mid-2014. HH pricing tells a different story - not only are spot gas prices lagging, but also the futures curve is equally bleak.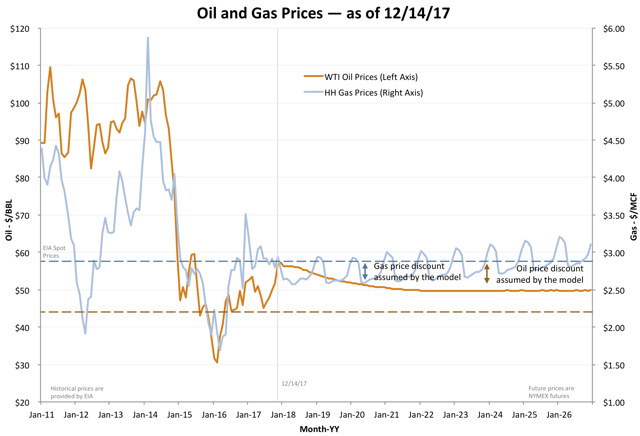 Fig. 1: Oil and gas prices used by the model and implied oil price premium. Source: NYMEX and author's analysis.
December 2017 Valuations
The table below presents a comparison of 15 trusts based upon valuations using the two methods. The table is divided into five sections. In the first section, trusts are ranked according to the model's forecast internal rate of return (IRR). For comparison, the risk-adjusted rate of return that I use for Fair Value (FV) calculations is also shown here.
The second section presents four different valuations: a recent closing market price and three net present value (NPV) estimates, two using 10% discount rates for the model and reserve methods and the third discounting the model's valuation at FV%.
The third section of the table presents the ratios of the market price to the three NPVs. I consider trusts with FV-to-market-price ratios (column c) of less than 1.0 to be candidates for long positions while reserve-report-NPV-10 ratios (column e) over 4.0 are one indicator that I use to identify short candidates. The fourth section compares 12-month forward and trailing yields and the fifth provides the oil/gas revenue mix, expenses and other details.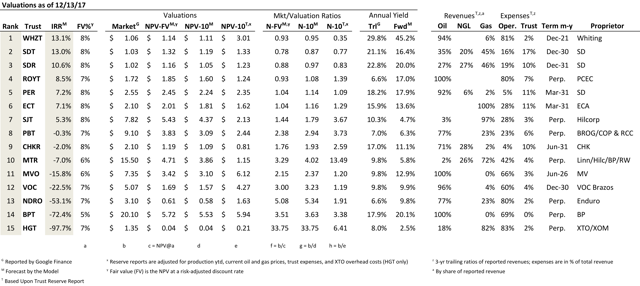 Fig 2. Trusts ranked by IRR. Source: Google Finance, Trusts' SEC filings, and author's analysis. Columns with an "M" are derived from the model's forecast; those with a "T" from the trust reserve reports.
Trust-specific comments
Predominantly Gas Trusts
Six trusts derive their income primarily from natural gas:
With gassy wells and pending litigation, SandRidge Mississippian Trust I would normally be a dog (woof! woof!), but a 20% price correction has made current shareholders eat a lot of the downside and the model suggests the trust could yield 13%. But is now the time to buy? Hardly. Lawyers could eat 60-70% of the next distribution, which could lead the day traders to push this into delisting territory. I'll wait for the news and hope to back up the truck at $0.80.
SandRidge Mississippian Trust II appears to have dodged the litigation bullet, yet shareholders have suffered the same fate as SDT. With a long-term yield of 10.6% and the expectation of a five-cent payout early in the new year, now might be the time to nibble.
ECA Marcellus Trust I (ECT) is another selloff story, dropping from $2.50 in October to $2.10 today. With a modest 7.1% long-term yield, it's not buy-a-boat material, but if you think natty gas has hit a floor you might like it at these prices. I'm waiting for $2.
San Juan Basin Royalty Trust (SJT) remains a steady producer with a decent yield. 2017 saw a surprise payout with a litigation settlement, so 2018 is likely to see lower returns. Like usual, I'm avoiding.
Mesa Royalty Trust's model is still in beta and will be as long as the monthly reports continue to not add up to 100% of what I see in the quarterly statements. But even with a healthy margin of error on the model's forecast, I don't see strong justification for paying $15.50 for this trust.
Hugoton Royalty Trust (HGT-OLD) keeps chug, chug, chugging toward irrelevance. At current production declines and gas prices, the distribution is expected to decline about $0.0005 per month. Last month it paid $0.008. Hmmmmmmm. XTO Energy will be the only buyer for the remaining royalty.
Perpetual Oil Trusts
Four trusts have income primarily from oil production and have no fixed termination date (so-called "perpetual" trusts):
It's all about the oil price for California-based Pacific Coast Royalty Trust, which is the beneficiary of not only higher WTI prices but also improved spreads to WTI. With the spread on California crudes improving even more in the past month and sagging gas prices, ROYT's net operating revenues could double in the next distribution. Risks include higher expenses triggered by oil prices, but CapEx could trigger the moon shot on this trust: the reopening of wells accounting for up to 30% of this trust's prior production.
Permian Basin Royalty Trust (PBT) offers a paltry -0.3% long-term IRR. Holding this is a bet on long-term oil. Why bother?
Enduro Royalty Trust was offering to put a home on the TFA freehold, until it didn't. Covered calls netted a handful of pennies per share as the trust's distribution sagged into a special event and a freewheeling option ride. The future promises to be just as interesting - with new wells coming online, the trust should see an elevated distribution within 2-3 months that could send its $3.10 market price to $3.60 or more. However, steep production declines are likely to take hold shortly thereafter and send this flash in the pan down to $2.70, or below. How low? What's a two-cent distribution monthly worth to you?
BP Prudhoe Bay Royalty Trust (BPT) is the granddaddy of all trusts with wells in Alaska. It is grossly overvalued. However, if that's new to you, steer very clear. BPT has a huge short interest (reported at 11 days to cover, last time I checked) and is set to drop a distribution in January that could double the last.
Terminal Oil Trusts
Five trusts are terminal oil trusts:
Whiting USA Trust II is OTC and illiquid, which is why it is king of the hill for value. A one-time expense last quarter (and next) has put a dent in the distribution.
SandRidge Permian Trust is a SD trust with wells in west Texas. Like its Mississippian brethren, PER is off 20% in recent months. However, with an oily future, this trust is on much stronger footing. I'll bite - and suspect that this trust is up 10% before the end of January.
Chesapeake Granite Wash Trust is the last quarterly payer to hit the share subordination. Much, but not all, of the downside is baked in, so I'm avoiding both long and short positions.
MV Oil Trust is an MV Oil and Vess-operated trust with wells in Kansas and Colorado. Nothing like oily optimism to pump up this overvalued dog. But when MVO drops a hot thirty cents, shorts could be in for a ripe mess. Look but don't touch.
VOC Energy Trust wanted dog of the month more than MVO it seems. Model tells me I'd rather own MVO (I don't). But short? Hmm…….
Yet Another Reason The BPT Shorty Play Is All Wet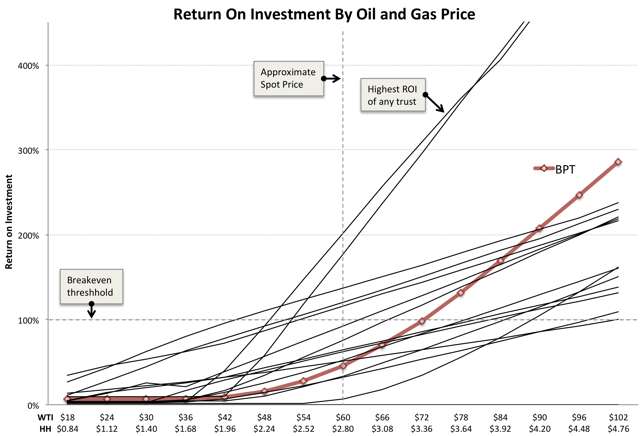 Just sayin'.
Disclosure: I am/we are long WHZT, PER, ROYT, BPT CALLS. I wrote this article myself, and it expresses my own opinions. I am not receiving compensation for it (other than from Seeking Alpha). I have no business relationship with any company whose stock is mentioned in this article.
Editor's Note: This article covers one or more microcap stocks. Please be aware of the risks associated with these stocks.