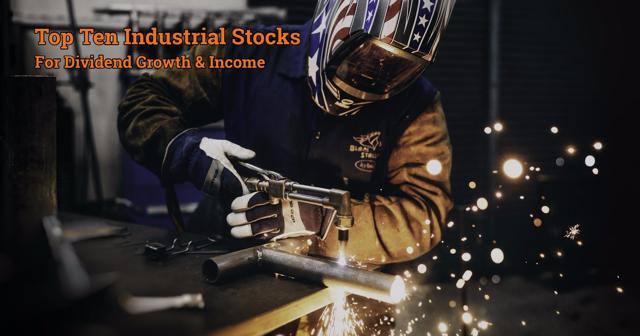 We are sixteen months removed from my last update on the Industrial Sector, and it's been quite a run in the stock market since that article was published.
The S&P has risen by an impressive 21.4% since August 12, 2016, while the industrial sector, as represented by the Industrial Select SPDR ETF (XLI), has performed even better with a 27.1% increase.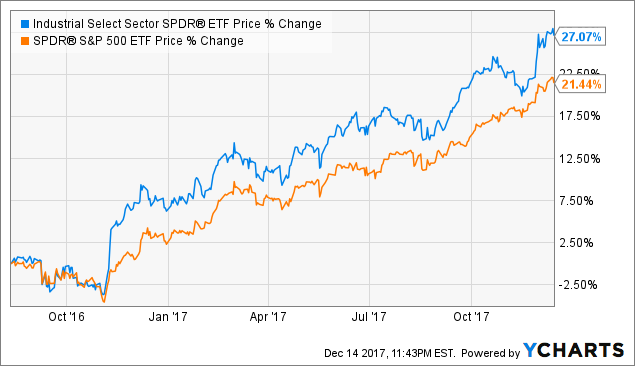 XLI data by YCharts
My picks from that article have also done well, as they've risen by an average of 25.5%. This beats the returns seen by the S&P by nearly 4%, but slightly lags the returns seen by XLI.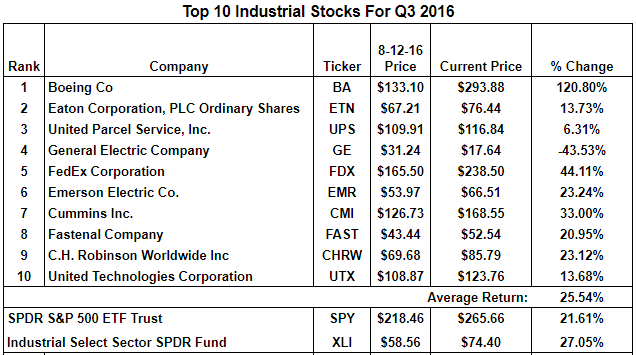 Boeing was the top pick for that list, and it has certainly lived up to the ranking. Shares have more than doubled in price in a year's time, and the company also announced a 30% and then 20% increase to the dividend. That raise was the biggest of any on the watch list, and came on top of a 3.3% yield at the time the article was published.
FedEx also did well, as it grew earnings by 21% in 2017 and also announced a 25% dividend increase. This resulted in a 44% price gain as shares went from trading at a discount to a premium to fair value.
Not all picks turned out well though, as General Electric announced yet another restructuring plan and slashed the dividend by 50%, which led to a 43.5% decline in share price.
Eaton Corp., United Parcel Service, and United Technologies also lagged the markets, but still saw positive returns of 6-14%.
Looking back further, here are the results of the original Top Ten Industrial Stocks that were selected in August of 2015.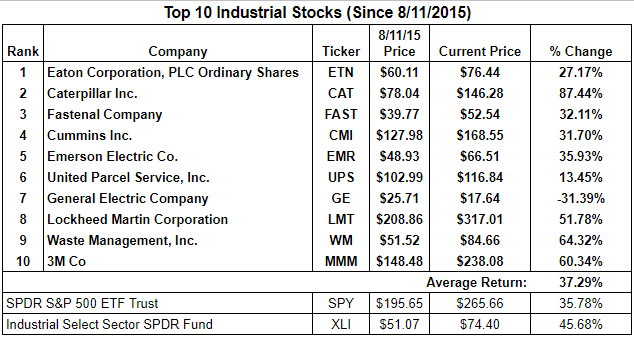 Again, the selections beat the S&P, yet trailed the returns seen by XLI.
Caterpillar, Waste Management, and 3M Company led the way with 60%+ returns, while General Electric was again the big laggard with a price decline of over 31%.
I will point out that the companies for both top ten lists were selected based on income potential rather than expected capital gains. So while they did produce some impressive returns, the fact that they lagged the ETF shouldn't necessarily be a surprise.
Case in point, the XLI is currently yielding just 1.76%, so it isn't all that attractive for income investors. However, based on these two test cases, it may still be a more attractive option for those looking for capital appreciation.
The Industrial Sector Watch List
The companies on this list were originally selected based on their track records of dividend growth, financial ratings, and earnings growth.
With the industrials being cyclical in nature, I've found that this sector is one of the more difficult ones to forecast, both in putting valuations on companies and in predicting future dividend growth.
Deere and General Electric are two companies that I've decided to keep on the list despite one have a frozen dividend and the other a recent dividend cut. Both remain in many investor's portfolios, and I felt that readers would appreciate seeing how they compare with other companies on the list.
Here are the 30 companies currently on the watch list:
| | | | | | | | | | |
| --- | --- | --- | --- | --- | --- | --- | --- | --- | --- |
| Company | Ticker | Sub Sector | # Years Div. Inc. | S&P Credit Rating | Market Cap (B$) | 52-Week High | 52-Week Low | Share Price 12/14/17 | % Below 52-Wk High |
| 3M Co | (MMM) | Conglomerate | 59 | AA- | $141.8 | $244.23 | $173.55 | $238.08 | -2.52% |
| A. O. Smith Corp | (AOS) | Industrial Equipment | 24 | N/A | $10.3 | $63.70 | $46.44 | $60.04 | -5.75% |
| Boeing Co | (BA) | Aerospace/Defense | 6 | A | $175.0 | $296.82 | $153.06 | $293.88 | -0.99% |
| Caterpillar Inc. | (CAT) | Industrial Equipment | 24 | A | $87.0 | $149.05 | $90.34 | $146.28 | -1.86% |
| C.H. Robinson Worldwide Inc | (CHRW) | Transportation | 19 | N/A | $12.0 | $89.11 | $63.41 | $85.79 | -3.73% |
| Canadian National Railway (USA) | (CNI) | Railroad | 21 | A | $60.4 | $84.48 | $66.58 | $80.93 | -4.20% |
| CSX Corporation | (CSX) | Railroad | 13 | BBB+ | $51.2 | $58.35 | $35.59 | $57.31 | -1.78% |
| Cummins Inc. | (CMI) | Machinery | 12 | A+ | $28.0 | $181.79 | $134.06 | $168.55 | -7.28% |
| Deere & Company | (DE) | Farm Equipment | 0 | A | $48.0 | $153.34 | $100.05 | $149.44 | -2.54% |
| Donaldson Company, Inc. | (DCI) | Industrial Equipment | 31 | N/A | $6.2 | $50.10 | $41.28 | $47.95 | -4.29% |
| Dover Corp | (DOV) | Industrial Equipment | 62 | A- | $14.9 | $99.15 | $74.53 | $95.75 | -3.43% |
| Eaton Corporation, PLC Ordinary Shares | (ETN) | Machinery | 8 | A- | $34.2 | $82.34 | $66.60 | $76.44 | -7.17% |
| Emerson Electric Co. | (EMR) | Industrial Equipment | 61 | A | $42.7 | $67.83 | $55.40 | $66.51 | -1.95% |
| Fastenal Company | (FAST) | Trading Company | 18 | N/A | $15.1 | $55.35 | $39.79 | $52.54 | -5.08% |
| FedEx Corporation | (FDX) | Transportation | 16 | BBB | $64.0 | $243.48 | $182.89 | $238.50 | -2.05% |
| General Electric Company | (GE) | Conglomerate | 5 | AA- | $153.0 | $32.38 | $17.46 | $17.64 | -45.52% |
| Honeywell International Inc. | (HON) | Industrial Equipment | 7 | A | $116.7 | $156.70 | $113.60 | $153.23 | -2.21% |
| Illinois Tool Works Inc. | (ITW) | Machinery | 43 | A+ | $55.7 | $169.69 | $120.06 | $162.65 | -4.15% |
| Lockheed Martin Corporation | (LMT) | Aerospace/Defense | 15 | BBB+ | $90.9 | $322.19 | $247.01 | $317.01 | -1.61% |
| Norfolk Southern Corp. | (NSC) | Railroad | 0 | BBB+ | $40.3 | $143.35 | $105.89 | $140.86 | -1.74% |
| Parker-Hannifin Corp | (PH) | Industrial Equipment | 61 | A | $25.5 | $195.82 | $139.49 | $191.70 | -2.10% |
| Pentair plc. Ordinary Share | (PNR) | Industrial Equipment | 41 | BBB- | $12.6 | $71.76 | $55.76 | $68.84 | -4.07% |
| Raytheon Company | (RTN) | Aerospace/Defense | 13 | A | $54.6 | $191.36 | $141.16 | $188.78 | -1.35% |
| Republic Services, Inc. | (RSG) | Waste Management | 15 | BBB+ | $21.7 | $67.18 | $56.17 | $64.85 | -3.47% |
| Rockwell Automation | (ROK) | Machinery | 7 | A | $24.3 | $210.72 | $133.61 | $189.45 | -10.09% |
| Union Pacific Corporation | (UNP) | Railroad | 10 | A | $101.7 | $132.39 | $101.06 | $129.17 | -2.43% |
| United Parcel Service, Inc. | (UPS) | Freight & Logistics | 8 | A+ | $100.7 | $125.16 | $102.12 | $116.84 | -6.65% |
| United Technologies Corporation | (UTX) | Conglomerate | 24 | A- | $98.8 | $124.87 | $106.85 | $123.76 | -0.89% |
| W W Grainger Inc | (GWW) | Trading Company | 46 | A+ | $12.7 | $262.71 | $155.00 | $222.67 | -15.24% |
| Waste Management, Inc. | (WM) | Waste Management | 14 | A- | $36.8 | $85.87 | $69.00 | $84.66 | -1.41% |
With the market near all-time highs it should come as no surprise that many of these companies are trading near 52-week highs. In fact, twenty-two of the thirty are currently within 5% of their highs, while just three, General Electric, Rockwell Automation, and W.W. Grainger, are trading more than 10% below 52-week highs.
Next we will take a look at valuations to see if any are attractive candidates for investment.
Industrial Sector Valuations
The following table contains historical dividend growth information as well as current dividend rate, dividend yield, analyst earnings expectations, and the corresponding PE ratio and payout ratio from these numbers. This information was collected from various sources, including: F.A.S.T. Graphs, Yahoo Finance, Seeking Alpha, and the U.S. Dividend Champions List.
For the "Fair Value PE" I used F.A.S.T. Graphs to look at various time frames to determine what valuation each company historically trades at. This number was then compared with the PE from analyst EPS estimates to calculate the "+/- Fair Value" number. In this case, a negative number is a good thing, as that means it is currently trading below the fair value target.
With 2017 quickly coming to a close, I decided to use 2018 EPS estimates for the table. Right or wrong, I felt that looking ahead rather than behind was more relevant information for investors. Doing so adds some uncertainty to the numbers as it more heavily relies on analyst estimates than using current numbers would, but with many parts of the sector in recovery mode, I believe this is the more relevant number.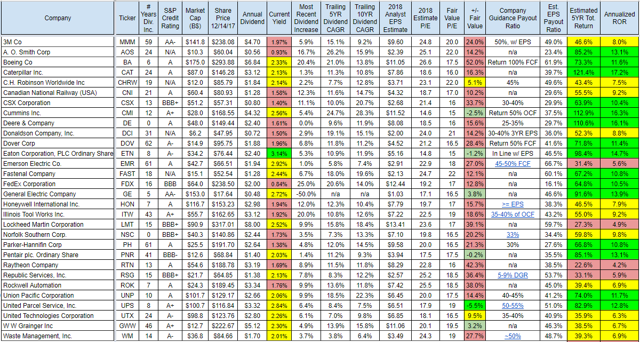 The sector is richly valued, which is to be expected as the overall market is expensive as well. Just four companies (Cummins, Eaton, Pentair, and UPS) are trading below the fair value target, and despite using forward EPS estimates, just eight of the thirty are within even 10% of my fair value target.
The high valuations are also apparent by looking at the dividend yields being provided, as there is just one company, Eaton Corp., yielding over 3%.
Even more striking is that nearly half of the stocks are yielding under 2%.
This is a difficult market for income investors!
Earnings And Income Growth Projections
Now that we've looked at historical growth and current dividend yields, it's time to take a shot at future earnings and dividend growth projections. To do this I have collected analysts' 5YR EPS growth projections from Yahoo Finance and F.A.S.T. Graphs.
I also searched historical conference call transcripts and investor presentations for guidance from management regarding dividend payout ratio targets. Where no guidance was provided, I used F.A.S.T. Graphs and looked at historical payout ratios and used those trends as my basis for a targeted payout ratio.
I then used the expected EPS growth rate, current payout ratio, and targeted payout ratio to estimate a 5YR dividend growth rate for each company. This was then used to project the 5YR yield on cost (YOC) number.
Finally, these growth numbers along with the +/- fair value target were used to project total returns for the next 5 years. This total return number assumes reinvestment of dividends.
I will point out that these results are heavily dependent on the analyst estimates for future EPS growth, and also assume that shares will normalize towards the "Fair Value PE" number in the future. What I have been finding in the more volatile sectors is that earnings estimates can change quickly, and what looks "cheap" today can look expensive tomorrow if earnings are missed and estimates are cut. Also keep in mind that the income projections are more likely to prove correct than the total returns projections, as they are unaffected by future valuation.
With those thoughts in mind, here are the results: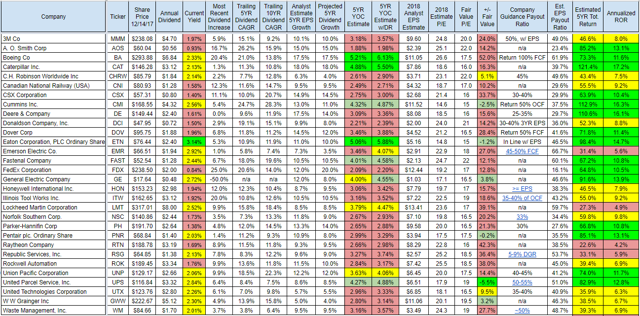 As I mentioned, current yields are low, but with analysts expecting many of the companies to grow at double-digit rates, the projected income and total return numbers are still compelling.
Despite high valuations, half of the companies are projected for double-digit total returns and a third are projected to produce 5YR YOC of greater than 4% with dividends reinvested.
This is my favorite table in the article, as I find the relationship between yield, valuation, and growth fascinating. It quickly shows that two stocks with the same initial yields are not necessarily alike.
For instance, Caterpillar and Republic Services have identical yields at 2.13%, however CAT is expected to grow at an 18% rate while RSG is expecting just 9% dividend growth. This results in a YOC of 5.50% for CAT; nearly 50% higher than the 3.73% projection for RSG.
This is a good example of why buying a stock strictly based on current yield can be problematic. Overlooking a 2% yielding company in favor of a 3% yielding one strictly because of yield can keep you from investing in good growth opportunities for your portfolio.
The Top Ten List
The selections for this top ten were made based on expected future income potential as well as total return potential. As I've done in my other recent lists, the first five picks are the highest ranking income stocks while the second five are the remaining ones with the highest expected returns.
Please keep in mind that these numbers are based on share prices and other information as of December 14th, 2017, and will fluctuate going forward as prices, dividend rates, and growth expectations change.
Here are my top ten stocks for the sector:

In another indication of how valuations have expanded, the average yield for this group is just 2.24% compared to 2.8% from the previous article and 3.2% from the original top ten list.
However, despite the lower yield, the first five are still projected for impressive income growth, resulting in 5YR yield on cost projections of 4.8%+ with dividends reinvested.
Additionally, every stock on the list is projected for annualized double-digit total returns over the next 5 years. I will admit that this is due to high growth expectations rather than due to fair valuations, but in an expensive market it is good to see that potential still exists for attractive investment returns.
#1 - The Boeing Company
Fresh off its recent 20% dividend increase and $18B buyback announcement, The Boeing Company again ranks as the #1 stock on the list.
One might think that Boeing is an unattractive stock after a 100%+ gain, but that isn't the case at all. Demand for larger, more fuel efficient airliners is in a secular bull trend, and Boeing is at the forefront of this market. The company generates strong cash flows and currently has a $412B backlog of commercial planes, providing a long pathway for future growth.
Boeing has grown EPS at a 14% rate over the last 5 years, and analysts are expecting high-teens growth going forward on top of the 40% increase in earnings seen in 2017.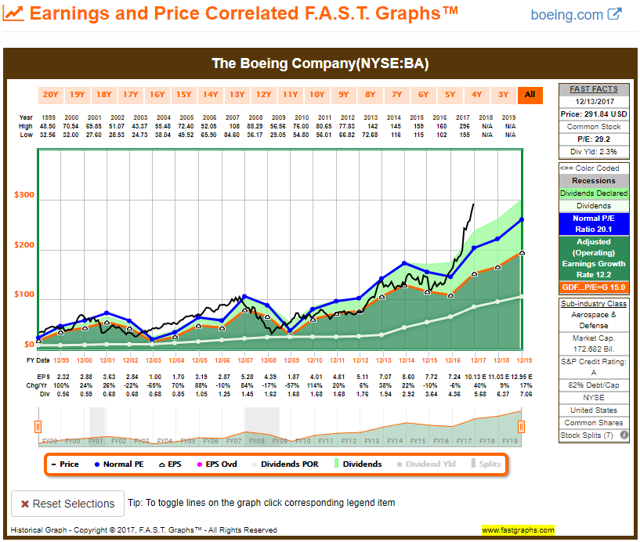 There's no doubt that shares are expensive at a 26 forward PE, but in the current market environment, that is the price to pay for high quality growth.
Boeing is an "A" rated company with a decent 2.3% yield, and a good chance for continued double-digit growth in the years ahead. Despite its meteoric rise in 2017, I think it still remains an attractive long-term opportunity for investors.
#2 - Eaton Corporation
Eaton Corp. plc again comes in at the runner-up position on the list, and has now been ranked either #1 or #2 for each part of this series.
The Dublin, Ireland based power management company earns its high ranking by having the highest current yield of the thirty stocks at 3.14%, along with an expected double-digit growth rate going forward.
As with many industrial stocks, Eaton's earnings took a big hit during the recession, but it's otherwise been a fairly consistent grower. It did freeze the dividend in 2009, but still managed to produce an 11.9% annualized dividend growth rate over the last decade.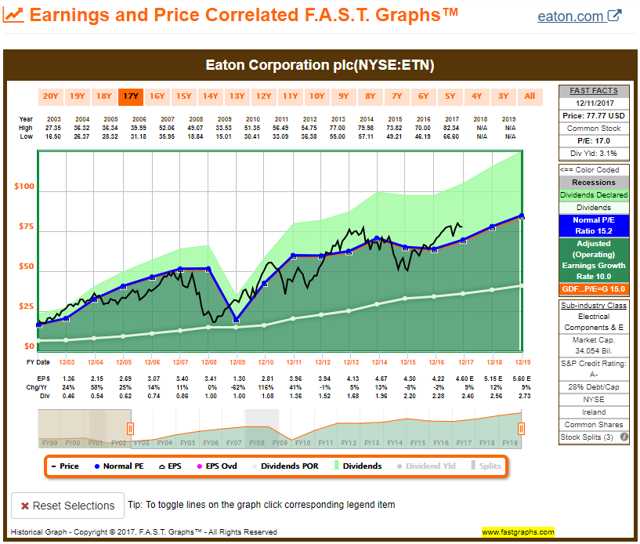 Shares are trading at a 15.1 forward PE based on 2018 estimates of $5.15, which is pretty much in line with historical valuation levels. Analysts expect around 10% growth going forward, which is quite attractive when coupled with a yield over 3%.
#3 - Caterpillar Inc.
Caterpillar Inc. ranks #3 after missing out on the top ten with last year's list. The heavy equipment manufacturer is a prime example of a cyclical industrial, and it has been on a tremendous run over the last two years, more than doubling in price after bottoming out in early 2016.
If one is able to stomach the volatility, Caterpillar is one worth holding on to. It has produced a 13.2% annualized growth rate over the last 15 years, and with a 24-year streak of dividend growth, has shown that it's focused on caring for shareholders during the downturns.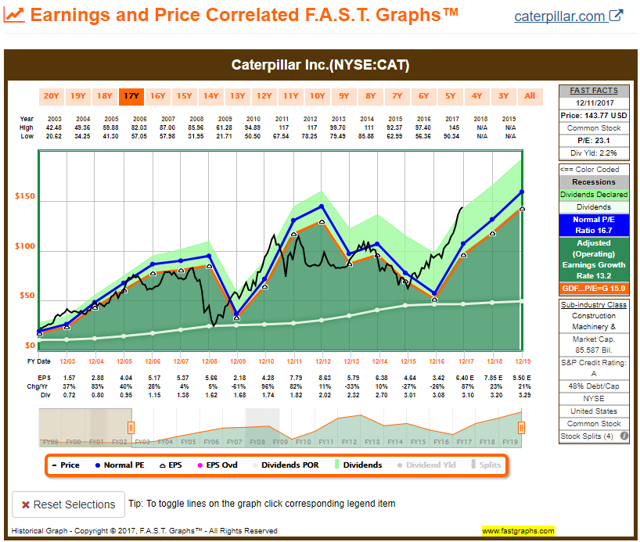 With 87% earnings growth, 2017 is the year of the rebound, but with 22% growth expected in 2018 and another 21% in 2019, the move up in Caterpillar may just be beginning.
Commodity prices have been rising and a potential infrastructure bill may also be on the horizon from Congress, making Caterpillar an attractive stock even after doubling in price.
#4 - Cummins Inc.
Cummins Inc. makes its third consecutive appearance on the list, coming in at #4 after ranking 7th and 4th previously.
The engine manufacturer saw a slight dip in earnings in 2016, but like Caterpillar has returned to growth in 2017. The company has consistently produced double-digit EPS growth, and aggressively grew the dividend over the last decade, doubling the payout ratio from ~20% to ~40%.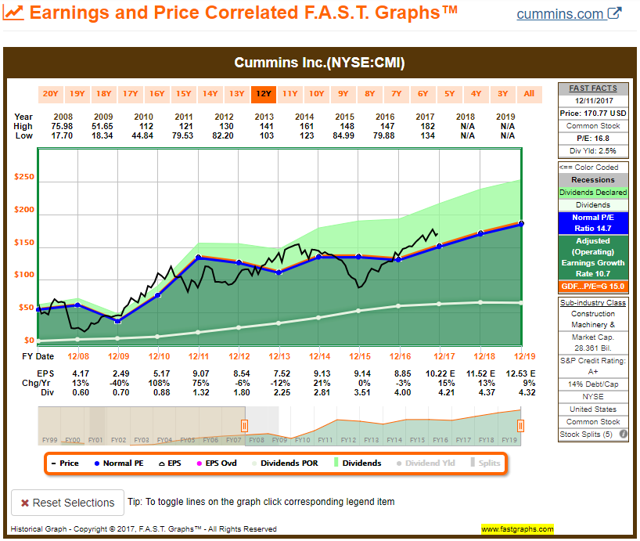 Shares look reasonably priced at 14.7 times 2018 estimates of $11.52, and I expect that dividend growth will now generally track earnings growth going forward.
With a 2.55% yield and analysts expectations of a 10-12% growth rate, Cummins appears to be a decent opportunity for investors.
#5 - United Parcel Service Inc.
United Parcel Service Inc. makes its third appearance on the list after ranking 3rd and 6th previously. The freight and logistics company has benefited from the expansion in on-line sales and direct to consumer deliveries in growing its earnings through the years.
UPS had a dip in earnings during the recession, resulting in a frozen dividend in 2009 and a relatively short dividend growth streak of just 8 years. However, the company has an excellent dividend track record, having paid a steady or growing dividend for nearly 50 years.
Despite the freeze, UPS has grown the dividend at a 7.1% rate over the last decade, which is an attractive growth rate when coupled with a 2.8% yield. The payout ratio sits at just 51% of 2018 EPS estimates, which is on the low end of the 50-55% guidance range set by management.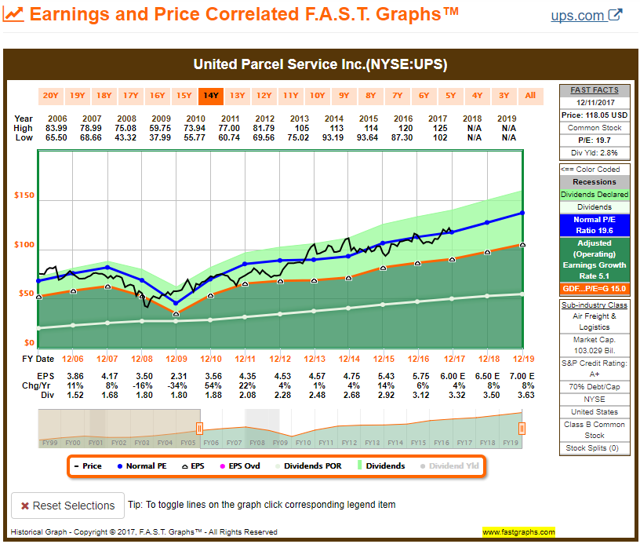 Valuation is also attractive, as it trades at just over 18X forward estimates; a discount from historical levels.
Earnings are expected to grow at a high single-digit rate going forward, and I expect that the dividend will grow at a similar rate. The dividend is likely to be raised in February, which should push the yield to around the 3% level.
UPS may not be a high flyer like some others on the list, but its combo of a near 3% forward yield and ~8% growth stands a good chance of providing double-digit returns for investors.
#6 - Deer & Company
Agricultural equipment maker Deere & Company makes its first appearance on the list at #6, which may be a surprise to some considering it's paid the same $0.60 quarterly dividend since 2014.
However, I think that frozen dividend could be headed higher soon as earnings have turned significantly in 2017. That is expected to continue going forward, as analysts project 21% EPS growth in 2018 and 17% in 2019.
This increase in earnings has dropped the payout ratio to 29.7% of 2018 estimates, which is now below the targeted payout ratio of 30-35% of earnings.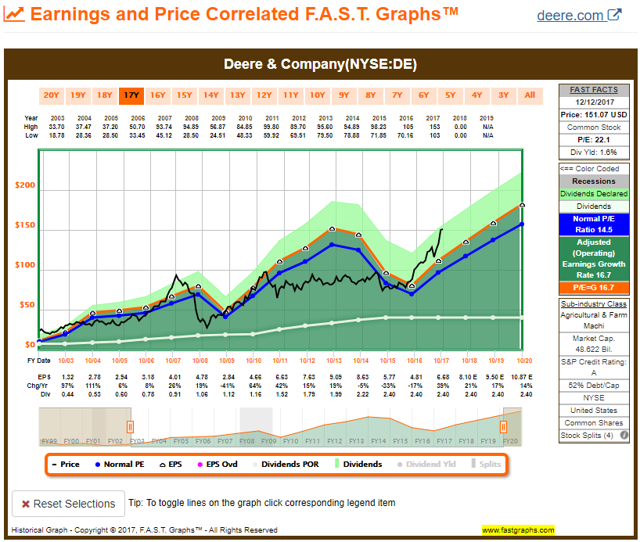 Those who regularly read my work may remember that I sold Deere back in August of 2016 due to concerns of slow growth and a frozen dividend. At the time, 2017 earnings were expected to fall 13% from 2016 levels to just $3.75 per share.
Now just 16 months later, estimates are 78% higher to $6.68, and the share price increased as well, moving from $87 to $151. Needless to say, I learned a valuable lesson about investing in cyclical companies and being patient with them. I was too worried about short term fluctuations in earnings, and let that override my original intent of buying and holding it for the long run.
Like with Caterpillar, the turnaround story for Deere appears to be in the early innings. Despite the run-up, shares are still worth a look for long-term investors.
#7 - General Electric Company
We now come to the enigma known as General Electric. I debated whether or not to keep GE on the watch list, as it technically no longer qualifies as a dividend growth stock after cutting its dividend twice in the last decade.
However, I know this is a widely held stock, and is one that investors like myself struggle in knowing what to do with. I've owned General Electric since April of 2014, and it is in a neck and neck race with Gilead and Kinder Morgan as the worst performing stock in my portfolio. I've leaned towards dumping it and moving on, but after doing this analysis I'm not as certain.
With Jeffrey Immelt now stepped aside and replaced with new CEO John Flannery, I think the bottom may have been made in the stock. Q3 was likely a "kitchen sink" quarter, as the company looked to reset expectations and set up the company to surprise to the upside going forward.
The 50% dividend cut was painful for investors, but was also necessary to right-size the payout and free up cash for running the business. The new dividend is 46% of expected 2018 earnings, which is similar to many of GE's industrial peers.
I could see GE targeting a ~40% payout ratio going forward, which would mean a potential return to dividend growth in 2019. Analysts are expecting 10-12% EPS growth in the coming years from GE; also on par with others in the sector.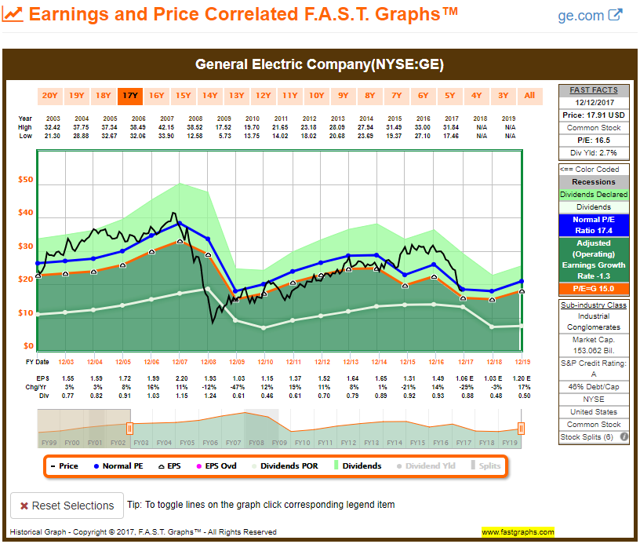 After its big decline, General Electric is now trading around a 17 PE, and provides a 2.7% yield despite the recent 50% cut. I do have concerns about the business, as an underfunded pension plan and weak power and oil & gas divisions cloud the growth picture.
However, I think Flannery is the right man to lead the re-structuring, and with the recent announcement of thousands of job cuts in Europe, it appears he is serious about doing it.
If analysts are anywhere close in the estimates of double-digit earnings growth in the years ahead, this could be an excellent play for both income and value investors. Hopefully the third time is the charm, and I won't regret GE making the list.
#8 - Pentair
Pentair plc makes its top ten debut as #8 on the list. The U.K. based diversified industrial company is rarely mentioned in dividend growth circles here on Seeking Alpha, but it certainly has the track record where it should be.
Pentair has a 41-year streak of dividend growth, one of the longest in the sector, and it has grown the dividend at a 9.3% annual rate over the last decade. That has slowed a bit of late following a 2016 dip in earnings, but with a payout ratio of just 35.5%, I don't think it will be too long before dividend growth picks up once again.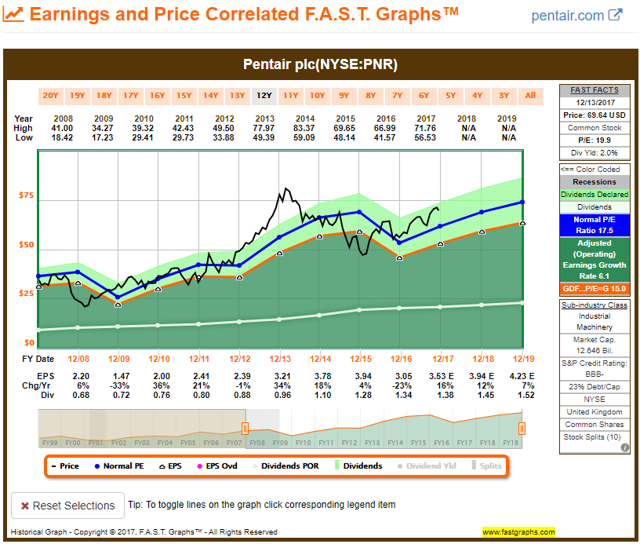 Pentair does have some questions however, as it will be separating its water and electrical divisions with a spin-off in Q2 of 2018.
I suspect that management will work to keep its dividend growth streak intact, but this is something to consider for prospective investors.
#9 - A.O. Smith Corporation
A.O. Smith debuts at #9 on the list, as the consideration for returns over income moves it into the second tier of picks. The water heater, boiler, and water treatment company has market cap of around $10B, making it the second smallest on the watch list.
Due to its low yield, A.O. Smith is another dividend growth company that is rarely discussed, but it has put up quite a track record over the years. The company has a 24-year streak of dividend growth, and has grown it at a 15.4% rate over the last decade.
Earnings growth was even more impressive, as it grew at a 19.6% rate since 2009, leading to annualized total returns of over 30% for investors.
Growth has slowed a bit of late, but analysts expect ~15% growth going forward. With a growing presence in China and India, I think that number looks quite attainable.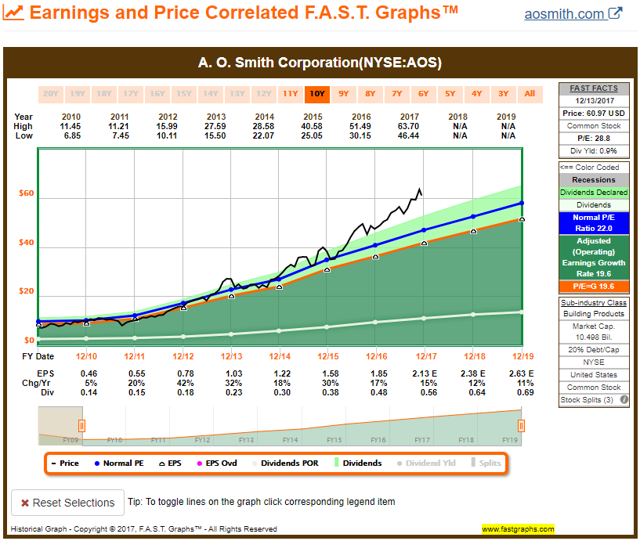 Shares are trading at about 25 times 2018 estimates, so valuation is a bit of a concern. However, you won't find many growth charts more impressive than A.O. Smith's, and a 25 PE with mid-teens growth really isn't that bad of a multiple to in today's market.
#10 - Union Pacific Corporation
My final pick is Union Pacific Corp., which makes its debut at #10 on the list. The railroad operator has returned to growth after weak coal and oil & gas markets caused earnings to dip in 2015 and 2016.
The company signaled that it sees good times ahead by announcing a near 10% increase to the dividend in November. This increase brings the payout ratio up to 41% of 2018 estimates, which is on the low end of the 40-45% target set by management.
This should bode well for strong dividend growth ahead, as analysts are expecting 12% EPS growth going forward.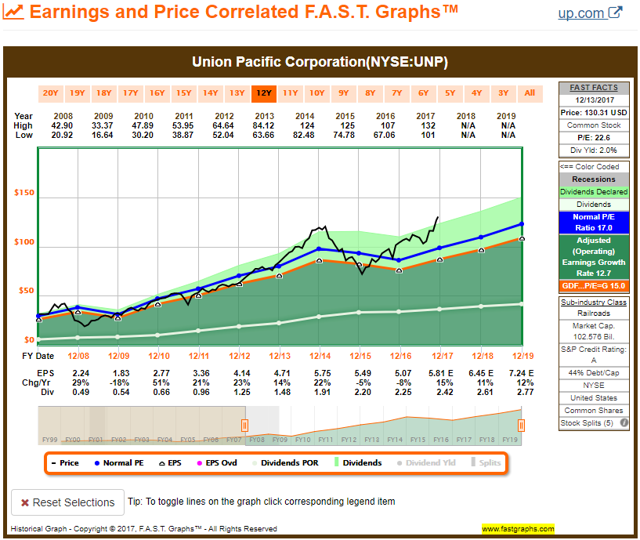 Shares are a bit expensive at 20X forward earnings, but with energy prices rebounding and a strong economy in its favor, I think this could be start of a good run for the stock. A 2% yield and double-digit growth rate should provide excellent returns for long-term investors.
The ETF Alternative
I've been using the SPDR Select Sector Fund, XLI, as a comparison for my top ten lists and thought it would be worthwhile to compare its holdings with my watch list.
Here are the current top ten holdings: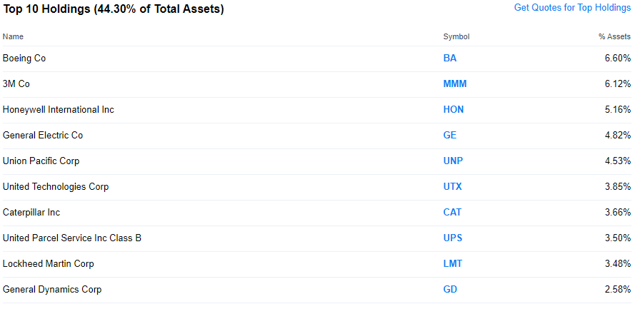 As you can see, there are many of the same names in the ETF, and interestingly enough, Boeing is also the top holding of the fund. 9 of the top 10 holdings are currently on my watch list, with General Dynamics Corp. (GD) being the sole outlier.
It appears that the ETF is another quality option for those looking for exposure to the industrial sector. The only negative being that the yield offered by the ETF is lower than one can get by picking and choosing your own stocks.
As mentioned, my top ten list has a current yield of 2.24%, which is nearly half a percent higher than the 1.77% offered by XLI. This makes it less attractive to income investors. However, for those less concerned about income, the ETF is a nice quick and easy option to buy quality stocks for a portfolio.
Conclusion
The industrial sector has been red-hot, and I don't see that ending any time soon. It should continue to benefit from a strong global economy and improving energy and commodity markets.
Potentially lowered corporate tax rates and a future infrastructure bill from Congress could also create future tailwinds for the sector.
I hope this top ten list proves useful to readers, and maybe gives some new ideas to people for further due diligence.
Additionally, if you would like notifications when I publish future articles, please click the "follow" button next to my name at the top of the page.
Disclosure: I am/we are long BA, CMI, GE, FAST, LMT, NSC, UNP, UPS.
I wrote this article myself, and it expresses my own opinions. I am not receiving compensation for it (other than from Seeking Alpha). I have no business relationship with any company whose stock is mentioned in this article.
Additional disclosure: I am an engineer by trade and am not a professional investment adviser or financial analyst. This article is not an endorsement for the stocks mentioned. Please perform your own due diligence before you decide to trade any securities or other products.