First, let's recap the changing landscape for trucking. Great times are ahead for the industry. The death of the diesel engine is virtually guaranteed by 2025. If companies like Tesla (NASDAQ:TSLA), Nikola Motor, Kenworth, Toyota (TM) and Thor can bring their trucks to market by the early 20s, no one will be buying/leasing new diesel trucks. Any operators forced to acquire replacements before the end of this decade will be turning to the used market while awaiting their new electric truck/alternative fuel orders to be filled. Due to the long useful life of diesel trucks, we could see significant impacts on new diesel truck sales as early as next year.
For at least a few years, early adopters will have a significant load pricing advantage over diesel truck operators. There will be little need to cut load pricing by much since it will be easy to fill all available trucks in the early years of in-service placements. This will mean hugely increased profits for the early adopters and as much work as each new truck can handle. We can expect multi-truck operators to place these new units in "team" operations (two drivers working each truck as relay partners with each truck driven about 20 hrs per day) to maximize profits in these first few years.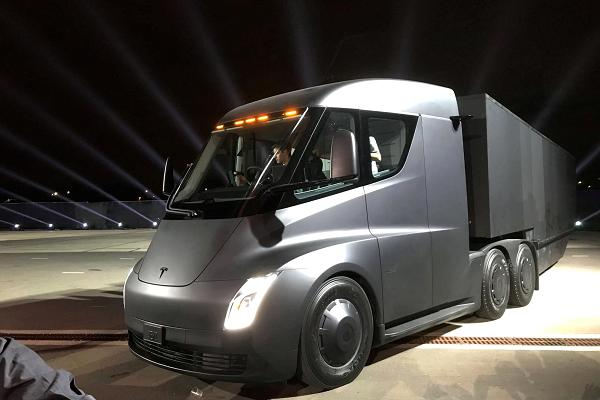 Tesla Semi day cab truck (source:cnbc.com).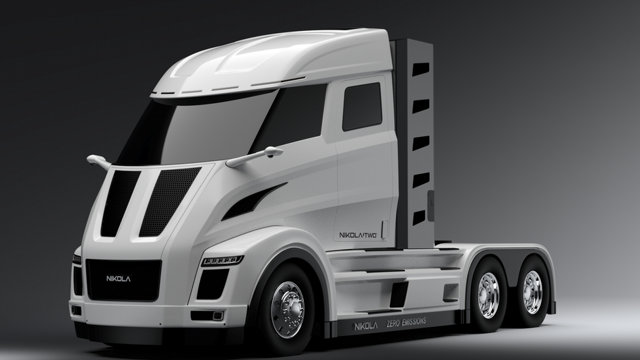 Nikola Two day cab design (source: Nikola Motors).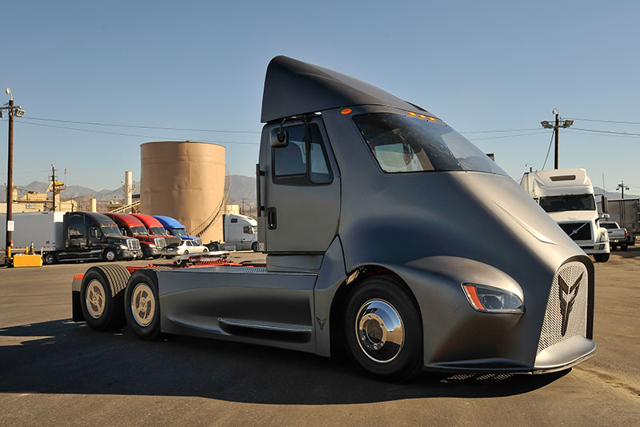 Thor ET-One day cab truck (source:trucks.com)
It will take at least 15-20 years to replace all existing diesel trucks in the U.S. In operations where used trucks are the norm, it could take a decade for electric trucks to make their way into service. Battery replacement costs will be a major factor in this segment. If the costs are prohibitive, sales of used trucks with over 1 million miles may never occur. Pricing models from both Nikola and Tesla make a residual value of used trucks unnecessary. You could scrap the truck without a financial toll.
Nikola's seven-year leasing model shows that fuel savings alone will be more than the cost of the monthly lease payment. The Nikola advantage is the hydrogen fuel is free for the first 1 million miles. Tesla buyers will pay $.14 per mile for electricity from mile one. That is an added cost of $140,000 for the Tesla truck over a 1,000,000 mile useful life.
It would be foolish to expect the top name brands like Freightliner, Peterbilt, and Kenworth to just roll over and die. In fact Kenworth already has announced its own Hydrogen/CNG electric Class 8 truck they should be testing in early 2018. We should expect to see EV alternatives from these manufacturers to begin being built by 2021 at the latest. The new Thor Class 8 truck announced this week and priced similarly to the Tesla Semi also is expected to start deliveries in 2019 along with Tesla.
Fueling/charging
One of the biggest differentiators among the new crop of electric trucks will be what's used to power the electric motors.
Tesla and Thor are pressing forward with power from batteries. Tesla has committed to building and maintaining another network of "Megachargers" capable of recharging a truck in 30 mins.
Nikola, Toyota and Kenworth are opting for alternative fuels using hydrogen or compressed natural gas (CNG). The advantage here is both of these gases can be stored and transported to refueling stations much like gasoline and diesel are today. Clean Energy Fuels (CLNE) already has a nationwide network of natural gas refueling stations up and running.
While hydrogen stations only exist in CA at this time, Nikola plans to have a network of hydrogen-producing refueling stations in place and operational by the time deliveries begin in 2021.
Tesla will have only limited capability to produce its own electricity to meet the demand from trucks. With expected initial use to be in short haul, urban areas it will be forced to rely on local utilities for their electricity. With a guarantee to buyers of $.14 per mile for power, Tesla could find itself losing money in providing their guaranteed rate. In areas where they hope to self-produce electricity from acres of solar panels, the initial costs for land and development could be a huge drain on precious cash.
Design
The Tesla Semi's most serious design flaw is the single-seat layout as I have discussed before here. Operators normally subject new-hire drivers to test drives with an instructor or fleet manager. Reviewers like to be able to watch the driver's interactions with the truck and the outside environment from a vantage point beside the driver. A two-seat configuration would help in bringing a second driver to truck pickup points. Every other Tesla competitor to date has stuck with the proven two-seat, side-by-side layout.
The odd jumpseat design of the Tesla truck looks about as comfortable as sitting on a milk crate against a wall and would not offer the second driver a chance of a comfortable nap before getting behind the wheel.
Reservations
Visit any Tesla fan blog or website and they are all gushing about the Semi with just over a few hundred announced, over-priced, reservations. Their most serious competition, Nikola, had to stop taking reservations at 8,000.
One has to wonder what Tesla's real intention was when we compare their Semi reservation pricing, raised from $5,000, to the now required $20,000, to Nikola which only required $1,500 for a fully refundable reservation on your choice of a Nikola One or Two.
No doubt the lack of a charging network, higher priced reservations, and unproven performance figures are restricting Tesla's reservation counts. No word has been released yet from Tesla on how many reservations will be needed for the program to move forward. But with a maximum of $55 million in future sales with 100% conversion to orders, it seems doubtful Tesla can move forward at this time. In contrast, Nikola has in excess of $2.4 billion in future orders and is moving full steam ahead on its new manufacturing facility and testing program.
Conclusion
Tesla is not going to be alone in the Semi EV market. Getting all excited about a few hundred reservations is setting yourself up for disappointment. Dreams of billions in Semi sales are premature or irrational at this time. While Tesla may have been successful in securing a couple million dollars in reservation fees, they have a long way to go before this truck has any chance of deliveries.
With Tesla's cash burn rate they need to be focusing all of their energy and resources to getting the Model 3 line up to full speed. Any deviation from this focus could bring down this entire house of cards.