Retail sales are running at record levels - this week November retail sales surged to around 6% annual growth.
Pundits continue to rejoice in the improving retail sales pointing to an improving economy. But consider this: inflation adjusted retail sales per capita is barely at the levels seen before the Great Recession (blue line in graph below).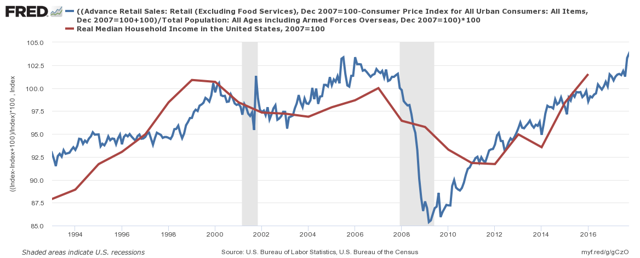 The per capital retail spending curve roughly approximates median household income (red line in graph above). Most of the middle and lower classes spend all they make. My point is that retail sales is limited by population and their income.
However, the noteworthy aspect of retail is the contraction of the retail workforce (red line in graph below) all while inflation adjusted retail sales(blue line in graph below) continues to expand into record territory.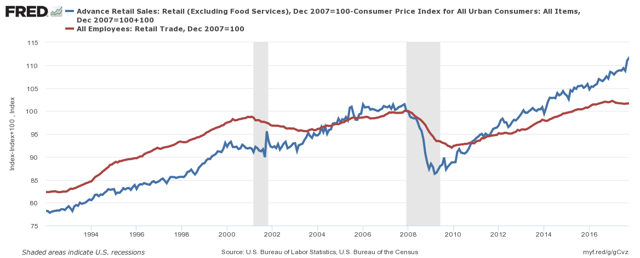 Another way to look at the data in the graph above is the rate of year-over-year growth where the difference is more apparent.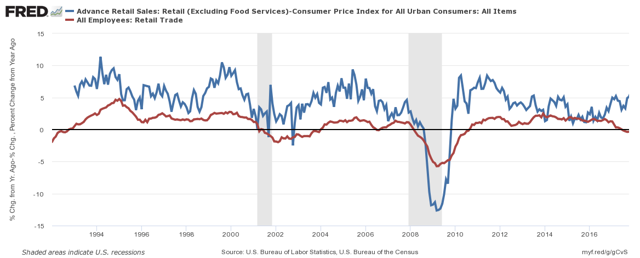 Many blame the shakeup on Amazon's (NASDAQ:AMZN) presence in the retail marketplace. Of course, their e-commerce model coupled with their automation / robotics adoption is putting pricing pressures on the entire retail industry. View the below video authored by Amazon Robotics.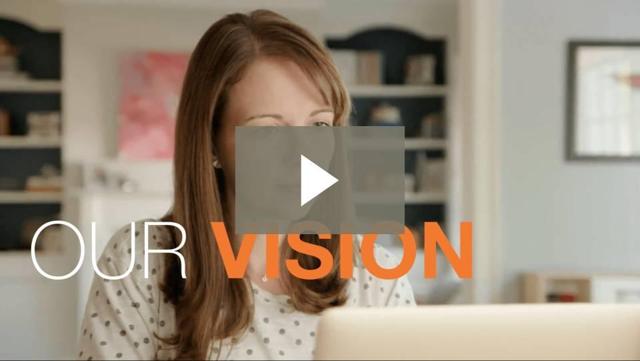 Productivity and cost control is mission one in the retail sector which employs roughly one out of ten people. Players in retail lagging in the automation and cost control process will be the losers. It is not science fiction to think that the retail sector could lose half of its employees in the next five years due to automation - and that is equal to the last three years of annual non-farm employment growth.
Many say they won't do business with Amazon because they are driving the little person out of business. My dad would not do business with Sears (NASDAQ: SHLD) during the 1960s because they were driving the little person out of business. How things change.
My usual weekly wrap is in my instablog.
Disclosure: I/we have no positions in any stocks mentioned, and no plans to initiate any positions within the next 72 hours.
I wrote this article myself, and it expresses my own opinions. I am not receiving compensation for it. I have no business relationship with any company whose stock is mentioned in this article.