I wrote an article on gold (NYSE:GLD) recently where I stated that risk remained firmly in this market and that a trip down to $1,200 an ounce was definitely a possibility. Well the GLD gold ETF for example used the FOMC meeting this week to at least temporarily print a bottom. We saw the same bottoming behavior on the 12th of this month across both silver (NYSE:SLV) and the miners (NYSE:GDX). What was interesting though was that the junior miners (NYSE:GDXJ) bottomed earlier than the rest of the complex - the week before in fact on the 7th. Furthermore the juniors used the FOMC meeting this week to enhance its gains. The juniors ETF is already up almost 4% since the 7th of this month and looks like it wants to increase those gains.

The million dollar question now is whether we have seen a hard bottom in the precious metals complex. The odds look favorable especially considering the length of the last daily cycle. On the gold chart for example, the last daily cycle bottom occurred in early October. This means that this cycle is already over 2 months in duration which means the bottom is more than likely in. Gold stopped to pretty oversold conditions at the start of this month and considering the length of the October cycle, the bottom looks to be more than likely in.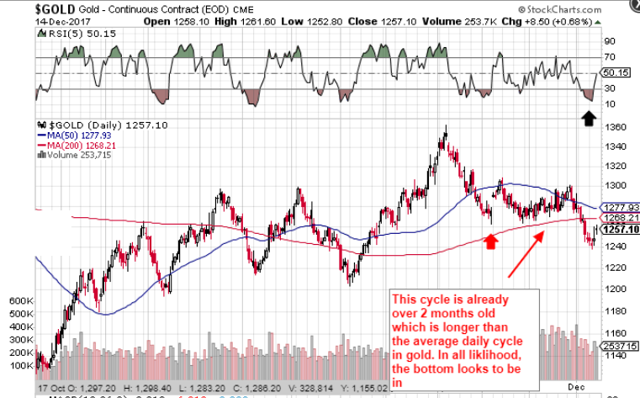 In the article I wrote recently, I stated that $1,200 gold remained firmly in the cards because long term sentiment was still very elevated at the time. Well as the up to date chart illustrates below, sentiment dropped sharply over the past week or so to similar levels we saw last June/July when gold put in its last intermediate low. In fact, in the summer, sentiment dropped to 36 whereas this week we saw sentiment in gold drop to 38. So from a sentiment standpoint, gold definitely fulfilled the requirement for an intermediate cycle low.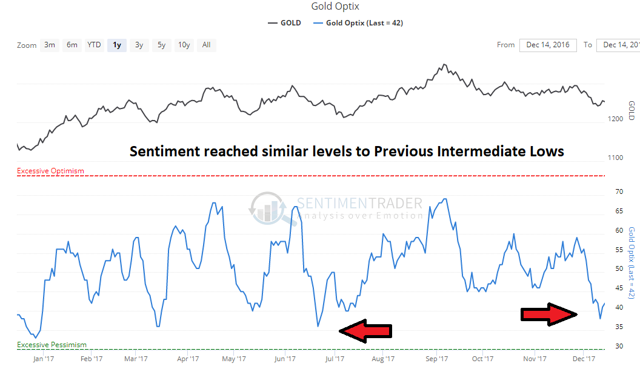 Source : Sentimentrader.com
Bulls shouldn't forget that we are still very oversold on the long term charts. For example, the weekly stochastics still look way oversold and have a long way to rally before becoming overbought once more. I'm banking there will be at least a $100 move in the price of gold before the weekly stochastics return to overbought conditions once more. A $100 move in a standalone ETF like GLD or SLV may result in returns around 5% as entering and exiting at exact bottoms and tops is extremely difficult. However, leveraged ETFs (with the use of hard stops) can be excellent trading vehicles in set-ups such as these assuming that risk management is absolutely key.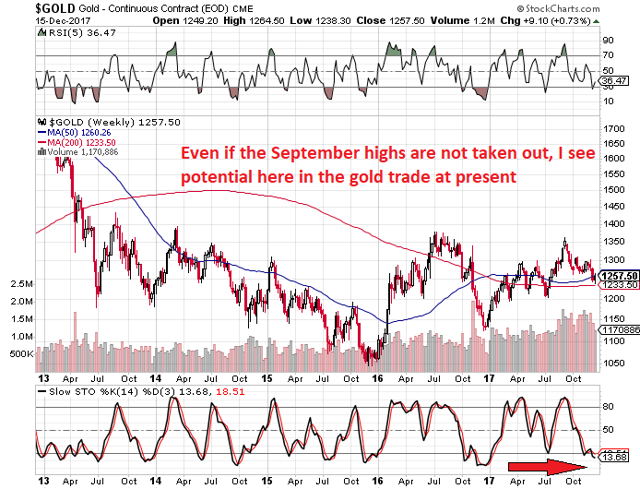 As traders, we need to keep on putting ourselves in positions where the reward outweighs the risk. I like that precious metals continued to rally today despite dollar strength. Let's see if these FOMC lows can hold.