It was the best of times, it was the worst of times, it was the age of wisdom, it was the age of foolishness, it was the epoch of belief, it was the epoch of incredulity, it was the season of Light, it was the season of Darkness, it was the spring of hope, it was the winter of despair.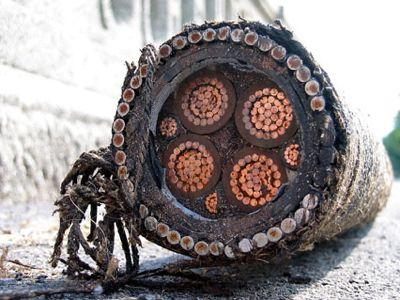 After decades of steady returns and growth, these days the telecom industry seems mired in the worst of times of the industry's long history. Values for many companies have fallen significantly, at least for the more pure-play networking companies such as CenturyLink (CTL), Windstream (WIN), and Frontier (FTR). The effects of the sector decline for Verizon (VZ) and AT&T (T) have been felt somewhat more lightly, thanks to their strategic investments in wireless services. But growth in wireless is fading as the industry matures, and even the telecom giants have been seeking gains by vertically integrating into media, advertising, and content business models.
Still, the wireline business units continue to hurt, and management teams are actively looking for paths back to profitability and growth in these segments. After all, without enhancements to the core wire network, the wireless networks which depend on them, and media content that rides on top of both, won't be able to grow to scale to meet market demands.
The recent few years have seen consolidation by companies in an effort to create scale, but with much less effectiveness in organically growing income for their wireline assets. Business revenues continue to fall and competition has gotten cut throat for many markets. Laying cable is inherently expensive, profit margins are thin and getting thinner, and competition challenges for network reliability and growth are forcing telecom companies into corners they are not used to having to fight out of. So, what should the industry investment model for wireline networks be?
In response to an article I wrote recently on the very early stages of turnaround at CenturyLink (CenturyLink's Turnaround Is Just Getting Started), a reader asked me a question about CAPEX and free cash flow and what the targets should be for the newly defined company. Frankly, I found that a hard question to answer.
CenturyLink doesn't provide strong guidance in general, or to these questions, in the 3Q 2017 earnings release (or anywhere else that I could find). In fact, the CFO as much as admitted the company was exploring the merger with Level 3 (NASDAQ:LVLT) to figure out what its new CAPEX targets should be. So as any intrepid Seeking Alpha author does, I went researching for an answer not only for my reader but also for myself and our community of telecom investors.
I found the study to be pretty interesting and further think the topic of debate is central to the growth of the wireline telecom industry in the United States, but also in other markets as well. It seems that international results are not much better than the US and have some challenges in common. For the Internet and online commerce to reach heights consumers are demanding, solving the investment return of wireline networks remains the central dilemma.
For the study, as you might have guessed, I reviewed the three mid-tier telecoms mentioned above over a three-year period of time. I did not study Verizon and AT&T because parsing out wireline related free cash flow and other metrics from their financials would take a level of mental gymnastics I wasn't willing to endure. Besides, there is enough data here to start the study and have a fruitful discussion.
CAPEX Estimation Problems
The first order of business was trying to determine what the "target" rate of CAPEX spend should be for a wireline telecom company. I found it very hard to answer this question quantitatively. First, most companies don't typically report metrics on rates of return on capital expenditures for each of their business units to allow us to make quick calculations. And even further, comments from industry pundits and company management led me to believe while they know internally what their returns on CAPEX are for their business units in past periods, they have no systematic way of engineering future gains using these numbers even though they have probably tried many times. The two main reasons are lack of consistent returns due to a moving market and further internal issues in linking CAPEX spend to the business objectives.
As it turns out, research has shown that CAPEX spending is driven by the engineers and technical guidelines and not by the product development or business teams. Comments from industry insiders include:
There is a lack of planning between the business teams and the IT delivery team. We don't take sufficient account of unknowns. Commissioning departments typically understate the scope of what they want to do (because they don't know how to specify correctly) and then there are always cost overruns, which means the numbers always look bad.
This has, according to Big 4 accounting firm PwC, led to problems with managing CAPEX spend appropriate for the business:
In our company there has always been the attitude 'If we build it they will come' but my view is that if we build the wrong thing, in the wrong place, at the wrong price, they won't come! We often don't understand the market correctly - customer demand, customer needs, what customers will pay. Fixed line capex is always technology driven and we need a more commercial approach feeding in to these decisions.
The result is that CAPEX spend is usually too high and results in wasted resources, according to PwC.
Telecom operators know they have a problem controlling their capital expenditure (CAPEX). According to a PwC survey telecoms operators indicated that they could be wasting up to 20% or $65 billion/year in capex.
PwC notes that CAPEX planning is focused on subscriber numbers, revenue, EBITDA, and cash. The problem with this approach, as Big 4 accounting firm EY notes, is that "operators have lost control of consumer spend. The real control now is with app stores and device players."
The goal then, according to PwC, should be to tie decision making to "post capital returns." Further, PwC asserts that "baseline CAPEX is set with reference to post-capital profitability of services, segments, tariffs, and territories."
Measuring CAPEX Spend Effects
To test the research put forth above, I graphed out three years' worth of incremental values for revenue and CAPEX.

I have further graphed the ratios of incremental revenue change over those of CAPEX for the three companies to show the trends.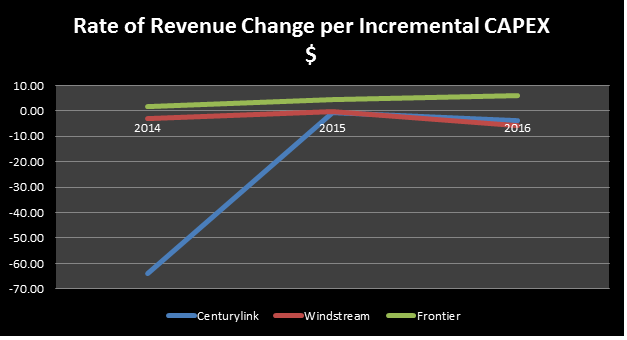 Frontier seems to be the winner, with the only consistent positive growth ratio of the three.
The data shows, however, that simply increasing CAPEX YoY does not lead to comparative increases in revenues. *Note: Frontier's methods for increasing revenues will be challenged in more depth in a future article.
Further, I examined the change in capital (new stock and debt issuance) against the corresponding change in CAPEX to determine how effective the companies are at managing their balance sheets while increasing network expansion and to gauge how CAPEX spend correlates to financial structuring.
The Good, the Bad, and The Ugly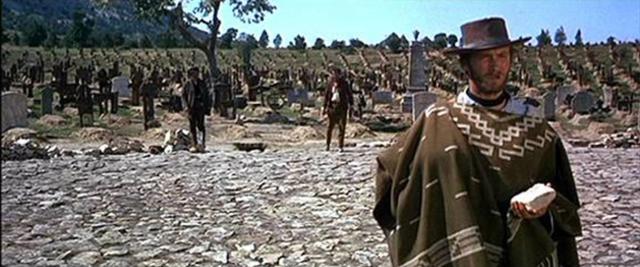 *Note: All numbers sourced from Yahoo Finance, Nasdaq, and selected company earnings reports.



The Good: CenturyLink steadily managed its CAPEX spend while working to improve its financial picture.
The Bad: Windstream took on additional debt and issued additional stock to finance expansion, but did not significantly allocate a corresponding amount of CAPEX in the process to grow the business.
The Ugly - Frontier blew up its balance sheet in rapid expansion (mostly by purchasing Verizon's CTF assets), but did not appear to allocate a corresponding amount of new money to CAPEX to improve its newly acquired assets.
Of the three, only CenturyLink appears to have smartly managed its financials while managing expansion.
To answer the second reader question about cash flow, I put together some very simple valuation metrics for the three companies.

Frontier had to significantly reduce cash reserves in the process of acquiring CTF assets from Verizon. It has maintained some ability to pay bills, but is somewhat weaker than its industry peers. It kept dividends strong despite the financial weakness, which is why many speculate the dividend will have to be cut soon to pay for operations, much like Windstream has already done in 2017.

Windstream has decreased and in 2017 canceled its dividend which has allowed it to boost its cash balance and ability to pay debts. It still lags behind CenturyLink in short-term financial solvency while also removing a key benefit of stock ownership to investors, primarily due to missing targets on past expansion plans.

CenturyLink has allocated a steady amount of money to dividends while increasing stored cash levels and increasing its ability to pay coming bills. This represents sound financial management with an eye on the future.
The clear winner in short-term financial management is CenturyLink of the three.
Final Thoughts
In a declining revenue environment, the three companies took different approaches. Each has expanded by acquisition in the last few years, some with much better results than others. Expansion plans haven't solved the previous business conundrums faced by the industry. *Note - The CenturyLink/Level 3 merger will be discussed in more extensive detail in an upcoming article.
Over the past week, my analysis has provided me a lot of data that will be shared with readers. My next article will focus on performance in 2017 by projecting the expected year-end results for these companies. Further, I will provide my rationale for which of these companies are worthy of investment into 2018, and what hurdles those companies need to overcome to provide investors the returns they are craving. For example, I will discuss current cost containment initiatives and how opportunities to manage investment dollars are not being adequately addressed by management teams. Lastly, I will challenge some of the typical valuation metrics that investors use in the industry and outline what changes investors should consider when forecasting future results in telecom.
Disclosure: I/we have no positions in any stocks mentioned, and no plans to initiate any positions within the next 72 hours. I wrote this article myself, and it expresses my own opinions. I am not receiving compensation for it (other than from Seeking Alpha). I have no business relationship with any company whose stock is mentioned in this article.