"A pessimist sees the difficulty in every opportunity; an optimist sees the opportunity in every difficulty." ……. Winston Churchill

Here we are, mid December approaching the end of what has been a record setting year for the S&P 500. It's been the same theme here week after week. As long as the major U.S. indices remain in their long term uptrend channels, and as long as U.S. economic data isn't foretelling recession, there's no reason to try and out think the situation and lighten up on stocks.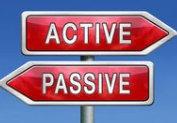 There has been plenty of ongoing discussions of active versus passive investment management. ETFs and Index Fund companies have surfaced stating their case for why this is the best way to manage your money. As of mid year 2017, statistics reveal more than one third of all assets in the United States are invested passively, up from one fifth ten years ago. The reason, it's a common view that active money managers constantly underperform the indexes. Their fees account for a large part of that underperformance, but there are other reasons.

For sure many active managers don't keep up with the averages in an environment where market leadership narrows. That is when fewer stocks are outperforming the indices. The majority of active managers are under strict fiduciary rules governing diversity of investments. That holds true for the stock portion of the total portfolio under management. Stands to reason those diversified underperformers in an individual's holdings will negatively impact the results. Therefore, broader markets where many stocks are outperforming tends to improve active management performance. Before discussing how an active money manager can overcome this, let's first turn to the passive side of investing that is becoming more popular.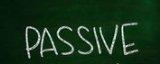 When discussing passive investing the conclusion often reached is that passive investments do tend to outperform the corresponding active side of the ledger. One thing that is usually omitted though is what passive investment should be in a portfolio and the timing of adding such investment. That alone should tell us that passive investing is not an autopilot system that will guarantee better results.
The entire premise of success lies in the belief that investors should hold passive investments for the long term. This sounds like solid advice but in reality is a bit unrealistic. Holding for the long term can sound prudent, but timing remains critical. The current argument about passive versus active doesn't seem to acknowledge that point. Of course investors that are poor at timing will have a difficult time achieving superior results whether they are active or passive. Yes, regardless of what some may say, timing is indeed part of the investment process.

When it comes to a discussion in this type of forum, which comprises a diverse audience, the same caveat applies to any investment strategy That is, it all depends on an investor's personal situation, and I will also add what their internal makeup is all about. Everyone is different. When I write these articles I relay my investment style and preferences, while cautioning that they may not be for everyone. As a money manager I have a strong lean to the active side. The primary advantages of active investing are flexibility, the ability to benefit from strong security selection skills.

Someone who is on that side of the ledger has to be willing to take more macro risk and are simultaneously willing to take more stock selection risk. I mentioned that an individual's personality traits as being an important factor when deciding how to proceed. Investors choosing the active route, but are more risk averse, should not expect long term out performance while navigating the markets. The two just do not mesh well.

I tailor my active approach by concentrating the bulk of my investment risk on the macro picture. That includes both fundamental and technical views. After that, the remainder of risk goes into the stock selection process. It's simple: if one has not established the macro scene and the prevailing trend, and put their conviction in that, then both the investor and individual stock selection will have a hard time performing, never mind outperforming.

A couple of points to be made. First, an investor need not become obsessed with outperforming anything. It's fine to have goals but it's also a marriage with being comfortable and content with your process. Trying to outshine everyone leads to unnecessary adjustments that always seem to come at the wrong time. One need only go back to the last two to three weeks. If your portfolio was outperforming significantly heading into Thanksgiving, odds are that you haven't seen very good returns since Thanksgiving, and vice versa if you had underperformed. The leaders have lagged, and the laggards have led.
Therefore, anyone obsessed with beating the averages may then decide to start making those untimely, unnecessary adjustments. Investors always need to look for ways to improve, and my advice is they should look at themselves first. Assess what they are doing. Go over mistakes and learn from them, see what has worked and why.


Second, both active and passive management styles do have a home in investors' portfolios. Market participants can achieve a balance that fits their situation and personality. Any market participant has the ability to choose just how active they need or want to be if they decide to employ that as part of their plan. As with many aspects of investing money, there aren't many defined rules on how to proceed. Therefore, it isn't necessary to wonder if it's being done by the book; the results will act as a guide.


Economy
Markit Flash Composite PMI report painted a mixed picture coming in at a nine month low. Robust Manufacturing results were offset any slowdown in the Services sector. The report internals reveal the Manufacturing sector at an eleventh month high, while Business Services is at a 15 month low.
Empire Manufacturing headline report slipped to 18.0 in December from 19.4 in November. Firms remained optimistic about the six-month outlook, though to a somewhat lesser extent than in November. The index for future business conditions fell three points to 46.6, after advancing to its highest level in several years last month.
People are still searching for a recession. Any sign, any sniff of an issue is highlighted. It's embedded in their minds that this economic cycle is too long. Fortunately for anyone that is bullish, the weight of the evidence shows just the opposite.
History has shown that a manufacturing peak does not mean imminent recession. The economy & financial markets have exhibited strength despite the manufacturing trend reversal, which has typically provided opportunity for diversified investors.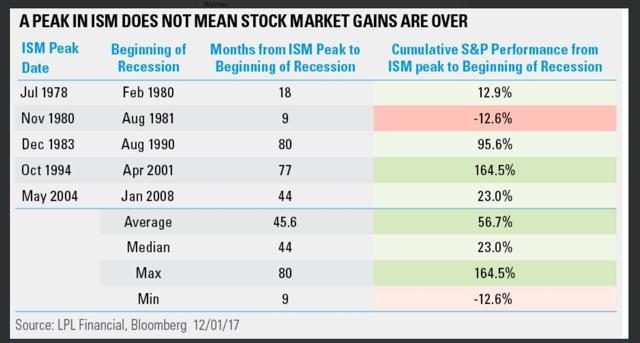 It's an article of faith in markets and economics that the yield curve is an excellent signal of recession. As shown in the chart below, the 2's/10's yield curve has inverted prior to each of the last three recessions, signaling the end of the economic expansion.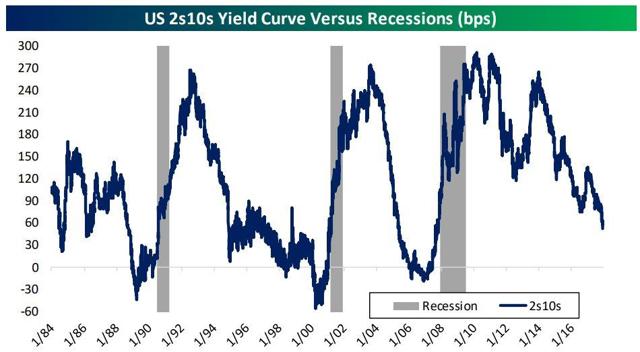 Source: Bespoke

Not so fast; don't jump to conclusions and change strategies overnight. In each case there was a lag between the point where the curve inverted for the first time and when the expansion ended, totaling at least 18 months and lasting as long as 3 years. We saw that in the case of the 1990's expansion.

In other words, the yield curve is a leading indicator of recession, not a coincident indicator of recession. From an investing point of view, selling equities in 1998 to avoid the early 2000's recession would have been a huge mistake, with the S&P 500 not peaking until gains of more than 38% over March 1998 levels. That is the blow off phase I often refer to that typically ends bull markets.


The chart shows that the real signal of a pending recession is a sudden re-steepening of the curve. As shown in the table above, the date of a return to positive yield curve slope was always much closer to the start of a recession and typically closer to (though after) the peak for equity markets than the date of inversion. Keep this in mind if the yield curve continues towards inversion on its current trend.
An inversion should make us wary, but it's probably not a sign a recession is underway. That's leaving aside normal flattening of the yield curve like what we've experienced over the past year or so, which is not an indicator of recession at all.


Retail sales rose by 0.8% beating expectations, sales ex-autos rose by 1% doubling the forecasts. That is three straight months of strong results. December data reveals a new all time high in retail sales.

Chart courtesy Urban Carmel, Data Source Federal Reserve Economic Database.
The consumer appears to be on solid footing. Need more evidence that there is no recession on the horizon?
Add in a ten year high in home sales, a 3 year high in manufacturing growth and a 40+ year low in unemployment claims. Keep this information in mind when the recession talk surfaces because of the yield curve warnings. Those data points are not indicative of a looming recession.



Consumers have surely de-leveraged since the financial crisis. As of the third quarter, household leverage (debt to net worth) fell back to lows rarely seen.


Source: Federal Reserve Economic Database

Urban Carmel recently posted this graphic on household debt.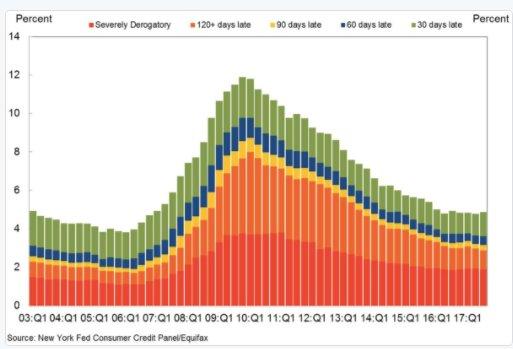 Third quarter aggregate household debt delinquency remains low at 4.9%.

Scott Grannis tells us household net worth as of Sept. 30 was almost $97 trillion, having risen $7.2 trillion over the past year (+8%). While that was happening, Scott also confirms that household leverage (total debt as a % of total assets) has declined by fully one-third since its Q1/09 high. Leverage is now back to the levels which prevailed during the boom times of the mid-80's and 90's.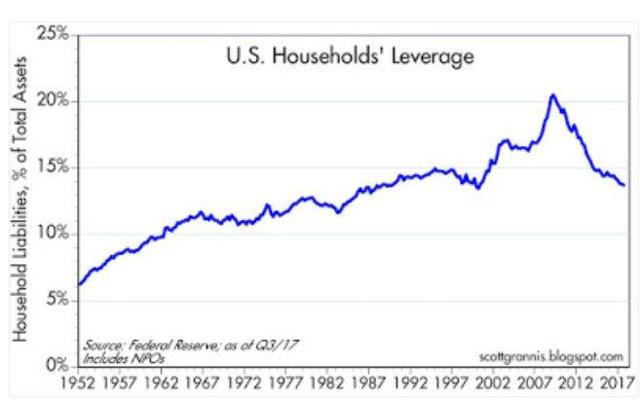 Chart courtesy of Scott Grannis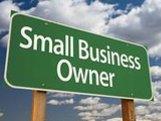 Small business optimism for November came in near record highs. That should come as no surprise since it appears Washington is one step closer to lowering corporate taxes. NFIB President and CEO Juanita Duggan:

"We haven't seen this kind of optimism in 34 years, and we've seen it only once in the 44 years that NFIB has been conducting this research. Small business owners are exuberant about the economy, and they are ready to lead the U.S. economy in a period of robust growth."

It has been a while since I saw the words exuberant and economy in the same sentence. In each month's report, respondents are asked what the number one issue they face in their business. Taxes is the number one problem facing small business owners, but that will likely start to abate once/if Congress passes their current tax reform package. Behind taxes, business owners continue to have problems finding qualified candidates to fill job openings.


The latest JOLTS report revealed October job openings fell 181k to 5,996k in October following the 87k gain to 6,177k in September. Hirings surged 232k to 5,552k after falling 100k in September to 5,320k. The data continue to show a tight labor market, with job openings not far from their record high of 6,140k in July.


Global Economy

IHS Markit has released their view on the global economy and reports that they see GDP growth of 3.2% for 2018. Nariman Behravesh, chief economist at IHS Markit:

"The global economy finally broke through the doldrums in 2017 and the stage is set for continued solid growth in 2018."


Markit Flash Composite PMI for the Eurozone is at an 82 month high, with the index being reported at 58 versus the prior read of 57.5. Manufacturing is the leading component of the report coming in at 62, a 212 month high.

Both Germany and France were huge contributors to the positive results. German Manufacturing PMI showed growth at the fastest pace in six and a half years. While France showed a 2 month low in their composite report, their manufacturing PMI is at a 208 month high rising to 62.8 versus the November result of 59.9.


China Retail Sales remained steady being reported at a 10.2% year over year gain in November.


Japan added to the improvement in the global picture as Flash Manufacturing PMI is at a 46 month high. The index rose to 54.2 versus the November reading of 53.6.


U.K. retails sales as compared to October results rose 1.1% in November, exceeding expectations. Year on year growth rate shows the quantity bought increased by 1.6%.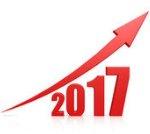 FactSet Research weekly update:

For Q4 2017, the estimated earnings growth rate for the S&P 500 is 10.6%. All eleven sectors are expected to report earnings growth for the quarter, led by the energy sector.

If the energy sector were excluded, the estimated earnings growth rate for the remaining ten sectors would fall to 8.4% from 10.6%

The estimated year-over-year revenue growth rate for Q4 2017 is 6.6%. All eleven sectors are expected to report year-over-year growth in revenues. Three sectors are predicted to report double-digit growth in revenues: energy, materials, and information technology

The forward 12-month P/E ratio for the S&P 500 is 18.3. This P/E ratio is above the 5-year average (15.8) and above the 10-year average (14.2).

In terms of estimate revisions, analysts have made smaller cuts than average to earnings estimates for companies in the S&P 500 for Q4 2017 to date. On a per-share basis, estimated earnings for the fourth quarter have fallen by 0.6% since September 30. This percentage decline is smaller than the trailing 5-year average (-3.3%) and the trailing 10- year average (-4.3%) for the first two months of a quarter.

Looking at future quarters, analysts currently project earnings growth to continue at double-digit levels through 2018.


The Political Scene

The financial media's done little to effectively analyze tax reform and tends to replay comments by political partisans totally divided on whether the wealthy or the middle class will be helped or hurt. All of that is noise. There is no plan that can be devised on this topic that will be a panacea for ALL. It isn't possible.

The critics point to the proposed plan as having the possibility of not living up to what the creators of the legislation are selling. Newsflash: IF that is the case, IT IS NOT the first time it happens that way, and it won't be the last. Can we start hearing commentary from adults now?

Speaking strictly to the impact on equity prices, the proposed 20-22% corporate tax rate is key. Corporate overseas money will be repatriated back here to the U.S. at a low tax rate. That is all one needs to know and be concerned about if they are managing their equity portfolios.


The Fed

The rate hike announced this past week was telegraphed to the markets well in advance, and so the equity markets did not flinch. The fed funds rate now stands at 1.50%. Given the historically low level that rates are at, it is no time to believe they materially impact equity prices right now. It is way too early to start talking about three, four or who knows how many increases that will occur next year. No one knows, not even the Fed themselves. Therefore, to fret over it or debate that now is a waste of time and energy.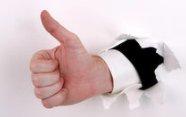 Sentiment

Investors are definitely in a holiday mood. Perhaps they are now paying attention to the positive headlines. Whatever the case, according to this week's sentiment poll from the American Association of Individual Investors, bullish sentiment increased from 36.9% up to 45%. The largest jump in the weekly reports in three months. Bearish sentiment declined by 6.1% this week falling from 34.2% down to 28.1%. That's the lowest weekly print for bearish sentiment in just over a month, but nowhere near the lowest levels of the year.



Crude Oil
The weekly inventory report was published showing a decrease of 5.1 million barrels. Gasoline inventories increased again, this time by 5.7 million barrels, offsetting the draw in crude oil. The report was met with little reaction. WTI closed Friday at $57.30, down $0.03 for the week.



The Technical Picture

Talking about market breadth has become a broken record lately as the data continue to look positive. The cumulative A/D line, which takes the difference between the number of advancing and declining issues each day, then adding the result to the previous day's value, remains solid. In a healthy market, you want to see breadth either tracking or leading price, while periods where breadth lags and diverges from price is a red flag.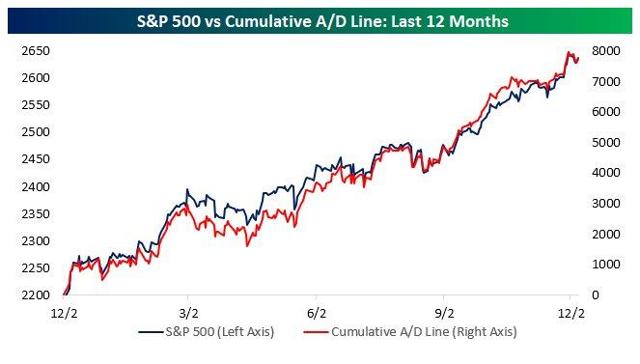 Source: Bespoke
The two lines showing the S&P and the A/D trend depicted in the chart are joined at the hip, rising in unison. Market breadth couldn't be more healthy.

At the current level of 91.7%, the percentage of groups above their respective 50 day moving averages is currently not only right near its highs for the year, but also near its highs of the bull market.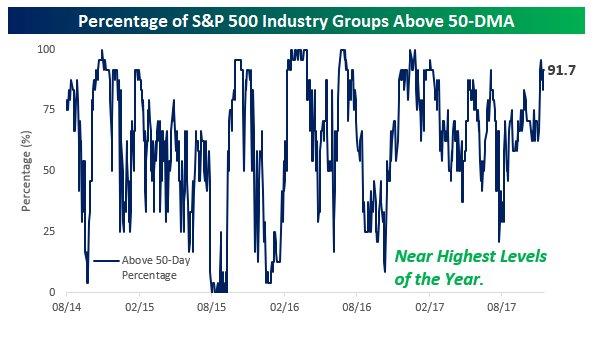 Source: Bespoke

We should see a reversion in these results just like we have seen in the past. Rest assured when that starts to take place the naysayers will remind us that breadth is weakening, and to lighten up on stock exposure. While that may show up in overall weakness in stock prices as it did in August, that was also a time to take advantage and be a buyer of equities.



The week began with new highs in the S&P 500 and the Dow 30, and that strength continued with the Nasdaq Composite joining the party with a new closing high on Friday.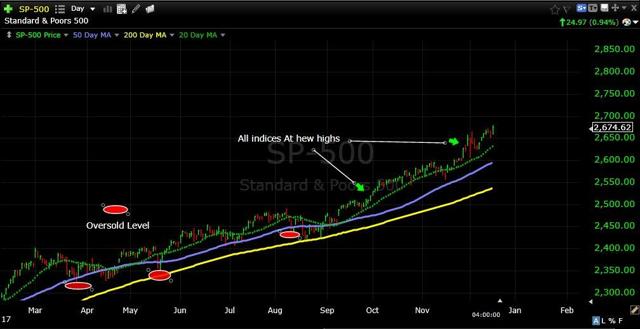 Chart courtesy of FreeStockCharts.com
The S&P daily chart indicates how prices have followed the very short term moving average (green line) to new highs. Prices are somewhat extended now and a pullback to at least test that support (2630) would come as no surprise. Resistance pivot points were all taken out this week.

The 2646- 2656 level was an area that I thought would be strong resistance. It was taken out easily this week. A formula I use reveals a new target which will also become new resistance at S&P 2715. Short term support moves up to 2625-2630. Then 2600.


Individual Stocks and Sectors

Kulicke and Soffa (KLIC), a semiconductor stock is highlighted this week. On the fundamental side the company recently beat both top and bottom line estimates, and raised forward guidance. That's five straight quarters where the company has raised guidance. From a technical perspective one couldn't ask for a better setup. A well deserved fundamental breakout to new highs, followed by a successful retest back to the breakout level. Finally, it is in a hot sector, semiconductors. At these prices ($24) the stock will be in my playbook for 2018, which will be released on December 30th.

Cisco Systems (CSCO) and Las Vegas Sands (LVS) have acted well since being highlighted here; both hit new highs this week. No reason to make any changes, other than to add on weakness. Both look to go much higher.


Last week a reader mentioned the commodity sector being inexpensive, I looked around and found an ETF that peaked my interest: the Select PowerShares ETF (DBB). There has been some short term weakness lately, but the weekly and monthly charts show the uptrend intact. A breakout at $17 occurred in July, and a retest may be in the offing. With shares at $18 it is in the ballpark to consider research into what would be an intermediate term holding. The ETF is up about 19% this year off the lows and has embarked on a bull market of its own. A break above $19 would more than likely set the stage for a run to the $25 level, or about 28% from here. If the analysts are correct, the materials sector will post solid revenue growth next year.


The banking sector as measured by the Select Financial ETF (XLF) rolled to a new high again this week. The group has been the beneficiary of the money rotating out of the momentum names in the last two weeks. The macro view paints a picture of a group that has been out of favor and under owned for the better part of ten years. Now is their time to revert back to being over owned by the large institutions, and that process is currently underway and has more time to go.
In the near term the sector is extended. If one is a bit more active in their approach it may be a good time to harvest some gains especially if one is overweight the sector. I will be doing just that as I have some macro ideas for 2018. Long term passive folks need do nothing, as the sector will do well going forward.
For those that look to invest overseas, here is an article that caught my eye: the European Dividend Aristocrats.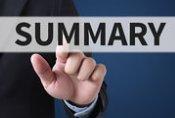 The topic of active versus passive was brought up this week as a preview to what 2018 might offer to market participants. As subtle changes take place while the secular bull market unfolds, I do see a few more benefits that may come with being more active. Many correlations that have existed in the past may not work as well. Wider sector dispersion will bode well for active styles. The spread between the outperforming sectors and the underperformers is extremely wide. We have already seen that stocks aren't like lemmings especially when we look at the results posted in 2017.

Many analysts including myself are putting together their outlook for 2018. The first thing we must ALL remember is that we are turning the page on a calendar, nothing more. Just because we will be looking at this new number when we date a check doesn't mean there will come immediate changes. The dominant trend in place remains, and it won't necessarily change because the calendar has.

Keeping it simple, indices have indeed remained in their up trends with a new momentum signal generated in November. As shown earlier there is no reason to believe we are on the cusp of a recession anytime soon. In short, the equity markets strong momentum is unlikely to end abruptly. Any surprising interim weakness is likely to be a buying opportunity. Those words have been heard here before but that is the story being sent by the economy and the price action of the equity market; there is no need to ignore it now.


At the moment all is calm on the political front, and anyone who is bullish would like it to stay that way. The preference is to let the global economic data remain in focus, but then again what we want as investors rarely happens. Just another stumbling block when managing money. There are some signs that a pullback in stocks is around the corner now and quite frankly it should be expected. A decent probability that the S&P will experience a reversion that should take the S&P back to a more neutral stance exists now, and my guess would be the 100 point S&P drop I have mentioned before. However, because of seasonality I expect new highs to continue first. Long term investors need do nothing but take advantage of sector rotation while staying the course.



May everyone step back, reflect, and take some time out to enjoy the holiday season with family and friends.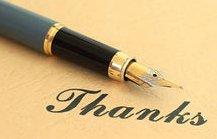 to all of the readers that contribute to this forum to make these articles a better experience for all.

Best of Luck to All!
Disclosure: I am/we are long KLIC,CSCO,LVS. I wrote this article myself, and it expresses my own opinions. I am not receiving compensation for it (other than from Seeking Alpha). I have no business relationship with any company whose stock is mentioned in this article.
Additional disclosure: This article contain my views of the equity market and what positioning is comfortable for me. Of course, it can't be for everyone, there are far too many variables. Hopefully it sparks ideas, adds some common sense to the intricate investing process, and makes investors feel more calm, putting them in control.

The opinions rendered here, are just that – opinions – and along with positions can change at any time.
As always I encourage readers to use common sense when it comes to managing any ideas that I decide to share with the community. Nowhere is it implied that any stock should be bought and put away until you die. Periodic reviews are mandatory to adjust to changes in the macro backdrop that will take place over time.