This week begins with a new format, leading with the notable earnings, followed by government report, then the news stories that stood out for the week and rounded out with what it all means. I did this because it seemed that having the news and reports separated by the earnings from the "what it all means" section did not flow properly. We hope the new format will work for readers.
Coverage of the tax reform bill that looks like it will pass Congress, possibly as early as this coming week, is included in this article near the bottom as it leads into the last section best. In that discussion, we will cover primarily the main pieces of the legislation most likely to impact investing decisions. We may elaborate on more of the other pieces of the bill and dig deeper into the details next week if it does, in fact, pass Congress and gets signed into law.
Notable Earnings
I use the NASDAQ.com earnings calendar as the source for which companies reported during the week.
It was a slow week on the earnings front with few widely held companies reporting this late in the quarter.
Adobe Systems (ADBE) beat the consensus forecast by $0.10, reporting EPS of $1.26 (adjusted) and $1.00 on a GAAP (generally accepted accounting principles) basis. Revenue increased by 25% Y/O/Y (year over year).
Costco (COST) also beat on earnings this quarter as the discount retailer reported EPS of $1.45, representing an increase of 16.9% Y/O/Y. Revenues also recorded a strong gain coming in 13.3% above the same period last year.
Oracle (ORCL) shares traded 3.8% lower after meeting consensus earnings estimates at $0.70 per share (adjusted); $0.52 (GAAP). Revenues increased 6.2% Y/O/Y.
Government Reports
Our source for government reports is the economic calendar from econoday.com.
JOLTS (Job Openings and Labor Turnover Survey) recorded a light decline in job openings nationally, from 6.093 million to 5.996 million, as more vacancies were filled in October. With the unemployment rate at 4.1 percent, consistent with full employment, we would expect the job openings to remain at elevated levels. If the tax bill passes it could even rise higher.
The Producer Price Index rose a strong 0.4% in November with the Y/O/Y rate of increase hitting the highest in six years at 3.1%. This would hint at inflationary pressure building in the economy were it not for the fact that most of the increase resulted from increases in energy prices. The wholesale gasoline price was up 15.8%, with fruits up 3.9% and vegetables up 2.4%. If the volatile energy and food are stripped out, the core inflation rose a more manageable 2.4%.
The Consumer Price Index also rose 0.4% in November for the month-over-month reading, 2.2% Y/O/Y. But, again, when we strip out food and energy the core inflation rose a tame 1.7% since last year.
Forecasts from the Federal Reserve coming out from the FMOC (Federal Open Market Committee) meeting this week were as follows: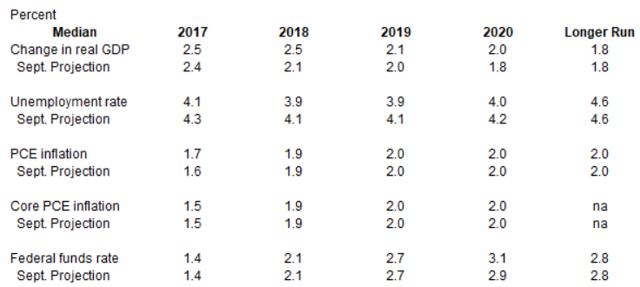 The FMOC decided this week to raise the federal funds rate (overnight bank borrowing rate) by another quarter percent to 1.25 to 1.5% as the final official public act of Chair Janet Yellen prepares to depart.
Retail Sales are coming is strong this holiday season, knocking the socks off the consensus estimate of an increase of 0.3% by hitting 0.8% in November. The increase was relatively consistent across the board with the notable exception of a decrease in auto sales.
The PMI (Purchasing Managers' Index) Flash report exhibited some softness in December, falling to a nine-month low of 53 from a prior reading of 54.6. Manufacturing was stronger, rising from 53.8 to 55.0, but services weakened substantially to 52.4 from 54.7. But one month does not a trend make. We should wait to see what happens next month before making much ado about (perhaps) nothing. Any level above 50 stills represents expansion, it is just the rate that is slowing.
Empire State Manufacturing Survey showed some slack this month falling from a reading of 19.4 to 18.0, in line with consensus expectations. New orders remained strong, but the two areas of weakness were a negative unfilled orders and new order expectations.
Industrial Production rose a scant 0.2% in November as the capacity utilization rate rose only 0.1% to 77.1%. Mining rose offsetting a fall in utility production.
News of the Week
Bitcoin is officially in a bubble! Not just any bubble, but the biggest bubble of all time. It is even a bigger bubble than the Dutch tulip mania of the 17th century. That bubble only went up 50 times over three years while Bitcoin has risen by 64 times over the same period. The bubbles in the stock market of 1929 and 2000 pale by comparison. This will go into the record books, for certain, and it may not be over yet. People are borrowing money to buy Bitcoin. This is not a good omen. The one other certainty is that bubbles never end well. We have no idea when it will burst but bubbles always do.
On the bright side, the technology underlying Bitcoin, the distributed ledger system, is likely to become a disruptive force in many areas of the economy. That is, we believe, where the real long-term value will be created.
Student loan default rate is on the rise. Does this make sense in an economy with extremely low unemployment? It may seem like a small increase, from 11.3% to 11.5%, but it comes at a time when logic tells us that the rate should be falling. The JOLT report mentioned earlier in this article shows that job openings are at enviably high levels. Last week we reported that the national unemployment rate was at full employment level.
Tax Reform Bill
Changes affecting Businesses
Corporate Tax Rate – Currently, the top marginal rate is 35% with several brackets; the new law will have one rate for all of 21%. This change, combined with the change in foreign income treatment and new repatriation rate (these later tow are mentioned below), should reduce the urge of multinationals to retain and defer income earned overseas. Businesses will make decisions in the future about new facilities and jobs based more on actual operation, supply chain and distribution (transportation) costs and less on the tax consequences.
Pass-Through Income – This is business income reported on an individual tax return (sole proprietor, partnerships, LLCs, etc.) Currently taxed at individual rate; still taxed at individual rate but after a 20% deduction on up to $315,000 of business income and with limits relative to wage income (50% maximum) for those earning over the $315,000 threshold. This is not as big a reduction as originally proposed, probably because of the need to reduce the overall cost of the bill. But it could help to encourage small business creation which is a good thing.
Capital Investment in Equipment – Currently, the law allows for a 50% bonus depreciation of short-lived assets and offers small business expensing up to a cap of $500,000; the new rule will allow 100% expensing of short-lived assets for the next five years and increases the cap to $1 million. This could encourage upgrades to equipment of all types, especially technology, and software. It should result in an increase in business investment which would help the economy.
Alternative Minimum Tax – Current law applies a 20% minimum rate on a broadly defined alternative definition of income; AMT for businesses is eliminated under the new law. A simplification that was long overdue; too bad the same was not applied to individuals.
Tax Treatment of Interest – Current law allows full deduction of interest paid; the new law will place limits on how much of net income can be deducted: 30% of (EBITDA) for four years, then capped at 30% on EBIT after that. This could discourage U.S. corporations from relying on debt excessively, especially as interest rates rise into the future. It also seems as though this was introduced in order to reduce the negative impact on the budget.
Net Operating Loss Carry Treatment – Current law allows losses to be carried back against two years of income and 20 years forward with no limit; new law will eliminate the loss carry back provision but provide infinite loss carry forward but limited to 80% of taxable income in a given year. We would not be surprised to see a lot of write-offs in 2017 to take advantage of the last year of loss carry backs that will be available for those companies with profits. The net result would be lower taxes paid in 2017.
Foreign Income Tax – Currently, the corporate tax rate is applied to worldwide income of U.S. corporations but only if the money comes home, if it stays abroad, it can be deferred indefinitely; the new tax law would adopt a territorial tax system with anti-abuse rules that scale up from 5% in year one, 10% through 2025 and 12.5% thereafter. We believe that this later rule may be an attempt to discourage transfers of intellectual properties to foreign subsidiaries when then, in turn, charge the parent company royalties on all applicable products sold. This has been used by many U.S. multinationals to move income from the U.S. and other high-tax countries to lower tax jurisdictions, often after having negotiated special rates of tax for the subsidiary.
Repatriation – Currently, there is no provision for repatriation of assets from overseas as such assets are taxed at the standard rates; the new law would allow repatriation of deferred foreign profits at a rate of 15.5% for cash assets. We are not sure if this rate is low enough to encourage the massive amounts of cash sitting overseas. And since it is not a one-time allowance, but is continuous, companies will repatriate cash when needed for domestic uses.
Changes Affecting Individuals
Tax Rates and Brackets – See table below (all rates are for Married filing Joint Returns; for Singles and Head of Household rates see this link):
| | | | |
| --- | --- | --- | --- |
| Current Rate | Current Income Bracket | New Rate | New Income Bracket |
| 10% | $0 - $19,050 | 10% | $0 - $19,050 |
| 15% | $19,051 - $77,400 | 12% | $19,051 – 77,400 |
| 25% | $77,401 - $156,150 | 22% | $77,401 - $165,000 |
| 28% | $156,151 - $237,950 | 24% | $165,001 - $315,000 |
| 33% | $237,951 - $424,950 | 32% | $315,001 - $400,000 |
| 35% | $424,951 - $480,050 | 35% | $400,001 - $600,000 |
| 39.6% | Over $480,050 | 37% | Over $600,000 |
Standard Deduction – Current law allows a standard deduction of $13,000 (Joint) for those who do not itemize plus a $4,150 deduction per person; the new tax law would increase this to $24,000 but would eliminate the deduction per person except for the deduction for the aged and blind, which would remain the same ($1,300 married; $1,600 single).
Other Deductions – Current law allows for a number of other deductions, even for those who itemize; under the new law, most such deductions remain with two exceptions: moving expenses will no longer be deductible (except for active duty military) and alimony will no longer be deductible by the payer nor treated as income for the recipient.
Itemized Deductions – The big one is mortgage interest. Under current law, the mortgage interest deduction is limited to the first $1 million of mortgage debt and $100,000 of home equity debt; under the new law, limit on mortgage interest deductibility decreases to $750,000 and the deduction of interest on home equity loans will be eliminated.
Child Tax Credit – Current law allows up to $1,000 (partially refundable) tax credit for the first two children and reduced credits for additional children; the new law will raise that the credit to $2,000, of which $1,400 will be refundable (to get the full credit a family must have taxable income).
Alternative Minimum Tax – The threshold is raised from $86,200 to $109,400.
529 Deduction – Current law allows deductions for deposits for college tuition and expenses; the new law expands the deduction to include tuition and costs for private schools and homeschooled children in K-12.
Estate Tax – Current law provides an exemption of $5.6 million adjusted for inflation; the new law would double the exemption amount in 2018 and continue to adjust for inflation.
Health Insurance Mandate – Current law imposes a penalty of the higher of $695 or 2.5% of income on those who do not have the required health insurance coverage; the new law eliminates the penalty starting in 2019.
What it all means
Starting with the tax bill, for greater details readers can go to my current source at the taxfoundation.org. Most changes to the tax code should encourage economic growth and put a little more money in the pockets of consumers. It remains to be seen whether or not companies will repatriate significant amounts of the cash sitting overseas. It is also not clear if the net impact on corporations will be enough to encourage more expansion of production in the U.S. in the future as opposed to countries with lower cost of labor, but that is the justification. Companies will be in a better position now to make decisions based upon operating costs removing much of the tax planning from those decisions. That should actually be a good thing long-term.
It will be interesting to see the impact on corporate tax rates and decision making in the years to come. It will also be interesting to see just how much the reductions to individual rates makes in terms of consumer confidence and whether or not that follows through with a rise in consumption. It appears that this holiday season has gotten off to a strong start so perhaps consumers are already assuming a good outcome and are posed to spend those few extra dollars that will show up in paychecks starting sometime next year (once new withholding calculations are processed).
On the economic front, once again, the overriding story is one of continued strength with the one exception: auto sales. The auto industry, while being significant, is no longer large enough relative to the rest of the economy to create a significant drag.
We can only speculate on what the impact on the economy and corporate taxes will be, but at first blush, we believe the outcome should be positive. That should send stocks higher in 2018. There is still the potential for some tax selling during the remainder of the year to lock in losses in 2017 at the higher rate by institutional investors and investment companies. The big question is whether the enthusiasm of future expectations will be strong enough to offset any adverse impact of such selling, if it does in fact occur.
If you have any questions, please feel free to ask them in the comment section below and don't forget to hit the "Follow" button next to my name at the top of this article. For those who would like to learn more about my investment philosophy, please consider reading " How I Created My Own Portfolio Over a Lifetime.
DISCLAIMER: This analysis is not advice to buy or sell this or any stock; it is just pointing out an objective observation of unique patterns that developed from our research. Factual material is obtained from sources believed to be reliable, but the poster is not responsible for any errors or omissions, or for the results of actions taken based on information contained herein. Nothing herein should be construed as an offer to buy or sell securities or to give individual investment advice.