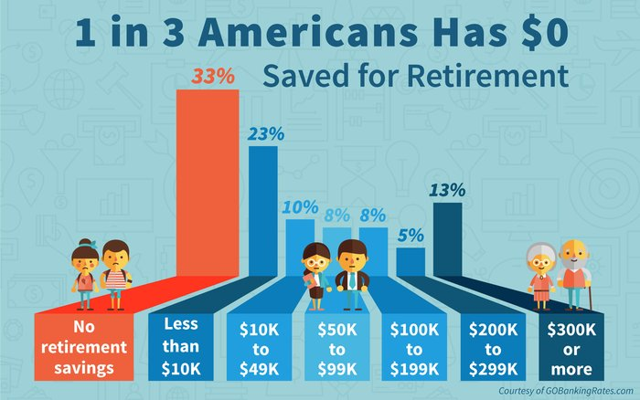 It has been quite some time since I've written about a simple path to retirement on your own terms. As we head into a new year, there will be millions of regular folks thinking about retiring or even working just part time. Let me say this as simply as I can: There is more to living life than working until they bury you. If you are willing to do what it takes, you can leave the rat race with much less than you might think.
Would it be nice for everyone to have a seven-figure portfolio when it's time to call it quits? Sure, but the reality is that most folks will not ever have that much. It does not mean that you will have to keep working forever, nor does it mean that you will need to live under a bridge somewhere.
The Simple Basics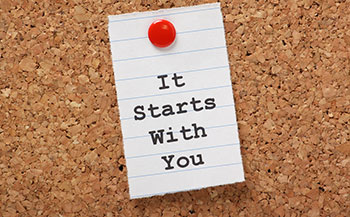 I am not trying to preach here, but if you do not embrace at least a few basics, then you can forget about a comfortable retirement.
Save as much as you can for as long as you can, as soon as you can.
Spend less than you have coming in, forever.
Cut expenses.
Increase income.
Have your money work for you as hard as you work for your money.
If you are a couple, make sure both of you are on the same page.
If you follow the first two bullet points, you will be just fine, forever.
Downsize Everything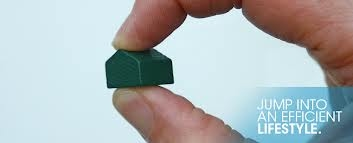 If you live in an area that has a high tax rate, move. If you have a big home and it's just the two of you, sell it and buy or rent no more than you need and can afford without a paycheck coming in.
If you have two cars, sell one

and learn to live with one car. You will also cut your car insurance in half, save money on gas and maintenance, and believe it or not, you do not need a $60k new car every three years.

Stop spending money on fancy work clothes. Do you really need them? 10 pairs of shoes might look cute in a closet, but it's a waste of money that you will need for other things.
Retirement is when everyone says they want to travel and see the world. That's wonderful, but it is probably not very realistic if you are retiring on the cheap. Consider road trips, or visit the family more often.
If you are eligible for Medicare, consider a Medicare advantage plan. It might not be as golden as supplemental plans, but in many cases, it will be extremely affordable, if not FREE. Yes, you will require referrals and have to stay within network for doctors and specialists, but that is not that difficult to do these days.
Use generic prescriptions whenever possible.
Cook and eat at home more and cut back on eating out.
Do you really need two cellphones, two iPads, two laptops, four TVs and every channel known to mankind? No, and you can save a fortune by cutting these in half or more. Also think about getting rid of your landline phone. I'll bet your kids and grandkids don't have one!
Build a circle of like-minded friends who you can have fun with as all of you support each other's social and emotional needs. Going it alone is tougher, plus you can have lots of home parties to keep yourselves entertained and busy.
Read more, now that you have more time, and keep learning. You don't need to buy every new book; get a library card and the literary world is at your disposal, for FREE.
Now For The Fun Stuff

For argument's sake, let's say you sold your home for $250k less a $50k mortgage. That will leave you with about 200k in liquid assets. At the same time, you sell one car for $10k, and learn to live as a one-car family.
Since we are talking about a couple of retirement age or older (let's say 68 and 66), both of you are eligible for social security, and if you both worked, the average amount you will receive is $1,500/monthly each, so let's take $3,000/monthly total for you as a couple.
Taking a Medicare advantage plan might not cost you anything and you might even get a little bump in your Social Security benefits to boot. For the sake of simplicity, let's just say you are going to be living on $36,000 per year. The average family of four in the USA makes roughly $55k and most seem to do OK, while frugally. However, you now have $210k to put to work for you! Keep in mind that that amount is if you never saved a dime aside from the equity in your home and the sale of a second car.
By utilizing a strategy such as the model Dividend King Retirement Portfolio, which will greatly reduce your risk, and is far better than an annuity, you can probably squeeze out about a 3.10% yield if properly allocated, and just for the record, I would keep the $10k liquid in case of an emergency.
The model Dividend King Retirement Portfolio currently consists of Coca-Cola (NYSE:KO), Procter & Gamble (NYSE:PG), Johnson & Johnson (NYSE:JNJ), 3M (NYSE:MMM), Emerson Electric (NYSE:EMR), Cincinnati Financial (NASDAQ:CINF), Lowe's (NYSE:LOW), Hormel (NYSE:HRL), Colgate-Palmolive (NYSE:CL), Dover (NYSE:DOV), and AT&T (T).
Dividend kings have an elite record of paying and increasing their dividends for at least 50 consecutive years. They are mega-cap blue-chip companies that have stood the test of time through good and bad times and given investors a "raise" in each and every year of those 50+ consecutive years. Over time, your dividends might double in less than 10 years no matter what the share prices are, as long as the companies keep their Elite status.
I have added AT&T simply because it offers a yield close to 5.50% and can give your immediate income a little boost. Plus it has paid and raised the dividend for 34 consecutive years, just recently increasing its dividend by 2%, at $.50/share per quarter.
Here is the latest chart of the model portfolio through 12/1/2017: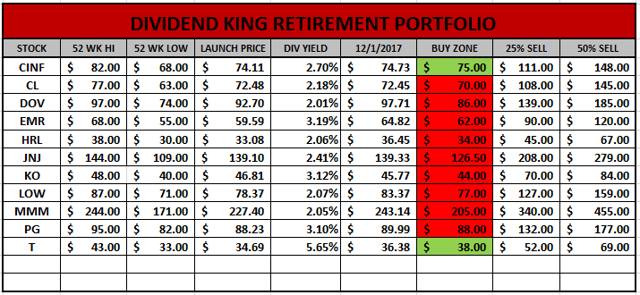 Refer to this article to see how my simple strategy works. See if it is for you. If so, with an equal allocation of dollars in each stock, you should come close to that 3.10% yield. That will give you an annual stream of income to start of about $6,200. Combine that with your Social Security and you have about $42k of annual income in year one.
Since you have taken steps to downsize and reduce all expenses, your budget just might be BELOW $3k/month based on where and how you choose to live. I would suggest a tax-friendly state like Florida to consider. There are no state income taxes, rentals are within reach, just about every doctor takes Medicare, the climate is great (aside from an occasional hurricane), and there is plenty to do for retired seniors on a budget!
The Bottom Line
Not everyone has a seven-figure portfolio, but given the guidelines above, it IS possible to retire frugally even if you never saved a dime. Obviously the more you have the more you can spend, but for many regular folks, this is quite doable without being part of the 1%! All it takes is focus, determination, and an honest evaluation of what your expectations are.
Are you ready to give it a shot?
Not To Bore You, But...
Knowledge is power, and many folks shy away from the investing world because that very world makes it more confusing each and every day in an effort to sell you something: stock picks, technical strategies, books, videos, subscriptions with "secret ideas," gadgets, and even snake oil.
My promise to you is that my work here will remain free to all of my followers, with the hope of giving to you some of the things that took years for me to learn myself. That being said, let me reach out to you with my usual ending:
**One final note: The only favor I ask is that you click the "Follow" button so I can grow my Seeking Alpha friendships. That is my personal blessing in doing this and how I can offer my experiences to as many regular folks as possible, who might not otherwise receive it.
Disclaimer: The opinions and the strategies of the author are not intended to ever be a recommendation to buy or sell a security. The strategy the author uses has worked for him, and it is for you to decide if it could benefit your financial future. Please remember to do your own research and know your risk tolerance. The long positions held are based upon what the model portfolio holds, and I personally could have held all of the stocks noted at one time or another.