In times like we have now, it's important to ensure you are investing based on your investing rules. Taking shortcuts can only hurt you down the road.
I have found my approach to tracking sector diversification with targets has helped use a non-emotional decision process to select the next stocks to purchase. The markets are at an all-time high and it's not easy to find a bargain but there are some. In some cases, you just need to stay the course and not chase the money.
Stock Trades
I sold Suncor (SU) after dropping my energy sector target and I have to reduce my energy holdings more. I intend to sell Enbridge Income Fund (OTC:EBGUF) since it's mostly an income play.
As a Canadian, it's too easy to be over-exposed to the energy sector and while it has done well in the past and would do well once the oil prices bounce back, I am not interested in the energy producers for growth. I find the pipelines to be more stable when it comes to energy and have therefore adjusted my sector diversification.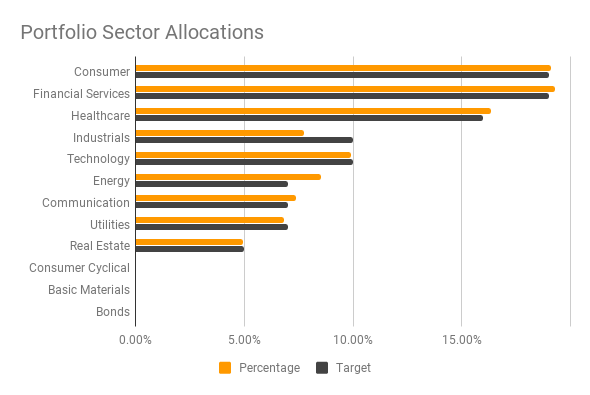 Sector Diversification – November 2017
When I started using sector diversification for managing my portfolio, I was trying to cover all sectors but I concluded over the past couple of years that I don't need all the sectors and that many of the investments were not always supporting my investment goals even though it was the best investment I could find for the sector.
Investors tend to have to choose between growth and income stocks when investing and building a portfolio. Based on my current goals, I have established targets to focus on growth which has pushed down the energy sector, which I consider blended between growth and income.
I also define my largest holding target as 5% which allows me to decide on the number of stocks per sector. If my target is 16% as is the case for healthcare, I need 4 stocks to cover the sector. My investment style requires I track all of my investments on my own through a self-made portfolio tracker allowing me to track the following:
Portfolio Performance
Stock Exposure across all accounts
Diversification
Rate of Return per account
Dividend Income
Dividend Income
My November dividend income is $1,231.42. My portfolio continues to beat the index by 3% which validates my approach to portfolio management and stock selection. I compare my portfolio by simulating a purchase in the TSX and S&P 500 indexes when I make my own purchase. It's the most accurate comparison I can imagine.
I am on target to make over $15,500 for 2017 which is almost $3,000 more than the previous year. My target is $60,000 which is 4 times my current dividend income. Using the rule of 72, I should reach the goal in 14 years or so.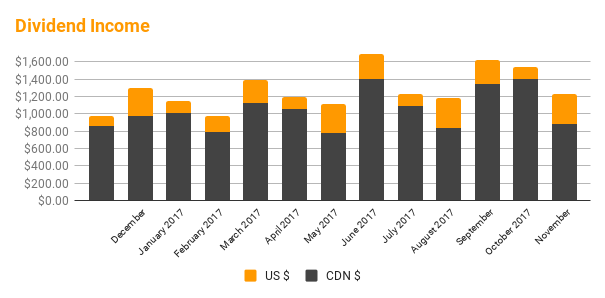 Disclosure: Please note that I may have a position in one or many of the holdings listed. For a complete list of my holdings, please see my Dividend Portfolio.
Disclaimer: Please note that this blog post represents my opinion and not an advice/recommendation. I am not a financial adviser, I am not qualified to give financial advice. Before you buy any stocks/funds consult with a qualified financial planner. Make your investment decisions at your own risk – see my full disclaimer for more details.