Year Review
The year-to-date performance of closed-end funds is, more or less, in line with the overall market trend this year. The top performers are emerging market equity funds which have outperformed due to the strong global recovery and high leverage of EM economies to the global cycle.
After pure equity funds come equity dividend and covered call sectors. The lagging performance of these sectors is explained by the fact that dividend funds are normally invested in more defensive sectors which haven't performed as strongly this year and covered call funds typically sell part of the market upside for income. Fixed-income funds, including preferred and convertible sectors, follow next. Commodity, energy and MLP sectors close out the fund space with unexciting performance, to say the least.
The return to volatility picture across the entire fund space this year is fairly expected, ignoring the energy sector, with more or less a 45-degree line drawn across the return to risk chart with higher returning sectors also exhibiting higher volatility.
This year has seen uncharacteristically few and relatively shallow drawdowns. The reason for this has been a supportive global monetary policy environment along with a synchronized global recovery. Cautious positioning on the investor side has also driven buy-the-dip behavior, further supporting asset prices.
While we consider current valuations high, they typically richen further in a late cycle environment. The good news is that the most recent leg higher in the market has been driven by earnings rather than multiples. So long as the earnings recovery continues we think higher equity prices are more likely than not.
To distill our broader valuation point into a single metric, we present our cross-market valuation indicator in the chart below. It is calculated as an average of three valuation percentiles: corporate real yields, equity P/E ratio and realized volatility. All three are relevant for fund investors, particularly those who focus on collecting the risk premia in the market whether the credit risk premium (via credit funds), growth risk premium (via equity funds) and the volatility risk premium (via covered call funds). The result is unambiguous - cross-market valuation is at a record-high level.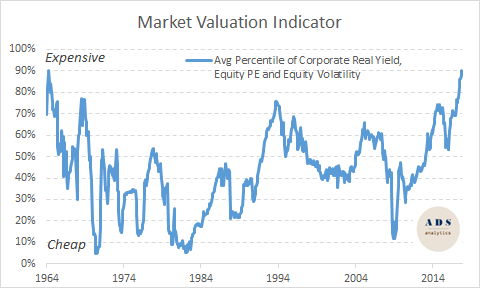 Source: ADS Analytics
The macro picture this year has been characterized by benign inflation, expanding growth and supportive central banks. Inflation has repeatedly undershot expectations so much that the validity of the Phillips curve has been questioned. Well-behaved inflation as well as anchored expectations allow the global central banks to move slowly through the current hiking cycle. This suggests that the present economic cycle, already one of the longest of the century, can extend even further.
We struggle to come up with serious imbalances in the global economy. Certain sector imbalances do exist, however their potential impact on the broader impact is limited. The retail sector, and as a consequence pockets of the commercial MBS products, has been in a period of extended depression, as shoppers move more of their purchases to online venues. The student loan market has also caught our attention given the strong growth in debt which now stands above $1.4trn as well as delinquencies that are much higher than on other forms of debt. However, with much of the risk residing with the Federal government, we are less concerned about the potential for additional stress being the catalyst for a broader market meltdown.
Outlook
With our cross-market valuation signal flashing red, it is tempting to take capital gains and move to the sidelines. However, we think that remaining uninvested during late cycle can be very expensive for two reasons. The typical late-cycle melt-up dynamic means that sidelined investors give up strong capital gains as well as foregoing income that can be reinvested into further fund units. Income investors know they should not be tactical timers. The utility function of income investors does not hate stagnant or down markets since it allows investors to reinvest dividends at lower prices. Even though investors need to be mindful of events that cause permanent capital loss in their portfolios (such as defaults), even the Global Financial Crisis scenario does not look too bad for a risk parity fund portfolio on a gross return basis.
Staying with late-cycle dynamics, we prefer equities over credit at this stage of the cycle as equities tend to perform best and overshoot reasonable valuations. We are mindful, however, that the drawdown risk is greater in equities than in fixed-income so leveraged fund investors need to approach their equity holdings with caution as we are currently overdue for a correction.
Commodities tend to outperform late-cycle and while the link between the Oil price and MLP funds is not direct, a stable Oil price should support the price action in the sector. We also like the MLP sector on a fundamental valuation basis and, while we recognize that this sector has been great to hate, the risk/reward of being long MLPs is now compelling.
We also like the Muni sector because of the sector's defensive nature as well as continued demand for municipal bonds due to the expected shape of the tax legislation.
The combination of the Muni and MLP sectors created a barbelled portfolio profile of high and low risk sectors together with a high blended carry profile. We think this combination should behave in a relatively defensive fashion relative to a portfolio of medium-risk sectors such as equity and high-yield.
What are the risks?
We are watching three things that we think have the potential to derail the current cycle: inflation, China, and DC.
A sharp move higher in inflation is unexpected which is why it can be dangerous in this part of the cycle and why it can trigger a hawkish response on the part of the Fed and muzzle the current growth recovery.
The relatively soft economic landing and unwinding of the credit bubble in China has so far been well received by the market. However, if the government loses control of this process, the knock-on effect on the region, the commodities sector and global demand can be damaging.
On the DC front, the Russia investigation, the continued tension with both North Korea and Iran as well as the status of the current tax bill all pose dangers for the market. The only good news on this front is that the US political uncertainty has been normalized to a large extent which means what happens in DC, however unusual, more or less stays in DC.
Good Luck!
Disclosure: I/we have no positions in any stocks mentioned, and no plans to initiate any positions within the next 72 hours. I wrote this article myself, and it expresses my own opinions. I am not receiving compensation for it (other than from Seeking Alpha). I have no business relationship with any company whose stock is mentioned in this article.