Politics
Defense sector
Central to the European political scene was the Council summit on 14-15 December. Noise aside, a potential actionable development is the launch of the Permanent Structured Cooperation (PESCO) on defense and security. The Cooperation's aim is to consolidate member states' military spending while eliminating duplicating capabilities. Benefits are evident – coherent interstate strategy and better return on future investments.
So far so good, but what will be the implications on private sector and investors? While details are still insufficient to draw conclusions, we can put some figures into perspective. According to Stockholm International Peace Research Institute's data, the 25 allied countries have spent $192B on security in 2016 combined. Suddenly, PESCO's €5.5B annual budget doesn't look that impressive, implying minor chances of overall expenditure increase. Inevitably, the union will benefit from better negotiating power and economies of scale at the expense of the private sector's profit margin.
Amplifying industry's headwinds, the latest US tax reforms will most likely reduce government spending and hence the defense budget. As a result, the aerospace and defense stocks might materially underperform the broad market over the next few years.
EU-Japan free trade deal
Initially announced in July, the EU and Japan have just sealed a free trade agreement. The deal's aim is to remove the vast majority of the €1B paid in duties annually by European exporting companies, as well as eliminate a number of long-standing regulatory barriers. Particular areas of interest are agriculture, dairy and wine products: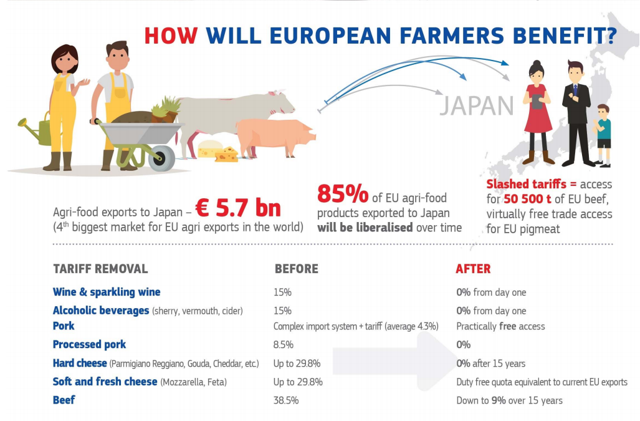 Source: EU-JAPAN Economic Partnership Infographic
In return, the EU will stop imposing a 10% tariff on Japanese car and parts imports. Picking beneficent industries/companies might be tricky as demand will be driven by customers' preference and price elasticity. If asked to choose a winner, however, I will certainly go for dairy.
Polish isolation
Intentionally or not, the Polish internal and international affairs made a splash. First, in what seems like a political gambit, Mateusz Morawiecki replaced Beata Szydło as Prime Minister hours after her government survived a vote of no confidence on December 7. While Deutsche Welle was quick to compare Morawiecki to Macron, the similarities are limited to their financial backgrounds. According to most analysts, Morawiecki will be yet another face of Jaroslaw Kaczynski – ruling party's chair and one who named Morawiecki and Szydło for PMs. Maintaining the status quo could hardly be material one would say. Thinking about the motives behind the move say otherwise.
Minutes before midnight last Thursday, Poland's parliament passed a controversial bill that gives the government, as opposed to a panel of top judges, control over who conducts the electoral system. The move has been loudly criticized by opposition, judicial representatives and international bodies. In response, the European Commission is expected to launch an unprecedented punishment procedure against Warsaw next week.
And this is not an isolated case. The European Union and Poland have struggled to find common ground on a number of matters, including migration policies, the country's role in the EU and potential media censorship. In fact, even the US diplomacy expressed concerns over Poland's freedom of speech in a press release last Tuesday.
Finally, to make the situation a little bit bitter, Poland's defense minister accused Vladimir Putin of involvement in the 2010 plane crash which killed country's President Lech Kaczynski (Jaroslaw's twin brother) and 95 officials.
Following such course, Poland is risking economical and political isolation. Should this bother investors? The country is the 8th largest economy in the EU and an active trading partner. Poland's 4% GDP growth has lured significant international investments. Despite the increasing attention, however, the political landscape is only getting worse over time.
Russian sanctions
Yet, another news from the summit was the extension of economic sanctions against Russia until mid-2018. The sanctions, which target Russia's energy, financial sectors and defense, would otherwise have expired in less than two months. While adding a layer of uncertainty, the six-month extension (if kept) shouldn't be material to a long-term investment thesis.
Economy and Markets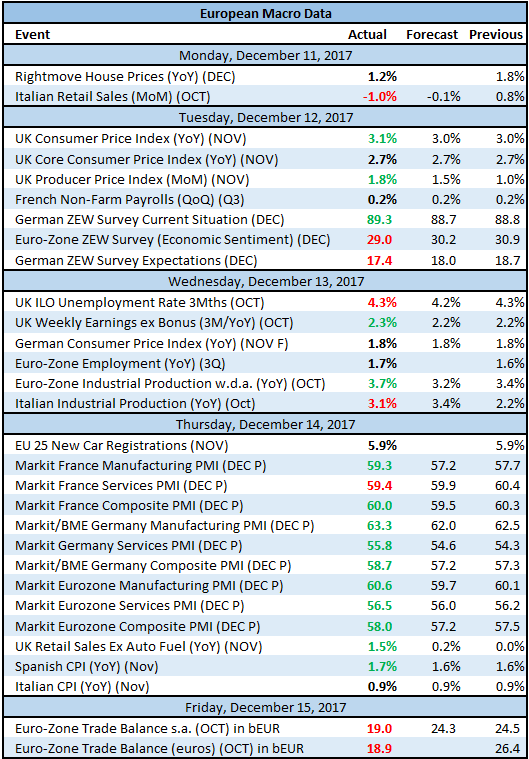 Source: Investing.com and DailyFX.com
Starting with the economic releases last week, pretty much all figures came as a positive surprise. Putting the outdated reading aside, I would point out the extraordinary data from Markit's preliminary report. Quoting Chris Williamson, HIS Market's Chief Business Economist:
The eurozone economy is picking up further momentum as the year comes to a close, ending its best quarter since the start of 2011. The PMI is signaling an impressive 0.8% GDP increase in the fourth quarter, with accelerating growth seen in both Germany and France, where fourth quarter growth rates of 1.0% and 0.7-0.8% are indicated respectively…

…The eurozone upturn is being led by a booming manufacturing sector, with a record PMI seen in December, but stronger domestic demand is also helping drive faster service sector growth.
The European Central Bank
Mario Draghi hardly surprised the market by leaving rates and stimulus unchanged. Despite the strong economic momentum evident above, ECB's President stuck to his extra-cautionary approach, highlighting upcoming political risks (Italian elections in 2018) and readiness to increase the programme's size in case the recovery veers off track.
As a sign of confidence in the state of the economy, however, the central bank increased its growth forecast for the next few years and said it now expects stronger inflation in 2018 than previously guided:

Source: figures taken from ECB's December staff macroeconomic projections
A development that flew under the radar was ECB's decision to exclude unsecured subordinated bank bonds from the list of accepted collaterals. Policy's goal is to shift the risks of potential financial failure away from taxpayers. The implication is that bondholders will be unable borrow cheaply against them from the ECB, which will effectively deleverage the commercial banking system. In what seems a related news, a day later Fitch affirmed UniCredit's negative outlook.
In the meantime, the symbol of Europe's latest major economic crisis – the yield on 10-year Greek government bonds hit lowest levels since 2006.
Company-specific news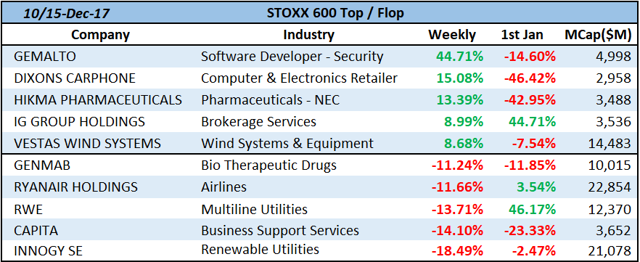 Source: 4-traders.com
The top performer of the index - Gemalto (OTCPK:GTOMY) - rejected a takeover offer from French rival Atos to later accept a higher bid from another French company – Thales (OTCPK:THLEY). What has potentially made the difference is not the 11% premium, but France's influence on both boards.
Dixons Carphone (DXCPY) – the British mobile phone and electronics retailer - took some breath after a devastating 2017. While neither results nor guidance were outstanding, they gave the much needed reassurance that Dixons won't become an Amazon (AMZN) victim any time soon.
IG Group (OTCQX:IGGHY), the British retail brokerage house, almost closed the gap from the December 2016 slump when a regulator announced restrictions on the CFD and spread betting industry. The rally was fueled by pre-closing trading update.
On the losers' board, Ryanair (RYAAY) was hit by an unprecedented move to recognize labor unions in an attempt to avoid pilot strikes during the busy holiday season. The pilot shortage across Europe is comparable to the one in the US. Airlines' ability to lure and retain the scarce personnel could reshuffle the industry over the years to come.
Capita, the troubled British outsourcer, fell to a 12-year low on signs of difficult 2018. Throughout 2017, the company has been under pressure from constant managerial changes and Brexit concerns. On a core business level, the next few years will be extremely important for Capita as it could be a prime beneficiary of automation and artificial intelligence. If operating problems continue, however, it is almost certain the company will be left out of the supply chain.
Finally, the German utility companies - RWE (OTCPK:RWEOY) and Innogy (OTCPK:INNYY) - were hit by fierce competition in one of their core markets – the United Kingdom.
Chinese espionage speculations
Last week, Politico came up with a lengthy discussion on the risks behind Huawei's telecom hardware dominance in Europe. The claims of potential surveillance are backed by European intelligence agencies' reports. While highly speculative, if such accusations cause public backlash, Nokia and Ericsson could double or triple their businesses overnight.
Daimler (OTCPK:DMLRY) delivered first all-electric trucks
While lacking the futuristic look of a Tesla (TSLA), Mercedes Benz parent company delivered its first fully electric lorries to European customers. The specifications aren't that laud either – a load-bearing capacity of 4.5 tons and range of just 100 kilometers. The move is rather symbolic, however, as it proves the US company will face strong competition from traditional automotive manufacturers in each and every domain it tries to enter.
The week ahead
Catalan elections
Undoubtedly, the regional elections scheduled for Thursday, December 21, will gather a lot of attention. If polls are trustworthy, the constitutionalist parties (the one against independence) will have a slight majority credited to mobilized electorate who have stayed at home during the past elections: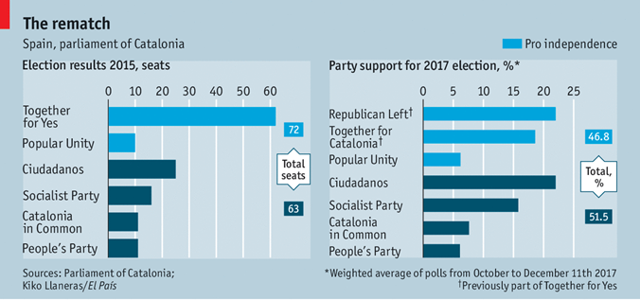 Source: The Economist
However, due to the topic's sensitivity and significant social tension following street violence and imprisonment of key local politicians, a potential provocation could easily escalate resulting in an emotional vote and a large separatist majority.
German coalition talks
Grand coalition talks are expected to commence this Wednesday following the Merkel/pro-business/green fiasco. While conservative-socialist alliance has been governing Germany since 2013, divergence between parties' priorities has led to declining support for both CDU/SPD on country's latest elections.
The pressure is building up even now. Despite the lack of other feasible alternatives, Merkel's party has rejected SPD's vision for "United States of Europe", while Schulz has been forced into the talks from senior party members after repeatedly ruling out a further tie-up with Merkel's bloc and insisting to go into opposition.
As a source of ideas for investment research, we can look at Schulz's priority list: more investment in education and Germany's system of care, more protections for workers on temporary contracts, tax relief for families, more affordable rental homes and reform of the EU.
Economic data
Below are some of the most anticipated economic figures expected this week: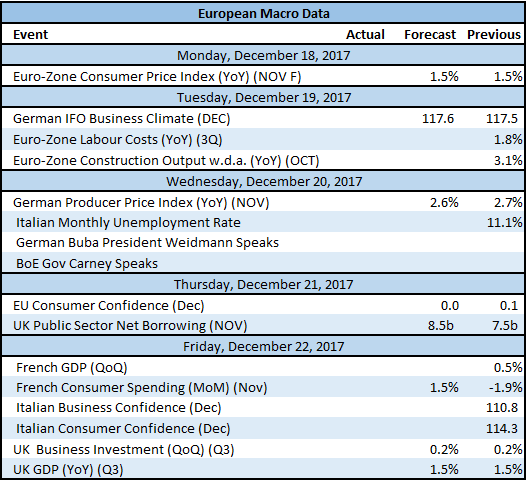 Source: Investing.com and DailyFX.com