For Tesla (TSLA), 2018 is about Model 3.
Not Model S or Model X, both of which I believe will do well, or Tesla Energy, all components of which will likely take a back seat to Model 3 until 2019.
For Tesla, Model 3 is 2018.
Production
Tesla has run into problems producing what some say will take BMW's 3 Series "to zero." Remember the "S" curve?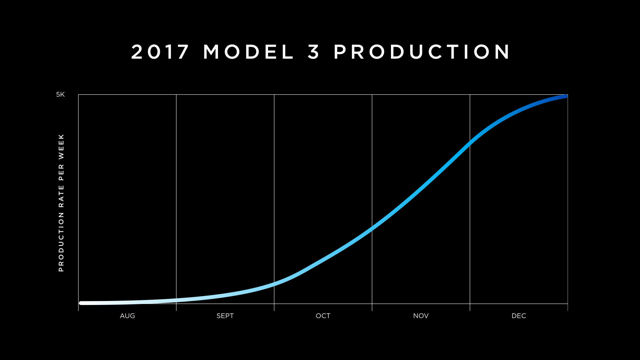 The above graph was presented to viewers at the company's Model 3 Handover Event on July 28, and it corroborated the projections that Elon Musk had tweeted out earlier in July.
Unfortunately for Tesla bulls, including myself, the company announced a revised (read: not as ambitious) production plan in its 3Q17 Investor Letter:
Based on what we know now, we currently expect to achieve a production rate of 5,000 Model 3 vehicles per week by late Q1 2018...
The delay in Model 3 production ramp had prompted me to adjust my model, as I discussed in Tesla Q3 2017: Revising My Projections.
The tide, however, may be turning.
Recent News, Rumors, and Analyst Commentary
You are flooded with information nowadays. Trust me, I get it. Absent updated guidance from the company, investors are bombarded with speculation:
On October 6, Economic Daily News reported, citing a Taiwanese supplier, that Tesla had cut parts orders due to a production bottleneck;
On November 2, the company formally announced the delay; and
Most recently, reports claimed Model 3 production is improving faster than even Tesla anticipated, citing the same Taiwanese supplier.
Maybe I should relocate to Taiwan... lots of juicy rumors and delicious pineapple cakes, "according to sources."
Stock Is Volatile
What sources don't need to tell you, but I will tell you anyway, is that TSLA is volatile: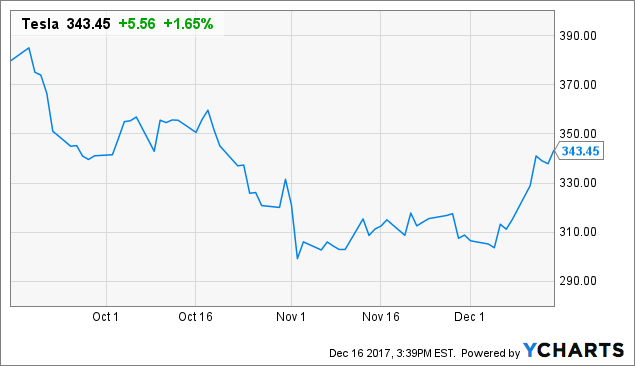 TSLA
data by
YCharts
Just in the last three months, the company's stock dropped, increased, sank, plunged, remained flat, and surged between $290 and $390. That's a range of 30%. How can the value of a large-cap company with tangible assets and consumer products swing by 30%? Elon Musk wonders the same.
My answer is that the long-term intrinsic value of the company is unlikely to swing as much day-to-day, but the stock price does vary based on news, rumors, analyst commentary, and possibly even the emotional swings of day traders. I discussed this topic in more detail with Tesla Forum members in Why Is TSLA So Volatile?
Key Observations and Investor Takeaways
As always, I encourage my readers to ignore the fleeting "sources said" type of rumors and focus on facts:
The company has not updated its "5,000 per week by late Q1" guidance;
The company opened its ordering process to non-employees in November with December delivery estimates, so about three to four weeks behind the original timeline of late October; and
The company has recently sent out several batches of configuration invitations to non-employees.
The above list represents facts based on Tesla's actions.
Additionally, the Morgan Stanley analyst Adam Jonas recently added some credence to "supplier rumors" by noting that investors increasingly believe that the Model 3 will end up delivered to customers in larger volume by early spring.
Finally, I have consistently pointed out in my projections for 2018 that I expect the company to turn profitable in the second half of next year as Model 3 production ramps further. I will provide an update to my projections by the end of the month.
Bottom Line
I keep my eye on Tesla's longer term potential and risks in order to calculate the company's intrinsic value, which I estimate is significantly above the current market capitalization, and which is a lot less dependent on Model 3 deliveries in the coming days and weeks, and lot more dependent on volume deliveries in the coming quarters and years.
As I noted before, Model 3 is a product that's years ahead of its time, and as the unofficial Model 3 reservations counter show, customers continue to line up despite the long wait that is only getting longer.
Ignore everything that has "sources said" attached to it. Traditional and non-traditional media will seek to attract your eyeballs so they can sell ads. I'm sitting on my hands and keeping my eyes on the longer term return.
Follow For Free Articles
If you enjoyed this article, please scroll up to the top of the page and click the "Follow" button next to my name. Your support will allow me to invest further time and resources into creating proprietary research for you.
Premium Research
If you're interested in learning about my investment methodology as well as high-quality fundamental research on Tesla, supported by detailed financial projections by product and service line, including years 2019 and beyond, as well as timely price target alerts and weekly Live Chat community discussions, join Tesla Forum. I'm confident that you will find my research to be very insightful, and I look forward to discussing ideas with you.
Disclosure: I am/we are long TSLA.
I wrote this article myself, and it expresses my own opinions. I am not receiving compensation for it (other than from Seeking Alpha). I have no business relationship with any company whose stock is mentioned in this article.