Oracle (NYSE:ORCL) reported the results of its fiscal 2Q18 quarter on Thursday. And just like Mckayla Maroney (nothing like revisiting an old meme), the Street was not impressed.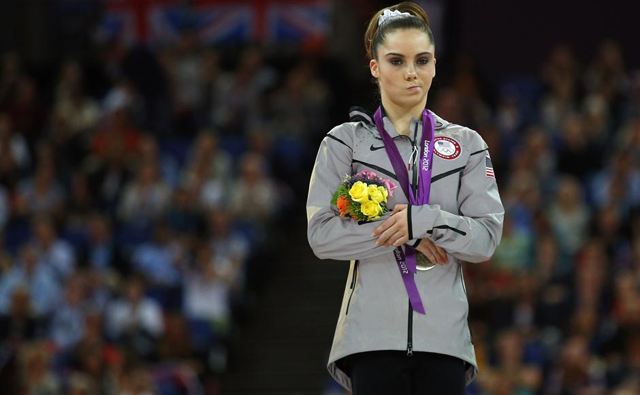 Credit: First Post
Revenues of $9.63 billion were not even the problem, as analysts had been expecting $9.57 billion. The 6.2% YOY improvement was the second best of the past 16 quarters at least. The problem is that much of that bump was driven by a better-than-expected licenses business, which does little to support Oracle's case for a successful transition to cloud-based products and services.
As I had mentioned last month, the Street was likely hoping for cloud to convincingly outperform this time, after growth had dipped from the 60% range to 51% last quarter. With that rate arriving at 44% in fiscal 2Q18, even if above management's outlook, the stock headed south on Friday, recovering some ground during the trading session.

Source: DM Martins Research, using data from company reports
What I believe must have frustrated investors even more was Oracle's cloud guidance for the upcoming quarter. With an expected growth rate of only 23% for the combined SaaS, PaaS and IaaS portfolio at the mid-point of the guidance range, the company could be facing a significant slowdown in the so important cloud transition (see graph below). And that deceleration, in my view, seems to be happening too early, as on-premise software still accounts for a very large two-thirds of Oracle's total revenues.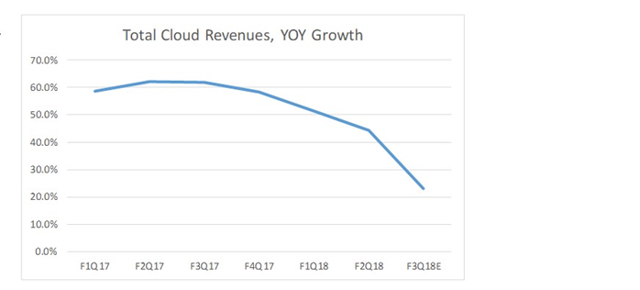 Source: DM Martins Research, using data from company reports
Has the spell been broken?
I think it is fair to say that Oracle, the company and certainly the stock, has its best chance of thriving if it is able to execute on its cloud strategy nimbly. But only a third of the way or so into this long marathon, it looks like investors have started to lose faith in the transition happening as quickly and seamlessly as many anticipated. For as long as this remains the case, ORCL may struggle to build up further on its 26% YTD climb.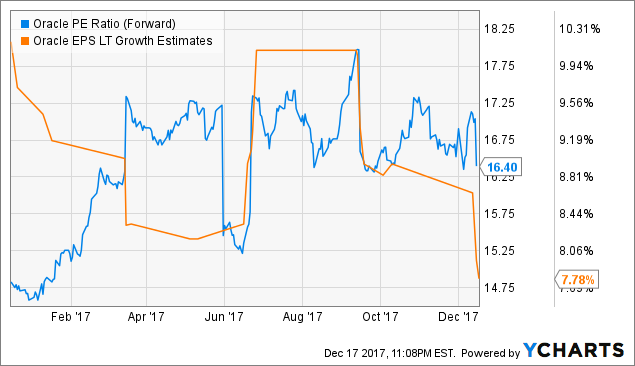 ORCL PE Ratio (Forward)
data by
YCharts
| | | | |
| --- | --- | --- | --- |
| Company/Ticker | Forward P/E | LT EPS Growth | Forward PEG |
| Oracle - ORCL | 16.4x | 7.8% | 2.1x |
| IBM (IBM) | 11.1x | 4.9% | 2.3x |
| SAP (SAP) | 23.5x | 12.3% | 1.9x |
I continue to hold ORCL in my portfolio today, believing that the company's ERP, SCM and HCM portfolio will remain competitive whether in the cloud or on premise. The company might still benefit from tax reform, including cash repatriation, and inorganic growth as acquisitions in cloud take place.
But in the short term and absent forces outside the company's control (e.g. policy changes), I would not rule out the stalling of the stock price. Short-term players might want to approach the name cautiously as momentum wanes, while long-term holders may still see their investments pay off a few years down the road.